Bridget Moynahan's Height
5ft 9 ¾ (177.2 cm)
American Actress known for roles in I Robot and The Recruit.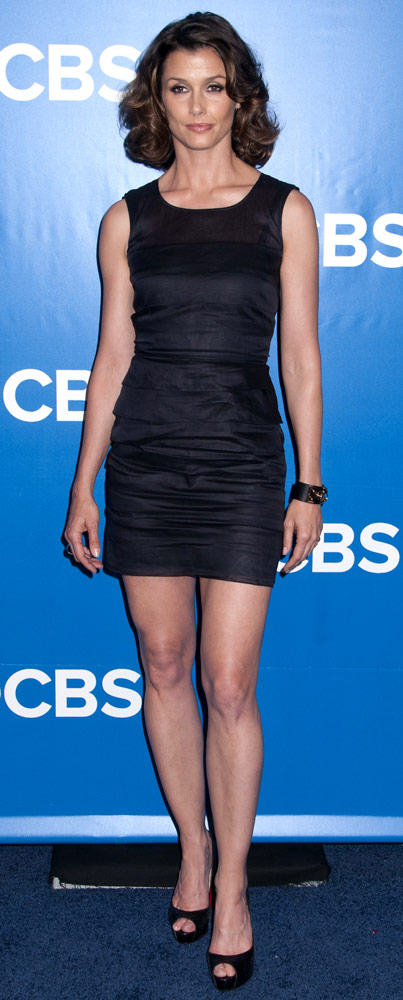 Photo by PR Photos
Add a Comment
41 comments
Average Guess (26 Votes)
5ft 9.88in (177.5cm)
Realist
said on 10/Jul/20
looks 5'10 easy
Nik J Ashton
said on 8/Dec/19
It would be great to see a photograph or Bridget and Liv Tyler!
khaled taban
said on 29/Sep/19
She is more like 5'9", 5'10" is probably her morning height.
Junior Hernandez 1990
said on 21/May/19
Shes always look like a solid 177cm.
Nik
said on 17/Nov/17
Anywhere from 5'9.5" - 5'9.75" is OK for Bridget!
Sandy Cowell
said on 14/Jun/17
I've never seen Bridget act, but I've just come from Tom Selleck's page and as she is standing with him in his picture looking near to his reputed 6ft3+, (in high heels!), I had to find out her height! So she's nearly 5ft10! I reckon now that Selleck could be an inch smaller, as I was banking on Bridget's height being around 5ft10.5 to 5ft11, by comparing the two in the picture.
I'll agree with the 5ft9.75 though as I haven't seen her in anything yet!
HonestSlovene
said on 30/Oct/16
Pretty much always looked 5'9-5'10 range to me. Tall woman.
Allie
said on 27/Nov/15
Rob, did you give her 5'9.75 because she gets listed as 5'9.5 (Google, IMDB) or 5'10 (according to Fashion Model Directory, news articles). So you just went for the middle number? I think she is around this mark, after all, in heels she reaches around the same mark that Gisele reaches on Tom (with dress shoes of course).
Editor Rob: she's been at this mark for a long while, actually it's been a while since I looked at her.
Moke
said on 13/Nov/15
Apart from height.... - this is one perfectly wonderfully looking woman 0.o : )
Allie
said on 21/Sep/15
5'9.5. In heels with Brady, I assume Brady would be around 6'5 in dress shoes, she looks around 184. And I doubt anything under 5'9 tbh.
J.Lee
said on 26/Feb/15
Rob, here is another pic of Brooke and Bridget
Click Here
J.Lee
said on 26/Feb/15
Rob, here is a pic of Brooke Shields and Bridget Moynahen. Bridget is in flats, but they seem to be very close.
Click Here
BGee
said on 10/Jan/15
5'9 - 5'9.5 at most.
Mastro
said on 30/Jul/14
Was watching Blue Bloods with her and Donnie Wahlberg. Wahlberg looked taller than her in a scene- he's hardly a basketball player.
Probably filming magic- I doubt she wears many high heels around Wahlberg.
Roozbeh
said on 15/Dec/13
She indeed looks tall in I Robot next to Will Smith, well aside her height, she is extremely gorgeous & what amazed me is that there no comments for her on
Click Here
she looks 177 cm to me though, even if we consider that Will is no more than 185-6 cm, as a 185 cm myself, the height difference between me & a friend with similar height is same
nice guy
said on 6/Jan/12
she is a solid 5'9 flat and will in his converse shoes a solid 6'1 and 184cm flat
bla
said on 2/Jul/11
rob89 - Will's character stated in the movie that he was 6'2, though.
rob89
said on 27/May/11
She was about 2.5" - 3" shorter than ~6'1" Will Smith in I Robot, i just saw it. Will was wearing very flat Converse shoes the entire movie, and Bridget in some kind of boots or heels, so she obviously had an advantage there. Not to mention she had superior posture to him as well, they even made a point about this early in the movie. So i think she may be more like 5'9 flat rather than almost 5'10 considering this. Definitely nothing over the listed height, unless Will is around 6'2, which i really doubt he is.
moviefriikki
said on 15/May/09
she looked at least an inch taller than colin farrell in the recruit. moreover, the character farrell played was mentioned to be 175cm tall.
glenn
said on 28/Oct/08
oh.i was confused as to why you took it down.crappy posed pic anyway.hot girl.lol.i had asked if we had enough pics?
[Editor Rob: there is about 7-8 I can put up.]
glenn
said on 27/Oct/08
rob-that was the girl from mission impossible you had up.
[Editor Rob: ah the other monaghan...]
django
said on 27/Oct/08
That's not Bridget Moynahan..
[Editor Rob: yes I'll replace this one...]
Jake Is Back
said on 8/May/08
Brady is 2" shorter than listed 6'5" Drew Bledsoe and close to 2" shorter than listed 6'5" Peyton Manning (although manning has said 6'5.5").
Viper
said on 6/May/08
Moss is actually a measured 6-3 1/2.
Viper
said on 6/May/08
Brady was measured at 6-4 something.
A-1
said on 6/May/08
tom brady is 6'4", i saw an interview after the bills game(sunday nighter) and him and randy moss are dead even...and i've seen moss, he's a legit 6'"4
Mike
said on 4/May/08
how come Tom Brady isn't listed on this site?
i would like to see the debates of 6'4
dmeyer
said on 2/May/08
comparing her to nicolas cage and colin farell she look 5 ft 10
glenn
said on 2/May/08
ill buy 5-10 as well.i cant tell.she had big heels on.
Viper
said on 1/May/08
She looks at least 5-10 comparing her to 6-4 Tom Brady.
glenn
said on 1/May/08
just got her.easily 5-9.
Chris
said on 1/May/08
More like 5'9". Colin Farrell is about an inch taller in The Recruit.
lakeisha
said on 20/Jan/08
i met her in L.A. i'm 5'11, and she appeared to be about almost 2 inches shorter than me, and she was wearing flip-flops. so probably 5'9'' at tops
kiefer
said on 28/Jun/07
She looked a tiny bit taller than colin farell in the recruit.
5ft 10 or a bit under seems right.
dmeyer
said on 23/Apr/07
she is minimum 5'9.75 possibly 5'10 she looks a bit taller than cage in heels
Coffeecakes
said on 3/Apr/07
I think she is at the very least 5'10.
art
said on 23/Mar/07
No way she is 5'9 with high heels tom brady look to be a foot taller than her
5-10 chick
said on 16/Mar/07
this chick is standing next to will smith is is almost looking him in the eye! i think she is no shorter than 6ft.
Viki
said on 2/Mar/07
In the March 5th issue of In Touch weekly at page 50, Birdget looks like a tall woman next to Brady, but Giselle has to be way shorter than the 5'11 inches that she claims.
CelebHeights Editor
said on 20/Dec/05
Her manfriend, Tom Brady I read claiming "I'm 6 foot 5, 220 pounds", so rounding up his draft height I take it?
Tybor
said on 31/Oct/05
In that Sex in the City episode if you pause it just as she's passing to go back into the bedroom it looks like she may be as much as 6 inches taller than nixon who is probably in low heels. Assuming Nixon is 5'8 and moynahan was in 4 inche heels then 5'10+ is not unlikely.