American actor, singer and dancer best remembered for roles in TV series The Beverly Hillbillies and Barnaby Jones. In film he appeared in Breakfast at Tiffany's, Captain January, Davy Crockett mini series, Between Heaven and Hell, Mail Order Bride, Broadway Melody of 1938, Night People, Born To Dance and The One and Only, Genuine, Original Family Band. he said in a 1941 article
"I achieved my full 6-feet 3-inch height quite young, and it took my feet a long while to catch up. Recently, I thought they were still growing, but I discovered they were just getting flatter."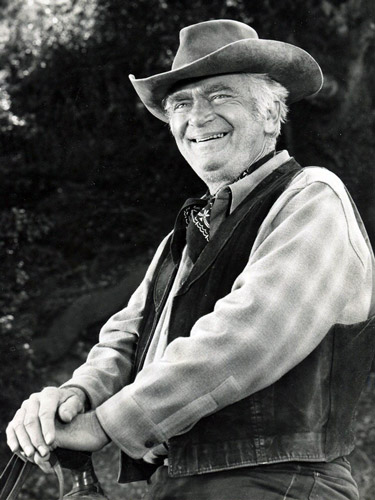 Buddy in Bonanza
Rampage(-_-_-)Clover
said on 26/Sep/23
Here he is in 1992 with Max Baer Jr., probably closer to 6ft1 by this stage
Click Here
greg99
said on 10/Aug/22
Watching an old Barnaby Jones on YouTube dating back to early '74, and the dude is *very tall*, towering over several of the actors. I don't think he lost a ton of height in older age.
Rampage(-_-_-)Clover
said on 2/Aug/22
Yeah, he must've lost some height by this stage. I think Max was a solid 6ft4, possibly even 6ft4¼
Click Here
Rampage(-_-_-)Clover
said on 5/Jun/22
Rob, is it possible he was probably closer to 6ft2 by Beverly Hillbillies?
Looked 2in shorter than Max Baer Jr.

Editor Rob
That sounds like a possibility.
Hong
said on 20/Mar/22
Click Here
Here's Buddy claiming 6ft3.5 it's at around 7 min into the video.
Ian C.
said on 11/Nov/21
Here's an interesting cultural artifact. Go to YouTube and call up videos of young Buddy dancing. Then call up the video "Hot girls shuffle dancing to Elvis's Latest Flame." Well I'm just passing through on a load of turkeys, but it looks suspiciously as if all those girls had stolen Buddy's dance moves.
Ian C.
said on 20/Oct/21
Pictures of Ebsen with Fess Parker reveal how striking height is as a personal attribute. Going by their official heights, Parker would have been three inches taller than Ebsen, with the result that Ebsen seemed on the short size whenever he was standing next to Parker. This is of course ridiculous, as six foot three is very tall.
I just saw an episode of the old TV show Yancy Derringer, with Jock Mahoney, who was six foot four In one episode, Mahoney teams up with a man who is about six foot six, who insists on calling him "little fella." Which was a good joke.
Rampage(-_-_-)Clover
said on 25/Oct/19
Current average guess is a joke...may have been a little under 6ft3 though
avi
said on 4/Aug/19
@Editor Rob
Rob, check this short video out of Ebsen with Landon and Dean Martin.
It's from 1980 . Ebsen was 72 and I believe shrunk .25 maybe even half inch
He looks 6'1.5 to 6'2ish next to Landon and Martin.
Now we can assume Martin and Landon both have small lifts. Landon probably more of a 5'10 guy and Martin 5'11 zone in the video. Still Ebsen seems no more than 4 inches taller than Landon.
Definitely not looking over 6'2
At 1 minute and 12 seconds:
Click Here
avi
said on 2/Aug/19
@Editor Rob
6'2.5 for Ebsen and 6'6.25 for Arness?
This would seem most logical.

Editor Rob
It might be the case, I would need to look at him again, I remember the last time thinking 6ft 2.5 was a possibility, though he didn't seem to shrink greatly towards age 70
avi
said on 24/Jul/19
@Editor Rob
Rob,
I think he wasn't 6'3 he was 6'2.
Look at this clip at 47:30 and 43:05 where James Arness is looking 4 (maybe even a bit over) inches taller:
Click Here
Also look at Ebsen next to Fess Parker who was between 6'5 and 6'6 allegedly:
That's 3 inches maybe 3.5
Click Here
Here he is next to 6'0ish Lorne Greene at 2:55. Looking maybe close to 2 inches taller
Click Here
And here at 45:30 and 36:20 :
Click Here
I can't see Ebsen more than 6'2.25
Dan Blocker was maybe .75 to 1 inch taller at most.

Editor Rob
6ft 2.5 might be closer than his claim
Dave279cm
said on 16/Aug/18
6ft3 seems about right.
avi
said on 5/Nov/17
Looked at an early Bonanza episode he was in and seemed same as Dan Blocker.
Maybe 2 inches on Lorne Greene who was around 5'11.5 - 6'0 flat but may have a little boost on many episodes.
6'2.5 is probably most Buddy was. Next to Fess Parker he was 3 inches shorter. Could be a strong 6'2.
Dan
said on 16/Jun/17
I'd say 6'2.5". He looked about 3" shorter than Fess Parker, who was 6'5.5" by every indication I've seen. Parker looked much more imposing because he was more built.
Ian C
said on 13/Jun/17
Go to Youtube and check out Buddy dancing in movies from the thirties and forties. He had a goofy style all his own that capitalized on his height. The other great movie dancers (Kelly and Astaire) were short men, and thus naturally more controlled, but Buddy did a lot of odd, almost awkward stomping around that was strangely beguiling.
Ian C.
said on 25/Jul/16
I love it when a tall man lives a long time (as I am tall and elderly) and Ebsen lived to be 94. He was survived by two sisters, who may actually have been older than he was.
Ebsen was also a professional dancer, which is an occupation that favours short men. Gene Kelly and Fred Astaire were less than middle height.
Sam
said on 16/Mar/16
Not really that familiar with Lee Horsley and I see he has a page here listing him as 6'3" but based on that photo alone with Ebsen I would've guess that guy as 6'2" tops.
AlexMahone
said on 13/Mar/16
Yes, Ebsen was co-stars in the TV series Matt Houston and was pretty much the same height than 191 cm Lee Horsley. And Ebsen was that time 76 years old! Incredible that the guy hasn't lost height.
Click Here
Arch Stanton
said on 11/Mar/16
Rob, on second thoughts The President's Plane is Missing is exceedingly dull and was made for television, despite his role as a Vice President, perhaps change it to Davy Crockett films.
Anika98
said on 11/Mar/16
WOW he was so tall
Arch Stanton
said on 8/Mar/16
Rob can you add The President's Plane is Missing, Between Heaven and Hell, Mail Order Bride, Broadway Melody of 1938, Night People and The One and Only, Genuine, Original Family Band? The One and Only Genuine Original Family Band is one film! Requested him a long time ago, glad to see he got added. Ebsen had about three inches on Peppard in BAT so seems about right.
Sam
said on 7/Mar/16
Thanks for adding, he looked a genuine 6'3" and a truly tall guy walking around in Breakfast at Tiffany's. Ebsen held his own heightwise with Jimmy Stewart, John Wayne and Clint Eastwood in photos I posted on request page. I think Baer Jr. certainly had a comfortable inch height over Ebsen on The Beverly Hillbillies but Ebsen could have started to drop height around either due to age or posture.