Caitlyn Jenner's Height
6ft 1 (185.4 cm)
Peak height was 6ft 2 (188 cm)
Caitlyn (born Bruce) is a former American athlete and actor from 1980's TV Show CHIPS. She said in a 1992 edition of the Miami Herald:
"I'm six-foot-two"
.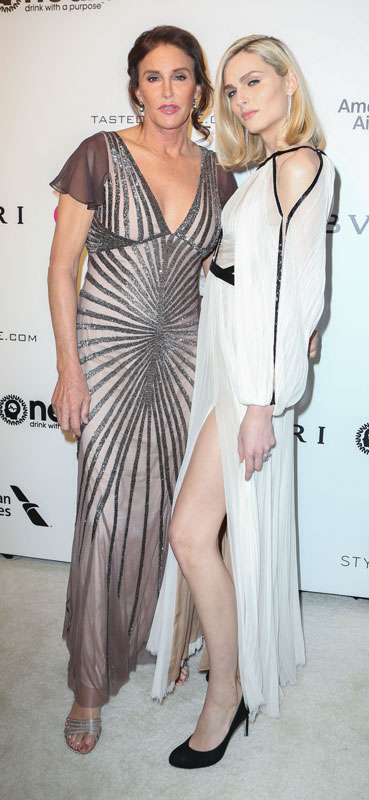 Andreja Penic and Caitlyn
Photos by PR Photos
I turned 70 recently, having transitioned aged 65. I went in for a physical and they said I was 6ft 1in. I was like: no way, I'm 6ft 2in. But they remeasured me and I'm 6ft 1in – I'm thinking: this is perfect, I can go an inch higher on the heels!
-- Independent, 2020
You May Be Interested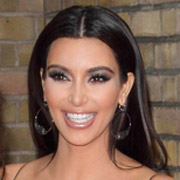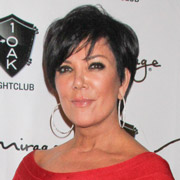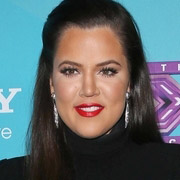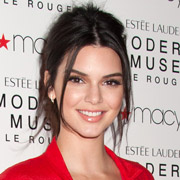 Add a Comment
58 comments
Average Guess (25 Votes)
Peak: 6ft 2.1in (188.2cm)
Current: 6ft 1.17in (185.9cm)
ChaosControl 6'2 1/2
said on 31/Jan/21
@Canson could be a combination, may have been 6'1.25-.5 pre transition, doubt an ex athlete holds the full 6'2 at 65
Canson
said on 30/Jan/21
I wonder if she lost the inch post transition or if it was age related. Her arms are noticeably smaller too. As Bruce he was jacked as fvck
Nik
said on 29/Oct/20
It would be great to compare her to Chris Tarrant!
Miss Sandy Cowell
said on 28/Oct/20
🎂💐💝 Happy Birthday Caitlyn! 💝💐🎂
Many Happy Returns to super-fit Caitlyn Jenner, who celebrates her 71st Birthday today. Have a terrific family knees up, Caitlyn! 🎶😁🎵🥂🎈
🎂💐💝🎊🎂💐💝🎊🎂💐💝🎊🎂💐💝🎊
J2Frenzy
said on 25/Oct/20
How tall is the blonde next to her in that photo?

Editor Rob
The blonde claimed 6ft 1 on
Twitter
Miss Sandy Cowell
said on 21/Oct/20
Now that it's nearly jungle time again, I'm thinking back to last year's show and what a breath of fresh air Caitlyn was. I absolutely adore her!
Peak: 6ft2; Today: 6ft1.5 😉👍💐
Nik Ashton
said on 12/Mar/20
She is a truly inspirational person!
Bradley
said on 8/Mar/20
How tall is Brodey Jenner

Editor Rob
Could be 5ft 11 range
Miss Sandy Cowell
said on 7/Dec/19
Oh blast! She's out....😢😿
Miss Sandy Cowell
said on 7/Dec/19
Caitlyn said, "I don't know of a single person who looks at a kangeroo's tail and says, 'Oh my! I've got to eat that thing!'"
Very funny Caitlyn! Love you to pieces and I hope you win! ❤️
She's the tallest person there, apart from Roman. (The Celebrity Jungle, that is).
6ft2 peak and 6ft1 now.
Nik Ashton
said on 28/Nov/19
I have seen her listed as 5'9" on an online site!
Miss Sandy Cowell
said on 18/Nov/19
@ Ian C - Ha ha! That made for funny reading! My Mum was as open-minded as they come, but she did have one of her German Mum's lodgers kicked out when she caught my brother, 11, and myself, 9, perusing through his porno mags, giggling! (My fault - I found them!) I haven't to this day seen anything as bad! It was in Hamburg, and I have heard everything goes there! Well, I saw that for myself in the mags, and I showed my Mum a picture with a 🐕. Luckily, it had no adverse effect on my fragile little mind! 👧👍
Cheers Ian XX 😆
Miss Sandy Cowell
said on 17/Nov/19
I have already decided who I'll be voting for in this year's 'I'm A Celebrity...'!
Caitlyn, who has just turned 70 and looks fantastic on it, has love, hugs and a genuine concern for everybody. What more can you ask for in a contestant?
⭐ She was a Gold Medal winner in the mid-seventies Olympic Games. Her forte was as a decathlon expert. 🥇
This was when she was Bruce Jenner.
She has 6 children. 😁👍
Miss Sandy Cowell
said on 17/Nov/19
I saw Caitlyn interviewed once and found her instantly likeable. I think she'll prove invaluable in this year's 'I'm A Celebrity...' if tonight's episode is anything to go by!
A genuinely caring person, and strong and plucky to boot. 😁👍💝
Peak - 6ft2;
Today - 6ft1.
Film Fan
said on 26/Nov/18
There are women that get even taller than Bruce/Kaitlyn Jenner. There's a woman in China who's 7' 7," so his/her height ain't too far fetched.
Gregorovich
said on 3/Apr/18
See her all the time in Westlake Village, CA. 6'2" easy.
Sam
said on 18/Dec/17
I think She's somewhere between 6.1 and 6.2
Canson
said on 25/Oct/17
May have been taller before the operation.
Junior
said on 16/Oct/17
Shes at least 186cm now. Rob need to upgrade her.
even
said on 19/Jul/17
correct listings
Canson
said on 15/Jul/17
Was not as tall as Gwendolyn Christie even peak
Canson
said on 15/Jul/17
Peak height was a full 6'2" as Bruce. Maybe in the new life she's lost some stature
Marlon
said on 14/Jul/17
I've met her at the airport she is around 6'1"-6'2 I know for sure because 1'm 6'2" we shook hands, She was definitely a above 6 foot.
Gregorovich
said on 7/Jun/17
Stood right behind her. Very tall. 6'2" would not surprise me. Easily over 6 feet.
Lee168cm
said on 13/May/17
Is Katy Perry wearing sky high heels in the photo above rob? I see barely four inches between them maybe 5 or could Katy be closer to 5 ft 8
Charlie W
said on 21/Apr/17
If you look up 1976 Olympic Decathlon it has him at 6ft2 188cm and has the other Silver and Bronze official height and weight. He is easily over 6ft tall. Even being older in age he sorry she is clearly over 6ft tall. She is taller than majority of people around her and if average male height was around 5ft10 she is usually couple inches taller than alot in pictures.
Charlie
said on 6/Apr/17
Still needs a downgrade. her son Brody Jenner is only 1 inch shorter than her and he is 5'10 3/4.That would put Caitlyn at 5'11 3/4. There's several photo's of Caitlyn and her son Brody standing side by side. At a quick glace they look almost the same height. If in fact Brody is indeed 5'10 3/4 then most likely be 5'11 3/4.
Sam
said on 23/Sep/16
In her peak would have given Gwendoline Christie a run for her money.
Canson
said on 2/Jul/16
Pre reassignment maybe he was 6'2. Don't know now
charlie
said on 1/Jul/16
look at the current videos of Caitlyn with teenager girls walking in a parking lot. Caitlyn and the girls had flats on an Caitlyn was no more than 5 inches taller than the girls,Even the Paparazzi guys were either taller than Caitlyn or the same size. I am going to say Caitlyn is between 5 ft 8 to 5 ft 9 max.
charlie
said on 2/May/16
i saw a video of Caitlyn standing beside a star bucks door in high heels getting shelter from the rain and there was still a lot of space between the top of the door and her head and she had high heels on. Maybe in flat feet Caitlyn is 5 foot 8 inches. Shes the same height as the males walking beside her and she has heels on.
charlie
said on 27/Jan/16
ok Caitlyn is 5 foot 10 inches. maybe 5 foot 9. Diane sawyer when she was young was 5 foot 9 and could easily be 5 foot 7 now.Caitlyn jenner does look tall bt she is definitely not 6 foot 1 inches no way.% foot 10 inches is rather huge and many people don't realise how tall 5 foot 10 really is. It's noticeable very tall and that's what Caitlyn is. If Caitlyn was 6 foot 1 he or she in heels would be 6 foot 6 inches and Caitlyn does not come across as a person that tall. in Heels Caitlyn looks about 6 foot 1 inches but flat feel 5 foot 10 or 5 foot 9 tops
andred
said on 12/Dec/15
She's closer to 6;-6'1 now.
Jerome
said on 11/Dec/15
Kendall Jenner is almost as tall in heels
Click Here
Rampage(-_-_-)Clover
said on 15/Sep/15
"Caitlyn Jenner's height is 6ft 2in (188cm)"
Allie
said on 14/Jun/15
If as a guy, he was 6'2, then in reality, if Bruce, now Caitlyn was born a girl, her equivlent height would've been 5'9. Still, both as a boy an a girl she's by no means short though. Maybe 6'2 as a peak?
Chris
said on 4/Jun/15
She's so tall!!!!
BGee
said on 2/Jun/15
probably should change the name to Caitlyn now.
MaryAnne
said on 2/Jun/15
Now Caitlyn. Tall woman.
Kayla
said on 28/May/15
He was still taller than 5'9" Diane Sawyer when she was wearing heels.
Gonzalowe4
said on 26/May/15
He didnt look taller than 6-1.5 peak. He certaintly looks shorter now. He has shrunk a lot because he doesnt look taller than 6-0 currently. I got a giant laugh from the interview when Diane Sawyer said hes 6'2.
Bishop
said on 19/May/15
She could have lost a bit of height but was definitely a strong 6'2" at peak.
fish
said on 2/May/15
At Peak he looked 6ft 2.5in
Arch Stanton
said on 29/Apr/15
That American woman who interviewed her must have been pretty tall herself as she only looked about 2 inches shorter in heels I think.
MJKoP
said on 26/Apr/15
She is definitely still 6'2".
Chris
said on 26/Apr/15
She's so tall
WhiteWolf809 1.85 6.1
said on 22/May/14
He does look very tall next to khloe kardashian in big heels and kendall his daughter who is supposedly 5.10.5 tall he was obviously 6.2 perhaps over 6.2 in his 20s. Rob do you think he could still stand 6.2 in flat feet at his age he is 64 now
Hannah
said on 30/Jan/14
Legit 6'2"
Polk
said on 27/May/13
Just saw him definitely 6 2
Fern194cm-192cm
said on 20/Feb/13
Bruce Jenner is a true 6,2. He is 6,2.5 in the morning probably as well
kristin
said on 8/Jan/12
Brody is not 6 foot 2. There is photo you can on google with Brody standing next to his father Bruce Jenner. Bruce is a little over 6 foot 2 and he's towering over Brody. This shows Brody is at best 5 foot 9 or 10.
Mathew
said on 9/Nov/11
Jenner is 6'2", he's been listed at 190 cm occasionally but 6'2" is right.
Mr. R
said on 24/Aug/11
Saw Bruce at LA airport. He is 6-2.
Shaun
said on 22/Aug/11
Looks a legit 6'2" to me. His daughter Kendall is it is a really tall girl and 5'11" ish I think. He must have tall genes.
peyotetimes
said on 24/May/11
There is not a chance in hell that Brody is 6'2". I read a bunch of rumors that he was actually 5'9" too and that there was a lot of camera trickery used in The Hills to make him seem taller...but in the photos I've seen, he really does look more like 5'11"...not sure though
Nann
said on 28/Jan/11
Brody claimed on twitter that he is 6'2. I thought he was shorter but if Bruce is that tall too I guess Brody may be as well
L A LAKAZ 4 EVA
said on 15/Aug/08
I think I may have seen him one day, maybe. He did not seem less than the 6-2. Maybe no more than 6-2, either.
Mr. R
said on 28/Dec/05
This is accurate. He sat in front of me at Robert Urich's funeral, and I have stood behind him at the airport.