Calum Best's Height
6ft 2 (188 cm)
American-British TV personality. He Said in 'The People', 2003 "I'm 6ft 2", although later claimed to be 6ft 3.
His mother, Angie Best, said
"I'm 5ft 7in and weigh 8st 6 lb, which I'm pleased with. That's 5 lb or so more than in my youth"
.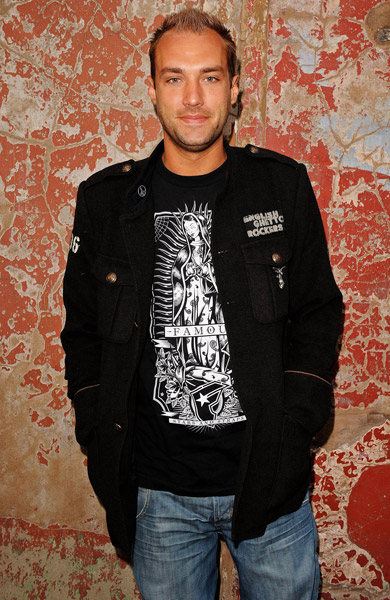 Photos by PR Photos
Add a Comment
32 comments
Average Guess (12 Votes)
6ft 1.31in (186.2cm)
Rampage(-_-_-)Clover
said on 30/Jul/21
Why not Rob?
Arguably most iconic footballer of all time while Calum is only known for being his son

Editor Rob
that is true...he actually once had a page briefly.
Rampage(-_-_-)Clover
said on 29/Jul/21
Rob, could George Best get a page?

Editor Rob
I am not sure
Miss Sandy Cowell
said on 26/May/21
I've just seen Callum's Dad, George Best, make a guest appearance on the show 'Bullseye', offering his services for charity. I think I spotted the year 1984 pop up at the end, which makes sense. George still had his trademark mop of dark brown hair, but I was surprised at how comparatively diminutive he looked, remembering how tall his son Callum is. George was noticeably shorter than the late host, Jim Bowen. I found 177cm for Jim and 175cm for George when I checked out the statistics. I didn't think George looked much taller than 5ft8, or 173cm, to be quite honest.
Callum's famous Mum, Angie, is 170cm, or 5ft7, so by hitting around 6ft2, Callum is unusually tall, and equivalent to Angie being 6ft as a male, so that's 2" taller, - fair enough and hardly unusual - but he gave Dad quite a towering!
⭐ Jim B mentioned that George had, at that time in his life, raised over half a million pounds for charity. ⚽
Callum gets 6ft1.75.
stiggles
said on 22/Jan/21
This is laughable.. i've been in his company a few times.. he is no more than 6ft.. prob under that flat feet.. i'd give him 5ft 11.5 max..
Miss Sandy Cowell
said on 8/Aug/20
There was a question on Callum's Dad, George, on 'The Chase' a minute ago, which asked, "Who was reputed to have said, 'I spent a lot of money on booze, birds and fast cars. The rest I just squandered!'"
Well, I knew the answer before the three possibilities came up; it's one of George's most famous quotations. Regarding the remaining two fellas, Bradley Walsh added, "I think the other two had a good go at that themselves!" 😂😂😂🤭⚽
Well, I'd never have known that - good old Bradders! He's right when he says the show is educational. Well, it sure was the case this afternoon when there was a question as to which King was the husband of Catherine of Valois, which was, of course, Henry V. Brad didn't know - but he does now! 😁👌
Callum gets 6ft2.
⭐ I don't half agree, Nik and James, that George Best ought to have his own page. He was famous long before I even had a yen for long-haired guys, and that is going right back to the Sixties! 😉
Nik
said on 21/Oct/19
@ satchy - I-N-T-E-R-E-S-T-I-N-G!
Nik
said on 21/Oct/19
@ Rob - How about a page for George Best?
Rampage(-_-_-)Clover
said on 25/Jul/19
I think it's ludicrous that this guy whose only famous because of his dad gets a page before him
James Brett 172cm
said on 29/Apr/19
No George best height page?

Editor Rob
He did claim 5ft 8.5
Rampage(-_-_-)Clover
said on 14/Jul/17
Arch, I think maybe he could fall into 6ft1½-6ft1¾ range at worst. Still near enough to claim 6ft2. The 6ft3 is definitely a shoe height. 6ft1 flat is a bit low for him though, I'll admit.
highlysuspect
said on 13/Jul/17
Looks 187. People saying only 6 foot are delusional
Arch Stanton
said on 7/Apr/17
5 ft 7 and 8 stone 6 for a 60 something year old women is excellent, but she is a fitness instructor. A lot of women would be very happy being even 10 stone at that height and age. How many people can say they're only 5 pounds heavier at 60 than 20?
To be honest Rampage I think this guy from what I've seen can look this, if he's not he's close, see him with his mother who claims 5 ft 7.
Arch Stanton
said on 6/Jan/17
Rob, do you think his mother really looks a legit 5'7?
Click Here
I can believe a full 6'2 for Callum. I wouldn't have guessed her at more than 5 ft 6.

Editor Rob
she did claim that mark in an interview, but yeah, maybe it is a roundup from 5ft 6ish.
Rampage(-_-_-)Clover
said on 2/Sep/16
Anywhere between 6ft1-2 is possible for Calum...
Bobby101
said on 29/May/16
Calum is 6ft 1 inches maximum. I've meet him several times and he was shorter than me being 6ft 2
Rampage(-_-_-)Clover
said on 30/Mar/16
Rob, I'm having serious doubts about 188cm for this guy, maybe 187cm could be closer?

Editor Rob
yeah that mark is very possible.
asim
said on 28/Jan/15
looks 6'1 on big brother
Trig
said on 12/Jan/15
Coming from my family of men between 5'8" to 5'11. My height is 6'2" and the only other person in my family with the same height was my grandmothers brother so i clearly take after him. Genetics dont always come from parents!!!
Arch Stanton
said on 20/Oct/14
greg says on 25/Oct/12
Difficult to believe this is George Best's kid; George was on the shorter end of average height for his era (~5'8"?), and pics of Calum around town show him looking a lot taller than everyone around him. At least 6'1".
Why is it? His mother is an American model probably at least 5 ft 9 and although he has his mother's colouring you can see George is his dad, especially when he has a beard, there's a quite a resemblance there, even if Calum looks a lot more "streetwise" than him.
Rampage(-_-_-)Clover
said on 17/Oct/14
Near enough a 6ft1 guy, Rob?

Editor Rob
at the last second he dropped height, if the photographer snapped 2 seconds earlier he'd have been taller and I couldn't adjust quickly...but he's very near 6ft 1 I believe.
Lorne
said on 18/Jan/14
I assume you are talking about Callum Blue??? I doubt you've seen this guy.

Editor Rob
ha, getting calum's mixed up.

Best is claiming 6ft 3 last I checked, on twitter I think.
Rampage(-_-_-)Clover
said on 16/Jan/14
Rob, is it possible that Calum might be a fraction or so shy of this mark?
He can look 6ft-6ft1 with bad posture.

Editor Rob
it's not impossible, but he looked near enough a 6ft 1 guy
Godred
said on 8/Sep/11
Still looks about 6 ft flat
James
said on 23/Jul/11
a weak 6'2 next too boby charlton
Godred
said on 21/May/11
@Anonymous - funny if your not serious.He doen`t look anything over 6 ft.
Anonymous
said on 20/Feb/11
lol 6.2 He is 6.5 at least. Met him in person.
Mr 5ft10.25
said on 28/Dec/10
he's not that tall. A strong 6 foot.
Doug
said on 4/Mar/09
Looks to me a similar kind of height and build as that Paul Hunter guy from the Fast and Furious. Around 6'2" but can look taller because of lanky sort of build.
Jim
said on 10/Oct/08
Richard Madeley is listed as 6ft 2.25in and on his TV show Calum stood at least as tall. Calum appeared to be slightly shorter than Josh Hartnett (also a guest on the show who Calum stood next to) and Josh is listed as 6ft 2.75in, so I'd believe Calum was about 6ft 2in.
Iwonder
said on 31/May/08
Why isn't his dad in the list? Also, would like to see more footballers in general.
bobo
said on 12/Jul/07
I met the bloke at a D list celeb bash in London. I was with my brother who is 6"5 while I am 6"1 and he is NO WAY 6"2. I would go with 6". A friendly enough bloke with piercing eyes is what I remember
Chris
said on 26/Sep/06
He does not look that tall in comparison to other people, especially on that Celebrity Love Island...however he did stand tall at his Dad's funeral.