Canelo Álvarez's Height
5ft 7 ½ (171.5 cm)
Saul Alvarez is a Mexican professional boxer, who has been a world champion in 4-weight divisions.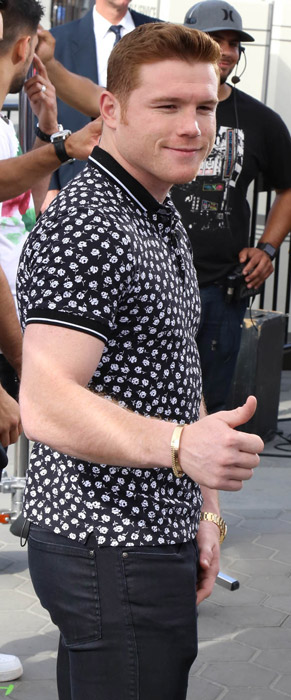 Photos by PR Photos
You May Be Interested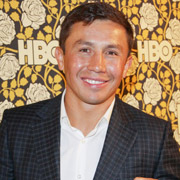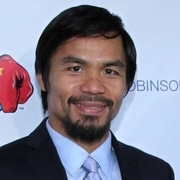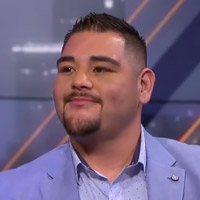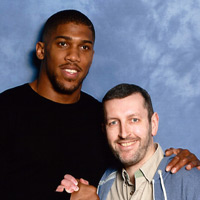 Add a Comment
27 comments
Average Guess (28 Votes)
5ft 7.29in (170.9cm)
Daniel T. Wells
said on 10/Jul/20
shorturl.at/wyHU7
How tall is Canelo looking with Curry, Rob?

Editor Rob
At very most 5ft 8, how much Curry is losing in posture though...over an inch, near 2?
sepehr
said on 25/Mar/20
hi rob,please list ryan garcia's height thank you
soccer
said on 9/Jan/20
1,69-1,70
Neil Gadingan
said on 26/Dec/19
He seems taller because of his frame but definitely doesnt tower most of his opponents but is a legendry athelete regardless of his size.
edwards
said on 8/Dec/19
i have him at flat 5'7 personally.dont know but he always gave that impresion.
Christian 6'5 3/8"
said on 27/Nov/19
@Rob
I wish there was a system where you were able to move any non-height related post over to the Sookie's Den or General Height pages, then people are able to discuss whatever they wanted to there.
Christian 6'5 3/8
said on 25/Nov/19
@Rob
I don't think you should've deleted some of the posts.

Editor Rob
Well I think it was drifting away to height to Ethnicity/looks, there is a site for that, here is a link if anybody likes
Reading that topic
.
You can see his head size compared to someone like Floyd is
A bit longer
rename
said on 25/Nov/19
Rob If you type canelo alvarez floyd mayweather faceoff instead of google search, you see the two are the same size or floyd mayweather even higher than canelo alvarez.

Editor Rob
They can look close enough to argue the same listing, though Floyd has a smaller head/eyelevel.
FiveEightJake
said on 23/Nov/19
Rob are you familiar with Callum Smith & his height? Listed as 6'3, he can definitely look near that range next to Eddie Hearn. There's a chance of him fighting Canelo which is quite remarkable considering the height difference.

Editor Rob
Yeah he did claim to be 6ft 3 on twitter once, which isn't that unreasonable a claim.
John126e
said on 22/Nov/19
how tall do the garcia brothers look like next to jake paul here (assuming he's 5'10.75) ?
Click Here

Editor Rob
Could be at least 4 inches smaller as Jake might have a wider stance and losing more height.
ajax509
said on 20/Nov/19
Yes, he was world champion in three classes, but it's likely that guys like Wilder or Joshua would beat him 1st round. Also, I don't think he would take the risk.
Actually bizarre that fun division is money divison 🤑
BoxinfFan
said on 20/Nov/19
Rob, do you think the boxer Ryan Garcia who is maybe the best young boxer at the moment is 5ft10 as he is listed everywhere
i think he is 5ft9 or maybe less
what do you think rob ?

Editor Rob
Not quite seen enough of him yet to be sure.
Josh Jeffords
said on 19/Nov/19
Just saw his LhW debut was impressive in its way he really is something.
Personally he looks 5 , 7 max im 5, 7 .5 measured by physio i look taller and heavier.
Feyweather is even shorter maybe 5'6-.5 range, kahn has no chin but is tallest of blokes weak 5, 8.
I've never seen one boxer who isnt inflated kinda sad mma is same way.
Dude he last boxed is listed 6 ft and looked huge compared righting is on wall.
jordanft19
said on 19/Nov/19
5'7.25" guy.
Aar?n R
said on 19/Nov/19
Nice add rob
Anon11
said on 18/Nov/19
Rob, Alvarez only held the WBA "regular" title at super-middleweight, which is not a recognised world title. WBA Super is their world title. He is a World Champion in 3 weight divisions.
Miss Sandy Cowell
said on 18/Nov/19
I don't think he'd mind hearing that, Arch! 😋🍻😁
5ft7.5.
Christian 6'5 3/8"
said on 18/Nov/19
@Arch
Mexican is a nationality though, even though many of us are conditioned to believe that it's a race. There are white, brown, black and indigenous Mexicans. It's no different than American or Canadian.
Barr
said on 18/Nov/19
170.5
169 at night
He looks always very short
Chris MTW
said on 17/Nov/19
Click Here
If Canelo is listed at 5'7.5 and Drake Bell is listed at 5'7.5, then why does Canelo look taller? Because in this picture they're wearing the same style shoe.

Editor Rob
Arch Stanton
said on 17/Nov/19
Mexican?? He looks like the sort of lad you'd see at a night club in Dublin!
White Rose
said on 17/Nov/19
A bit shorter than Amir Khan. So this listing is correct. His wide frame makes him look taller.
Junior31
said on 16/Nov/19
Yes awesome add rob..he's in fact this height. Spot on
Kaoz
said on 16/Nov/19
looks 5'8" flat
miko
said on 16/Nov/19
He's a weird one he can look as short as 5'7 but then hold his own with taller guys.
He's just got the edge on Mayweather.
Sword
said on 16/Nov/19
Might appear half an inch taller on screen but this seems about right for Canelo.
FiveEightJake
said on 16/Nov/19
Quite surprised at this one he struck me more as a flat 5'7 sort of guy. He is stocky though I guess.

Editor Rob
I think 5ft 7.5 is probably the most I would estimate, no way is this guy 5ft 8-9 range.