Carmen Electra's Height
5ft 2 ½ (158.8 cm)
American model and actress known for roles in films such as Meet the Spartans and I Want Candy.
So I'm standing on the bed and we're eye-to-eye, because he's [Dennis Rodman] 6ft 8in and I'm 5ft 4in
I always thought I was 5'4" and I just found out I'm 5'2 1/2"! I was so bummed!"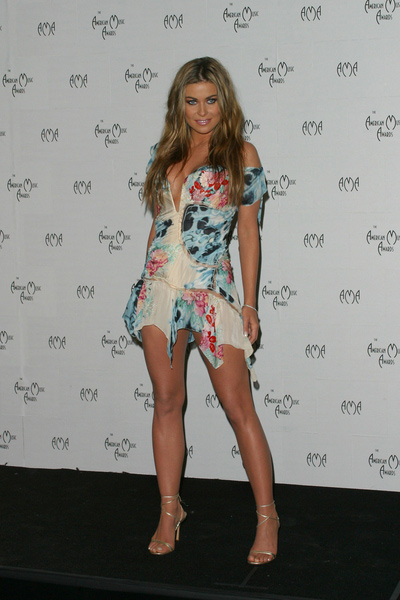 Photos by PR Photos
People always think I'm 6-feet tall. I've literally been at the airport and listened to a conversation between two people. One person saying, "It's her." The other person saying, "No, that's not her. She's too short."... I'm 5-foot-2-and-a-half. That's what I am and I love it. And I get to wear extra high heels if I want to be taller!
You May Be Interested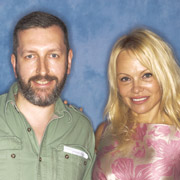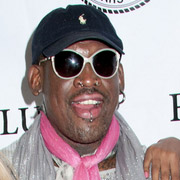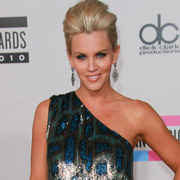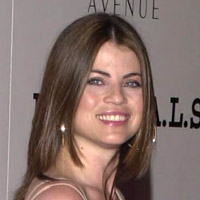 Add a Comment
58 comments
Average Guess (8 Votes)
5ft 2.22in (158cm)
Miss Sandy Cowell
said on 20/Jan/20
NO? Is that all she is? I can't see her having done much catwalk work. Is it surprising she became an actress?
Oh, I see - Carmen was a glamour model!
I give her 5ft2.5. She's open enough about it, even if it does bum her off! 😃👍
Arch Stanton
said on 28/Oct/18
No Dave Navarro Rob?

Editor Rob
I forgot to bring his page back, it was deleted back when I purged a lot of glenn images...if I don't do it now, i'll forget again!
Nik
said on 20/Jun/18
I like her name!
MAD SAM
said on 18/Jun/18
157.5 cm, she's very beautiful
John C
said on 12/Mar/17
Yea i definitly want to discuss Dave Navarro
tony t.
said on 8/Feb/17
Rob, if I'm not mistaken didn't you at one point have Dave Navarro on this site? I'm pretty sure he's not 5'9. He may be 5'8.
Editor Rob: he did claim 5ft 9
Hijopotamus
said on 15/Jan/17
Calguy, Dave must be 5'8 min. Look at him beside Perry who stands 6'
Calguy
said on 25/Sep/16
Why is Dave Navarro not on this website? He is a famous person notorious for wearing thick footwear, i estimate hime to be 5ft 7in but all websites have him at 5ft 9in
Editor Rob
said on 4/Jun/15

She rounds up at times. See her latest quote again saying 5ft 2.5. When you're 5ft 2.5 you sometimes say that, other times you'll round up.
Likemshort
said on 17/Aug/14
https://www.youtube.com/watch?v=c5bWXj8SBs0 She says 5'3"
(S)aint
said on 12/Nov/13
Listed as Height:5'3" on Oprah. She also eas listed as body type: perfect lol.
The Truth
said on 11/Sep/13
In person I can tell you she is super short (5'1.5" ??) and really tiny, i.e. skinny frame. This girl shocks in person how small overall.
J.Lee
said on 18/Apr/13
Rob how tall do u think she is in these monsters?
Click Here
[Editor Rob: they look 4.5-4.75 range so 5ft 7-7.5]
jean
said on 1/Feb/13
Carmen is a perfect classic beauty. She has beautiful proportions and a gorgeous face. She sets a very HIGH beauty standard that even the 6' tall glamazons cannot reach. Also equally gorgeous & classic beauties are Salma Hayek @ 5'2' and Scarlett Johansson @ 5'3". Height does not matter with women. It is all about proportion, and how you carry yourself. There are hundreds of beautiful & desirable women under 5'5' today, but the media is pushing the super skinny & super tall women on us and we "normal height" beautiful women must fight back with blogs and dressing correctly to show off our wonderful figures. And ladies, don't forget to get your hair right. Remember the amazing Veronica Lake @ 4'11' who set Hollywood on fire with her peek-a-boo hairstyle. Own your height and the "rock on" like Fergie @ 5'3" and smoken hot!
Alepac5
said on 29/Sep/12
This can't be true. She's probably 5'4 and this last measure was not accurate. She appeared barefeet and side by side with Donna D'Errico in Baywatch, and Donna is 5'5 (the difference between them was no way larger than 1 inch). Besides, in the same video she appears side by side and barefeet again with Kelly Packard (who is 5'4) and they both were exactly the same height (pay attention when they talk closer to their wardrobes). You can see the link to the video below:
Click Here
Daphne
said on 9/Sep/11
I am so SHOCKED. I was thinking that she was the 6'0 tall hottie!!! I also was thinking that I am shorter than her. I am 14 and 5'4.5", so, Carmen you are a shortie...Hahahah
Anonymous
said on 29/Dec/10
5"2 = 157.5 cm.
Might call her short but she is beautiful.
tricky23
said on 19/Dec/10
carmen is 5'2..5'4 in heels i was hanging out with her before she was known im 5 feet 5'2 in heels..we are both shorties! it was nice for me to find she was just a lil thing..and pictures dont do her justice she is seriously the most gorgeous woman ive ever met and seen..we had good times!
dana
said on 26/Nov/10
she cant be 1,59 she looks shorter, dont know why, her legs are not that short, but her torso and arms seem prety short
dan
said on 16/Nov/10
Good things come in small packages is bogus??what a dumb thing to say.the truth is good things come in all different sizes.
Chic
said on 15/May/09
I met her a few years ago and she was my height (5'1).
Heightgirl
said on 17/Apr/09
She isn't as high as 5f2. She looks to be a weak 5f1.
ari
said on 13/Feb/09
I saw her right next to a local singer I know (who is exactly my height). She was wearing 9-10 cm heels, and was my height. I am 170cm, so Carmen is 160cm. There should be a metric converter here though..
Anonymous21
said on 2/Jan/09
In her hometown videos back when she was a teenager she seems to like 5ft5 or 6. She got really small in those videos she was pretty wide, wide back, wide butt, meaty legs. Thicker made her look taller, she is one of the few that looks shorter slimer.
Anonymous
said on 8/Dec/08
It is pretty funy how obsessed some people are with celbrity's heights (I include myself there) but it's just kind of funny because for girls at least they are never satsfied with their height and many (most) are always adding thoses hollywood inches on!
WOW
said on 4/Dec/08
This website is crazy...didn't know people were so obsessed with celebrity's heights! The funniest part is that unless it's a girl most guys are always taller than the celebrity they meet! But to each his/her own..whatever helps you sleep at night! Good thing I'm tall at 6'2"
el toppo
said on 18/Nov/08
Just watching an old howard stern (Where she rides the sybian! Yowerz!) and she said she was 5 foot 3.
why not
said on 1/Nov/08
It is always best to have someone else measure you to be the most accurate.
Anonymous
said on 5/Sep/08
no ofence to Carmen , I lover her lol:P but how could you not notice you'r 5'2 and think you'r 5'4?? that's rediculous! ! anyway I thought she was taller it's amazing how much taller pictures and the camera can make you look.
Anonymous
said on 27/Jun/08
Click Here
they're just about the same height with kim kardashian which is said to be 5'3"
lauren
said on 22/Apr/08
the same thing happended to me recently, i always thought I was 5ft 6 but when I was measured I was just under 5ft 5 by about 2mm. However after measuring myself for a few more times I noticed my height seemed to vary from about 5ft 4 to 5ft 4 and a half to 5ft 5. Therefore I actually found out that how much you measure in height depends on quite a few factors, such as:
1) how straight you are standing
2)how straight the tape measure is.
3)how flat your feet are to the ground.
4) whether you are cheating - on slight tip toes.
you get me!!
rose
said on 7/Apr/08
I have to say, it is actually quite easy to beleive yourself to be taller then you are, I did it, I always thought i was 5ft 6" tall, but recently got measured at just 5ft 4"! i think its cos i always wear heels and so look taller then alot of people, and also the fact that there are alot of really really short people around that make an average height person look alot taller then they really are....
nate
said on 10/Mar/08
whats dave navarro, 5-9?
Danny
said on 25/Dec/07
No way.. when she come to my contry .. i read in the papers that she was 4'11'' !! and she was with heels in the conferency.. i dunno ..
jane doe
said on 21/Dec/07
she was at csula filming a commercial and she was standing next to my friend who is 5'6" in shoes and carmen was wearing hills and was like five inches shorter..she is real tiny!
Alex, London
said on 23/Sep/07
One of the possible reasons she HONESTLY believed herself to be 5'4" is that so many other actors in Hollywood give themselves an extra 2 inches of height!
jess
said on 17/Jun/07
a good friend of mine escorted her up the stage at a casino event a couple years ago. when i asked him about her the one thing he said was that she was very very small. he is a short guy and always notices height and he said he would put her at 5foot.
Brad
said on 11/May/07
She ran from the magician's helper....Pam got it. I would have believed 5' 8", that's how good the camera made her taller, much like Farrah & Ms. Simpson.
Crissy
said on 29/Apr/07
Brad, me too
I thought she was taller
but i'm no expert so
Brad
said on 23/Apr/07
She's a Vegas magician's helper as her next job. It is unbelievable what she does for $ these days. It is like she is on order by a court or something. Wasn't she an actress once?
X
said on 19/Apr/07
How would she not know she was an inch and a half shorter???
Perhaps she had listed herself as taller earlier in her career as a dancer. It's been reported that Paula Abdul had to work harder to prove herself early on because her height prevented her from having the 'classic' dancer's body.
Brad
said on 16/Apr/07
I never realized she was that short. She must have worn giant heels with Rodman.
J-Dog
said on 17/Apr/06
Yeah Jonathon Ross reminds me of about 10 guys here.
Haylie
said on 17/Apr/06
He said Henson was taller than he expected him to be and something about him being a strapping boy (what? lol) I wouldn't actually be surprised if Ross has visited this site!
[Editor Rob: yeah, henson is around 6ft. Lol, Ross is a clued up guy, it wouldn't surprise me if he's bashed in 'JONATHAN ROSS HEIGHT' into google...he might have ended up here ;-)

hey, message to Ross: "ask more heights of your guests!"]
TJ
said on 17/Apr/06
Starting to find Ross's height fixation a little annoying actually, particularly when he does it with the guys. If there's a guy on there who isn't particularly tall, Ross rarely fails to mention it. I think he gets an ego boost out of being taller.
[Editor Rob: yeah, he'd fit in well on this site! You've seen the pamela anderson interview I take it? That was taking it a bit far...]
JJ
said on 16/Apr/06
whoa! i always thought carmen electra was 5'4 cuz that's wat it said EVERYWHERE! now i feel stupid for thinking that.
[Editor Rob: to be fair, she said 5ft 4 for a few years then realised she wasn't that height]
Haylie
said on 16/Apr/06
lol I've noticed that too he very often makes a comment about his guest's height, he did it with Sharon Osbourne and that Gavin dude Charlotte Church is going out with!
[Editor Rob: what did he say about Henson, anyone remember? I've not seen it, maybe something to do with hair making him bigger?]
Haylie
said on 15/Apr/06
I watched her on the Jonathon Ross show last night and he asked her how tall she is as he was surprised at her petite stature and she said "I'm 5'2.5"
[Editor Rob: Jonathan Ross, I think he has a closet interest in height...it wouldn't surprise me if he has donned a lift on occasion...]
Anonymous
said on 27/Mar/06
Jolene
I have stood between Carmen and Pamela Anderson.Carmen is about 5'3 and Pammy is quite a bit taller at 5'7.Short and petite is very sexy though.
Elise
said on 26/Mar/06
I just was watching VH1's most wanted celeb bodies and Carmen was on commenting on other people on the list and said she was jealous of women with long legs because "I'm only 5'3" just thought you should know...
Tuan
said on 21/Jan/06
Glenn, so how tall is Dave Navarro?
Glenn
said on 19/Jan/06
she is 5-2.
Anonymous
said on 5/Jan/06
Not 5'2.5" if Richie is 5'1" (which she is). Electra is 5'1" too. Definitley not a 1.5" difference.
http://editorial.gettyimages.com/source/search/FrameSet.aspx?s=ImagesSearchState%7c0%7c-1%7c28%7c0%7c0%7c0%7c1%7c%7c%7c0%7c0%7c0%7c0%7c0%7c0%7c0%7c0%7c7%7canna+nicole+smith+%7c-8193%7c0%7c0%7c0%7c0&p=7&tag=1
Anonymous
said on 31/Dec/05
Wow i had no idea Carmen was that short! I think she's smokin' hot no matter what her height is,and she is living proof that short women can be just as hot as any 6'0 supermodel.
leeya
said on 20/Sep/05
anyone knows how tall that model Marisa Miller in Manhunt? just curious..
Anonymous
said on 14/Sep/05
Nah she is definately 6ft if not 6ft 2. Cos I met her and I am 5-ft-10 and she was a good few inches taller than me and she was in flats and i was in heels.
CelebHeights Editor
said on 17/Aug/05

She's rounding up again, naturally
"But, it was fun and I got to wear platforms which is always good in my book, because I'm only 5' 3."
Kats
said on 8/Jul/05
In the past, I thought she got away with 5'4. Glad to hear her be truthful about being 5'2 1/2.