Charlotte Church's Height
5ft 4 ½ (163.8 cm)
Welsh Singer.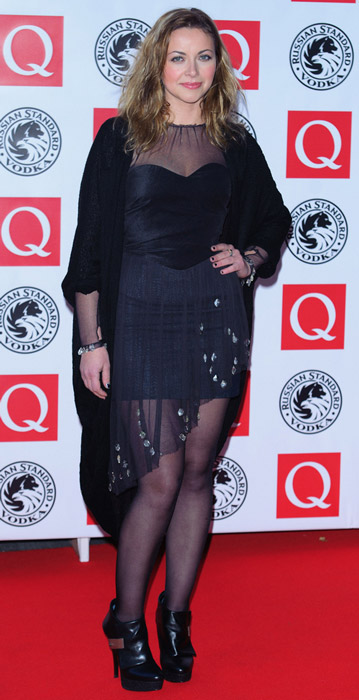 Photo by PR Photos
Add a Comment
28 comments
Average Guess (3 Votes)
5ft 4.5in (163.8cm)
Miss Sandy Cowell
said on 21/Feb/20
💐🎂🎶 Happy Birthday Charlotte! 🎶🎂💐
A Very Happy 34th Birthday to Charlotte Church, who turns 34 today. I remember when she was a tiny 12-year-old and guesting in a Christmas episode of 'Heartbeat', sitting on Santa's lap, who I believe was played by Claude Jeremiah Greengrass, OKA the late Bill Maynard. Now Charlotte has two children of her own - a girl and a boy! 👧🧒
My Birthday Guess for Charlotte is 5ft4.5. 👩🎁🎈
💐🎂🎶🎁💐🎂🎶🎁💐🎂🎶🎁💐🎂🎶🎁
Nik Ashton
said on 31/Jul/19
It's great to find out how tall she is!
Miss Sandy Cowell
said on 29/Jul/19
Oh, great! You DO have her Rob! I used to enjoy her funny show, especially her 'Lady to Ladette' slot!
5ft4.5.
Rojina
said on 21/Jan/18
Remember people-Charlotte started out when she was 13. She could have easily spurted up to 5"2 by the time she was 15 and another couple of inches since then.....
Kashfia
said on 21/Jan/12
@Shaun You are really 6'4" in your bare feet but your shoe size is only 11 or 12.
Shaun
said on 17/Aug/11
Rob can you start a page for Gavin Henson? Scouts honour he is a legit 6' flat.
Shaun
said on 17/Aug/11
bowie fan says on 18/Jul/10 She is actually 5'7" in her bare feet. She grew a lot during her singing career. Then I'm 6'4" in barefeet.
Shaun
said on 24/Feb/11
Actually I was surprised as I thought Gavin was bigger. He was definitely smaller framed than me, even if more toned.. I'm 15-15 and a half stone range
Shaun
said on 24/Feb/11
Actually I was surprised as I thought Gavin was bigger. He was definitely small framed than me, even if more toned.. I'm 15-15 and a half stone range
Shaun
said on 24/Feb/11
Rob. Can you start a page for Gavin Henson? I swear I've met him face to face inside a store in Cardiff. I was wearing dress shoes which give about an inch and he was wearing flip flops which I'd say give 0.5 inches and I had about 2 inches on him. I measure 6'1.5" afternoon height barefoot. I'd measure about 6'2.5" in that pair of shoes. I would estimate him to be 183cm, possibly 184, but that was probably the spiky hair.. I'd list him at 6'0 (183cm), I think he was also measured at that or 184cm for his rugby club. Charlotte looked a LOT smaller than she looks on TV. I'd have guessed 5'5" but difficult to exactly estimate women who are a lot shorter than you..
Genny
said on 28/Nov/10
Have seen Gavin loads of times and he's obviously 6 and slightly more in shoes. Have seen Charlotte only twice and our heights seemed equal ie 5ft 4 and a half for me so she's that or no more than half an inch either way. He looks bigger due to being ..big !
celtic girl
said on 29/Jun/09
I would guess that Lisa is around 5' 5" or so, maybe taller or shorter. Mairead is defenately smaller than all of them!
filmfan
said on 4/May/09
I've seen Henson and he's a big guy in person. 6ft tall and very muscular. Don't know tall Church is.
Doug
said on 6/Feb/09
I've met both Charlotte and Gav many times. I can confirm that the above height for Charlotte is about accurate she actually looked quite short to me a little below 5'5". She looks considerably smaller in reality than on TV. Gavin Henson was roughly two inches shorter than myself and he claims 6'0" which is also about right for the record.
loveforlassies
said on 10/Dec/08
?, you're heights are Celtic Woman sound correct except Meav is actually a tall 5'8", don't know Alex Sharpe's or Lynn Hilary's yet. Also, Hayley Westenra, New Zealand's most beautiful singer, is surprisingly only 5'5.75". She just looks tall due to her gorgeous elvish looking figure! Mairead Nesbitt is petite for sure!
?
said on 1/Jul/08
wow, I thought 5'2" was like Charlotte's height at age 14. I always thought she grew to an average height girl when she turned 18. Has anyone met Celtic Woman in person btw? They all seem like beautiful average heights lassies except for their fiddler Mairead Nesbitt who's only 5'2"ish looking and New Zealand soprano Hayley Westenra always looked to be in the 5'7"-5'9" range.
mimi
said on 9/May/08
hi,
i met charlotte arnold last night actually. I am 5'4 and charlotte was significantly smaller than i am. she is 5'0 at the MOST. She is small, but not petite,
shes curvy as well suprisingly. she looks a lot taller on t.v i was astonished.
RentGirl
said on 22/May/07
i found this and it has her height at 5'2. she's next to Nicole Ritchie.
Click Here
Allie
said on 10/Apr/07
i always thought she'd be 5ft2 or under. and i've heard on different tv show and in magazines that she's around that height too.
sianna
said on 18/Aug/06
wow...i thought she would be no more than 5'2! maybe her curvy body persieces her this way??
sunbeame
said on 10/May/06
Described on channel 4's "10 years younger" program as 5ft 2. (They were doing a piece about shorter celebs).
Blondie
said on 3/May/06
I was stood by her in a Cardiff club about two years ago. I'm just over 5ft and had heels on that would have made me about 5ft 3 and she was roughly the same height as me. I didn't notice her footwear, but this means even if she was in flats she's no taller than 5ft 3. She's actually very petite looking in real life (compared to some the pictures you see of her in the tabloids and magazines) and she's stunningly pretty and smiley.
abbie
said on 22/Mar/06
Wow Charlotte always lots really tall! she was the tallest woman in her Call My Name video I thought she was 5'6"
danielle
said on 14/Mar/06
in now magazine they say that charlotte church is the most famous young opra singer in wales.she transformed from an opra singer into a hip hop artist.charlotte was adored by many people and she still is now.her height is 5'2" and 9st 11,however they are probably talking a load of rubbishe because hilary duff is 5ft and 8st 6.and liz hurley is 5'8" and 7 st 7 and no way is liz that thin.
abbie
said on 1/Mar/06
In 'Now' magazine they list Charlotte at 5'2" and 9st 11 however they are probably talking rubbish cos they say Kelly Brook is 5'8" and that Liz Hurley is 5'8" and 7st 7 no way is Liz that thin!!
rose
said on 11/Feb/06
There are pics of her and 5'2" Kelly Osbourne all over the place and she looks a good 2 inches taller so I would guess 5@4" on the nose for Charlotte as she does wear high heels all the time
Michel
said on 24/Dec/05
If she was 5' 2" at fourteen, then she probably grew a little bit since then. Lindsay Lohan grew an inch since she was 14, and is about Charlotte's age, so Charlotte is 5' 3"? Charlotte always wears heels so it's hard to tell, but she looks to be in the 5' 3"-5' 5" range.
Scott
said on 19/Jun/05
Having met her on numerous occasions I can confirm that within half an inch this is entirely accurate.