Christian Serratos Height
5ft 5 (165.1 cm)
American Actress best known for playing Angela in the Twilight series. On tv she has appeared in Ned's Declassified and The Walking Dead (as Rosita Espinosa). This photo was from a twilight convention in 2008. She had 1/4 inch less sneaker this day than me. On her twitter she said
"Im 5'7"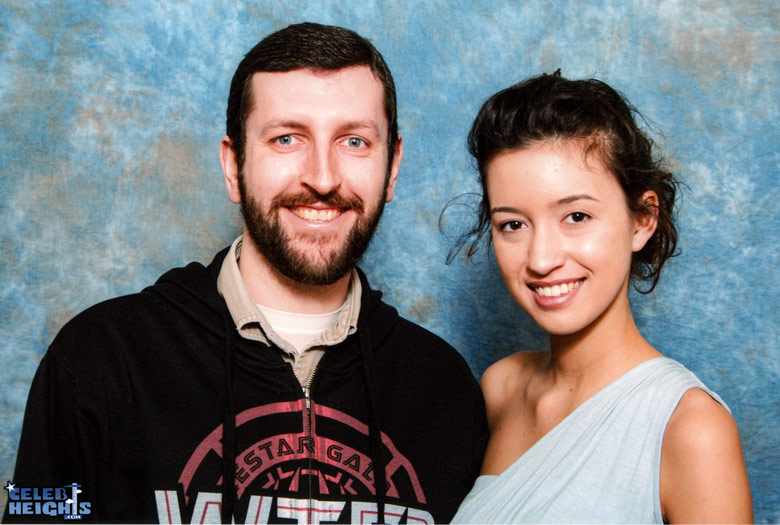 5ft 8 Rob, 5ft 8 Jenny and Christian
You May Be Interested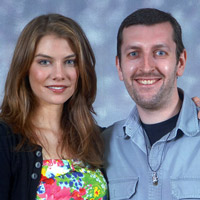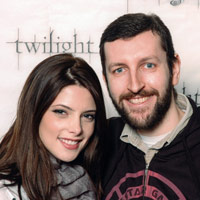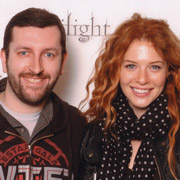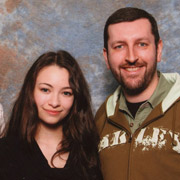 Add a Comment
53 comments
Average Guess (28 Votes)
5ft 4.98in (165.1cm)
Renato1
said on 19/Jan/21
Looks 164 cm here
Genau
said on 11/Jan/21
5ft4 3/4
Nik
said on 16/Jun/20
She may think that Rob and Jenny are both 5'10"!
Sant
said on 5/Jun/20
look
Click Here
in july 2009 ali herself was 160-165cm.No way she is 165+
JohnMoore-162cm
said on 21/May/20
flat 5ft5 girl ..
Nik
said on 8/Dec/19
@ Christian 6'5 3/8" - I see what you mean but 5'7" or 5'8" is a "magical height" for many men who are 5'7" or under.
Christian 6'5 3/8"
said on 29/Sep/19
@Nik
6'0" seems to be the "magical height" that a lot of men wish to claim, but I think 5'7" or 5'8" is mostly for women.
Canson
said on 29/Sep/19
5'5 flat
Nik Ashton
said on 29/Sep/19
@ Christian 6'5 3/8" - True but I think that a huge amount of women do this too. 5'7" and 5'8" are magical heights that many people of both genders wish to claim!
Christian 6'5 3/8
said on 28/Sep/19
@Nik
But not as frequently as men though.

Editor Rob
Here is a photo from that event of
The Guests
.
On the flip-side though, you can definitely find photos in which she can seem near her claim like
This one
with Lauren and Sonequa.
Now I've met all three...and in person I would still stick with about 5ft 7 for Lauren, 5ft 5 for Serratos and 5ft 4 for Sonequa. But a single photo can fool you quite easily.
Nik Ashton
said on 26/Sep/19
@ zaggy - Plenty of women do it too.
zaggy
said on 20/Aug/19
I thought only men really liked exaggerating their heights, surely she doesn't actually believe she's 5'7. That's like a 5'10 guy claiming 6'1.
Nik
said on 1/May/19
5'5" - ✔️
5'7" - ✖️
Nik
said on 9/Feb/19
5'5" looks believable!
Christian 6'5 3/8"
said on 17/Dec/18
@charliecharlie
Maybe it's not exclusively masculine, but it's certainly overwhelmingly used for males. I've never met a female named Christian, but I've met dozens of other males with that name.
Nik
said on 24/Sep/18
5'5" is fine!
Ben Cho
said on 27/Aug/18
She is nowhere near 5ft 7.
MAD SAM
said on 31/May/18
166 cm seems legit
charliecharlie
said on 10/Mar/18
Actually, Christian is a gender neutral name. She looks 5'5" not 5'7"...
Iffy
said on 6/Oct/17
@Rob Is 5'5.25" possible for her now? She might have gained some fractions
Editor Rob: I seen her at 2 other events, believe me, this lady isn't anywhere near 5ft 7, she actually looked under 5ft 5 at one event but I believe her footwear was less, this was 3 years ago.
Downhill Racer
said on 11/Sep/17
On TWD, Christian appears to be around the same height as Sonequa Martin-Green (listed as 5'4"-5'5"), maybe a bit taller, so I'd guess she's 5'5".
And to the person who said she has a "masculine" name - Who really cares? The purpose of this site is to discuss her height, not her name.
Hans Meiser
said on 25/Jun/17
I've seen recent photos of her and my oh my, she's attractive.
anyonmious
said on 24/May/17
5'7" including heels. She is 5'3" without heels
Christian-196.5cm (6ft5 3/8)
said on 30/Apr/17
Christian is a masculine name. Her parents should've named her Christine or Christina.
Amaze
said on 28/Mar/15
Remember her from Ned's declassified school guide
She was 18 in those pics
She's 24 now and absolutely stunning
5'5"
Joe
said on 3/Jan/15
If my memory serves me correctly Ian mentioned during an interview about how the tiny guitar makes him look huge when actually he is 5ft 8. Because of his black boots and thick heels I wouldn't be surprised if he wears elevator shoes which could easily add three inches to a person which would put him 5ft 11. I am guessing about 5ft 8 barefoot and 5ft 10 with shoes on.
Sam
said on 1/Dec/14
I didn't recognize her as the same girl from The Walking Dead...boy she's hot, more so when she was on The Talking Dead in a shapely black dress more so.
Alex 6ft 0
said on 24/Feb/14
LOL at 5'7 for her. 5'5 seems right or maybe 5'4.75
truth178cm
said on 16/Feb/13
@Witchdocotor If you look closely in the first picture her head is tilted slightly forward and she has a slightly bigger smile.
She looks at most 5ft5 to me and could be 5ft4 or 5ft4.5 at night. Nothing over 166cm in the morning.
Witchdoctor
said on 4/Aug/12
there's something strange about how she looks exactly the same in both pictures!
LG69
said on 31/Jul/12
@marla singer, 5'7" could be her height with shoes. She is at most 5'5"...could be 5'4.5".
marla singer
said on 30/Jul/12
How come she's listed 5'7" on tons of websites?
[Editor Rob: possibly many of them just copied a listing?

I didn't think she was near 5ft 7 and stand by my estimate :) ]
Will
said on 29/Mar/11
Christian is 5'4 1/2". She is a pretty girl, BTW.
linke
said on 22/Dec/10
funny how a 5'4-5'5 girl claims 5'7.
Samwise
said on 31/Oct/10
Possibly 5ft4.5 or 5ft4 without the hair high piled up on top. Rob, your eye level is almost at top of her head. What's the eye level of a 5ft8 guy 5ft3?
[Editor Rob: she's got a clip on her head yeah, it would be 5ft 3.5]
cesare
said on 18/Jul/08
correct, i saw him very close several times here in italy and is not more than 5ft 9, and now he's looking shorter because of the weight
glenn
said on 14/May/08
evanna-i love all that stuff and more.i think you know my tastes are diverse.anyway,good luck with all that and i would love a signed copy of your cd when its done! even if its just a cdr.thanks!
Evanna
said on 14/May/08
Thanks Glenn! I'm not so much into prog rock, but ELP are true legends.
As for me, actually I'm doing a PhD in musicology, that's what I've been busy with - my writing up time is running out... So I had to put my other projects on hold, including my CD. (But I hope to finish it over the summer.) I have a split personality you know, a part of me is a serious scholar, the other part a true rock chick!
glenn
said on 14/May/08
evanna-what are you studying? and hows your music coming along?.i didnt realise that about gregs arm.im not sure what they were promoting,though that would make most sense.i dont know why i have a feeling they were guests at a event.i met them at a hotel,planned.i think i saw the pics not too long ago.hopefully ill post them one day.
Evanna
said on 13/May/08
Hiya Glenn, lately I've been incredibly busy, unable to frequent this site as I used to. Luckily the academic year finishes soon, then I'll have some spare time.
Anyway your estimation makes sense, that would put Emerson at 5'7, Palmer at 5'10 and Lake at 6'. So you met them in 1993, weren't they promoting their Black Moon album at the time? They had to cut short that tour because Emerson f*cked up his arm and had a surgery.
I've recently read Emerson's autobiography, it's hysterical. But one would think, after all those decades together, he'd have at least one decent word to say about Greg Lake. But instead he bashes Lake all the time.
glenn
said on 13/May/08
martin barre is indeed 5-5.
glenn
said on 13/May/08
evanna-how have you been? yes,i mentioned that i met elp in 1993,but i dont remember well.i do know that one was shorter than me.the other 2 were obviously taller. 5-7,5-10, 6ft.is that ridiculous?
Evanna
said on 12/May/08
Glenn, have you ever met Emerson, Lake and/or Palmer? Sorry if you've mentioned that already, I must have missed that post. I was trying to determine their heights by looking at some old pics, but that's impossible, back in the 1970s they all wore high heels. Lake's obviously the tallest, judging by his pics with Ringo Starr, probably 6' or so, maybe a bit taller in his prime? Emerson 5'7 or 5'8 at best I'd say...
mikael
said on 12/Apr/08
Ian Anderson was refused admission to police academy because he failed the height test. I would doubt that 5'9' would be shortrt than average in early 1960's Britain
Austrian
said on 9/Nov/07
how tall is Barre?
im reading 5'5 here? LOL always thought he was taller than Anderson
D. Ray Morton
said on 26/Jun/07
Doane is the tall one.
Reminidi
said on 26/Jun/07
i thought the drummer, "doane perry", was the tall one in the band (not sure if he are still with them though...)
Styxfan
said on 25/Jan/07
that guy they say is 6'3" is probably their pianist. He's the big guy in the band. Hey Glenn, which guy from Jethro Tull is 6'1" that a fan told me about?
Mike D.
said on 23/Jan/07
Nobody mentions the possibility of Ian wearing high-heels or lifts! I think he is quite short. In the old "Too Old to Rock and Roll" video he is the shortest person in the band!
Glenn
said on 13/Jul/06
Ian is no more than 5-9.
Bark
said on 11/Jul/06
According to the picture, if Ian is "5-7" which you claim, that would make Martin Barre about 5-5 or 5-4 which he, judging from old Tull footage I have, is surely not. I would say Ian is 5-10ish.
AD
said on 20/Feb/06
Hello -- longtime Tull fan here talking
First check out this picture:
http://img112.imageshack.us/my.php?image=lkjlkjlkjlkj9nj.jpg
which is a pretty recent photo (past three or four years, I'll bet)
The guy in the back on the right is Doane Perry
There's a Tull song (trust me) that mentions that he is "6-3 in his underwear"
So if this guy is 6-3 (which I think is true, I've seen them live a few times and this seems about right)
then judging by this picture, Ian (the guy with the flute) looks about 6 to 7 inches shorter than Doane, which would put Ian at about 5-7 nowadays.
Definitely don't think Ian is 5-10.
that's my input
[Editor Rob: here another pic of geddings and anderson, who going by the 6ft 3 guy is maybe near 6ft 2...]
Anonymous
said on 16/Feb/06
5-8.strange posing.