Rachelle Lefevre's Height
5ft 6 (167.6 cm)
Canadian Actress best known for appearing in Twilight (original Victoria), White House Down, Barney's Version and tv show Under the Dome. She said her height as 5ft 7 in a talk at this Massive Events twilight convention (photo by Malcolm). She had about an inch more footwear than us this day so I'd say she was nearer 5ft 6.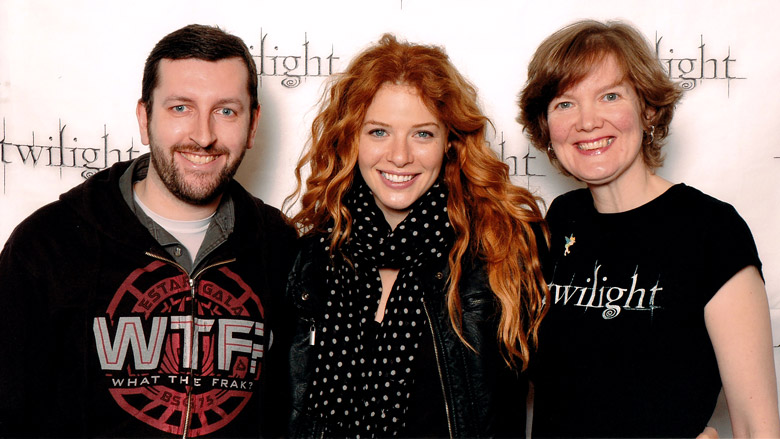 5ft 8 Rob, Rachelle and 5ft 8 Jenny
You May Be Interested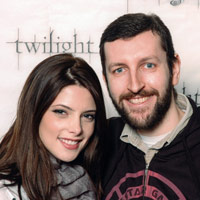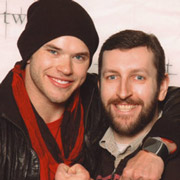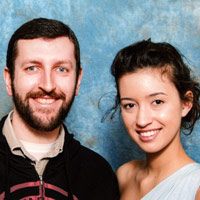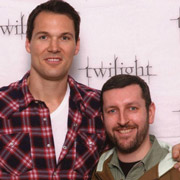 Add a Comment
27 comments
Average Guess (8 Votes)
5ft 6in (167.6cm)
Nik
said on 17/May/19
8 voters side with our Rob! Also there are 5 e's in her name!
Nik
said on 1/May/19
She could pass for 5'6"!
Canson
said on 4/Dec/18
@Bobby: I'm not too far off where you have her. I'd say best case is 5'5 5/8-5'6
Nik
said on 1/Jun/18
This is a nice picture of Rob, Jenny, and Rachelle Lefevre! She is certainly a tad under 5'6" for me!
MAD SAM
said on 31/May/18
Rob is actually more or less 174 cm so I believe Rachelle is gotta be 169 cm
Bobby
said on 8/Feb/18
Is looking an inch and a quarter shorter, don't know where King Arthur is getting 2 inches from, so with footwear advantage on, she'd appear 5'6.75-5'7, if Rob is 5'8.25 here, minus that and I think she'd measure around the 5'5.75 to 5'6 mark. Any of these marks are possible.
Christian-6'5 3/8
said on 16/Nov/17
Looks weak 5'6" range
S.J.H
said on 6/Feb/17
5'5.25 at worst since rob say about an inch shoe advantage
Arthur
said on 21/Oct/16
Rob, she looks near 2 inches shorter than you and she has 1 inch advantage... Geez. 5'5 AT MOST
S.J.H
said on 20/Sep/16
I mean deduct her shoe advantage she could be 167cm at most 167.5cm closer to 5'6 like rob mention
S.J.H
said on 20/Feb/16
She look struggle 5'6.75 with 5'8 rob and jenny. I would say shes 5'5.75 weak 5'6 or 167.5cm
Tipper
said on 6/Oct/15
5-6 is spot on. Looked about this height in Under the Dome where she spent most of it wearing sneakers.
hi
said on 11/Sep/15
Shocked. She always appears as one of the tallest people in the show 'Under the Dome', and is always wearing flats while others, like Vogal are wearing huge shoes to match her height. Glad you have a photo with her Rob!
[Editor Rob: she was lovely at this event from speaking to her at the autograph table and listening to her on stage.]
NBAer
said on 11/Aug/15
Take off hair and footwear advantage,she's probably 167 or 168,Rob has it spot on
french guy( 184-182 cm)
said on 7/Apr/14
i see 3 cm between you and her, given the footwear advantage, i would say she is 167 cm
Lee
said on 3/Jul/13
Given her poofy hair and footwear advantage, 5'5" or 5'5 1'2" seems more accurate.
jack
said on 10/May/13
rob do you measure heights to the top of the hair? she easily looks 2 inches shorter you think?
[Editor Rob: you flatten hair for any measurement]
J.Lee
said on 21/Nov/12
Rob are you really just 1 inch taller than her in this pic?
[Editor Rob: her hair is pretty thick I guess, a good 2cm worth of it.]
Danimal
said on 5/Jun/12
She's from my hometown of Montreal. I think 5'6" is bang on.
Dom
said on 17/Nov/11
I heard she was a real b**ch! What did you think Rob?
[Editor Rob: from that weekend she seemed a rather friendly girl.]
Physics Enemy
said on 2/Nov/11
I think 5' 6" is bang on, not 5' 6.25".
Physics Enemy
said on 18/Oct/11
Red haired women are unbelievable, they're my favourite.
the AMAZING Babushka
said on 27/Sep/11
i forgot why i was here.... oh right height, ahhh yeah 5'6"
Dom
said on 28/May/11
She looks between 5'6,5" and 5'7" on that pic.
Shaun
said on 24/Apr/11
Me thinks Rob has something for redheads, must be the Scottish blood in him..
Aaron
said on 9/Apr/11
Christ... She looks absolutely beautiful here. Wish she didn't get recast for Eclipse! 5'6"+ obviously.
Cobain
said on 6/Apr/11
God damn. I've been trying to find this girl for ages. Very cute, more women should wear their hair wavy like Lefevre's.
As for height, I'd say thats about right