Christopher Backus Height
6ft 3 ½ (191.8 cm)
American actor known for playing Rick Bayless in TV series Roadies and Jeremiah Johnson on Underground. On twitter in 2014 he mentioned his height, saying he stood
"6'3"
inches tall and on Reddit said
"I am 6'4"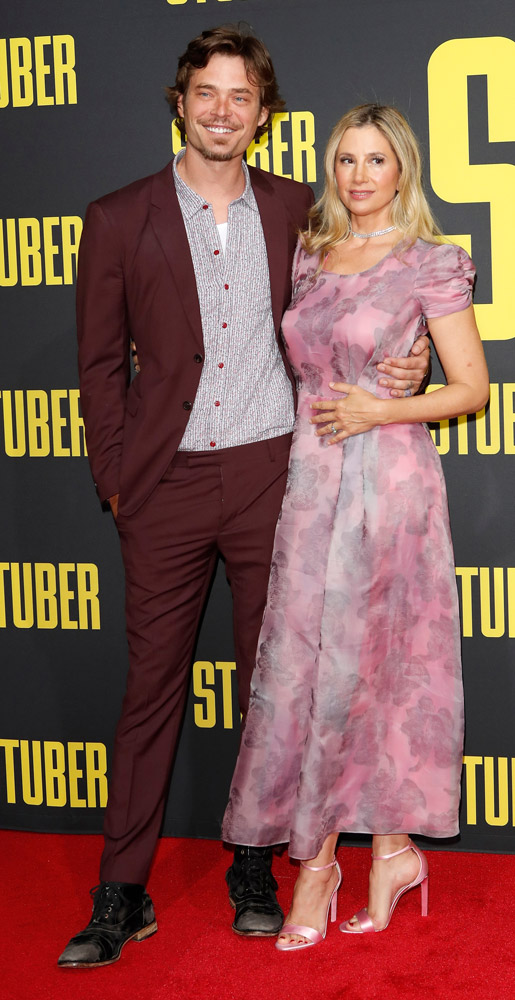 Photo by PR Photos
Add a Comment
39 comments
Average Guess (20 Votes)
6ft 4.21in (193.6cm)
Andrea
said on 14/Jul/21

He claims 6'4 here:
Click Here
I'm not that familiar with him, but I agree that he looks closer to that than 6'3.

Editor Rob
a good find
Rampage(-_-_-)Clover
said on 9/Jun/21
6ft3¾, Rob?
Looks closer to 6ft4 than 6ft3

Editor Rob
a chance of it
Chris Junior Hernandez
said on 30/May/21
Backus was like Lee Pace because 6'4 was too big for a leading man role so he decided to downplay an inch to fit in the 6'3 category but people were not blind they could see clearly he look at least 6'4 with 6'0 Christopher Meloni and 6'0.25" Reed Diamond. He can pull off 6'4 1/4 as well.
Rampage(-_-_-)Clover
said on 1/Feb/21
Padalecki is a solid 6ft4 guy at the very least. My chips are on him being tallest of the guys you just mentioned there. Rob has met Momoa, Webster and Parrack, still has them at 6ft4. Pace and Backus I think could be around that aswell...but Jared looks like the stronger 6ft4 overall
Chris Junior Hernandez 1990
said on 12/Jan/21
Jared Padalecki is no way taller than Backus not even Lee Pace. I am pretty confident that
Jason Momoa
, Victor Webster and Jim Parrack would look 1/4 below Backus. The average guess is accurate.
184guy2
said on 11/Jan/21
192cm guy at least . Can look 13-14cm taller than his wife with about 2inches less footwear
Rampage(-_-_-)Clover
said on 13/Nov/20
He reminds me a lot of Jared Padelecki...obviously back to back he'd be edged out by him though
Rampage(-_-_-)Clover
said on 23/Jul/20
Lee Pace claimed 6ft3 for years before finally admitting to 6ft4. This guy could be similar
Emm Bee
said on 9/Jul/20
Quite lanky and handsome
Chris Junior Hernandez 1990
said on 18/May/20
Truth is that he look a little over 6'4 with his 5'9 wife Mira Sorvino. Lots of image Mira her wear solid 3" heels but still look over 5" shorter than Backus. Strange if Backus insist claiming 6'3 which i recall he had some up close comparison with 6'5 listed Peter Cambor initially i thought Peter was 6'4 1/4 due to Backus listing. Christopher Kirby listed on one web page at 6'4 but look closer to 6'6 worst could think is 6'5.5" while another curious case is Ryan McPartlin listed 6'3 everywhere before i got here and see Rob have met him and listed him at 6'4 1/2. Beside Ryan i can see Backus and Kirby are highly downplaying their real height maybe to get good roles by lying to be shorter, this could be understand by very tall actors struggle to make a living.
Rampage(-_-_-)Clover
said on 1/Feb/20
Rob, how likely is the full 6ft4?

Editor Rob
Rounding down a full inch? I'm not sure about that, although I can see how he physically can seem almost 6ft 4 with others at times.
Chris Junior Hernandez 1990
said on 3/Nov/19
@wunderposter Then Chris Meloni is weak 5'11 3/4. I can tell you Backus is not below 6'4 if you check him out with his 5'9 wife Mira Sorvino.
wunderposter
said on 6/Aug/19
A weak 6'4" but certainly 6'3" dead is an underestimate.
Junior Hernandez 1990
said on 22/Jun/18
I wouldn't argue 6'4 1/4 anymore. I can see 6'4 downplay 6'3 possible. Look a bit taller than
Jason Momoa
compare to a proper 6 footer.
Redwing
said on 21/Jun/18
I think it's pretty cool he isn't inflating his height like my dad tells people he's 6 ft but he's more closer to 6'1. It's either they don't know how tall they really are or just don't care at all lol; and that's pretty cool.
Rampage(-_-_-)Clover
said on 8/Jun/18
Possibly a guy who rounds down but 6ft4½ barefoot? not a chance.
I like this new listing
Christian-6'5 3/8
said on 6/May/18
He's rounding down a fraction but I doubt he's downplaying. As tall as he is, I don't see him standing 6'4"+
Junior Hernandez 1990
said on 2/May/18
No offence to Backus and i hope he won't visit this site and read it. But i still have to say that we all know his wife are much famous and earning more credit on the screen than him. He could have decided to downplay an inch or more just to get more lead roles to caught the public eye somedays. Remember guys like Lee Pace claiming 6'3 back then and just few years ago start to tell the truth he is like 6'4 and 6'5 with shoes and Ryan Reynolds insisting 6'2 claim many times and we all wasn't blind to see that Reynolds is easily taller than his claim quite close to 6'3 just like Tom Welling. However i think there are very few tall actors downplaying themselve just to get more acting roles to earn more for a living. Backus is definitely one of them.
Junior Hernandez 1990
said on 20/Apr/18
Rob, you should have convince enough Backus worth at least a 6'4 listing seeing him next to a min 6 foot tall guy Reed Diamond. 6'3 1/4 is too low for Backus.

Editor Rob
He can look near 6ft 4 at times, I think he probably is dropping 1/2 inch at least from a claim, could he drop a full inch? Not an impossibility.
Junior Hernandez
said on 4/Feb/18
@Christian @Rampage(-_-_-)Clover You guys should check him out with his spouse Mira Sorvino in heels on google and 6'0 listed Christopher Meloni. 6'3-6'3.5" real not happen. 6'4 flat wasn't enough at all. Bennett, S.J.H, Berta guess it right he is 6'4.5-4.75" range when standing tall. This guy had potential hiding his frame to get acting roles because over 6'3-6'4 is too tall to get leading roles.
Click Here
: hiding behind Meloni and all cast could still pull on 6'4 impression and look at how comfortable he stand. Guy next to him was 6'0.25".
Click Here
the guy standing beside Backus on top post was met by rob and listed 6'0.25" here.
Bennett
said on 26/Oct/17
Look 6ft4-6ft5 next to his wife Mira. If he is 6ft3 then Mira could be only 5ft7.5 nothing above.
Rampage(-_-_-)Clover
said on 15/Sep/17
I can see an argument for 6ft3½ but 6ft4½? Not a chance...
Junior
said on 16/Aug/17
This must be kidding. This guy look huge compare all his co-star in movies,tv series look at least 6'4 maybe 6'4.25-6'4.5". 6'3 look way too low for him. In Roadies he look max 6'4.5"
even
said on 28/Jul/17
the best answer ever : his height out of bed = 192 cm , his height after working for 24 hours = 191 cm
S.J.H
said on 29/Jun/17
Typo. I mean he look nothing shorter 6'4 actors. If most of 6'4 actors were just 6'3 range he did be a strong 6'4 not 6'3.25 and he seriously 100 percentage look over 6'4 with Mira Sorvino. Sorvino might just be a flat 5'8 claiming 5'9
Canson
said on 19/Jun/17
@Christian: I agree! I don't think he's as tall as Ramoage either. I'd say generosity is 6'3.5. But rob's listing looks good. He has a bit of heel on his shoe there (dress shoe) and I can buy him being 6'4" out of bed.
Christian-196.5cm (6ft5 3/8)
said on 18/Jun/17
Lol, the Average Guess is currently at 6ft4.33 (193.9cm). No way this guy can be as tall as you, Canson.
Canson
said on 18/Jun/17
As listed strong 6'3
S.J.H
said on 23/Apr/17
More i see him he look nothing shorter than any 6'5 actors in this site
S.J.H
said on 24/Feb/17
@berta
Agree. He can look 193 to 194cm all the time and if you compare a recent vince vaughn and backus they look identical like he was at least 6'4 not less. Like i say mira sorvino is no way over 5'7.5 if backus stays 6'3.25 and many more to downgrade 1.25 , mira is probably just 5'8 peak and drop to 5'7.75 now and backus strong 6'4
berta
said on 8/Feb/17
i really jumpud out my chir when i saw this listing. thought he was really tall like 194. think his cliam is bullshigoogle. atleaat 193
S.J.H
said on 2/Feb/17
If he is really just 6'3.25 i would dare to say mira sorvino is 5'7.25 and the rest co star of him is 1" below listed
Rampage(-_-_-)Clover
said on 28/Jan/17
Don't know about 194cm! He's very lanky and might give the illusion of over 6ft4.
S.J.H
said on 19/Jan/17
Rob, i'm sure you can do the height math better than most people here. Christopher backus is no way under 194cm with mira sorvino. He probably try to downplay much height to get more acting roles he couldn't get due to his very tall lanky frame and he really needs an upgrade.
Click Here
Click Here
Click Here
Click Here
S.J.H
said on 14/Nov/16
Ony 6'3 is a joke. Another link
Click Here
S.J.H
said on 13/Oct/16
Rob, i'm not trying to troll this guy up 6'3 but he really did look more like an easy 6'5 guy than just 6'3. Perhaps he just downplay to get roles on acting
Rampage(-_-_-)Clover
said on 12/Aug/16
Yeah I can buy this...looks a solid 6ft3
S.J.H
said on 9/Aug/16
I wouldn't surprise if 6'3.5 listed michael shannon and josh duhamel look a fraction under backus. He always look close to 6'4 than 6'3
The Man
said on 5/Aug/16
Rob, who do you think is the tallest one: Christopher, Rupert Young or Kevin Sorbo?

Editor Rob
Backus can look more than 6ft 3 flat as can the other guys, hard to say.