Clive Mantle's Height
6ft 5 (195.6 cm)
Peak height was 6ft 5 ½ (196.9 cm)
British actor best known to TV audiences for his role as Dr. Mike Barrett in Casualty and Holby City, as Little John in the 1980's fantasy series Robin of Sherwood, and more recently in Game of Thrones and White Van Man. In film he can be seen in Alien 3, White Hunter, Black Heart and Poseidon Adventure. In a Starlog magazine he once said of his stature:
"Physically, just being six-foot-five-and-a-half, I'm not one of life's gazelles"
and has consistently listed himself at that height in the
Spotlight Casting Bible
. I met him at a Sherlocked event, he had about 0.3 inch more footwear than me that day.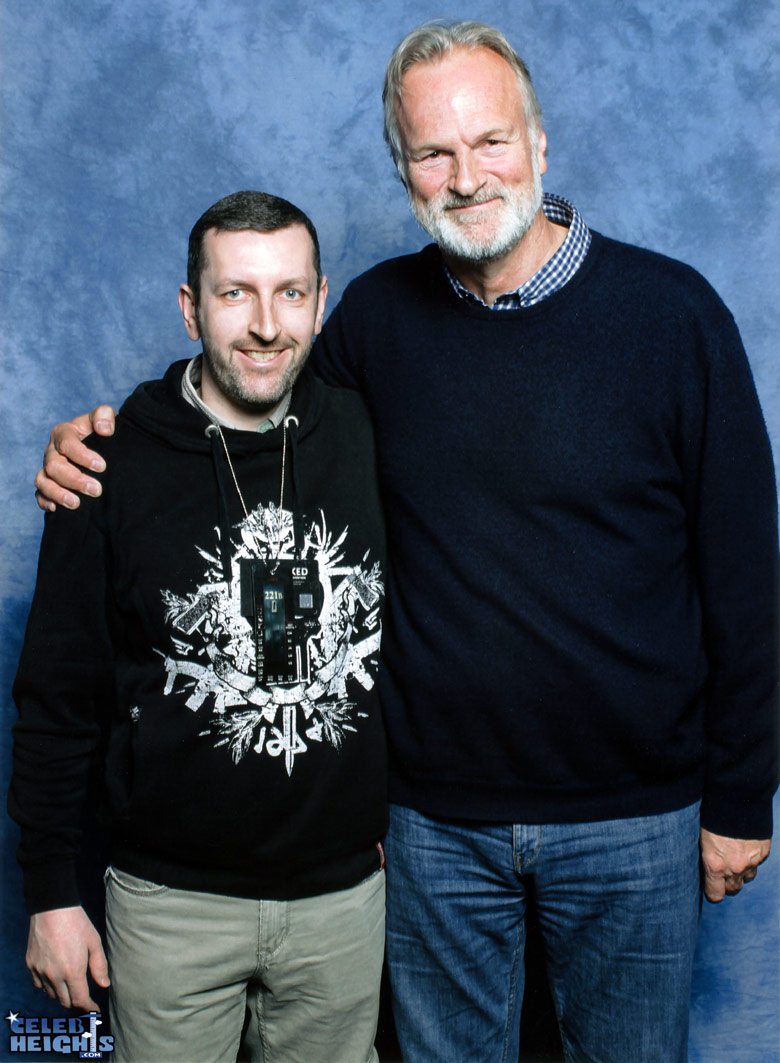 5ft 8 Rob and Clive
You May Be Interested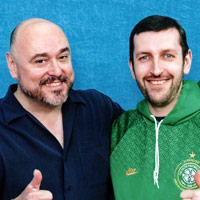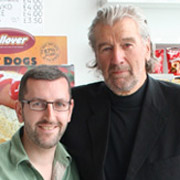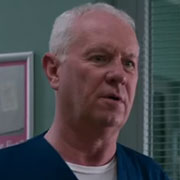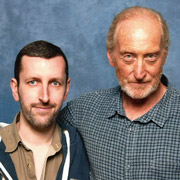 Add a Comment
57 comments
Average Guess (15 Votes)
Peak: 6ft 5.43in (196.7cm)
Current: 6ft 4.78in (195cm)
it'smoe!!
said on 11/Jan/21
More than 2 inches taller than Christopher Reeve in this BTS video from Superman 4.
Click Here
Leesheff85
said on 13/Dec/20

I do remember his performance in the vicar of dibley and dawn french had to stand on a box to match his height and give him a kiss. Can certainly believe hed have been just shy of 6ft 6
OriginalAnon
said on 11/Nov/20
He is 100% his listed height. In that photo he really could pass for 197cm.
Rampage(-_-_-)Clover
said on 29/Apr/20
Still a big dude nonetheless...
Rampage(-_-_-)Clover
said on 11/Nov/19
Rob, could he be heading toward 194cm now?

Editor Rob
4 years ago I think still about 6ft 5, but he's at an age were a bit of shrinking will be happening.
185
said on 4/Oct/19
@Christian 6'5 3/8"
Wow. I just turn 20 anout 2-3 months but i think i haven't for like 2 years could be more. Hope to be one of the tall poster one day 😂😂😂
Christian 6'5 3/8"
said on 3/Oct/19
@185
Most of the tall posters here (excluding Canson and I) seemed to have grown well into their 20's. At least the ones who mention it.
185
said on 2/Oct/19
@Jason193 @Myself
Just curious. Did you guys grown any taller since last year 😂😂😂
Miss Sandy Cowell
said on 5/Aug/19
Ah, 'The Big Guy' from Casualty is definitely deserving of a comment this morning!
6ft5 and half-an-inch more for peak. I don't think he's lost much, even though he can afford to!
VelikiSrbin
said on 7/Mar/19
He's got a huge head like mine. Looks 10 inches
movieguy12
said on 14/Feb/19
Speaking from personal experience he has the look of a very tall and slightly intimidating consultant surgeon so was good casting for Casualty all those years ago. I would agree he's probably not likely to inflate his height. Clive was taller than Clint in White Hunter, Black Heart. I think Clint was still being given at 6'4'' at point though was probably a little shorter in reality by then.
Canson
said on 16/Dec/18
Peak 196-197 range (6'5 1/4-1/2)
Today 195-195.5 6'4.75-6'5
Ian C.
said on 14/Dec/18
In White Hunter Black Heart, Mantle fights Clint Eastwood and wins the fight. That's how you get hired for an acting job if you're really tall. You get the parts where you have to beat the hero in a fight, so you have to be so physically dominant that the hero can't be judged harshly for losing the fight.
Think Ted Cassidy in Butch Cassidy and the Sundance Kid. Paul Newman wins the knife fight, but only because he cheats. We can forgive Newman for cheating because Cassidy (the actor, not the character) was so physically superior that Newman could not have won by fighting fairly. The scene wouldn't have been anywhere nearly as funny if Newman had cheated against a man his own size.
Ian C.
said on 18/Nov/18
Ahah! Rob actually says below that he thinks that lying about height is "childish," which is a pretty hard word to use if you are running a site that reports on celebrity heights. It is very close to saying that lying about height is contemptible.
I think that height lying is kind of funny, but I don't judge entertainers who lie about their heights so harshly. If you're a leading man in the movies, you have a professional obligation to present yourself as a certain physical type. So, for example, the middle-aged John Wayne had to wear a hairpiece and a corset. Okey dokey. In fact, I kind of admire average-sized actors (like Kirk Douglas or Humphrey Bogart) who could pull off presenting themselves as bigger than they really are. They're actors. They're acting.
The harshest I would go in knocking height lying is to say that it is slightly foolish because, if you have to go out in public and meet people, everybody can see how tall you really are.

Editor Rob

If somebody lies about something like height, a simple measurement of how tall the top of one's head is above solid ground, then to me that is a bit childish/silly.

I know many view aspects of CelebHeights as being silly too! 😱
Myself
said on 9/Sep/18
@Jason
Oh lol btw i turned 21 on July aswell ;)
Jason193
said on 5/Jun/18
@Myself
5'2.5 and 5'6.5. I have no idea why I am as tall as I am.
Myself
said on 1/Jun/18
@Jason
How tall are your parents?
Jason193
said on 1/Jun/18
@Myself I'm 20 as well, turning 21 in July. I was a solid 6'3 (191cm) at the time and now I'm a strong 6'4 (193.6-7cm) so I gained a good amount. I wish I could hit 195cm, but I'm perfectly happy where I ended up.
Myself
said on 28/May/18
@Jason
Haha, how old are you? I gained about 0,5+ mm in the last year (the 21th year, i'm 20; from 191.5 to 192/192.3). I wish i could gain another 0,5/0,7 mm.
@Canson
Well...the eyelevel bonus that comes with it would be nice...also with age i will for sure fall under 190 quite quickly...
Canson
said on 2/Apr/18
@Myself: there's no benefit that you would have at 6'5 that you wouldn't already have at 6'3.5. Surely not at 6'5.5 that would be no good imho. If mattis was that tall and not something more like the average guess or maybe 6'5 3/8. But That's someone who is likely over 6'6 out of bed and is around 6'7" in a lot of shoes (around maybe 2m).
Jason 193cm
said on 31/Mar/18
@Myself sucks doesn't it? JK. I was 191cm last August but recently gained an inch. Feels good to hit my dream height.
Myself
said on 23/Mar/18
That's the height range i wished to reach, but i guess i will get stuck with my 192 cm...
TheReel
said on 4/Jan/18
@Rob Casualty was pretty popular with pre-teens and early teens kids back when I was growing up but for some reason holby city was looked as lame though for some reason, the first time I heard people talking about was 2004(ish), so I was surprised it had been going on for so long, I always preferd holby city but at the time I was too insecure to let people know that, kids LOL. Does anyone from the UK still watch these shows?
Editor Rob: the audiences for these shows definitely shrink over time, but like Neighbours, still enough watch for them to be made. Casualty was getting 15 million in the 90's, now it's like 3-4 million...still a fair amount really.

I watched them for a while, but haven't for many many years.
TheReel
said on 14/Dec/17
HOW the hell has casualty been going on since 1986? WTH 31 years is mad long,
Editor Rob: I remember watching the first few seasons back as a teenager, but you watch any show like this for 30 years I'm sure they've recycled each type of story 50 times.
Rampage(-_-_-)Clover
said on 25/Nov/17
194/195cm today I reckon
travis
said on 9/Nov/17
he didn't lose that much
woodne
said on 4/Nov/17
He lives local to me in Wiltshire and I have met him a few times, we share the same height 6'5.5, what an absolute gent he is..
Dreampuffe(5'9.5
said on 25/Oct/17
Rob, would you classify Clive Mantle in the 'solid range' of 'Very tall?'
Editor Rob: yes very tall in person, even in 60's with maybe half inch height lost.

And I like his honesty by saying 6ft 5.5 early in his career and not 'downplaying' to even 6ft 5 flat!

A man who realises how childish lying about height is...
Rampage(-_-_-)Clover
said on 25/Sep/17
Easily 6ft5-6 range peak
Matthew Robinson
said on 22/Sep/17
Probably a little under 6'5" now, but I'd say his claim in his youth is believable.
Arch Stanton
said on 21/Sep/17
@Andrea and Canson, there would definitely be no reason for this guy to exaggerate his height, he's one of those big guys who often found it difficult to get roles. If he was really only 6'3.5 and trying to claim two inches taller, sorry, it just wouldn't be good for his career. You wouldn't have seen Casualty in the 90s but he really looked close to 6 ft 6 in his prime. He's 60 odd now, a big guy like him I don't think half inch loss is unlikely.
Editor Rob:
during his peak his claim of 6ft 5.5 makes sense, look at him and
Gene Hackman
I think a guy like Clive has lot a bit...but still he really is near 6ft 5 today, at worst a little under it...
Canson
said on 17/Jun/17
Well the agency listed him 196cm instead of 197. That 1cm at his height isn't going to make or break him getting a role as both are still technically inside of 6'5". But You have to remember that when someone claims 6'5.5 it could be a case where they may be 6'5 5/8 at their lowest and rounded down to 5.5 rather than up to 6'6 and wake up well over 6'6" or could also be a case where they measured 6'5 3/4-7/8 out of bed and 6'5 1/8 at their lowest and only been up an hour when they received 6'5.5 or somewhere in between. I haven't seen enough of him to asses so I have to defer to Rob as he doesn't look over 6'5" (looks under but his posture isn't great). His long neck and face may give an impression that he's taller than he really is
Sandy Cowell
said on 14/Jun/17
I was just going through the 'latest comments' when I noticed one for Clive Mantle. I thought, "I know who he is! He's the very tall guy from 'Casualty'! Let's find out how tall he actually is!"
So I'm here, and I would say that 6ft5 is certainly believable and a bit more when 'Casualty' first appeared on our screens!
I will go for 6ft5 for today's height and half an inch more for his peak!
Nik
said on 13/Jun/17
I think that he may currently be about 6'4.75", possibly even 6'4.5"! I will give him 6'4.75"!
Arch Stanton
said on 12/Jun/17
@Rob, near 6'5 flat today? He did look a legit 6'5.5 in his prime don't you think, maybe lost half an inch now at 60?
Editor Rob: today yes around 6ft 5
Rampage(-_-_-)Clover
said on 12/Jun/17
Rob, could you give him a current height?
I'd start with 6ft5 flat but may be slightly under it today
World Citizen
said on 10/Jun/17
Difficult to say how tall he really looks.
Christian-196.5cm (6ft5 3/8)
said on 13/May/17
His forehead/eyelevel gives an illusion of being longer than it actually is because of his receding hairline and tilting down his head.
Christian-196.5cm (6ft5 3/8)
said on 10/May/17
Rob, how long do you think his eyelevel is, about 5.25"?
Editor Rob: probably around 5 inches
Jordan87
said on 17/Apr/17
6'4- 6'4- 1/2 Nowadays with Rob there. 6'5ish in his prime makes sense.
184guy
said on 12/Apr/17
Rob did he looked taller than Hopper and Joe ? He looks That would reach 6'4.5 Max counting the 1 inch Drop and the 0.3 shoe advantage
Editor Rob: big Clive did seem no less than 6ft 5, so at worst he might have been a little under, but a good enough chance of near 6ft 5 today.
Rampage(-_-_-)Clover
said on 6/Apr/17
Weak 6ft5 today but definitely looked nearer 6ft6 peak
S.J.H
said on 3/Apr/17
6'4.5 and he just claim higher with footwear
Andrea
said on 20/Mar/17
Well, if he really looked "around" 6'5, he must be dropping a good inch on here... As I always say, I'd be surprised if Jared looked as "low" as that, if you ever managed to get a photo with him! But again Jared is younger and with better posture overall... Plus, Clive seems to have quite a big head, I guess a solid 10 inches range (10-10.5), which doesn't help!
Editor Rob: yes I would say he dropped an inch.

the only problem with Jared is he only did events with the one company I really really don't like doing events with! 😵
Andrea
said on 20/Mar/17
Is this a new picture, Rob? I vaguely remember him in GOT (I think he had a couple of scenes with Richard Madden) where I thought he didn't look anywhere near his 6'5.5 listing... And this picture, well, kinda confirms it :)
He looks MAX 193 with you, minus the footwear advantage he looks more in the weak 6'4 zone (6'3.5-6'3.75)! But again he doesn't seem a guy with great posture. Plus, being near 60, it is very likely he has lost some height... How much is the question, I guess. I only know him for that (small) role in GOT!
Editor Rob: There's been a lot of 6ft 5 range guys who popped up on game of thrones, Nonso, Rory McCann, Deobai and big Clive, who I think is roughly around 6ft 5 today.
Arch Stanton
said on 12/Jun/14
He looked huge in White Hunter, definitely near 6'6". Difficult to tell how much he had on Eastwood because of camera angles but definitely made Eastwood look less imposing than normal!
Arch Stanton
said on 8/Jun/14
You can tell even when he's leaning in photos like
Click Here
how big he really is, look at the size of his shoulders and frame!
Arch Stanton
said on 8/Jun/14
Thanks. Yeah I think he got measured properly early on for his acting while in college as he was getting a lot of questions and having a lot of problems playing certain roles. I think he said something like that back in the early 80s and that audiences would always be suspicious of him on stage because of his height. He'd be the sort if anything to downgrade I'd have thought. He looked a proper 6'6" guy on Casualty, I remember him looming above even fairly tall guys in the series and my mum having a crush on him! And being around 6 ft 6 seems to be a common requirement for playing Little John, Kevin Durand of course being that too. He's late 50s now I think, might be nearer 6'5" today as you say.
Arch Stanton
said on 8/Jun/14
Rob can you change it to UK actor, best known for playing roles on tv as Dr. Mike Barrett in Casualty and Holby City, as Little John in the 80s Robin of Sherwood series, and more recently in White Van Man and Game of Thrones. In film he also appeared in Alien 3, White Hunter Black Heart and the Poseidon Adventure.
[Editor Rob: I think he was a genuine guy who measured between the 6ft 5 and 6 range, maybe today he's lost a bit]
Shaun
said on 8/Oct/11
Click Here
Always thought he looked around 6'6" in Casualty. Looks close to it here. Legit 197cm I think. My mum used to have a huge crush on this guy.
Jake T.
said on 12/May/11
He looks between 195 and 197 cm so I think 6'5 for Clive is pretty fair.
Big King
said on 21/Jun/09
He first looked 6'7" to me.
Doug
said on 14/Jun/09
Looked close to 6'6" in casualty. He's huge.
loxley
said on 9/Nov/08
Clive is definately every inch the pefect little John!
Halb
said on 25/Apr/07
He was also Little John from the 80's series Robin of Sherwood.
Ayreon
said on 3/Aug/06
Well, that was an untypical role for him. So he had to do something untypical.
Anonymous
said on 22/Jun/06
Yeah Ayreon. Surprising of Clint to allow himself to be seen coming second best at anything.