Corey Hawkins Height
6ft ¼ in (183.5 cm)
American actor best known for roles in films such as Straight Outta Compton, Non-Stop and TV series 24:Legacy and The Walking Dead.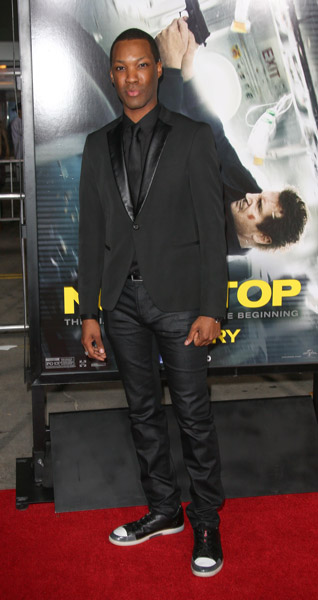 Photos by PR Photos
Add a Comment
23 comments
Average Guess (27 Votes)
6ft 0.5in (184.2cm)
Vsquad
said on 5/Nov/20
He looks spot on this listing with Ryan Reynolds. Man I remember first seeing him in Walking Dead and even Straight Outta Compton, he looked huge so I had him down in the (solid) 6'1 - 6'2 range.
Corey
said on 22/May/18
Man he has 1.91
Don Julio
said on 18/Jan/18
191 cm?? Not even... Nothing under 184 cm though he looks about 185 cm
berta
said on 29/Oct/17
i dont know about this he loosk 3- 3,5 cm shorter than josh holloway when thay wwhere standng beside eath other. maybe barely 183 for this guy is better
Chris
said on 3/Oct/17
Looked a full inch Shorter than Dr Dre, 181cm in Dre is 184cm
Dennis
said on 22/Sep/17
He looks pretty damn tall in the walking dead? he's taller than dre whos 6ft I'd say 185-186cm, he's listed as 191cm which is over exaggerated.
Rampage(-_-_-)Clover
said on 18/Aug/17
6ft flat is arguable but it would be the lowest I'd argue. He can look a decent 184cm guy at times...
Andrea
said on 7/Aug/17
Just that? 😂
I don't know that Camargo guy but you must admit that Corey does look AT LEAST a good inch shorter. Don't know about their footwear, though. Even with Josh Holloway there he looks like he could be at least around 4 cms shorter with maybe 1 cm less footwear, so again in the weak 6' range. Would you completely rule out something like 182?

Editor Rob
I wouldn't guess him as short as 182, maybe six foot was the best figure for him
Andrea
said on 5/Aug/17
Why the upgrade? I thought the full 6' was already generous enough...
As you said, he looks barely, to say the least, 6' with that Christian Camargo guy.
With Dominic and a few other guys:
Click Here
Not the best picture but I think he would be easily shorter than Dom, more than a quarter, without considering the fact that Dom himself might be more 6'0.25...

Editor Rob
overall I thought a solid six foot might be quite possible for him.
Realist
said on 20/Jul/17
He's listed at 6'3 I thought he was 6'0.5 the whole time lol! My younger bro is like 6'0.5 and doctor lied told he's about 6'2 I hate when they lie then say I am 5"8 he is only 3.2 inches taller than me I am 5'9.3 why do they rip certain people off especially heavier people?
Hofheimer
said on 8/Jul/17
Hey Rob, here's a working link. With Corey now upgraded, you could make a case for Charlie being a strong 5'11er.
Click Here
Hofheimer
said on 8/Jun/17
Hey Rob, update on Charlie Hofheimer. In this photo, with both of them wearing combat boots, he seems to fall short of Hawkins by a solid inch. I'd say he's probably around a flat 5ft 11.
Click Here

Editor Rob
around that mark is a good possibility, though the link itself didn't work.
Matthew
said on 9/Mar/17
Awesome listing, I was deciding whether or not he was 6ft or 6ft1 and I picked 6ft. I think he was a comfortable six foot in kong next to john goodman.
Hofheimer
said on 17/Feb/17
Hey Rob, can you take a look at his 24: Legacy costar Charlie Hofheimer? He hasn't claimed a height yet but he shares a lot of screen time standing next to Corey Hawkins.

Editor Rob
he can seem a few inches smaller.
Andrea
said on 11/Feb/17
Rob, I think you should add "24: Legacy" to his credits...
Will you watch it? I've read many people complaining that 24 without Jack Bauer is not 24 but I've also read some pretty positive comments from people who have seen the first 2 episodes, so I'll probably watch it at some point 👍
As for his height, having seen just a few photos, I would have said somewhere around 5'11.5 was possible, certainly not over 6'! His 6'3 listings are certainly quite optimistic, I must say... 😅

Editor Rob
Andrea, having watched all of 24, I will give this one a go too.

I wonder who came up with a 6ft 3 guess, it seemed extremely high.
EzioAuditore711
said on 19/Feb/16
Camargo looks slightly taller. A half inch, maybe.
MD
said on 1/Feb/16
@Rob,
If that's true, then you have to downgrade O'Shea Jackson Jr. by quite a bit, because Hawkins is consistently (and visibly) taller in photos.

Editor Rob
181cm for O'shea could well be a closer mark for him.
EzioAuditore711
said on 31/Jan/16
That's a bad photo, Rob. Camargo is tilting his head up.

Editor Rob
EzioAuditore711
said on 29/Jan/16
No way is he only 6 ft. I'd say 6'2" range.

Editor Rob
with a guy like Christian Camargo,
He looks
barely even six foot...
MD
said on 27/Jan/16
@Aaron Zamor,
I was thinking the same thing. There are a few pictures where they look fairly close in height, but in MOST pictures the difference between them looks at least two inches. One of them is listed incorrectly, because it's definitely more than a half-inch difference.
Aaron zamora
said on 26/Jan/16
If Corey is 6'0 how is Oshea only half an inch smaller? Oshea is a 5'10-5'10 1/2 guy I'm positive.
MD
said on 26/Jan/16
If he's this tall, O'Shea Jackson, Jr. is going to need a downgrade, because the difference is certainly more than a half-inch.