Corey Taylor's Height
5ft 7 (170.2 cm)
American singer-songwriter and musician, known for Slipknot. In 2015 on twitter he mentioned his height, claiming to stand
"5'8, unstooped."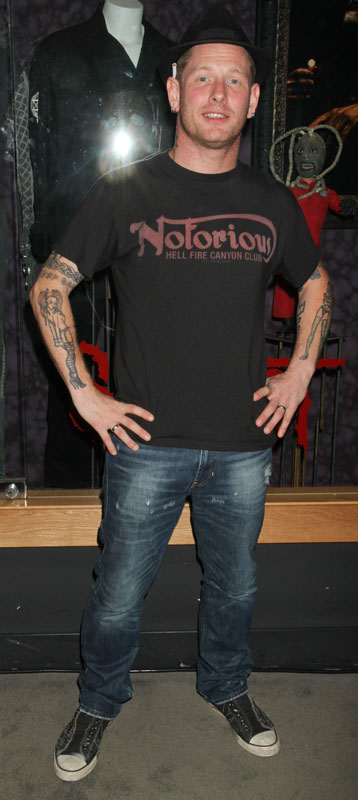 Photos by PR Photos
Add a Comment
17 comments
Average Guess (19 Votes)
5ft 6.76in (169.6cm)
QM6'1QM
said on 28/Aug/20
Hello, Rob, it's me again on my favourite page here ;)
I don't know, but that's what I've always said, Corey Taylor is under 5'7 as law.
In the photo below, together with Scott Ian/Anthrax, who is 166 cm, they're naturally about the same height. You can debate a maximum of 0.5 inches towards Taylor :)
What do you think ?!
1.
Click Here
2.
Click Here
3.
Click Here
4.
Click Here
QM6'1QM
said on 28/Jun/20
So, glad to be here again, i have few pictures of Corey Taylor and Henry Rollins: 1.
Click Here
2.
Click Here
P.S. I can say Corey#8 normally looks always under 5'7 next to Rollins. Also under 5'7 next to Bill Burr (link below, by the way).
The Biggest Slipknot's fan gives honest 5'6.5" (or even 1/4 less :))
QM6'1QM
said on 6/Apr/20
Rob, that's me again, i really did know it :)
The most strongest proof of Corey's height (next to Henry Rollins 5'9 list at Celebheights.com/ he did wear vans here):
Click Here
What do you think ? It's time for update his page 😁.

Editor Rob
He can pass for 5ft 6 there, how much he might still appear taller (given Rollins has good posture and generally always seems a good 5ft 9).
QM6'1QM
said on 20/Mar/20
Rob, I'm glad to be here, Corey Taylor's page, with new comment after 2 years.
I really have strong proof (w/Bill Burr):
Click Here
My guess is 8.5-10 cm difference, so Corey stands under 5'7 mark as fact. I did know it.
What do you think ? :)

Editor Rob
He can seem shorter than 5ft 7 there, but I wonder if Burr is gaining an inch being nearer.
Meri
said on 7/Jan/20
Big slip knot fan back in the day. I met almost all the guys. I'm 5'6 and stood next to Corey, we were the same height. No way he's 5'8. We both had converse on if I recall correctly.
Jani
said on 31/Aug/19
I am starting to think that he may be around 167-168cm because Shawn Crahan is supposed to be 170cm and Shawn is taller than Corey.
Paul Wood
said on 14/Jul/19
He's not stooped in that photo and I can tell by his arms below the elbow and his legs below the knee that he's 5ft 7in tops. He has that compact sturdy look that a lot of reasonably well built men of 5ft 6in or 5ft 7in have.
Patrick|1.76m
said on 19/May/19
Hey Rob,
what do you think is Jacoby Shaddix from Papa Roach looking like in that photo next to Corey Taylor?
Click Here
Of course if you think that both wearing same footwear. Despite knowing that Corey uses to wear flat shoes and Coby more variations of Boots.

Editor Rob
Only seems an inch between them
Patrick|1.76m
said on 4/Oct/18
What does unstoop mean? Don´t know that word yet. I´m german.
Could anyone please explain?

Editor Rob
Just stand better...he might be slouching a lot.
troy88
said on 30/Jul/18
In Snuff video making of you can see that he's portraying a woman(his ex in that vid) and he's wearing heels(Idk the range but maybe 2-3inches?) and he's about same range as Malcolm McDowell or slightly taller in different angles.
Look up Snuff making of. His body proportions are also weird, his neck is 18 inches to due headbanging and the rest of his body is tiny, he also has very short arms.
He claimed 5'9" on a instagram pic.
I think he might be something like 5'6" on the dot.
Ethan
said on 27/Jun/18
He looks 5'7 no more no less.
tony t.
said on 13/May/18
Love his vocals in older slipknot. Barely looks 5'7 in this pic.
Tyrion
said on 6/May/18
Finally, a deserved addition. He has a great voice, also good screaming :)
I think 169-170 range. His head is insane, he claims to have a 18 inches circumference. He might give a shorter impression due to that.
Syge
said on 13/Apr/18
He look 5 feet 6
Nik
said on 28/Mar/18
I like his name! Good listing!
QM6'1QM
said on 27/Mar/18
Rob, I really respect your work, honestly. But I'm a huge fan of Slipknot and I can say: Corey Taylor is less than 5'7. He is slightly taller than Anthrax, which is 166 cm, so Corey Taylor is in the range 168-169 cm (170 cm absolute maximum).

Editor Rob
Maybe there is something to him mentioning unstooped...he could stand a bit looser but measure a bit taller. He can look a weak 5ft 7 at times of course.
Bob
said on 26/Mar/18
Im shocked, I seen a picture of him being the same height as lars ulrich.