Costas Mandylor's Height
5ft 9 ¼ (175.9 cm)
Australian actor known for roles in Saw IV/V/VI, Mobsters and TV series Picket Fences. This photo was taken at a Collectormania event in 2015.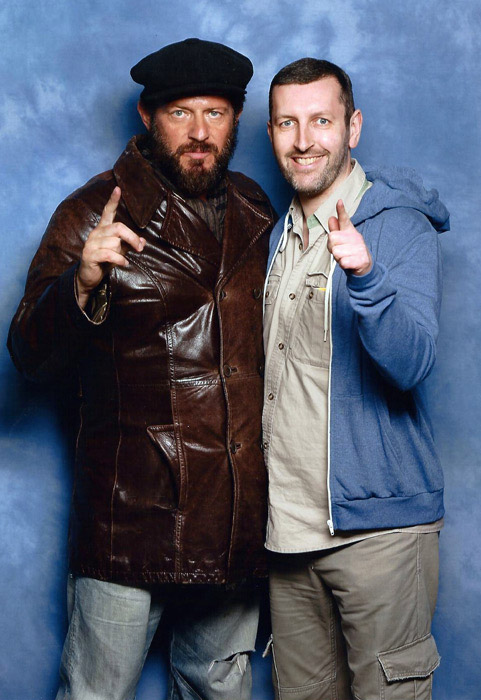 5ft 8 Rob and Costas
Add a Comment
34 comments
Average Guess (23 Votes)
5ft 9.29in (176cm)
Miss Sandy Cowell
said on 17/Oct/20
My boyfriend has all the 'Saw' movies; I just have the first. Perhaps I'll ask him to bring one of the ones Costas is in because, although I've seen them all, I don't remember Costas.
I agree with Vexacus that often a film role will portray an actor to look taller, especially if it's a powerful role.
5ft9.25 😁👍
Vexacus
said on 27/Apr/20
Just like in the Saw movies , Hoffman tricked all of us , making us believe that he was around 6ft tall. 5'9.25 . Game Over.
Nik
said on 1/Mar/20
I could see him being a little bit over 5'9.25"!
Eric W Tam
said on 23/Dec/19
His 5'11 and 6'0 listings are ridiculous if this is true. Maybe he was 1.79 meters at his peak and lost height already? If he claimed 6'0 at just shy of 5'11 in his youth he's probably claiming to have shrunk to 5'10 now, which wouldn't be that much of a tall tale if he's 5'9. But seeing him listed at 6'0 when he's only 5'9 would be one hell of an exaggeration. Man gets 5'9 1/4 from me.
Jesica
said on 16/May/19
JJ said on 1/May/13
I think he is about 6 feet tall.
He's not standing totally straight, so I can maybe see 5'9.5, but 6'0?? You are way off.
c-mo
said on 17/Jan/19
C-Mo said on 25/Dec/17
wow didnt know that he is short !
-----------------------------------------
I was kidding here btw. . I am the same height and I dont think it is short :D I just wanted to fish for compliments lol
Peter 180cm
said on 2/Jan/19
Looks 175cm
berta
said on 13/Dec/18
he always reminded my of stallone in the saw movies. Big boned guy with big hands for his height. I only know him from saw and in those movies i thought he looked 177-178 range, and at best 179. Its interesting to find out that he was only 176 cm. Beside Rob he looks just 1 cm taller but i guess its just the photo.
Jamz
said on 22/Nov/18
Hes 5'9 and his brother Louis is 5'7?
Neither one of them looked very tall imo
Nik
said on 15/Sep/18
I do think this listing is fair but I wouldn't rule out the average vote! The hat can cause confusion! 🎩!
davec
said on 16/Feb/18
Rob he is not much taller than you. Without that hat there would appear to be a 1/2" difference.
C-Mo
said on 25/Dec/17
wow didnt know that he is short !
Bobby
said on 4/Oct/17
His hat makes him look 5'10 though.
Junior
said on 23/Aug/17
He always look a solid 5'10 to me in his film. I'm shocked that he only look 5'9 with rob.
Ana Maria Castillo
said on 22/Jul/17
I think he is 5'10 and he is cute also his older brother Costas Mandylor too handsome and I love his movies the best
CD
said on 16/Jul/17
He might have a bigger presence on-screen but really he is noticeably 3 inches shorter than both Lyriq Bent and Scott Patterson in the Saw films, even Mark Rolston has an obvious edge on him, I'd never have been fooled that he was much over 5ft 9 at all.
Joe
said on 15/Jul/17
Rob, do you know why Google lists him as being 6ft and IMDb lists him as being 5ft 11in? I mean, I suppose he looked taller than 5ft 9.25in in the Saw films, but still.
Editor Rob: he had a bigger presence in the 90's and even in Saw films than in person, he could have passed for over 5ft 10, but really is under it.

What matters is celebheights has met him and will say with certainty he's not 6ft, 5ft 11 or 5ft 10 barefoot.
S.J.H
said on 21/Jun/17
So much shorter in person then i thought. I almost believe he is 5'10.5 range watching Saw. Maybe 5'8.75-5'9 closer
Jordan87
said on 14/Apr/17
Lest all agree to Ignore Charlie. Troll ( Or Mentally Challenged.---Seriously).
Rob cant you just block this guy from posting? He goes on alot of your pages stating this BS, I am sure you have noticed.
Editor Rob: Charlie is a bit unrealistic...
Charlie
said on 24/Mar/17
He must be wearing shoe lifts. He looks a full 1 inch shorter than Tobin Bell in several photo's.
josh jeffords
said on 10/Mar/17
Seen him in the 90s till early 2000s he looked tall 5 11 ish.
There was the occasion when he looked more average could be a lifter.
Didnt see saw havent seesawed since grade school cant speak to how tall he looked in it.
His brother however always seems much shorter judging by pic cos is 5 9-10 his bro must be 5 7.
Andrea
said on 7/Feb/17
Woo, finally! Did you enjoy it? Well, 2 episodes are not enough to say that but trust me... It just gets better! 😉
Same thing for heights, 2 episodes are not enough but yeah Salvatore always looked taller than Marco to me, how much is the question!
The most I would have thought for Salvatore was 180, honestly and I've seen some pictures with other celebrities (and footballers) where he really struggles to look even 5'10 but maybe his posture isn't that good at times! It seems he has claimed to be 183 in one interview and now even gets listed at 184 on the net but he never really looked that tall to me. As for Marco, my mom, that also watches the show, commented more than once that he is or looks short(ish)! I don't think he looks short, I wouldn't have guessed him under 5'9 in fact!
What about Don Pietro, the guy who plays Salvatore's father and probably the best character of the show (you will see 🤗)?
Editor Rob: Salvatore could look close to his Father, yes I thought it was a decent show from only 2 episodes, realistic and not the 'pretty' Italy shown in the brochures!
Andrea
said on 7/Feb/17
Rob, what was his previous listing? As always, it's quite hard to tell the "exact" difference when celebrities wear hats but he looks a bit taller than you... Whether it is 0.75 or 1 inch is hard to say but, just by having a quick look at your eyelevels, somewhere around 5'9 seems reasonable!
Editor Rob: I'm sure I had him over 5ft 10 in 2013!
Honestly, he was standing at his table talking to someone and I told Jenny to wander over and he really looked 175-6 range. A bigger look on screen than in person for sure.

believe me, Big Josh looks a good inch taller in person than Big Costas.

incidentally, good news...I saw 2 episodes of Gomorrah 😁 😆 I would have said that Salvatore Esposito could be a bit taller than Marco D'Amore, I'd maybe have said he could be somewhere in 5ft 11 range, his build can make him seem shorter though.
CD
said on 6/Feb/17
Rob, is 5ft 9.5 possible? I think he looks it based on your eyelevels.
Editor Rob: he's not as tall in person as he has looked in shows, I would say a strong 5ft 9 in person and nothing more...
headman
said on 24/Jan/17
What is his head length, Rob?
definite 5'9
Editor Rob: headman, I'd have said similar to mine, about 9.5 inch.
S.J.H
said on 10/Nov/16
Surprising downgrade.. I ever think of 5'10 but 5'11 old listing could throw out of window
anonymous
said on 29/Dec/15
if that chart was accurate, ? you mean the chart is wrong ?
anonymous
said on 26/Dec/15
Hello again Rob. I am sorry that i ask you about different actor but i just want to know and i will be very glad to know. Can you tell me how tall is this actor Gabriel Porras but without the hair because i see it gives him super boost. Thank you very much and please reply.
Click Here
Editor Rob: if that chart was accurate, he could be 175-6
anonymous
said on 16/Aug/15
I understand thank you very much for your reply Rob. And one more thing can you please tell me or try to guess actually how much Louis weight and how much Costas weight ? I would be very happy to know. Please reply when you have a chance. Thank you i really love your job.Wish you all best !
[Editor Rob: it's harder with weight, I think Costas looked a bit chunkier than his youth, maybe 180 range even.]
CD
said on 14/Aug/15
Rob which event did you meet him? No photo? I had a funny feeling he didn't quite look a 5ft 11 guy...
[Editor Rob: I met him this year, I do have a photo with him of course.]
Ed
said on 30/Jul/15
Wow Rob that's a hell of a downgrade. Didn't you have him at 5'11"? He does look it in some of the premiere pics with the Saw crew. What makes you convinced he's around 5'9"?
[Editor Rob: I talked to him and if he's 5ft 10 I'd be surprised...]
anonymous
said on 14/Mar/15
Hi. I'm very sorry to bother you Rob, but could be so kind to tell me do you know the brother of Costas Mandylor - Louis. He acts in Martial Law with Sammo Hung and Sinners and Saints. Can you please tell me how tall he is ? Because in Martial Law he looks exactly the same height with Sammo and they are both without shoes. Is that 5'7 ?
[Editor Rob: I would have guessed 5ft 7 or 8]
JJ
said on 1/May/13
I think he is about 6 feet tall.
hans
said on 11/Dec/12
Seems like a 5'11 guy, definitely not a hair over 6' first thing in the morning