Craig Bierko's Height
6ft 2 ½ (189.2 cm)
American actor and singer known for roles in films such as Cinderella Man, The Long Kiss Goodnight, Scary Movie 4, Sour Grapes, The Three Stooges and TV series Boston Legal. He said
"I'm 6'3"1/2"
.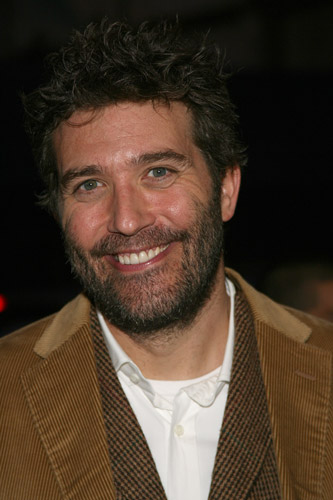 Photos by PR Photos
Add a Comment
30 comments
Average Guess (5 Votes)
6ft 2.7in (189.7cm)
Gracian
said on 16/Dec/18
Bierko looks like a typical 190 cm guy like Josh Hartnett. I can believe that he measured 6ft3 and 1/2 inches early in the morning after getting out of bed. Rob, 6'2.75" is possible for him?
berta
said on 6/Feb/17
this guy can look taller than this i dont think 6 foot 3 is impossible
Rampage(-_-_-)Clover
said on 28/Oct/16
Can look 189-190cm zone
Dmeyer
said on 28/Oct/16
First time i met him hé looked 6 ft 1,5-1,75 then second time solid 6 ft 2,5
Lorne
said on 18/Jan/14
Wow, the fbug has him at a mind boggling 6ft5!!! And the Internet DMb has him at 192! Well, I think he's nearer 6'2 than 3... Actually looks just 2-2.5 over Chris Meloni...
Rampage(-_-_-)Clover
said on 16/Jan/14
"Craig Bierko's height is 6ft 2.75in (190cm)""
Rob, what did you have this guy at originally?
Jonas
said on 5/Oct/11
Looks almost the same height as Ryan Reynolds, maybe a hair taller, so 6'2.5 seems to be right
Bon_
said on 3/Jul/11
Ridiculuos listing, everywhere he is listed at 192 cm, I guess there is some confusion between this 'half' thing, six-THREE and a half should be correct
Rampage(-_-_-)Clover
said on 6/Jun/11
I think 6ft2 on the dot...
dmeyer
said on 3/Jun/11
189 190 in person
syd
said on 15/Jun/08
Met him several times....this guy is huge and is definitely over 6'3
Dan
said on 20/Apr/08
In Boston Legal he looks huge, but if you compare him to the other actors I would say 6' 2.5 is exactly right. He might be 6'2 though.
Dave
said on 17/Apr/08
lol, did they choose him to take the piss out of tom cruise in scary movie 4 because he's so tall and cruise is so short? make's it even funnier if you know what i mean..
Tom
said on 13/Apr/08
Upgrade this guy, he's the exact same height as Will Ferrell and they're wearing the same outfit in this movie. 6'3.5" at least. Saw a pic next to Famke Janssen in heel, and he's taller than her. 6'2" is too short
dmeyer
said on 13/Apr/08
bang on 189 cmin perso like 6 ft 2.5 to 6 ft 2.75
Ramsey
said on 10/Apr/08
Craig Bierko 6'2? Come on. The guy is huge. I say he's 6'4 at least...
Joe
said on 10/Mar/08
He doesn't look taller than 6-1 to me for some reason. But his posture is also really bad. Somewhere in-between 6-1 and 6-2 for sure.
AZ
said on 23/Feb/08
He towered over Craig Ferguson a couple of nights ago
dmeyer
said on 14/Oct/07
on a movie set looked more 187 cm and then he came to a store i worked and looked exactly 189 cm
dmeyer
said on 8/Feb/07
you were right rob i met bierco tonight and he was not far fron 6'3 like 189 cm i had a long day and very tired so height have had 0.25 in advantage but he was taller than i thaught just under 6'3 i have a pic of him in my cellphonehe looks 2 to 2.5 inches taller than me so he is very tall since since ll coolj was exactly my height in the pic so he is a lithil over 6'2 he was 189 cm seems right since he didnt look 4 inches taller than me 189 is bang on rob you confirmed me one more times that you are the best i can buy anything from 6'2.25 to 6'2.75 for craig he looks over 6'2 but under 6'3 so 189 bang on
dmeyer
said on 11/Dec/06
didnt look more than 188 but possibly bad posture so 189
dmeyer
said on 19/Sep/06
more like 6 feet 2 when i met him
dmeyer
said on 21/Feb/06
now that i have a friend who is 6'3.25" i can see that bierco is nowere near 6'3" more like 6'2" 2.5" maybe
CelebHeights Editor
said on 10/Dec/05

From a 1996 interview in Calgary Sun, it quotes him:
"I have problems being 6 ft 5"
Anonymous
said on 22/Nov/05
i met him 188 189 cm at best
Roons
said on 31/Aug/05
Craig Bierko is listetd as being 6'5 and comparing him to 6'2 benicio del toro in fear and loathing in las vegas, this seems true.
sam
said on 6/Jun/05
Crowe says he's 5'11 1/2" and Bierko say's he's 6'3 1/2", so that seems pretty accurate in comparison.
dmeyer
said on 5/Jun/05
rob you are ok with me that he is not over 189 190 cm my gues is that bierco is aleast 187 cm and max 190 cm you can check on cinderela men premiere pictures
dmeyer
said on 25/May/05
i stood next to him 2 times i am 182 and he was 188 cm max no way he is near 6'5''i know wath 6'5'' is i met vince vaughn and i felt like dworf but when i stood next to craig i didnt feel short my impresion was 187 cm but because he didnt have a great posture maybe he is 189 cm
dmeyer
said on 19/Apr/05
i worked on the new bret ratner pilot wich is starring bierco i have stood next to him and he was no taller than 6'2''