Dakota Johnson's Height
5ft 7 (170.2 cm)
American actress best known for roles in 50 Shades of Grey, The Five Year Engagement, 21 Jump Street and tv show Ben & Kate. Her modelling agency described her as 5ft 8 and dress size 8US.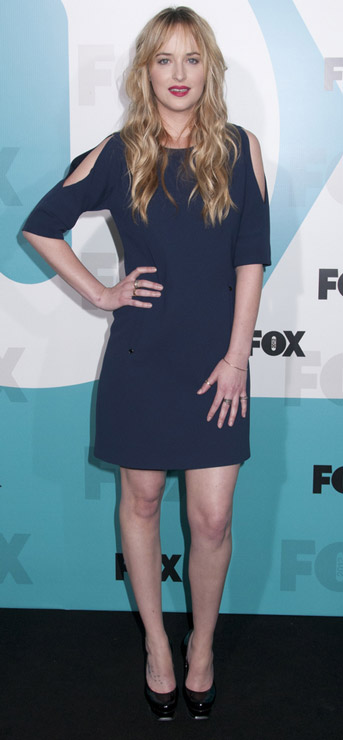 Photo by PR Photos
Add a Comment
44 comments
Average Guess (40 Votes)
5ft 7.21in (170.7cm)
Miss Sandy Cowell
said on 4/Oct/20
🎈💐🎂 Happy Birthday Dakota! 🎂💐🎈
A Very Happy 31st Birthday to Dakota Johnson. I've just found out that Dakota stars in a 2018 film called 'Suspiria'. From what I gather from the write-up, it isn't a remake of the 1977 film of the same name, but it's 18-rated and involves a coven of witches, so it sounds pretty scary. I tried to buy myself a copy, but it's very expensive, so I'll wait for it to go down in price. Dakota is the central character and not a witch, so maybe she plays a girl in danger; I can't wait to find out. 😁
Have a lovely day, Dakota, with your famous family! XX
5ft7 😃👍🎊🌹🎁
🎈💐🎂🎁🎈💐🎂💝🎈💐🎂🎁🎈💐🎂💝
khaled taban 175.3cm
said on 25/Sep/20
@Rob ,sorry for the wrong link. This is the new link :
Click Here
khaled taban 175.3cm
said on 25/Sep/20
Hi @Rob , let's be real. I struggle to see this girl as tall as 5'7". I mean look at this pic :
Click Here
Dakota was in 4" heels , but has looked more than one inch shorter than Jamie Dornan. Another pic :
Click Here
, if Dakota is really 5'7" she should have looked 5'11" in heels with Jamie and only half an inch shorter than him but she looked about 5'10".
Not just that , some people argue that Jamie is weak 5'10" not 5'10.5".
I think she is flat 5'6" and not 5'7" at all , I think you should consider a downgrade for her , or atleast look at her again.

Editor Rob
She can look as short as 5ft 6 on occasions.
Nik
said on 28/Jun/20
@ Joshua - Very interesting!
@ Greysessed - I like your name!
I believe that I would edge her out!
JohnMoore-162cm
said on 11/Jun/20
The more I see her , the more I think she is 169.5 cm , tall girl for sure
GGhere
said on 15/Apr/20
No way is she a US size 8. She looks much smaller. And a solid 5'7". Definitely not short.
Chris Junior Hernandez 1990
said on 17/Mar/20
I think she might be 122-126 pounds.
Nik Ashton
said on 15/Mar/20
The voters think she could be my height twin!
Allie Bennett
said on 12/Mar/20
Rob, how much do you think she weights? 120-125 pounds?

Editor Rob
Well if you see her body in a bikini
Here
, I think under 130 is possible, but maybe not less than 125.
Alice Bay
said on 6/Mar/20
Hi Rob, some site claimed that she's 171 cm and 54 kg, but she seems like she's more like maybe 57-58. what do you think?
khaled taban
said on 12/Dec/19
Legit 5'7" actress !
Chris Junior Hernandez 1990
said on 28/Nov/19
Shes a solid 5'7.
Miss Sandy Cowell
said on 4/Oct/19
💐🎂 Happy 3️⃣0️⃣th Birthday Dakota! 🎂💐
Many Happy Returns to Tippi Hedren's Granddaughter and Melanie Griffith's daughter on her 30th Birthday!
5ft7. 😁🕯️👍
💐🎂🕯️🎈💐🎂🕯️🎈💐🎂🕯️🎈💐🎂🕯️🎈
Greysessed
said on 18/Jan/19
As a Fifty Shades fan, I can only guess based on the trilogy, but I don't think she's that tall. Around 5'6" maybe. If you look at set photos, or scenes where the characters are barefoot, you can tell there's no way she's above 5'7". Which is not a problem at all, of course, as her character is supposed to be downright short based on the books anyway.
6footTom
said on 12/Nov/18
Looked about 5'7.5" next to Tilda Swinton in Suspiria.
ana
said on 15/Jan/18
to me she looks quite femenine tall, range of 170-172 cms
Priscilla
said on 19/Dec/17
I met her and asked how tall she was and she said 169,5 cm. She was the same height and we both used very long heels. You should correct the height.
tony t.
said on 8/Sep/17
Weak 5'7 no doubt.
Joshua
said on 2/Aug/17
She looks 5'8
Aaron
said on 20/Jul/17
Hey Rob as with Dornan here are some photos to detect the true height of Dakota Johnson.
During the bts with Rebel Wilson
Click Here
Click Here
Click Here
Click Here
Click Here
Click Here
Of course Dakota wearing those heels has a difference of 6-6.5" but without he is only 2.5" or to be generous 3" taller reaching the 5'6" with a 5'3" as Wilson.
What do you think?
Editor Rob: for Dakota, there is certainly a lot of evidence that she might be 5ft 7 max, as low as 5ft 6? Not seen enough on that.
Aaron
said on 20/Jul/17
And here she is with Cumberbatch that you know Rob and how you can see Dakota looks similar to you, maybe it's 1" taller so 5'9" with those shoes with 2.75" heels but Benedict has shoes with a heel of probably 0.8".
Click Here
Click Here
Click Here
More 5'6", max 5'6.5"-5.7", than 5'7.5" or 5'8".
What do you think?
HonestSlovene
said on 23/Mar/17
Kelly Jones, Ana Kasparian (hate TYT though), young Kelly Jones etc. is what is feminine and attractive at the same time.
HonestSlovene
said on 23/Mar/17
@Arthur Emma Watson might be perfect from rating facial proportions, but she is way too neotenus and looks like a young boy.
Arthur
said on 6/Mar/17
Mary, Whitney Houston was ugly (she had a mustache). Jennifer Garner is ugly for Hollywood terms too. Jessica Alba isn't even 5'7.
Now, how about this coming from a guy? Emma Watson, Halle Berry, Jennifer Aniston. All 5'5 range.
Realist
said on 13/Feb/17
Jessica Alba is 5'5 max she was shorter than Jason Statham and she had heels on.
Mary
said on 11/Feb/17
Jessica Biel, Jessica Alba, Whitney Houston, Jennifer Garner, Jennifer Connolly, Jennifer Lawrence. These women are all 5'7" to 5'8". That's why I'm saying 5'7.5" is the perfect female height today, considering most beautiful women. I'll stop now.
Mary
said on 8/Feb/17
Littlesue, just superficially, 5'7" to 5'8" makes a women stand out more, look more attractive. People shrink and gain weight as they get older so a little height is nice. 5'5" is too short today for looks but physical health maybe ideal. Halle Berry and Angelina Jolie were strong 5'6's at their peak anyway.
Sandy Cowell
said on 16/Jan/17
I thought the movie '50 Shades of Grey' was as predictable and mundane as a film of that nature can be! It had lousy write-ups, so I wasn't expecting much! I've seen much better films on the subject!
In fact, Dakota was the only good thing about the film! The daughter of Melanie Griffith and Don Johnson, and the granddaughter of Tippi Hedren just HAD to be checked out!
She looks a nice feminine-tall height rather than overly tall. I'll go with 5ft7.5 as printed here.
littlesue
said on 15/Jan/17
Well Mary Halle Berry and Angelina Jolie more around the 5f5 5 to 6 mark, which to me is more of a perfect height for a lady
Mary
said on 15/Jan/17
20 years ago the supermodel heights 5'10, 5'11" were popular. Now it's the average 5'7" to 5'8". Women like her can were heels and be supermodel tall and take them off and be short enough to be small kind of. Perfect heights are 5'7 to 5'8". Most beautiful women: kim basigner, Halle Berry, angelina jolie.
Mary
said on 15/Jan/17
Perfect height for a lady today. Just under 5'8". Average tallish. Lucky
Alexis
said on 19/Feb/16
Next to 1.59cm Rebel Wilson and 1.68cm Kate hudson she doesn't look 5'7 maybe 5'6 and a half
ufc84
said on 12/Jan/16
@rob
lol,as a man, i liked fifty shades of grey, good movie actually, nothing to be embarrassed about watching it lol,
G2
said on 25/Jun/15
Mel quinn friend, she is 171cm.
Sometimes you can look shorter they you really are, specially in photos.
Rhonda
said on 4/Jun/15
Looks 5ft8 next to Jamie Dornan.
Mel Quinn Friend
said on 24/Mar/15
She doesn't look 5'7 to me, not even in the photo here. I also think she's closer to 5'5" or 5'4".
Lorne
said on 3/Mar/15
Lol Rob, 100%. I might be willing to sit through the twilight movies(though to me they are an insult to the vampire genre, which I actually love). But 50 shades of gray? No way in hell!
On a side note, I missed her on SNL. I wasn't interested, but did want a height impression as she can come across more 5'7 than 5'8, but clearly a tall woman either way.
[Editor Rob: to be fair I have sat through many films that are worse than Twilight, sometimes if a movie isn't that entertaining then I might look at the actor's heights more or see any sort of techniques used.

Funny thing the other week is that we were watching something and even Jenny commented on some heights or noticed them.]
Lorne
said on 28/Feb/15
Your not gonna put 50 Shades of Gray in the description? Nah, I think the attention is silly, considering it was initially a damn Twilight erotic fan-fiction, but it is clearly her best known work, and she is getting an absurd amount of attention over it.
[Editor Rob: I've sat through all Twilight movies. They are not to my taste although Jenny likes them. I will not sit through 50 Shades of Grey though.]
jay
said on 20/Feb/15
She actually looks like a model tho. A lil klum like too. I buy 5'7. Heels can acct for diff etc along w angle shot
blue
said on 31/Jan/15
@Rob. Hello:) Just a little question. on some girls page, their size(clothes) are noted (quotes, agency description) sometimes its just "size" or "dress size". Therefore when a girl says "i'm a size something" she's always talking about her dress size, isn't it?
Thank you rob:)
[Editor Rob: it's the dress size pretty much...what's annoying is in this global world we have different countries who use different systems. When some English women talk about being a size 10, they are like a 6-8 in the US.]
Max
said on 15/Sep/14
How is 5'8 lucy from ben and kate so much taller? I think she's 5'6
someone
said on 10/Sep/14
Modeling agency? Is everyone a model these days? I am not saying she looks bad, but she certainly does not look like a model.
Chris
said on 25/Jul/14
She's taller than Ellen DeGeneres
chrisss
said on 4/Sep/13
Looked 5'6 in the social network