Dana Andrews Height
5ft 10 (177.8 cm)
American actor best remembered for roles in films such as The Best Years of Our Lives, Fallen Angel, Night of the Demon, Laura, The Ox-Bow Incident, State Fair, Beyond a Reasonable Doubt, Comanche, The Purple Heart and Zero Hour. His publicised height in the 1940's was typically Six Feet and 168 pounds.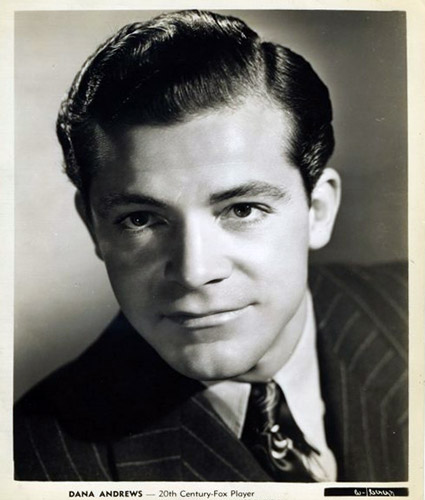 20th Century Fox Publicity Photo
Add a Comment
19 comments
Average Guess (7 Votes)
5ft 9.82in (177.3cm)
Rich Paul
said on 6/Mar/20
I took a close look at the lifts Andrews wore in Laura. They were huge! I think they must have added three inches to his height. But he was still a good six inches shorter than Price. This leads me to believe Andrews was more like five nine.
Arch Stanton
said on 28/Nov/14
Price can look almost 6 ft 5 at times it has to be said but i think he was a bit shorter than Christopher Lee Steve.
littlesue
said on 28/Nov/14
Never realised his younger brother was Steve Forrest, remember my Mom in the 60's always saying Steve reminded her of Dana!
Steve
said on 27/Nov/14
I'm sure he was 5'10" because he appeared that height in all his films. He wore lifts in Laura to appear the same height as Clifton Webb who was 5'11" as well as not look like a shrimp next to Price who I think was taller than 6'4". Price was a good two inches taller than Chuck Heston in The Ten Commandments. And in The Song of Bernadette, when Price stand next to 6'6" Alan Napier, there's hardly any difference in their height.
Shadow2
said on 26/Nov/14
Andrews' much younger brother was Steve Forrest, a strong/accurate 6' 3". For this reason it's hard to imagine that Andrews would be less than 5' 10" at peak.
Arch Stanton
said on 26/Nov/14
I've found it chaps! Click the brown direct download link underneath
Click Here
Pause at 55:17 and a few seconds from there. You can see a big raise and angle of the shoe. The shadow might accentuate it but I think it's pretty clear those are not normal shoes. And yeah, easily 6 inches shorter than Price.
Arch Stanton
said on 26/Nov/14
It's possible he only wore them as a one off in Laura to not be too dwarfed by 6'4" Vincent Price. It does make you question it though as the height difference still looked near 6 inches I think. As you say though in early films a lot less likely to have worn them.
Arch Stanton
said on 26/Nov/14
@Sam Try to watch Laura again sometime. I think somewhere maybe half to 3/4 the way through. I'm pretty sure it was that film as I remember thinking he looked a good 5 or 6 inches shorter than Price and you could see his footwear in that chair scene when his trouser leg was lifted up and the backs were significantly raised on them. I think they'd have given him quite a bit of height.. I can't remember how he fared in Best Years next to March, I'm due to watch that film again soon. Fallen Angel is also on my to see list soon.
@Rampage
Oh easily yeah, in fact some of the actors back then seemed even more height conscious!. You only have to look at Peter Lorre's (and Bogart's) footwear in Casablanca and pause during any Bing Crosby musical dance scene in any movie from the 40s and 50s to see what was going on!! Not to mention the 2 inch silent film height rule!! I'm honestly not in the habit of saying xxx wears lifts but Bing Crosby, Peter Lorre, Dean Martin and Humphrey Bogart I've seen enough films of there's to think it a dead cert they wore lifts. Bing Crosby for me is the most height conscious actor I can think of aside from Sly, Downey and Vin in the modern era. Every film literally he's in his high back customs. Sinatra not so much, most of his films his footwear looks OK to me but there was some films I can think of (Some Came Running especially) when I think he wore them. I think he most likely wore them more later on during stage shows, his footwear did look big in some of the Vegas shows I've seen him in. I'd have to see more of Andrew's films to be sure of it but I'm pretty sure I'm right on the Laura one and his footwear. I can't remember him in the Oxbow Incident either. Will try to get a good look at him over next week.
Gonzalo
said on 26/Nov/14
Fascinating woman Gene Tierney. Fascinating film Laura. Terrific performance by Clifton Webb
Gonzalo
said on 26/Nov/14
He was taller than DeNiro in The last Tycoon and he was in his sixties in that film. 1`78 is accurate in my opinion. And he looked around that height in Ball of fire.
Rampage(-_-_-)Clover
said on 26/Nov/14
So, the dark art of height embellishment in Hollywood goes as far back as the 40's?
Sam
said on 25/Nov/14
If he was wearing lifts in Laura, it's a harder call on his height. He certainly could look 5'10" or near it in most of his films but I don't know if he consistently popped on lifts or not. In an early role like Ball of Fire w/ Stanwyck & Gary Cooper before he was a lead actor (possibly less like to wear lifts then), he still seemed near the listing I thought.
Arch Stanton
said on 24/Nov/14
I can't remember now Sam but he was sitting down in a chair in Laura and you could see he was wearing lifts!
Sam
said on 24/Nov/14
I just suggested Andrews and Grahame anew recently, Arch. Could you re-link the lift-wearing clip?
Arch Stanton
said on 24/Nov/14
From what I recall Price had him by 5 or 6 inches and he was wearing lifts!!
Arch Stanton
said on 24/Nov/14
Yeah it's difficult to see over 5 ft 10 next to Vincent Price. This guy was a lift wearer, remember I linked a video clip of him sitting in a chair and you could see his lifts?
Arch Stanton
said on 24/Nov/14
Rob can you squeeze in Laura, I'd say it's his second biggest role after Best Years. In fact I think it was after seeing that I requested him. Some of these recent entries like him and Gloria were on my "hot list" of missing people to add a while back. Did you save it or have you been watching films yourself of late with them in?
Sam
said on 24/Nov/14
Six feet he never was for sure, unless Vincent Price was 6'6"+ in Laura. Even in shoes, it's a bit of a stretch for him. Also, Henry Fonda looks easily 3.5 inches over him. In a few photos, Fredric March can look to edge him out but on-screen in Best Years they looked very even I believe. I'd bet Andrews was of very similar size to Matt Damon, a weak 5'10" guy.
Sam
said on 24/Nov/14
Thanks! Good list of movies but you didn't list perhaps his most highly acclaimed film, Laura, may want to list it in place of Comanche or The Purple Heart.