Daniel Dubois Height
6ft 4 ¼ (193.7 cm)
English Heavyweight Boxer. He was described in
Boxing News
in 2017 as standing an impressive 6ft 4 1/2 inches tall and weighing in at 224 pounds.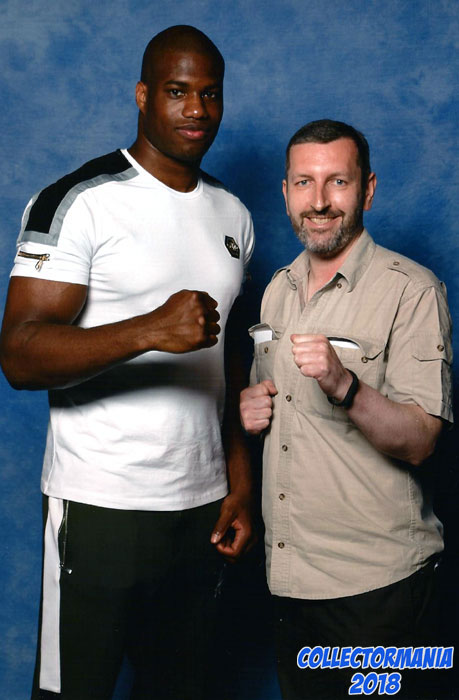 5ft 8 Rob and Daniel @ Collectormania 2018
You May Be Interested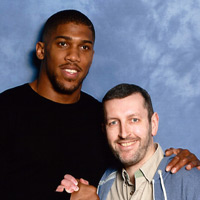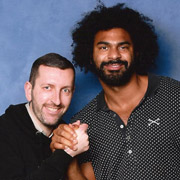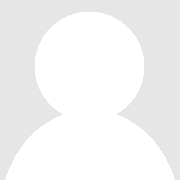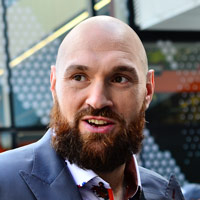 Add a Comment
46 comments
Average Guess (24 Votes)
6ft 4.03in (193.1cm)
Big T
said on 6/Oct/20
The height difference with Joyce is too big for this to be accurate. Maybe more a weak 6'4"?
Miss Sandy Cowell
said on 14/Jul/20
I do like Daniel's surname - Dubois. It's the same name as the lovely lady Patricia Arquette portrays in 'Medium', based on a real psychic by that name who uses her gift to help the Police solve abhorrent crimes. It drew my attention, and that of many others, to the fact that the Police really DO value the skills of people with psychic abilities.
Daniel's name attracted me over to his page, and I'm most impressed with what I see. Dan doesn't come over as at all vain, though he has every reason to be. He looks modest and thoroughly likeable.
I'll go with Rob's 6ft4.25. He should know - he's met the guy!
💪😁
movieguy12
said on 29/Jun/20
Yeah Dubois looks a big guy not sure why some are asking for a downgrade. Going by the photo His head does seem to rise almost to a peak in comparison with Rob who has more of a level top. This would make Dubois perhaps slightly taller than he might look at first glance.
184guy2
said on 19/Jun/20
@Nick
Both Eddie and Dubois could be 6'4 flat
Thomas 6ft4.25
said on 24/Apr/20
Just over 6ft 4 is fine for him. 😊
Nick92
said on 23/Apr/20
Rob you'll have to raise Eddie Hearns height then I think . I've not seen them together but I've seen both of the next to kurgan Cassius the owner of ifl tv who I estimated at 6ft4 flat. Eddie Hearn always edges him out , but when kuggan was once interviewing Dubois he did a mess around head to head with him and slightly edged him out.
Click Here
@2.45 and kuggan with Eddie Hearn
Click Here
and
Click Here
OriginalAnon
said on 18/Apr/20
193cm for Dubois.
Onabill
said on 8/Jul/19
Why are the average votes so low he is clearly a solid 6 ft 4 guy
Nik
said on 19/Apr/19
6'4.25" is not out of the question, his name contains every vowel!
Jdubbz 6'4.5"
said on 23/Jan/19
Looks nowhere near 6'4.5 in this pic, more like 192cm. Maybe he's losing height here, but idk.
Caaq
said on 21/Oct/18
The difference in the picture looks a pretty clear 8 inches. But if dubois stood a little straighter, i think the difference could increase to 9 inches. But then editor rob isnt standing fully erect either. He could straughten up a bit and gain 1/2 an inch. So the eventual differencewould be 8.5 inches, and that would make this guy's claim of being 6'4.5" a very legit one.
.bobbyh3342
said on 22/Sep/18
rob are you matching this guys posture? or are you standing tall? cuz that would make all the difference,,

Editor Rob
I don't think there is much difference between us
Jordan87
said on 10/Aug/18
Straighten him out maybe he is 6'4. 6'4.25 or higher I doubt as per the height chart.
Bazza
said on 27/Jul/18
This is what a solid 6'4 looks like
Christian 6'5 3/8
said on 27/Jun/18
@Rob
Why not? It would be funny if they inflate their height and you immediately call them out on it.

Editor Rob
I have to maintain a relationship with the con organisers and not get banned 🤐

I think the majority of claims are already known, a minority aren't of course.
Renegader
said on 25/Jun/18
Rob do you ever ask for a celebreties height when you take these photos with them? - if so what was dubois response?

Editor Rob
Not at photoshoots.
Dream(5'9.5")
said on 25/Jun/18
This is believable. No less though. I must be fooled by his low eye-level.
Probably very similar to Colin Salmon.
Peter 179cm
said on 25/Jun/18
191-192cm at most..
Renegader
said on 23/Jun/18
@Rampage(-_-_-)Clover
possible but unlikely ...... i am 16 and 6'1.3 inches and my height drops around a cm after a minute of waking up and my height often hovers around 6'1/2 ... everyone is different
Rampage(-_-_-)Clover
said on 22/Jun/18
6ft4½ is a late morning range probably
Renegader
said on 22/Jun/18
Hey Rob... i just wanted to say thank you for doing daniel dubois height.. your awesome and i dont know how you find the time to do this and I and many othe fans of celebheights greatly appreciate this.. your work rate is just unreal.... I just have on last question .. Rob do you think daniel dubois torso is short , long or average for his size? because it can be deceptive at times..

Editor Rob
In person I think he looked to have a fairly long torso.
Renegader
said on 20/Jun/18
Hey Rob I think you should down grade him to 193cm... the average guess is 6ft3.97 .. i have also done a lot of research into this looking at his previous fight weigh ins and face offs... and if you look at him and dl jones.. he is slightly hunched over while this makes it look like dubois is 6'4.5 .. dl jones is not standing straight so if he was he would take a possible 1/2inch+ away from him leaving him around 6'3.75-6'4... I think Dubois morning maximum height is 6'4.25 inches.. I think he needs a downgrade to (193cm) anyone else agree?

Editor Rob
6ft 4 on the nose is quite possible
AndrewV
said on 19/Jun/18
A strong 6'3", I could see him near 6'4" in the morning.
Mahesh jayan
said on 11/Jun/18
Is he taller than Kevin piterson in person.. actually he looks shorter than Kevin comparing two photos

Editor Rob
He's not much taller, though Kevin is narrower in frame, Dubois is probably 25-30 pounds heavier
Canson
said on 11/Jun/18
@Rob: I agree with Christian. If Joe is 6'4.75, there's no way this guy is 6'4.5. It's hard to notice 1/4". But to be fair for an athlete measuring likely in the AM possibly a fraction less than 6'4.5 even and rounded up, he may just be 6'4" at a normal low and Joe M could even be 6'4.5 at a low

Editor Rob
6ft 4-4.25 may well be possible for him.
Agent Orange
said on 11/Jun/18
Looks 6'4 and has a good physique.
Johnson
said on 9/Jun/18
@Rob don't you think according to the mugshot he looks 6'3.75 6'4 max?

Editor Rob
6ft 4.5 is what he was billed...but there is of course a chance he is 6ft 4.
Christian-6'5 3/8"
said on 9/Jun/18
If a 6'4.5" Manganiello looked taller than Dubois from a 5'8" man's perspective, then it's safe to say that Dubois isn't as tall as 6'4.5"
Canson
said on 9/Jun/18
He gives off a shorter impression simply based on how he stands and looks next to Rob. 6'4.5 may be high but probably a textbook 6'4 and maybe 6'4.5 an hour or so out of bed similar to how and when most other athletes are measured
World Citizen
said on 8/Jun/18
He looks 6 ft 3.75 at best
Zampo
said on 8/Jun/18
I really don't know what to say here....Dubois is definitely around 6'4 (probably a strong one) I think based on looking at him over the last year or so but in this photo, He is looking 191-192 cm range nothing more.
184guy2
said on 7/Jun/18
@Rob , how does he compare with ones like Manganiello,Mcpartlin and Salmon?
He looks to have quite a long accent skull but looks no less than 6'4 considering the leaning.

Editor Rob
Well he's not the tallest Daniel I've seen...Cudmore is taller than Daniel Naprous, who is taller than Dubois. Whether there is a full inch between Dubois and Naprous? I wouldn't dismiss the idea entirely.

Manganiello did look taller than Dubois...
Nik
said on 7/Jun/18
I certainly think that Daniel tops the 6'4" mark, although I am not sure he is 6'4.5"!
Andrea
said on 7/Jun/18
While he certainly doesn't look as tall as 194 here, I wonder how certain people can say he looks as low as 6'3 or even under. I understand that his big head can be deceptive, but he doesn't look any less than 192 range. Maybe add a height chart, Rob?
jessman
said on 6/Jun/18
Looks to be standing a bit loose in photo with Rob and appears about 6'3. Can see him hitting weak 6'4 if he stood atraight. Maybe 192cm is best call.
thetallmen
said on 6/Jun/18
Looks 1.89 ange at best considering rob is 1.74 and is almost his eyelevel where does the 1.94 listeng come from??

Editor Rob
173cm only, certainly not near 174 in any photos like this.
Christian-6'5 3/8"
said on 6/Jun/18
He's standing a bit further away from the camera, but he still doesn't look remotely 6'4.5". He needs a downgrade.
tree
said on 6/Jun/18
Rob you will add some lines here too?
Your head reaches over his mouth but maybe his posture is bad.

Editor Rob
At this shoot I thought Dubois stood pretty well with all people, I think at worst 6ft 4 for him, he does have a big head in person, well a bigger eye-top of head compared to say Anthony Joshua.
Myself
said on 5/Jun/18
Did he have shoe advantage in this photo?

Editor Rob
Within a few mm's...anything that gets to 0.2 or over I always mention.
Tunman
said on 5/Jun/18
Did he really look only 224Lbs?hell for a strong 6'4 range and 220-30lbs like McPartlin,he looks way heavier,would have thought at least 260 maybe similar to Dolph Lundgren in Rocky.

Editor Rob
I think at 19 he was mid 220's, probably 10-15 pounds heavier today age 20.
Nick92
said on 5/Jun/18
Wow this was definitely a big surprise! I didn't think ud get him. His height is very tricky, he looks half a inch shorter than 6ft5 okolie but only half an inch on 6ft3 ferdinand
Click Here
Click Here
Based of this I think ferdinand needs a slight upgrade
Tunman
said on 5/Jun/18
A good 6'4 although he looks 191 at best here
Jason193
said on 5/Jun/18
Doesn't look anywhere close to that listing. Flat 6'3 at best.
Dream(5'9.5
said on 5/Jun/18
Not to be rude, but was he really taller than he looks in this photo?

Editor Rob
He was at least 6ft 4 I'd have said.
Micky
said on 5/Jun/18
I would say in this photo he looks 192 - 193 cm range, but can buy 194 cm at a push standing for a measurement.
Andrea
said on 5/Jun/18
I don't know him, but he looks more 192 range than 194 next to you, Rob...