Danny Trejo's Height
5ft 5 ¾ (167 cm)
American actor best known for roles in movies like Machete, Con Air, Bad Ass and Spy Kids. He's an actor who exudes a bigger presence in movies than his actual height suggests. In this convention photo Danny had a little bit more sneaker than me.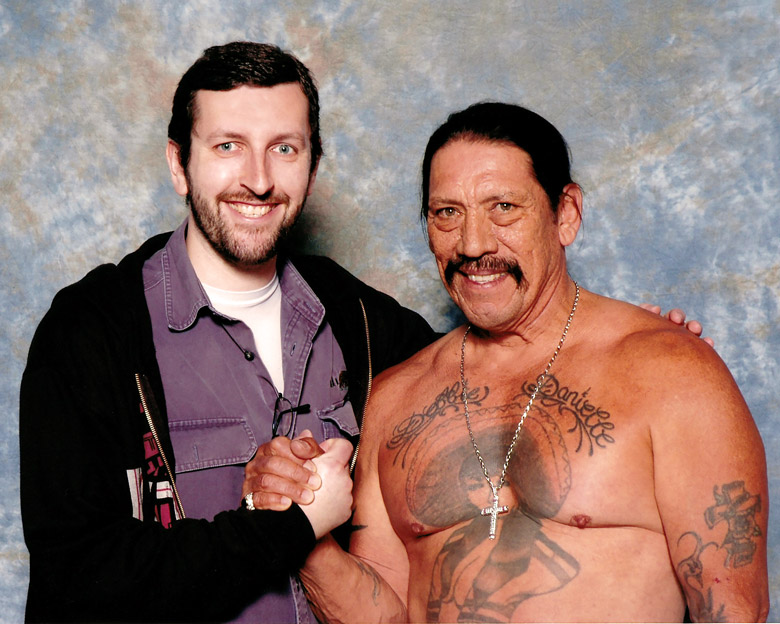 I'm 5'7″ and I was weighing 195 pounds – I'm 6'0″ in the movies (laughs)
You May Be Interested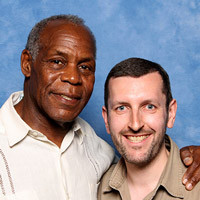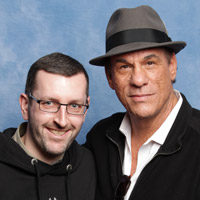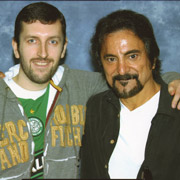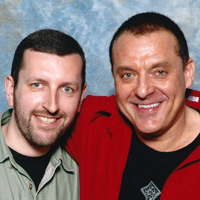 Add a Comment
157 comments
Average Guess (52 Votes)
5ft 5.6in (166.6cm)
J2Frenzy
said on 14/Nov/20
@Eric to his credit he's closer to 5'6 than 5'5
Eric W Tam
said on 11/Nov/20
No Danny you are 9'0 in the movies holy cow. Shocked me to find out he was actually short and 5'5 and not something like 6'5.
Jkiller
said on 21/Oct/20
5'5.5 (166cm) spot on for this guy
Christian 6'5 3/8
said on 11/Aug/20
@Rob
Why was he shirtless at the convention when you met him?

Editor Rob
To show off his tattoos? To be fair, it was pretty warm in that venue too!
Slim 6'1"
said on 9/Aug/20
old man now give him a peak n current
FriedChicken
said on 8/Jul/20
5'5.75 or weak 5'6 peak. I think now he's 5'5 1/2
Nik Ashton
said on 3/Jul/20
It's so great that Danny is currently the top celeb on celebheights!
Yang (5 footer 8, 173, Aries)
said on 20/May/20
Weak 5 ft 5 would be perfect listing for his height as of today 2020 because he mustve shrunken more heights as he aged....
BTW, Happy belated 76th Birthday to Danny!!! Btw, you dont really look 70s at all. Still looking like around 60 in my eyes Danny..
Miss Sandy Cowell
said on 16/May/20
🎁🎂🎈🎉 Happy Birthday Danny! 🎉🎈🎂🎁
Wishing the great, fun-fuelled actor Danny Trejo a fantastic 76th Birthday!
Wasn't he fantastic in 'From Dusk Till Dawn', 'Machete' and 'Con Air'?
167cm, and that's exactly what I found for him just now via the Birthday source! Bravo Danny! He's a man who doesn't need a huge height to play a hard man!
😁👍
🎁🎂🎈🎉🎁🎂🎈🎉🎁🎂🎈🎉🎁🎂🎈🎉
Nik
said on 8/May/20
He only looks a few inches taller than Rey Mysterio!
Miss Sandy Cowell
said on 18/Oct/19
Whenever Danny's picture pops up as a Random Celeb, I get the most overwhelming urge to dig out my copy of 'From Dusk Till Dawn'!
5ft5.75 going on 6ft! He did the hard- ass role of 'Machete' full justice, proving that you don't need to be tall to play a tough guy!
Yang (5 footer 8, 173)
said on 17/Oct/19
Weak 5ft 5 IMO.... never looked taller than 5ft 5 at least....
Sotiris Gravas
said on 20/Jul/19
5'5" Trejo w/ 5'2" Rey Mysterio (2018)...
Click Here
Tunman
said on 20/Jun/19
Hmmm,would have said no more than 166 counting footwear but I assume he already lost a small fraction by 65
Bobo101
said on 12/Jun/19
That's the biggest 2 and a half inch - 3 inch difference I've ever seen.
Bobby 5ft 10
said on 26/May/19
You should add that he's been in Halloween (2007). He had a minor role of course, but he played the janitor at Smiths Grove Sanitarium who was always nice to Michael but then gets killed by him because Mike's priorities are screwed up.
Miss Sandy Cowell
said on 16/May/19
😄🎂🎈 Happy Birthday Danny! 🎈🎂😄
Wishing this power-packed favourite of mine a great Birthday with his family and friends!
5ft5.75.
🎁🎉🎁🎉🎁🎉🎁🎉🎁🎉🎁🎉🎁🎉🎁🎉
VelikiSrbin
said on 8/Mar/19
Editor Rob
Yes he could have lost a cm or so, I think his peak was close to 5ft 6, today in his 70's he might be nearing 5ft 5.
@Rob here's a picture of him with 6ft nicholas cage in the 90's
Click Here
looks like a solid 6 inch difference to me. I don't think Trejo has seen 5'7 a day in his life.

Editor Rob
the 5ft 7 is unlikely, though in shoes that might be possible.
VelikiSrbin
said on 7/Mar/19
He's 65 in the pic. Is it possible he lost some height?

Editor Rob
Yes he could have lost a cm or so, I think his peak was close to 5ft 6, today in his 70's he might be nearing 5ft 5.
JR
said on 7/Mar/19
Damn before I was even remotely height conscious I always thought this guy was like a huge 6'5 dude just by his looks and prescence.
5'5.5 for me based on the pic with rob.
World Citizen
said on 24/Jan/19
Looks 165 166 at best.
Jay Scotland
said on 21/Jan/19
He's not tall at all he's very wide which can fool some people into he's bigger than he is
Tunman
said on 8/Jan/19
Seems that he always used to play intimidating characters.Maybe a good example of how personality could erase some realities.I mean it's really someone I've never perceived as small despite the fact that he's.To think this dude is roughly similar to Sarkozy or Hoffmann is just strange.
Sandy Cowell
said on 5/Oct/18
I just saw Danny's picture come up on 'Random Celebs' and had to see if he was going topless. He is! It must have been a hot day! If women did that though, they'd be arrested! 😤
5ft5.75.
Sandy Cowell
said on 14/Sep/18
I saw Danny last night in 'From Dusk Till Dawn' and he has such screen presence that any lack of height is the last thing on your mind...
The same applies in the film 'Machete', and the girls overlook his below-average height in that too. And they are beauties!
Danny gets 5ft5.75 and a round of applause for being so entertaining!👏
Sarah
said on 13/Sep/18
He was cool in From Dusk Till Dawn too. Looks 167
Ali Baba
said on 24/Jul/18
You're being very generous here.
Leno179
said on 14/Jun/18
I never thought he was short ! Big surprise, these is the king of camera angles it seems.
Nik
said on 24/May/18
I will offer Danny 5'5.5"!
Bobby
said on 26/Apr/18
Rob, you should add he has a role on The Flash as Breacher, and that he was in Halloween as the janitor.
tree
said on 15/Mar/18
Rob how much height those shoes gave him?
Click Here

Editor Rob
Look pretty thick beasts, 2-2.25 inchers.
176cm guy
said on 10/Mar/18
Hey Rob, This may be irrelevant. But what was he like in person to you?

Editor Rob
From what I seen that weekend, he was certainly cool with fans and seemed to be enjoying himself.
Anonim
said on 24/Jan/18
Does not look more than 164cm
JJAK
said on 9/Jan/18
Ok very short actor obviously sorry folks he could at times just look 5 6 or 7 clearly less than banderas who is not tall.
In his 40s he was quite fit making an imposing figure onscreen and being a boxing champ in prison no less.
Proof yet again height is not needed if you exude an alpha or even rabid vibe.
Sandy Cowell
said on 6/Jan/18
When you see Danny standing at the bar in the film 'From Dusk Till Dawn', you take in that he is extremely well-built, threatening to those he doesn't like and probably just a touch below average height! However, in his 'Machete' films, you are forced to be that much more finicky because he is surrounded and adored by good-looking women, and you expect to see at least an 8 out of 10 on the looks front overall in order for him to be worthy of such success! Yet his success is about as likely as the storylines themselves! But he CAN fight, and as I have seen myself, you don't need to be tall to do that! These stories demonstrate that, but usually, a bit of youth comes in handy as well! Machete doesn't even seem to need that, making the plots comical and far-fetched!
Danny gets 5ft5.5 from me! 👹
Warren
said on 4/Jan/18
I really have no idia he's that short
Ian C.
said on 28/Dec/17
What? You're kidding. I thought he was a big guy. So being unusually ugly makes you seem taller?
NOTTHATSMALLFORALAOTIAN
said on 8/Dec/17
"Bobby said on 25/Nov/17
Didn't he appear on an episode of The Flash this season as Gypsy's dad? It looks like him. Then again, he was taller than Cisco, so it can't be this guy. Weird."
And you know what ? I lately heard about things called boots. And -Breaking News !- it seems some of them have space between the foot and the sole. Ain't that weirder ?
abcd
said on 29/Nov/17
dress up :) 166 cm
Bobby
said on 25/Nov/17
Didn't he appear on an episode of The Flash this season as Gypsy's dad? It looks like him. Then again, he was taller than Cisco, so it can't be this guy. Weird.
Rent
said on 24/Oct/17
Maybe in his prime he was 5'6" but in this photos he's not below 5'5", especially if he had a fraction thicker sneakers than you Rob. His eye's level is clearly under your nose.A terrific actor BTW, I wouldn't have to deal with a gangster with a face and a presence as he has it!
Kyokushin187
said on 9/Sep/17
I always thought he was at least 5' 11"
Editor Rob: that's interesting, it shows how a guy like Danny has a screen presence that can make people imagine him as being noticeably taller than he really is.
Slim 182 cm
said on 14/Aug/17
5'5.25-5'5.5.
RichardSpain
said on 4/Aug/17
he seems bigger in screen. Amazing!
But next to Rob looks under 170cm
I give him 168 cm
Pierre
said on 9/Jul/17
167 by the picture next to Jenny
mrtguy
said on 7/Jul/17
Rob, how tall does Paul the great Wight look next to Danny??
Click Here
Editor Rob: Big Show is struggling to look anywhere near 6ft 10 there...let's say he's losing over 2 inches in posture, he must be!
even
said on 4/Jul/17
an extremely solid 166
Jacob
said on 25/Jun/17
Hey rob there's one celeb I don't know his true height but he's claimed 5'6 or 5'5" and half look into Gregg valentino he use to have the worlds biggest bicep would be cool to see his real height!
Marquis
said on 21/Jun/17
Probably over 5'6" peak.
John Davis
said on 25/May/17
Wtf? I thought he was at least 5ft 9
Bobby
said on 28/Apr/17
He probably claims 5'6 in everyday life.
RisingForce
said on 19/Apr/17
He looks 5'5" with Rob even with a thicker sneaker. Is that his height by age 65 and 5'5.75" peak, or did he still look nearly 5'6" in person?
Kirk
said on 17/Mar/17
Danny Trejo is the real deal. He looks mean and tough, he portrays a mean and tough character, but he can not hide the fact he has a heart of pure gold. He is just a good man - and in many ways is symbolic of the USA ... a rough exterior, but kind-hearted at his core.
Borats Chicken
said on 20/Jan/17
rob, was he really funny when you met him?
Editor Rob: he was certainly enthusiastic and willing to go bareback for the photoshoot...

he definitely gives off a taller impression because of his physique and looks.
Guest
said on 11/Dec/16
5'6 on a good day. Dudes a legend
Aza
said on 21/Nov/16
Fantastic 'handlebar moustasche'. Ombré looks 5'5.5
Aza
said on 16/Oct/16
I love this guy! He really just doesn't give a hoot about what others think about him...he' s just having fun.... Err....he wasn't actually totally naked? Am gonna go with 5'5.5
TJE
said on 28/Feb/16
Lol did he forget to bring a shirt?
S.J.H
said on 21/Feb/16
166cm top. Maybe 5'5.75 on a good day
Dmax
said on 27/Jan/16
Looks the 5'5.75 looks like he has a good heart.
Dmeyer
said on 16/Jan/16
5 ft 5,75 peak now 5ft 5,25
dinindu
said on 15/Jan/16
yo... rob you think this guy is just 1 inch is shorter than you? that's impossible. may be 2 inches seems accurate.
Editor Rob: he's a bit under 5ft 6 I think in person, nowhere near 5ft 7
Arch Stanton
said on 19/Sep/15
Definitely one of the most badass guys in Hollywood because he's the real deal. He really was one bad egg in his younger years. Short, but for a Mexican American of his generation probably average height.
bernie
said on 7/Sep/15
@ nWo: Who the hell told you Tom Araya is 6'2"..???? He's in the 5'8"-5'9" range...
Best joke i've heard for long...
Danny Trejo seems no more than 166cm in the pic with Rob....
nWo
said on 28/Aug/15
I have seen pictures of him where he is a little shorter than Tom Araya of Slayer who is 6'2", and one picture where he is even taller. That can't be due to camera angle, so I'm guessing he was standing on a box!!!
Emily
said on 1/Aug/15
he is the coolest actor in the world) his height. .... It doesn't matter
Dmax
said on 14/Apr/15
You say he have a fraction thicker sneaker than you but yet looks 3 inches shorter....intriguing
Arch Stanton
said on 25/Feb/15
He looked quite a bit shorter than Gary Sinise in Reindeer Games so has to be about this. He was rocking the Seagal ponytail too haha! Yeah he's one of those bad ass guys you don't dwell on his height with, in our minds he's an imposing guy.
Rampage(-_-_-)Clover
said on 7/Jan/15
I'm still recovering from that scene in Breaking Bad!
joe
said on 20/Nov/14
Rob, you add the Jaime camil mexican actor, I think it lie hieght
cd
said on 29/Sep/14
Looks about 5ft 5.25 or 5ft 5.5 with Rob. I'm judging this mostly on Rob's photo with Marshall Allman who is a 5.25 guy. They look about the same. However, I do agree with a near 5ft 6 peak.
Dmeyer
said on 30/Jul/14
Mel looks 9cm taller so about 175-6cm and has boots so about 174cm
Dmeyer
said on 30/Jul/14
Rob how Côme gibson looks same as you near Danny or max 1cm taller
[Editor Rob: in some photos he might, in others I think he can look a 5ft 9 and change guy with danny]
Dmeyer
said on 30/Jul/14
5'6 peak 5'5.5 now
TJE
said on 24/Jul/14
2.5 inch difference with Rob. Yep he's 167. How tall could he have been in his prime, Rob?
[Editor Rob: I think his peak is this listing, he had a fraction more footwear that day so I can see him having dropped maybe a fraction, but not like an inch...20 years ago he didn't look much different]
Adamz
said on 18/Jul/14
Realist, where do you live that sub 173 is talker than 95%?
"Felix B"
said on 11/Jul/14
I like Danny Trejo as an Actor and a humanitarian and I believe despite the missteps he's encountered in his earlier life. Danny can how turn-around and look back on how far he's come...and SMILE!!! My brother praise and love your Savior, and mine keeping His Word everyday as you Promised Him you would, Danny! Peace be unto You and your family, my Peace I give to You!!!
Astaroth
said on 2/Jul/14
Billed 5'11" in Machete - well not himself, the nominal character. He does look shorter than that, even in those big military boots he is seen wearing most of the time.
Funny how 5'11" is considered average-short in American movies...
Concerned
said on 27/Apr/14
5'6-ish isn't exactly surprising him for him. Latino Americans are on average 5'7-ish, and Trejo's pretty old now.
Alucard
said on 30/Mar/14
This is another proof of how camera tricks, magic shoes and movies are able to make actors and celebrities look much taller than they really are... He always "looked" average, above average in movies, lol...
Mick
said on 30/Jan/14
Seriously he always looked tall I'm shocked by this lol
I always thought he was around the five ten mark
He looks big in movies lol
the shredder
said on 3/Dec/13
Rob is he stand correct with you ? Btw Mel Gibson towers him.
[Editor Rob: he's pretty much not that different to how he looks in this photo and how he appears in size up close.]
Hawk
said on 3/Dec/13
he is also 65 yrs old in that pic. Bio says he is 5 ft 7 in. he is 69 yrs old now...
richkid123
said on 13/Nov/13
i see him in LA every now and then. He is slightly short. This height seems right
Hola
said on 9/Nov/13
Pretty good example of how a 5'6 man can avoid being dwarfed by having mass. And boy does this guy have mass.
romanspqr
said on 9/Oct/13
He looks 5'6-ish next to you. Maybe 5'10 without the shirt. Lol.
dicksock
said on 29/Aug/13
He looks 5'5" next to Rob.
Jonathan
said on 17/Jul/13
Leaning in on Jenny, he looks like he could be 5'6", even with the slight footwear edge.
I'd just give it to him.
SolidSnake
said on 19/May/13
wtf lol In Machete his file says 5'11'', 210 lbs in one scene then in another scene with a mugshot where he looks 5'9'' says 6'4'', 200 lbs!
Gaz
said on 28/Apr/13
I would say his 5'5.5'' - 5ft 5.75in range
[Editor Rob: please keep the 1 name thanks ;)]
Joe257
said on 23/Jan/13
Was it optional for him to wear a shirt? LoL!
[Editor Rob: well it worked, I'm sure he sold a few more photo tickets on the sunday!]
VV
said on 22/Jan/13
Wow no idea that he was that short! Whenever I see him in movies I think he is 5'10 or so. Hes still a badass though.
6ft under and over
said on 15/Jan/13
hey rob do you think this guy needs a downgrade to 5ft5 flat, hes lookin shorter then usally in his movies lately
[Editor Rob: he could be heading towards 5ft 5 next few years]
richkid123
said on 18/Nov/12
I've seen this guy in person and he is like 5'5.25"
GRAMMA K
said on 15/Nov/12
HE'S 5'6".
matt678
said on 17/Oct/12
I would say 5ft5 flat now and days and mabye 5ft6.5 in his hay day.
johnnyfive
said on 10/Sep/12
Love this guy, super Mexican badass! He looks 5'5 with you and Jenny especially with his footwear advantage. He looks various heights in Robert Rodriguez films, usually taller like in Once Upon A Time In Mexico they make him look taller than 5'9 Johnny Depp! The magic of cinema I tell you, but that badassery is ALL Danny, that ain't no Hollywood magic!
[Editor Rob: he's done well in late 60's, not short of work when most men would be winding down their careers.]
thorterr
said on 23/Aug/12
how did u find danny? and why didnt you go topless to rob?
[Editor Rob: I wouldn't want to scare the ladies away by going topless :) Danny was in good form with people, even jenny decided that day to buy a pic the following day with him.]
Danimal
said on 19/Aug/12
5'5.5" today. Maybe 5'7" in his youth.
c-mo
said on 30/Jul/12
looks 165cm - 5'5 on the dot
BigT
said on 25/Jul/12
166 cm is bang on.
the shredder
said on 24/Jul/12
Rob , how tall does pena look with danny ? 5'7.5 ?
[Editor Rob: in all photos with him I think 5ft 7 is closer.]
matt789
said on 23/Jul/12
rob how much do u think danny trejo weighs? and is it posible he's 5 foot 7?
[Editor Rob: nah man, he never looked that tall...weight? Maybe 200 pounds. ]
tom
said on 9/Jun/12
still a cool guy,big on the inside type actor.
Silent d
said on 5/Feb/12
I thought he was 5 foot 7. He did look tall in predators. The above photo shocked me how short he is. 166cm is probably more accurate. Sorry nat wu i don't think he is 5 foot 3.5. That is outrageous. Are you saying that he is the same height as johansson. I don't believe it.
Cranberries
said on 24/Jan/12
@goal height: The average man's wingspan is 3 inches greater than his height. "Huge wingspan" is 5 or more.
He does seem to have very broad shoulders. Small, but tough and strong as nails. Pretty fat though; looks like he eats lots of menudo.
goal height 6 foot
said on 4/Jan/12
huge wing span for his height, his wingspan is at least 5'9" 5'10"
Nat-Wu
said on 20/Dec/11
Sorry man, but yes. Maybe I can't convince you all, but I know how tall my friend is, and I know Danny Trejo is shorter than him. It's not guesswork.
Nat-Wu
said on 18/Dec/11
It is not an aspersion on his character that he is short. He is awesome regardless of his height. That being said, my friends and I met him at Wizard World in Arlington, TX 2008, and he is below 5' 5". I know that for a fact. I have a friend measured at 5'5 1/2". Danny Trejo is shorter than him. Maybe 5' 3", maybe 5' 3 1/2". Absolutely certain. Sorry I don't have a pic of them side by side, but this is fact.
[Editor Rob: if he was that short he'd have to have worn lifts that weekend I saw him, which I doubt.]
pete
said on 11/Dec/11
Robert Rodriguez is a magician.. he can make Mr. Trejo look like a 6 feet tall Mexican Action Hero who is dancing with his Machete. great actor
Tom101
said on 5/Nov/11
legend!!! he could be 4'5" and still be cool.
peter
said on 2/Nov/11
met him a few times at a pizza joint in toluca lake. He is a nice guy. he is 5'5.
Normal
said on 24/Sep/11
Just saw machete last night, proof even a shorter man can be intimidating. He was scary looking.
LUCOSO
said on 15/Sep/11
the badest ass short guy
5'8.76784
said on 5/Aug/11
Wow! I knew he was short, but I expected something like 5'7 minimum for him nowadays.
Matt
said on 3/Aug/11
WHY NO SHIRT?! Man, that's just not something I needed to see.
mf
said on 24/Jul/11
Rob,
how do you get all these celebs to pose with you?
Awesome.
[Editor Rob: these photos are all from celebrity conventions around the UK.]
Clay
said on 20/Jul/11
BenjaminCruz says on 13/Jul/11
In Machete, he is listed as 5'11. Now that's crazy.
Note that his Character is listed at 5'11...not Trejo himself.
Kjones
said on 19/Jul/11
i don't care what anyone say, i thought that danny trejo would be at least 5'10 or something.
BenjaminCruz
said on 13/Jul/11
In Machete, he is listed as 5'11. Now that's crazy.
LG69
said on 5/Jul/11
"servingthemjuisce", that's more than 12 inches. The difference is at least 15 inches.
Andrew1995
said on 7/Jun/11
servingthemjuisce says on 28/May/11
he looks 5'8 next to 6'8 listed tyler mane, but tyler could be 6'5 i think
Click Here
12 inches at most here
_____________________________
nah that's more like 14''.
Andrew1995
said on 7/Jun/11
123 says on 2/Jun/11
5'2 MAX
haha no way, but he's more like 5'5'' flat.
Jmoney
said on 15/May/11
He is like 5'3
Danimal
said on 14/May/11
Goliath of Gath says on 22/Jan/11
Listed at 5 ft 7. Haha.
I'm sure he stood that height in his prime.
Dominic
said on 10/Mar/11
Rob I see a solid 3 inch difference between you, and you say he had footwear advantage so how can he be just under 5'6? Looks 5'5 possibly a tad under
[Editor Rob: he could be 5ft 5.5 today]
ikbtops
said on 1/Mar/11
Ha! This is like the Jackie Chan/ Bono height difference. Very surprising!
James
said on 15/Feb/11
Looks no more than 5ft5 with rob
Goliath of Gath
said on 22/Jan/11
Listed at 5 ft 7. Haha.
He's 5 ft 6 tops. But he's built very strong, big bones and tough build.
Clay
said on 19/Jan/11
Watched Machete last night. Decent movie not great, listed at 5'11 lmao. Danny suprisingly did well carrying a movie though.
BabyBaby
said on 6/Jan/11
He looked much taller in Machete. The magic of cinema eh.
Legend
said on 4/Nov/10
Are you going to add his peak height?
[Editor Rob: at some point]
joe II
said on 21/Nov/08
Yeah I thought he was a lot taller. In Con Air, first I thought he was short, bout 5'6, then when he was shirtless I was like crap, this guy must be pretty big, thought he was 5'10
henk82
said on 2/Nov/08
Met him today at a Scifi convention in Stockholm, he is 170 cm(5 feet 7) and pretty wide.
Captain Spaulding
said on 18/Sep/08
Hes 5'6" not 5'5".
Joey
said on 16/Sep/08
I've met him twice. He is no taller than 5'5" MAX. I was shocked at how short he is.
Balto
said on 12/Jul/08
Wow, I actually had him pegged much TALLER than this.I guess his muscular build fooled me - he so darn wide I think it gives the impression he's a lot bigger (overall) than he really is.I think it's safe to say this is 1 guy none of us would mess with - I mean he was in some of the hardest prisons in the US and actually became LW and WelterW boxing champion there.One tough dude and definately not to be trifled with.
Brotha
said on 29/May/08
Listing is accurate. He's 5'6" my 5'7" friend met him and was exactly an inch taller.
Anonymous KinG
said on 28/Apr/08
crap.. he can't be shorter than 5ft5.5(166cm).. my dad is 5ft10.5.. he say Trejo was half a head at his eye level shorter than him..
shorty
said on 14/Mar/08
I met him a couple times and he was way shorter than me. I am 5'6" he might be 5'4"
Jake
said on 5/Mar/08
Hey guys I used to live in the valley right near this guy and have bumped into him twice, one of the times LITERALLY bump into him. I'm 5 ft 6 and i distinctively remember he was at least 2 or 3 inches taller than me.
Travis
said on 7/Jan/08
I live in LA and a couple of years ago I saw him in a restaurant in the valley. He was at the cash register ordering food about 10 feet in front of me. I'm 5'7.75 and he looked to be around the same height, maybe a little shorter.
Rocky
said on 31/Oct/07
5'6'' to 5'7'' at most, that's how tall he appeared to be in Heat.
AshnarLynx
said on 7/Oct/07
He was described as about 5'10 on an episode of X-Files. He is pretty buff so he can look taller than he is. Still I think he's got to be at least 5'8.
Boxing Fighter
said on 10/Apr/07
Click Here
with pierce brosnan
it looks like at least 5ft7
Doy
said on 14/Jan/07
Had the pleasure of working with him on Point Blank and Walker. If he was as tall as his personality and talent he would be 10 feet.
G-unit
said on 30/Dec/06
you kidding? I always thougt he was 5'7½ MINIMUM
Antonio
said on 23/Dec/06
I saw him a year ago, he passed right by me, I'm 176 cm, so I would say he is about 165, very short.
Lmeister
said on 21/Dec/06
This dude is really built that might be one reason why he looks shortish. Built + short legs = looks shorter. 5'7''/195 pounds...
Boxing Fighter
said on 20/Dec/06
I agree shredder. He looked 5ft8-5ft9 in desperado, but in triple X he looked 5ft4!!!! Vin diesel is a lot bigger than Banderas.
But 5ft6.25 for danny is ok.
the shredder
said on 20/Dec/06
I always thought he was about 5'4 . the 5'7 -5'9 listings are Down-Sydrome !
Elio
said on 19/Dec/06
Didn't this guy used to box professionally? Maybe there's some stats somewhere?
AA
said on 19/Dec/06
I never thought he was that short... he's more like 5-7, 5-8...
Lmeister
said on 19/Dec/06
He looks a bit taller than 5'6''. He is usually listed 5'9'', but looks 5'7''-5'8'' range.
Anonymous
said on 18/Dec/06
look similar height with vandamme
Anonymous
said on 18/Dec/06
Is he really that short? I always thought he was about medium height (5'8"ish).
Anthony
said on 17/Dec/06
Looks about right. The exact same height as me. Great actor, too.