Dave Mustaine's Height
5ft 11 (180.3 cm)
Peak height was 6ft 0 (182.9 cm)
American musician known for Megadeth and as an original guitarist with Metalicca. In an interview he said
"I'm six foot tall"
. He mentioned that due to years of headbanging he had
"Three herniated discs and bone spurs everywhere,"
and
"It's one thing to have a bulging disc and have stuff fused together, but when they find broken pieces of bone in your spinal cord, that stuff causes pain."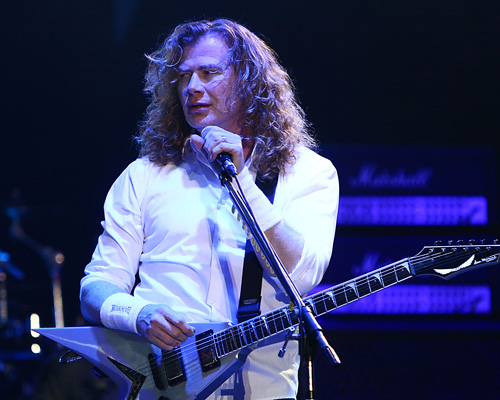 Photos by PR Photos
Add a Comment
33 comments
Average Guess (22 Votes)
Peak: 6ft 0.17in (183.3cm)
Current: 5ft 10.89in (180.1cm)
Beau
said on 28/May/21
It's pretty clear Dave's spinal surgery in 2014 had him lose a lot of height, probably 2" of so. He looks like 5'9" per recent photographs in this thread.
My father lost about 1.5 inches from a similar surgery in his late 60s, and he was only 5'7" at that time (down to barely more than 5'5").
I'm actually thinking his peak may have been a bit above 6". He looks awfully close to James in several photos when they were in Metallica together.
Public Enemy
said on 25/Feb/21
@QM'6'1'QM He's a great metal guitarist. Another great metal but highly underrated guitarist is CC Deville from the band Poison . Check out their track 'Nothin but a good time' .
Peak Mustaine - 6'
Current- 5'11
Danimal 176.7
said on 24/Feb/21
Dave and 6'1" James Hetfield before Dave lost height:
Click Here
Click Here
Dave and James Hetfield after Dave Lose height:
Click Here
Danimal 176.7
said on 24/Feb/21
He is nowhere near 5'11" today. He's at best 5'9" today. Here he was next to 5'9" Dave Ellefson (Megadeth guitarist) in his prime:
Click Here
Click Here
Here he is next to Dave Ellefson today (2018). Ellefson is the guy with the necklace and thinning blonde hair:
Click Here
QM6'1QM
said on 19/Sep/20
He's one of the greatest metal guitar player ever. He's my idol.
Albums "Peace Sells", "So Far, So Good, So What ?!" and "Youthanasia" really did put myself into Megadeth and entire trash metal.
I can't say it about many bands, but I'm still considering Megadeth as an pretty underground band with unique style, psycho rhythms and unbelievable instrumental parts - Holy Wars... The Punishment Due, Set the World Afire, Five Magics, Youthanasia, In My Darkest Hour etc.
Right now I'm biggest fan of "Rust In Peace" album and gonna get my CD's, DVD's stuff collection of their perfect work.
So peak was honest 6ft :)
Meltdown
said on 24/Apr/20
Met Dave in 2009 backstage. He was a solid 2 inches taller than me then. My morning height is 5'10, but I was definitely under 5'9½ at the time of the meeting. Also Dave was 47 then. Now he's 58 so he very likely is an inch down. 5'11 is right for 2020.
Keith 5'10
said on 1/Dec/19
1,83 - 1,84 range at peak for me. Never looks under 6ft with James Hetfield.
David Daniel
said on 9/Jun/19
About 6'0.5
Vortex
said on 5/Apr/19
Pretty much a solid 6'0 in his 30-40's. I saw him at hotel and airport in 2007 and he's at least 2 inch taller than my friend who's 5'10.5 when they shook hand. Then again, he has yet to had major neck surgery at the time. You can search for pic of him and James Hetfield standing closely at Woodstock 1999 and Hetfield was only an inch taller back then.
Chris Broderick is 6'1 and even in 2013, Dave was only about half inch shorter than Chris in every photos and videos.
BBABH&Juliano'sRequiembestSwedeMelodeath
said on 18/Oct/18
5'11 for Dave, I've seen pics of him with Chuck Billy ( who was 6'1 at his peak ), and Dave looks an inch shorter, Chuck must've shrunk to 6 now , which puts Mustaine at 5'11.
IamGhost&BBABH=bestSwedishMelodeath
said on 17/Oct/18
5'11 and half at peak , now he must be 5'10 and half. I've seen pictures of him back in the day and now ,standing next to Araya who's 5'10 and before he lookeda bit taller ,and in recent pics they look about the same height.
David Allen Patrick Maddox III
said on 11/Jul/18
he looks shorter than that i saw a insta picture with him and kiss standing together
Liberty183.3
said on 16/Jun/17
He was a strong 6'0'' in his youth. Given his age and his surgeries, he has probably lost .5'' naturally and about another 1'' from surgeries.
BillisaLefty
said on 9/May/17
If you look at old pictures of him with Metallica, him, Burton, and Hetfield are around the same height. Also, Ulrich and Kirk were, too. So, I'd guess he was a solid 6' in his youth. No doubt, he's lost some height naturally and with back issues, even more. He's probably 5'10'' and some change today.
Spike
said on 8/Apr/17
Ok so I met Dave back in 2009, and I also got the chance to meet Hetfield and Araya. Couldn't meet King tho. Dave mustaine is clearly 5'10".5 (179cm) as he stood right next to me (I'm 5'9.5), was only an inch taller. Hetfield is a solid 6'1", and Araya is 5'10", real friendly guy too.
RisingForce
said on 8/Apr/17
As for Phil Anselmo, he told Glenn he was 5'11.5" and it's at least possible he was before back problems. As for Mustaine, he's only in the 5'10" range today. Looked like a solid 5'11" guy peak, imo.
Anthony 74
said on 13/Mar/17
I agree Rob 5' 11 seems very accurate for today
truth
said on 5/Aug/16
Somewhere between 5'11 and 6'0, maybe 5'11.75-6'0 before back injury and today at least around 5'11.25 or 5'11.5. Maybe 5'10 is really too low for him, but I honestly can't buy him losing more than half an inch and he looks roughly 1-2 inches shorter than Hetfield who is no more than 6'1 (though he is burly and could give a 6'2-6'3 impression LOL).
Dave189
said on 31/Jul/16
Hey Rob, how tall would you say Chuck Billy from Testament is? There are couple of pictures of him and Dave from back in the day and from the recent years...
Cheers!
Johan
said on 15/Jul/16
Aza said on 13/Sep/15
@184.3 you know Kerry king is best mates with stone cold steve austin?
Better late than never :)
If your still reading Aza, no I didn't know that. Kerry is very muscular in person but very short, he looked shorter to me than Bruce Dickenson is person and I think Rob has him correct at 5ft 6. Although when I met him it seemed like he also was more 5ft 5 than 6.
Jake
said on 8/May/16
Click Here
Click Here
Rob, Phil Anselmo is clearly taller than Dave Mustaine in these two pictures from 1992.
Phil has claimed 6ft 1 in the past. A lot of people think Phil is 5ft 11.5, but those pictures say otherwise. Does this make Phil 6ft 0.75 or 6ft 1?

Editor Rob
it is possible he was over 6ft, but I think in those photos he has a greaty posture whereas Dave maybe isn't at his fullest, so they might be nearer than it looks.
Aza
said on 14/Dec/15
He's quite religious these days. Plays all songs live except ' The Conjuring'.
Adolfus
said on 25/Sep/15
He is probably about 5'10" and probably never was any taller than that.
Aza
said on 13/Sep/15
@184.3 you know Kerry king is best mates with stone cold steve austin?
184.3cm (Night)
said on 9/Sep/15
Hetfield - 6'1 , can appear 6'2 as he loves cowboyboots. Sadly never met them in person after gig.
Araya- Somewhere in the 5'11 range, he did have boots on when i met him after the gig (Was Tattoo the planet tour just after 9/11 as we spoke about it.
Mustaine- Was around 2000 or 2001 my memory is foggy about the exact year but he looked really frail and we waited ages for him to come out. Rest of the band are all guys in the 5'9 range tops. I shook his hand and told him how great it was that they were touring again but i was looking down at him. His posture wasnt great but noway he was as tall as Tom Araya.
I will stop spamming now.
184.3cm (Night)
said on 9/Sep/15
Look up pics of Mustaine with Tom Araya from Slayer. I also met Slayer after a gig and was shocked at how short Kerry King was ( Maybe 5'5 if he is lucky) Tom was a solid 5'11 and he is taller than Mustaine in every pic online, Hetfield is also in a pic with the three of them and has 2 inches on Tom making him a 6'1 guy.
Click Here
Jeff Hanneman was also in the 5'10 range.
C.I.A.
said on 7/Sep/15
I met Dave in person a couple years ago, chatted with him for a few minutes. I could swear he was at least 6'0"
I'd say peak height was 6'1.5" and he's lost about an inch or so from back problems.
184.3cm (Night)
said on 6/Sep/15
This one is off , wish i had taken a pic back in 2000 when Megadeth was touring but this guy wasnt even 5'11 back then. He was somewhere in the 5'10 range and very slight of build.
181.5
said on 5/Sep/15
Rob, it should be Megadeth without the a. I always knew he was around 5'11
Anon
said on 5/Sep/15
I'd put him as 5'11.5 to be honest but good listing anyway.
Click Here
Aza
said on 3/Sep/15
Oh yeah...good listing too!

Editor Rob
I think Mustaine is a genuine case of a guy who could lose height in 50's, more than average.
Aza
said on 3/Sep/15
Fabulous guitarist. Peace Sells ...epic album!