David Bradley's Height
5ft 10 (177.8 cm)
Peak height was 5ft 11 (180.3 cm)
English actor, best known for playing Argus Filch in the Harry Potter series, Abraham Setrakian in The Strain, Walder Frey in Game of Thrones and The Doctor in Doctor Who. In film he appeared in The World's End, Hot Fuzz, The Colour of Magic and An Adventure in Time and Space. His agency listed him as
"5 feet 11 inches"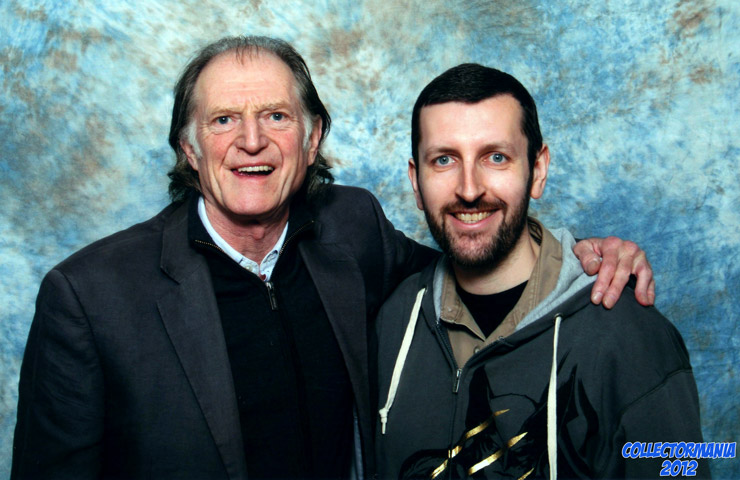 5ft 8 Rob and David @ Collectormania, 2012
You May Be Interested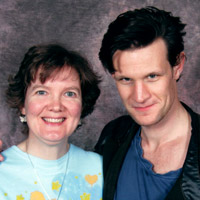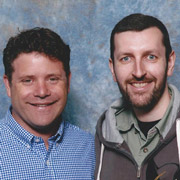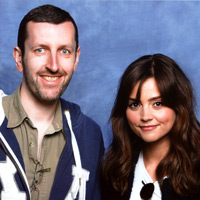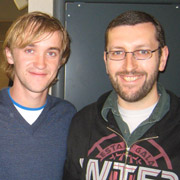 Add a Comment
29 comments
Average Guess (23 Votes)
Peak: 5ft 11.39in (181.3cm)
Current: 5ft 10.48in (179cm)
VitoCheng
said on 25/Mar/20
today:5'10"~5'10".25
peak:5'11".25
Miss Sandy Cowell
said on 22/Jan/20
Ah! I've just seen that I've already been on David's page to sound off about his starring in the excellent and hard hitting film 'Harry Brown'. Well, I'm watching it right now, and the local hooligans have just tried to burn him to death in his own home. He goes out and curses at them over the balcony - and who can blame him?
I remember only too well what happens next. His mate, ex-Marine Michael Caine, or Harry Brown, towers over him, so I'm off to Michael's page now.
As I said, this is a hard film to watch, with open drug-dealing and far, far worse. These youngsters are so evil that any mind altering substances make them even worse.
Today - 5ft10.5
Yesteryear - 5ft11.5
Miss Sandy Cowell
said on 14/Nov/19
SUCH a good actor! Did anyone see him with Michael Caine in the film 'Harry Brown'?
Miss Sandy Cowell
said on 13/May/19
If I could take that back, I'd give David 5ft10.25 for today's height!
Miss Sandy Cowell
said on 13/May/19
I saw David pop up with Stellan Skarsgard in 'Exorcist The Beginning' the other day, playing a man of the cloth. The part rather suited him!
😁👍
5ft11 for his peak and an inch less today.
Dmeyer
said on 5/May/19
Exactly 5'10 in both pics
Nik
said on 11/Nov/18
David Bradley is a strong 5'10"!
Sacred
said on 10/Nov/18
5 feet 11

Editor Rob
I seen him a few times over last few years and he's not over 5ft 10 today.
Sandy Cowell
said on 13/Sep/18
David was also in the film 'Harry' Brown', playing the best friend of Michael Caine. He meets with an unfortunate end, and Caine's Harry Brown decides to take the law into his own hands. It's an excellent watch and also stars Sean Harris as an unsavoury character.
David still looked quite burly in that film. I'd go for 5ft11 peak and 5ft10.25 now.
World Citizen
said on 31/May/17
Looks rather 177 than 178.
josh b
said on 30/Sep/15
Here is my photo with David
Click Here
Sam
said on 27/Jul/15
Yeah, Rob, I most associate him with his roles as Abraham Setrakian in The Strand and as Lord Walder Frey in Game of Thrones, could you add those to the first sentence?
Sam
said on 27/Jul/15
I actually forgot how he looked near Rob but had started watching The Strain and he can look surprisingly tallish/lanky at times, I don't doubt he could have stood around 5'11", although is now in his early 70s so probably is a bit less recently.
Judd
said on 21/Jan/15
1" at 72 years is likely! The listing is fair!
Anon183
said on 20/Jan/14
Honestly thought this guy was 6ft, I always got quite a tall impression from him. Surprising. My proportions are similar to his so perhaps that is why I get mistaken for being taller than I am too.
Emily
said on 12/Jan/14
Would you consider his head small Rob? I remember that close to 6ft4 height challenger guy with a bit over 9 inch head, and you said you didn't consider his head small. Yet he's like almost 6 inches taller than Bradley, and has just a little bigger head.
[Editor Rob: I'd say David's was a bit smaller than average.]
avi
said on 3/Jan/14
@Rob
Actually he looks 5'10 flat but Rob why does he look 5'9 area with Matt Smith ?
Is it possible Smith had boots on in that picture Emily posted?
[Editor Rob: to me smith looks 5ft 11.5 and bradley 5ft 10 in person...]
Emily
said on 26/Dec/13
So Matt's head is nearing 10 inch length? I didn't think it looked so big. But he has a rather thin head like Cumberbatch, so that can take off the length visually.
Emily
said on 24/Dec/13
You sure his head is below 9 inches? Matt Smith's head is about the same length as yours Rob (9,5 inches), but in this pic
Click Here
it doesn't look about half an inch (or more) longer than Bradley's.
[Editor Rob: it looks near an inch smaller in that photo than Matt's, I think David has a head a fraction shy of 9 inch.]
avi
said on 13/Dec/13
Solid 5'10 maybe 5'10.5 peak 5'10.2 now.
Connor 184cm
said on 9/Dec/13
He actually looks close to 179cm, i can believe 5ft 11 at peak, correct me if im wrong but didnt he gave a shorter impression in the Harry Potter films because he was slouching?
raptordalek
said on 11/Oct/13
Saw a tv series with him and daniel craig walking side by side filmed in the 90's, craig was about a half an inch smaller so that makes craig 5'9
Yaspaa
said on 27/Aug/13
Or he was never 180.
thorterr
said on 23/Aug/13
ahh that a wedding pic? can see ur gritting ur teeth there ,,same shoe size? hmm them 5ft 9.5
hurricane brat
said on 25/Jul/13
His role as Lord Walder Frey on Game of Thrones has brought this guy much notoriety Rob!
Original
said on 15/Jan/13
Looks 179 cm.
Mathew
said on 24/Dec/12
5'10" I can see, no taller though.
Josh B
said on 5/Dec/12
Expect his small head fools some people, like Andrew Robinson. Would you say they are the same height Rob?
[Editor Rob: both look in the 5ft 10 range when I see them ]
smoggy
said on 29/Oct/10
looks this height in harry potter, at least 2 inches on tom felton in the latest one