Sean Astin's Height
5ft 6 ¼ (168.3 cm)
American actor, best known for playing Mikey in The Goonies and Sam in Lord of the Rings star. He has said of his stature,
"I don't care if I'm 5-foot-7-inches tall and pretty heavy, weight-wise, in the film"
. In 1993 he also claimed,
"actually I'm 5 feet 7 and 3/4. The 3/4 is very important to me"
. I met Sean at a 2012 Collectormania (I had a 1/4 inch thicker sneaker than him) and at a 2016 Glasgow Film and Comic Con (similar sneaker).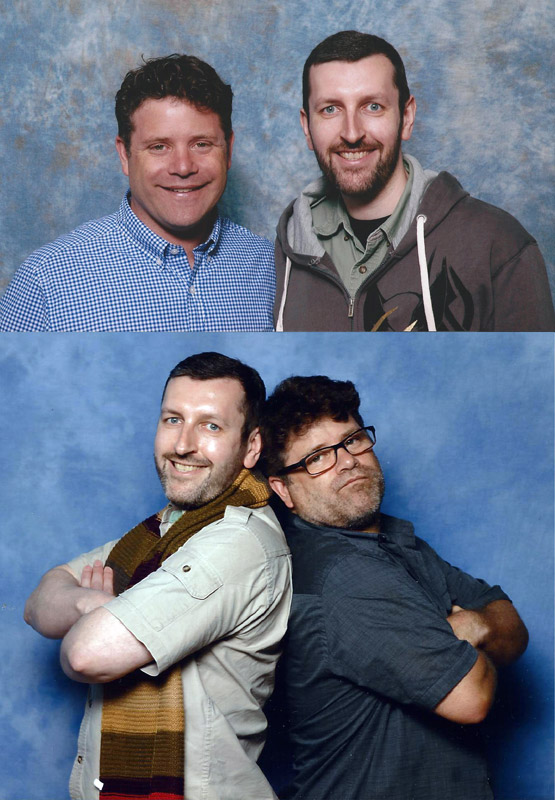 5ft 8 Rob and Sean
You May Be Interested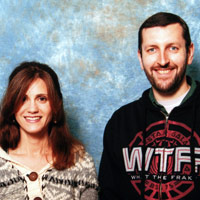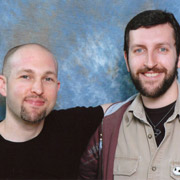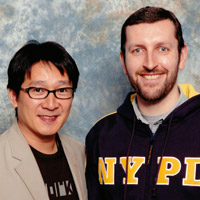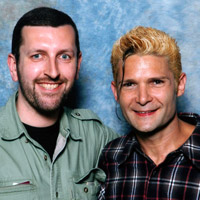 Add a Comment
180 comments
Average Guess (82 Votes)
5ft 6.12in (167.9cm)
Miss Sandy Cowell
said on 25/Feb/21
🎂🎁 Happy 5️⃣0️⃣th Birthday Sean! 🎁🎂
Unbelievable that it is, Lord of the Rings' potato-loving hobbit Samwise Gamgee 🥔🍴😋 actor, Sean Astin, celebrates his half-century Birthday today! 😯
Sean has three daughters aged 24,18 and 15. I think that's pretty incredible too since he still looks so boyish - good luck to him for that! I'd believe 30 over 50 to be perfectly honest, and yet he has a daughter of 24 - WOW!
Sean's Birthday Guess is 5ft6.5.
🎈🎂🎁🎊🎈🎂🎁🎊🎈🎂🎁🎊🎈🎂🎁🎊
Mimi
said on 25/Feb/21
Happy 50th birthday to Sean Astin on tbis very day! 🎂🎉 Special Agent Oso is now half a century old.
Leesheff85
said on 16/Oct/20
Rob how tall would rudy ruettiger the college footballer sean portrayed in the rudy be? In photos together sean is clearly taller even though rudy is listed 5ft 6 on wikipedia maybe he was 5ft 6 in his youth and has shrunk?

Editor Rob
In Rudy's book he described himself as 5ft 6, but might have been rounding up a bit...obviously in later years with Sean, looks nearer 5ft 5
Blanc
said on 9/Jul/20
Could be my height twin
JohnMoore-162cm
said on 30/Apr/20
5ft6 flat seems about right
Miss Sandy Cowell
said on 25/Feb/20
🎁🎂🥔🎈 Happy Birthday Sean! 🎈🥔🎂🎁
Can it be possible that the baby-faced, potato-loving Hobbit, Samwise Gamgee, turns 49 today? Well he doesn't look it!
Let's wish him the happiest, merriest of Birthdays!
5ft6.5. 😁👍
🎁🎂🥔🎈🎁🎂🥔🎈🎁🎂🥔🎈🎁🎂🥔🎈
Jkiller
said on 17/Jan/20
5'6 seems about right
Logan M Barringer
said on 18/Apr/19
Eh 5'6" and 1/4th seems spot on.
Miss Sandy Cowell
said on 13/Apr/19
@ Areyoureally....
Well I'd never have guessed that! As with many shorter people, he passes for much younger at that sort of age.
5ft6.25? Yes, I think so, but possibly a touch more.
😊👍
Areyoureallytellingmwthisishaplening
said on 6/Jan/19
@Sandy Cowell
He was 30 in the first lord of the rings
Sandy Cowell
said on 27/Dec/18
I take it that the picture on the bottom is from a few years later than the one on the top! He was very young when he played Samwize in 'The Lord of the Rings'.
Still the same height though in both pictures! The only one who doesn't seem to change over the years is you Rob! What's your secret?
😂😂😂❓🆘😉👌
Sean, or Sam, gets 5ft6.25!
Michael, 5'10" 178 cm
said on 27/Nov/18
Sean isn't too much taller than Elijah, so there's no way he's taller than the 5'6 1/4" he's listed here. He could even be a little bit under it, there is at least 1.5 inch difference between him and Rob in the pictures. Him trying to claim 5'7 3/4" is funny because he is definitely not close to 5'8", he looks quite a bit shorter than that, especially next to legit 5'8"ers like Jenny and Rob, he is more than an inch shorter than them and he has the balls to say he is a quarter inch under 5'8" when in reality he is closer to 5'6". Well, I should be grateful that he didn't round up to 5'8" I guess, but that's already a ludicrous claim and even 5'7" is a big lie and Google still has him down as 5'7". They should change it, Astin is 5'6 1/4" max.
ztech101
said on 30/Sep/18
Rob is actually 5'8 1/2 (morningish height). I don't know why he claims his night height of 5'8 1/4. Most official measurements by doctors/pro-athletes/military are obtained in the morning, so it's better to use a morning height for general comparison. That being said, Sean appears to be 2.5 inches shorter than Rob, which indeed, makes him 5'6.
khaled taban
said on 5/Jul/18
5'6.25" maximum
The Shredder
said on 21/Feb/18
Actually Rob , add this to my last post , Here is Keith with Corey Feldman and Claudia Wells.
Click Here

Editor Rob
I'd agree that it's hard to see him over 5ft 4.5, I mean with Claudia Wells and Corey I'd go with 5ft 4.

For his own quote, I think he might be worth giving a page.
The Shredder
said on 21/Feb/18
Rob , how tall would you say the actor Keith Coogan is? He was known for Don't Tell Mom The Babysitter's Dead and Toy Soilders , Look at him here with Sean and Wil Wheaton ... After re- watching those movies I'd guess him at about 5'4.5 , even Chistina Applegate edged him out a little.
He is the third guy in the pic next to Wil ...
Click Here
The Shredder
said on 13/Feb/18
Oh yeah , minimum a good 5'6 in the new pic. As listed seems spot on.
Bobby
said on 7/Jan/18
5'4 is at his hairline, and his eye level looks to be 5'1.75. So, assuming this guy has an average eye level, then he should be exactly as listed, 5'6.25.
Adey P
said on 2/Dec/17
His character was 5 ft 4 in the film Memphis Belle!
Jacob
said on 2/Nov/17
Rob I took pictures with my family and was standing pretty straight and tall and forward and straight depending on the photos I saw and I looked to be not much in a height diffrence with my sibling and his girlfriend who are 5'8" so is it safe to assume I'm 5'6"? And just like with Sean Austin not much of a diffrence messaured not on the dot 5'6" but definitely close where I can claim it and Jenny is practically a Barley 5'8" woman

Editor Rob
height differences can certainly be emphasised or reduced depending on a few factors.

If you are looking at the tip of a nose of a taller person you are probably going to be near 2 inches smaller.

satchy
said on 26/Oct/17
5 ft 5.5 where is frodo
Shredder
said on 12/Oct/17
Rob , do you think just 5'6 is possible ? Dom does edge him.

Editor Rob
I think he has a similar build and really if you saw Sean in person and then Big G I swear you'd think they were similar in weight/height!
CGS
said on 29/Sep/17
Probably he's 5ft 7 on mornings and the rest of day he's 5ft 6.75 or 5ft 6.5
Twit
said on 26/Aug/17
If I am am 1/8inch taller than this guy, what would you rate me as rob?

Editor Rob
Might be enough to go with 5ft 6.5
Vexacus
said on 17/Aug/17
This guy looked short in 50 First Dates , 5'6.5 max
Jacky Huynh
said on 7/Jul/17
Looks 169cm (5ft 6.5in) to me
Canson
said on 18/Jun/17
I'm with you on that Christian.
Id say this listing is correct. Rob didn't have him by anymore than this imho. And Jenny is 5'7.75 at her lowest and has him even with his footwear advantage
World Citizen
said on 24/May/17
Listing seems accurate, and no more than that.
Christian-196.5cm (6ft5 3/8)
said on 22/Apr/17
The 5ft7 3/4 claim was most likely a morning measurement while wearing shoes. He's clearly nowhere near that beside Rob.
insomniak
said on 26/Mar/17
How does he look 5'7 his hair doesn't even reach 5'7 in the scale above?
John
said on 23/Mar/17
Looks a flat 5'7, maybe 5'6.5 at worst.
Adijos
said on 21/Mar/17
5'7" my opinion is his real height.
Morris
said on 6/Feb/17
My opinion 165-168 cm without shoes. Height more than normal. Tall people are much less than little people so the real normal height is less than star system has accustomed viewers.
Shredder
said on 19/Jan/17
Of course he isn't 5'7.75 , just look at him With Rob and Jenny.
Sandy Cowell
said on 12/Jan/17
Sean is one of those (fairly) many stars from 'The Lord of the Rings' who I've seen from time to time in horror thrillers!
I would say 5ft7.75 is too much for him, so I'm not agreeing with his statement about his height; personally I would have guessed at least an inch-and-a-half less!
He was quite a tall hobbit though!
qbert
said on 24/Nov/16
i doubt that line touching his hair is the top of his skull. i think he is 5'6 flat. no one will ever really know though...
Sam
said on 21/Nov/16
He looks exactly the same in the top and bottom photo. Rob could tell me he just photoshopped Jenny onto the picture where Rob is standing and I'd believe him.
josh jeffords
said on 21/Oct/16
Wow I remember he hid his height pretty well younger but doubt he was ever over 5 7.
Your assessment seems good even generous due to his epic 80s hair :@.
He does appear to carry a good bit of weight for a short guy.. he must have had like a good 30lbs on elijah wood.
He is a pretty good actor but of late has done a lot of bit tv parts not his best work.
I liked tin soldiers he pulled off an average kid in that.
weord
said on 10/Oct/16
what is his night height then? 5'6 flat?

Editor Rob
at worst 5ft 6, I think he'd hold a fraction over it though.
the Slav
said on 9/Jul/16
@Rob
Haha jokes aside.
If Astin was a 5'5.75 then it would add up - but he didnt look that short did he?

Editor Rob
no, I would be surprised if he was under 168cm.
Peter 179cm
said on 7/Jul/16
Yeah he does look around 168cm,whether that's 5'6 or 5'6.25 is debatable.Actually he looks similar to Jesse Eisenberg height-wise,probably 1cm shorter,so 168 for Austin and 169 for Eisenberg is logical.
the Slav
said on 2/Jul/16
Rob, at least you could've given him that 3/4 inch. You're such a mean person, why you do this :'(

Editor Rob
As someone who is scientific by nature, I try to remove bias and guess objectively as to how tall a person looks in person or with others :)
incidentally here is Sean with
Mario Lopez
, both their tallest claims (5ft 11 and 5ft 7.75) might match up!
Shredder
said on 15/Jun/16
Thanks , Looks a good 5'6 with 1/4 less shoes , so pretty much between 5'6 to 5'6.5.
Shredder
said on 13/Jun/16
Hey Rob , I'm back for a bit. been a while man. I would like to ask if you by any chance if you are going to draw the measuring line for you and Sean so we can check out about where he looks?

Editor Rob
yes I will add it now.
Paleman
said on 9/Apr/16
He looks the listed height. Very interesting of him to claim 5'7"75 when he's clearly not that tall. He must think that claiming 5'8" is too much but taking one quarter off it makes him seem more believable. Huh...
184-182
said on 4/Apr/16
He looks 167-168 with Rob. Looks another cm taller next to Jenny
BSD
said on 2/Apr/16
Bit of an odd claim. At least 2" shorter than Rob
LukeSkyWalker
said on 9/Feb/16
You can clearly see Astin is atleast two inches shorter than Rob. So 5'6.25 (168cm) for Astin MAX.
Johno
said on 3/Jan/16
Judging by that shot and taking footwear into account, he looks 5'6.5 but this all depends on his hairline; it is very difficult to assess where the top of his head is.
Robby D
said on 15/Dec/15
If Jenny is 5' 8" and is considerably taller with lower footwear then he is under 5' 7" so why does he claim 5' 7 3/4"? My theory is that if he said 5' 7" people would guess he was rounding it up from five feet six and a bit, whereas if he says 5' 7 3/4" a lot of people would believe it was his true height or else he would have rounded it up to 5' 8". A lot of celebs do this in my opinion and you will notice that when they do they always add something like, "the quarter inch, the half inch or the three quarter inch is very important to me. I don't think anyone who was a true 5' 7 3/4" would bother to say that.
the shredder
said on 14/Dec/15
What I don't get are some that say a height than add 3/4 in another claim , a real 5'7 3/4 guy wouldn't claim 5'7 and would go for 5'8. Same with Sly , why claim 5'10 if you think you are 5'10 3/4?
pablo77bar(184cm)
said on 17/Nov/15
@Editor Rob: whether important to him or not, I estimated he was more in the 168 range than nearly 170 range.
Rob,I was kidding with the situation,don't make this look seriously.

Editor Rob
3/4 inches are a very serious business, we don't hand them out willy-nilly on here!
pablo77bar(184cm)
said on 16/Nov/15
Rob,the 3/4 it's very importante to him
Let's give to him a 5ft 6.75 It's fair

Editor Rob
whether important to him or not, I estimated he was more in the 168 range than nearly 170 range.
SteelEyeball
said on 25/Oct/15
I met him recently. My girlfriend is 5'6 and comes in maybe an inch under my chin. I have a large, 10.5 inch head. Astin came up to my lips, which shocked me. Could he be a lift wearer, Rob? Also, I will post a link to the Ackles boots asap, just been busy.

Editor Rob
I doubt it as his shoes looked very normal
OwenKWallace
said on 20/Oct/15
who's bigger him or big g rob??

Editor Rob
Big G gives a taller impression in person.
seb1.91
said on 20/Oct/15
5 ft 6 is fair, his hair could give him a taller impression.
Maximus
said on 6/Oct/15
He might reach 5'7.75 with the hair, while in shoes, but your listing seems about right. He's gonna be at a Wizard World event here at the end of the month, hopefully I can get a picture with him!
C
said on 25/Jul/15
He looks about this in Rudy
Key
said on 18/May/15
Now this guy I actually met. Very nice person, fantastic personality. But no more than 5'6 flat
the shredder
said on 9/May/15
He look 5'5.5 with Rob and 5'6.5 with Jenny.

Editor Rob
I don't think he looks that short, definitely around 5ft 6 up close but as I say a fraction less shoe than me so I buy him over 5ft 6 flat.
whats with all the hate?
said on 6/May/15
rob could he be potentially 5'6.5? he looks it with jenny, and you do have 1/4 inch advantage in the top photo.

Editor Rob
I think over 5ft 6 is a good shout, whether 5ft 6.5 I'm not as sure...but 10-11am? He would likely be near that...
the shredder
said on 18/Apr/15
Rob , you really thought he looked 160 lbs ? He looks bigger in these pics .

Editor Rob
he didn't look over 170 I thought, somewhere between 160-70 maybe.
PLB
said on 1/Apr/15
I think all or almost all of the original Hobbits were just about 5'6". But now in the second series Richard Armitrage - the Dwarf King - is in reality about 6'3".
I wonder what it all means?
the shredder
said on 17/Mar/15
Rob I see at least 2.5 difference

Editor Rob
this guy is a solid 2 inches taller than that Rockstar wrestler!
the shredder
said on 15/Mar/15
Rob how can you tell if you are 2 inches over somebody?

Editor Rob
if you look a good inch or so above their eyebrow you might be near 2 inches taller.
FlameBoy
said on 14/Mar/15
how tall actually is 5 ft 6.25 ? i can Usually hold around 169cm on the dot though at night i can sometimes measure slightly under more around 168.7/8 though that would be my lowest
so my question is am i this dudes height or am i 5 ft 6.5 ?
nayhole
said on 1/Mar/15
Listing seems correct.
the shredder
said on 24/Nov/14
He looks 5 '6 but Rob has more shoes. This listing looks okay.
Alex 6'0
said on 21/Aug/14
I use to think 5'6 or a bit below. Now he does look a bit over 5'6. His hair can add a bit.
lelman
said on 15/Aug/14
He's probably measured himself in shoes, and was generous with his hair. He's probably 5'7ish in shoes, and near 5'8 if you count his hair.
the shredder
said on 17/May/14
lol yea , I love them too , give an exact height yet still BS , the same with Sly

Editor Rob
you need to be able to get away with it...the 5ft 7.75 only works if you hang around with guys like G.

Clay
said on 10/May/14
5'7.75 haha, such a precise claim yet such BS at the same time.
the shredder
said on 25/Apr/14
Tom is taller than this guy , me and Sean would be roughly the same with Cruise eating off are heads in his lifts
the shredder
said on 31/Mar/14
I honestly thoiught under 5'6 but he has less shoes than Rob and his hair is not as high as it looks as Rob shows. I think about as listed is right.
Alex 6ft 0
said on 31/Mar/14
5'6 flat or maybe 5'5.75
leonari
said on 28/Mar/14
This is max on a good day. I can see him at 167 cm but thats probably just me.
the shredder
said on 4/Mar/14
Thanks Rob , I actually was thinking he was shorter because I thought his hair was higher than it is , Can you do this Hair photo with Francois Chau?

Editor Rob
everything above this
Line
I'd safely say was just hair.
the shredder
said on 3/Mar/14
Rob where is the top of his head? I know you know hair.

Editor Rob
I'm not joking about hair,
Click Here
...this was just other day giving someone a tidy up ;) for Sean
Bottom edge of black line
...everything above that will be hair, I don't think it's quite as much, maybe a couple mm more at most, but not huge amounts! There are some people with a lot more hair than you'd imagine from looking at the photos of them...especially some lady hairstyles which have a lot of volume around the crown and might appear like 1cm but turn out there's an inch before you hit their scalp!
the shredder
said on 1/Mar/14
I laugh at his 5'7.75 claim , sure and Rob is pushing 5'10

Editor Rob
in shoes out of bed it probably doesn't sound that bad a claim!
the shredder
said on 6/Feb/14
the more I look , this seems spot on , Rob is standing over 5'8 plus more footwear , so it looks like 5'8.5 vs 5'6. give Sean more footwear and that is strong 5'6 vs 5'8
Emily
said on 22/Dec/13
He has a big head though. Around 9,4 inches.
the shredder
said on 7/Dec/13
Rob maybe 5'6 flat is better?

Editor Rob
it's toss up, around 5ft 6, possibly a little over.
the shredder
said on 6/Dec/13
You know what , I got it , he looks 5'5.75 with Rob having 1/4 more shoes ... He is 168 cm flat.
the shredder
said on 6/Dec/13
Rob , to be fair I see 5'5.75 with you. Not saying he is.

Editor Rob
I'd be surprised with a under, but then sometimes measuring people can be a surprise, they can turn out a bit taller/shorter than what you imagined.
cd
said on 5/Dec/13
Rob, I'm not disputing your estimate because it generally does fit him well, but is there any reason he looks so short next to you? He looks as if he's struggling with 5'6, was the camera in your favour or something as well as you having shoe advantage?

Editor Rob
the photograph is pretty fair, he looked about what he appears in the shot, I don't think he's shy of 5ft 6, I'd be very surprised if he was.
the shredder
said on 30/Oct/13
His 5'7.75 claim is insane , would not only be that in Timbs.
Sam
said on 28/Oct/13
It's funny that he can be so exact with a height (5'7.75") that definitely seems to be wrong. Maybe he cited his morning height...and maybe that was in loafers or something.
(S)aint
said on 27/Oct/13
Wow the whole cast from the Goonies are pretty short.
the shredder
said on 14/Oct/13
Rob , what do you see the max he can be? 5'6.5?

Editor Rob
earlier in the day he could be that, like 9am time...but I seen him numerous times that weekend and I watched the him meet Jenny and one other person and think 168cm is a good shout but there's really not as much difference between Sean and G as his old photo suggested, if you remember, you could be forgiven thinking Sean was smaller and G was a reasonably tall 5ft 8 guy :)

I know Mamun met sean and so did his con buddy (Khalid, who is a little bit shorter than 5ft 8 i believe) who is on facebook, that's another couple photos I think this listing fits in with!


the shredder
said on 12/Oct/13
Rob , what about your shoes? Jenny must have been in flip flops lol?

Editor Rob
an inch and hers in the 0.6 inch range.
the shredder
said on 11/Oct/13
Rob , he had boat shoes in this photo?

Editor Rob
the shredder
said on 5/Oct/13
Rob , how come he looks only 5'5.5 next to you?

Editor Rob
I don't think he looks that short, to me he is a typical 5ft 6 ranger
James Crowley Maximus Meridius
said on 26/Aug/13
Rob he claimed 5ft 7.75in he must be a lift wearer.
Yaspaa
said on 23/Aug/13
His facial expression is exactly the same in both photos... exactly. Are you sure this isn't a cardboard cutout, Rob, lol.

Editor Rob
you'd find that a lot if you browsed through all photos from an actors shoot
Edlt2882
said on 23/Jul/13
His height at 5-6.25 sounds about right. I walked right by him at Disneyland and he's about once inch shorter than me, and i'm 5-7.25.
PLB
said on 14/Jul/13
I'm a little surprised that he too wants to claim to be taller than he really is. In almost all of his famous movies he has played a short guy. I'm sure at Central Casting when they get in a good new script with a part for a short guy, his name is at or near the top of everybody's list.
I though he should have gotten an Oscar nomination for LOTR. He made the tetralogy.
cd
said on 11/Jul/13
He's 168 cm ± 0.2 cm. So yeah he's 5'6-6.25" range. He can't be as low as 5'5.75", I doubt he'd ever drop below the 5'6 mark at any time of the day.
Larc 74in
said on 22/Jun/13
Gives me a taller impression than Big G., what do you think Rob?

Editor Rob
Sean has an extra half inch of hair over G (who has no more than 1/4 inch), I think G looked taller to me.

Jimmy
said on 8/Jun/13
God bless this guy.
Elijah
said on 2/Feb/13
Looking very broad faced here. He's gained weight.
Dmeyer
said on 21/Jan/13
Look exactly 168cm considering 0.25 less shoes 169cm isnt impossible
Maximus Meridius
said on 15/Jan/13
Hey Rob how much do you reckon he weighs he looks too have lost some weight have you ever been as big as him build wise.

Editor Rob
I've been up to 190, of course that wasn't muscle, but 20 pound of flab :)

I think he might have been 160ish range.

I've held steady myself 150-151 pounds for many months now.
Aragorn 5'11
said on 2/Jan/13
5'6 flat. The extra quarter inch is unnecessary.
Editor Rob
said on 29/Nov/12

He certainly isn't a 5ft 5 guy...
Zach
said on 28/Dec/11
Agree with Mr R and Leonari, more likely 5'5
the AMAZING Babushka
said on 8/Nov/11
same height as the real Rudy
Debi
said on 26/Oct/11
I just saw him on Fox and Friends; sitting on the sofa he was as tall as Steve Doosey and taller than Brian Kilmead! Can he actually be in the 5'10 range?
Silent d
said on 24/Oct/11
He was same height as kate beckinsale. In toy soldiers he looked 165cm. I think 168cm is about right.
Carter
said on 20/May/11
How tall do you figure he was, in shoes, in Rudy?
RICHARD
said on 24/Dec/10
Looked slightly under or in some scenes the same height as Pauly Shore in Encino Man.I'd say 5'6''-5'7'' tops.
Charles
said on 20/Dec/10
In The Color of Magic, he looked slightly taller than David Jason, who's probably about 5'4", which would make him closer to 5'5".
leonari
said on 10/Dec/10
Correct Mr. R
Mr. R
said on 10/Dec/10
He walked right by me on Oscar night. He is 5-5.
jtm
said on 9/Dec/10
haha 5'7.75. that's probably how tall johnny depp is and no way astin is the same height as him but that's true he didn't look that much shorter than 5'9 adam sandler.
Editor Rob
said on 9/Dec/10

I found an earlier quote from 1993 where he said "actually I'm 5 feet 7 and 3/4. The 3/4 is very important to me"
Bill
said on 2/Jul/09
I would give him the benefit of the doubt and I would say he looks like 5'5 1/2" to 5'6"
jlf
said on 18/Jun/09
I've seen him up close. I am 5'10" and was with a 6'4" friend. We had a picture taken together. Sean in the middle my friend and I on either side. Judging from our eye positions I was almost exactly in the middle. That would make him 5'4" maybe 5'4.5".
jf
said on 12/May/09
He is not 5'6" and claiming 5'7" is laughable. He is very short. Shorter than Ben Stiller even. An even 5'5" is probably closer to the truth for him. Maybe 5'4"+. He is certainly not 5'3" though, that is too small for him.
I think it's funny when actors say things like "It doesn't bother me that I'm only (actual height + 2 inches) tall. I've come to accept it." LOL.
Haze
said on 17/Apr/09
wat happened with glens pic?
Rusty
said on 4/Apr/09
I have seen him listed at 5'5" before so maybe his height should be looked at again.
Bengalltitgerr
said on 7/Dec/08
I'd say no more than 5'5.5".
haze
said on 29/Oct/08
id say 5'5 range. mybe as low as 5'4.5" i dont see him at 5'6.
frank
said on 6/Oct/08
Sean was at my place of buz last week and we took a couple of pix's and i'm 5'6 and he was at less a one inch taller.
Rob
said on 15/Sep/08
Child actors are generally shorter, bc it allows them to play younger ages. If you have a role for an 8 year old, wouldn't you much rather have a 12 year old who can look 8 play the role?
Adam
said on 3/Jun/08
Glenn, whats his approximate weight? 165 lbs - 175 lbs?
Aimie
said on 30/May/08
He has puffy hair and he still looks 2 inches smaller than Glenn. 5.5 is my verdict.
G-MANN
said on 22/May/08
"Child actors usually end up below average."
That often seems to be true, doesn't it? Daniel Radcliffe, Frankie Muniz, Haley Joel Osment, Macaulay Culkin, Christina Ricci and various others, all short. Why is this? Did film acting stunt their growth?
leonari
said on 18/May/08
167 cm thats what he is.
Real
said on 17/May/08
I agree, he didn't look that short next to Sandler in Click, but then again, what kind of shoes were each of the guys wearing? I'm sure they tried to bump Astin up, especially considering he was with 5'7ish? Beckinsale
There was the pool scene where he was barefoot, but he didn't really stand next to anyone if i remember correctly
leonari
said on 29/Apr/08
I totally agree height detective. In my opinion he is 5'5.5" max!!!
Heightdetective
said on 28/Apr/08
5ft 6 is pushing it.
Lmeister
said on 20/Apr/08
Glenn is closer to camera which makes Astin look even shorter. I have some pics where I(5ft8)look as tall as my 5ft11 friends because of the angles. He isn't shorter than 5ft6.
vertically challenged
said on 18/Apr/08
no more than 5'6" fo' sho'
Elle
said on 20/Feb/08
But he is also leaning in and doesn't look to be standing up 100% straight.
Socom
said on 7/Dec/07
Dont be fooled by the hair. Look at the top of Glenn's head with his. He is obviously 5'5.5, and I dont understand all the comparisons to other actor's heights. How do you know that is even their exact heights to begin with. The listings cant all be perfect. The best measuring comparison is Glenn because we know his height.
Antron
said on 7/Dec/07
Glen is a bit close to the cam too, could make a 2 inch difference look like 3 easily. I think he's 168ish. Didn't look 5'5" in Encino Man, and he's taller than Elijah.
MHouillon
said on 29/Nov/07
He' a clear 165cm (5'5").
Anonymous
said on 16/Sep/07
Well for one thing even if he straightens up I doubt he would reach his 5'7" claim. I still think 5'6" is most likely
Aaron
said on 11/Sep/07
makes glenn look very 5'9/5'10ish. might be 5'5", depends on footwear though.
Jon Doe
said on 23/Jul/07
He definetly aint 5'4,he was only a little bit shorter than 5'7 Pauly Shore in "Encino Man".Ellijah Wood is 5'5 and Dominic Monaghan is 5'7.Food for thought.
the shredder
said on 28/May/07
Yea he is leaning in the photo , but looks 5'4 ! ... I think he first listings of 5'5 is accurate-ish !
Anonymous
said on 27/May/07
totally looks 5'5 on the picture, even considering his leaning
the shredder
said on 26/May/07
WOW , sorry but I see 5'4 - 5'5 for this guy also . 5'7 is B.S. !!!!!!!!!
D. Ray Morton
said on 26/May/07
Looks like he could be between 5'5"-5'6" if he were standing straight.
glenn
said on 25/May/07
a hobbit is a hobbit.now 4 inches is extreme.3 i see.the guy is leaning.he seemed 5-6 to me.maybe he is 5-5.he is an inch or 2 shorter than me in 1992.maybe cause i was 5-7.i found that pic for the site a year ago.thought i posted it.
Melvin
said on 25/May/07
He really looks 5'4" there
Kevin
said on 24/May/07
he looks 5'4, unless glenn is wearing lift, but glenn is not that kinda guy so he is 5'4, the pic shows 4 inches different are you blind guys ?

Editor Rob
he's got a lean to left. How much does his lean make him lose? Well, you could argue between 1 and 2. I think
these trainers
he's wearing.
snrub
said on 24/May/07
He looks 5'5" in the pic. Child actors usually end up below average.
glenn
said on 24/May/07
maybe he is 5-5.
Anonymous
said on 24/May/07
How come Glenn looks four inches taller than Astin?
brian
said on 22/May/07
saw him at the comic con in san diego. my guess is 5'5 tops.
glenn
said on 22/May/07
5-6 is right.didnt even know i had him from 1992.i thought i posted that pic.

Editor Rob
92 aswell, if you ever locate it admist your mountains of pics it'd be great. I liked astin on 24 last year, can't believe that he's mid 30's now, so he'd be like 20 in your first pic...same as you then really?
Del Mar
said on 22/May/07
Looks shorter than 5-6 in the pic. What was your estimate Glenn?
The Horse of FUNK
said on 22/May/07
At first glance he appears shorter than 5'6". However, his lean-in seems to skew any specific estimate. I'd say anywhere from 5'5" - 5'6".
antron
said on 22/May/07
Sean looks about 5'6, taller than PJ and EW
Marty
said on 22/May/07
This guy's no more than 5'5" and a half. But he seems like a very nice and down to earth guy !
Anonymous
said on 22/May/07
That looks like more than a two inch height difference.
RICHARD
said on 6/Apr/07
I watched Encino Man on Showtime and Sean looked like a solid 5'6" next to 5'7" Pauly Shore. It was obvious that Brendan Fraser towered over them. Sean is 5'6
Brah
said on 14/Mar/07
A 5'6" Gamgee looks right next to 5'7" Robin Williams. No way 5'7".
Click Here
MHouillon
said on 5/Feb/07
In "Memphis Belle" they say, he is 5'4". In fact the say this about the character, but I guess 5'4-5'5" is his actual height. Yeah, more 5'5" than 5'6".
Cantstop25
said on 19/Jan/07
Taller than elijah wood in lord of the rings.
shib
said on 30/Dec/06
Sean is about 5'3". Look at him in the last season of "24". Every other cast member towers over him. He is tiny! No way is he 5'6".
Aussie Bloke
said on 19/Dec/06
In Click, he looks around 5ft7, hardly shorter than Sandler, so he might in fact be the 5ft7 he claims?
toolegit2quit
said on 21/Nov/06
I was Watching the movie "RUDY", and he does seem rather short.At times he looked 5'5".I would say no more than 5'6"
JB
said on 14/Nov/06
My wife and I just saw Sean at Los Angeles International Airport (LAX). He was coming in from London on our same flight. He was wearing sneakers and I'd say with complete certainty that he is no shorter than 5'6" and no taller than 5'7".
kel
said on 25/Jun/06
on memphis belle he is said to be 5'4 and 120 pounds. that was 20 years ago....
Dagger
said on 26/Apr/06
5'7 for Sean is a joke I think. No way is he that tall, just look at him on talk shows etc, he looks really small, and with weight on he looked shorter, but after dropping it I'd say he looks 5'5.
CelebHeights Editor
said on 21/Apr/06

In his book 'There and Back' he mentions he's 5ft 7 twice. Also talked about weight, his ideal weight 165lbs, but for one role got down to 125lbs.
big fan
said on 6/Mar/06
you know, hieght doesn't matter, it's your atitude about it that counts.
p.s. i'm 5'6", and 12 years old.
Stephenie
said on 3/Mar/06
He's only tiny because he's being photographed with men who are taller than he is! Even average-sized men (5' 10") are called short if their next to someone who is 6' or taller. I think that 5' 6"-5' 7" is about right.
Also, who cares what peoples' drivers' licenses say? You are allowed to put whatever height you want. They don't check. Plus, what if that was your height when you were like 16 or something and you grew since then, and just didn't waste the time and energy to apply for a new card?
sebastian
said on 25/Feb/06
this guy is in the 5'4 range. Beleive it or not 5'7 isn't that small and he's always being describes as a tiny guy.
sf
said on 23/Feb/06
BackStageJim - Dominics's own driver's license, which he showed on the Tonight Show, had him at only 5'7".
BackStageJim
said on 22/Feb/06
Sean is 5'7, as he was just under my height of 5'8 at LOTR convention. Both of us were in dress shoes. Dominic is 5'8
TNTinCA
said on 15/Feb/06
He looked a little taller than Elijah Wood in LOTR. Not quite an inch though. I would actually peg him at 5'6.5" or so.
Shane130
said on 28/Oct/05
In Like Father, Like Son, the father son switching movie with Dudley Mooore and Kirk Cameron from Growing Pains, he looks not a whole lot taller than Dudley Moore, who was 5'2.5 inches, so I'd say 5'6 1/2 at the tallest since if he's half between he can say he's 5'7"
CelebHeights Editor
said on 25/Oct/05

He's consistant, said in tv program The View:
"No, I wasn't a happy camper at 195, 197 pounds. I'm 5'7" and it was uncomfortable"
Anonymous
said on 27/Aug/05
Sean is shorter than the 5'6.5" listing (above). In the films, "Lord of the Rings," Sean Astin, Elijah Wood, and Dominic Monaghan all had to play "hobbits." Dominic Monaghan is the tallest of the hobbits. Dominic is 5'6"(he could be shorter from the looks of him). Therefore, Sean is around 5'4".
JS
said on 27/May/05
Went to school with a guy who met him (dad was a publicist), said he was between 5'5 and 5'6.
mjd
said on 19/Apr/05
he looks alot shorter then kevin bacon
http://cache.gettyimages.com/comp/52054186.jpg?x=x&dasite=MS_GINS&ef=2&ev=1&dareq=E2399169AC85D6DE3CD9B8550AEAEDDC904E1FAE082F16A1621B2AC3A62513D3
please
said on 18/Feb/05
Sean astin is not 5'6....My best friend met him in a deli in LA and he's 5'6.....And said he was astleast an inch taller.....Sean astin ism ore liek 5'5...5'7 is pushing it...