Kerri Green's Height
5ft 1 ½ (156.2 cm)
American actress best known for her role as Andy in The Goonies. She also appeared in other mid-80's movies such as Lucas and Summer Rental.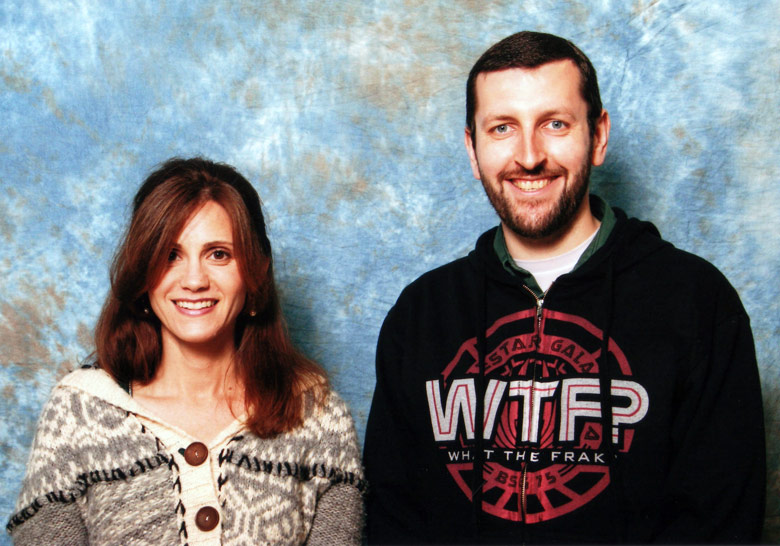 5ft 8 Rob and Kerri @ Collectormania 2009
You May Be Interested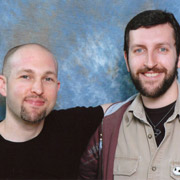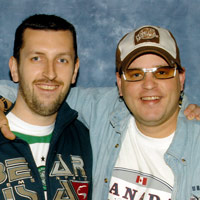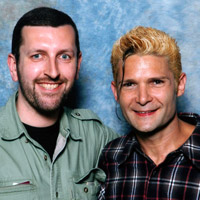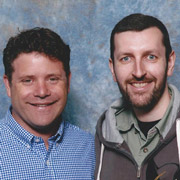 Add a Comment
35 comments
Average Guess (13 Votes)
5ft 1.52in (156.3cm)
Dmaon
said on 10/Feb/21
nearer 5'2, maybe even the full 5'2
Nik Ashton
said on 30/May/20
Legit! Rob and Kerri appear to have great posture in the above photograph!
Nik Ashton
said on 16/Mar/20
I've seen much bigger height differences than the one in the photograph above! Kerri could be a weak 5'2"!
This photograph of Rob and Kerri Green lights up celebheights!
Miss Sandy Cowell
said on 5/Dec/19
@ Rob - I'll be happy to check it out!
Miss Sandy Cowell
said on 2/Dec/19
@ Rob - Ah, sweet! Isn't Sean TINY?
😂😂😂👌
Shame about the sweat shirt! I'm going to look for one online - AND WEAR IT! My boyfriend bought me a t-shirt which was simply too rude to wear. It had a 🐫 on it....
....towing something!

Editor Rob
It's a battlestar galactica 'what the frak' hoodie (at least the one I used to wear), but I don't know if that hoodie is in existence.
Miss Sandy Cowell
said on 30/Nov/19
Kerry looked darned good at 42 and I bet she does at 52 as well. Yes, Rob, 10 years sure does fly by quickly! BTW, (and you MUST have known I'd ask this!) do you still have that sweat shirt?
😂😂😂

Editor Rob
The hoodie didn't last many more years, I wore it out!
Interestingly when filming Goonies Sean Astin was
4 inches shorter
than her, he was about 13 then, so still gained at least 7 more inches afterwards.
Miss Sandy Cowell
said on 30/Nov/19
WTF indeed, Rob! 😂😂😂
I've just been chatting about a dream I had with Hugh Laurie containing a kitten called GREEN! The first random celebrity to pop up afterwards? Kerri Green! How ironic is that?
Kerri can have 5ft1.5. 🎄

Editor Rob
A bizarre coincidence!

In person I think between 5ft 1 and 2 looked ok for Kerri.

Strange to think this photo is now 10 years old, because it didn't seem that long ago. I am now a year older than kerri was in this photo...
Nik Ashton
said on 29/Sep/19
She could pull it off in Milton Keynes!
Jammes
said on 17/Jul/19
If you ever claimed to be 5'10 i d believe lol,you tower Kerri XD
Nik
said on 28/Jun/19
What a smashing photograph of Rob and Kerri Green!

Editor Rob
Goonies was a great film and Kerri in person was somewhere in 5ft 1-2 range.
Nik
said on 1/Nov/18
She is no less than 5'1.5"!
Nik
said on 24/Jul/18
This random celeb is certainly not over listed!
khaled taban
said on 5/Jul/18
She is 5'1.5"
Tunman
said on 20/May/18
Could be very close to Holly Marie Combs,though looks shorter because the latter had advantage in her pic with Rob.Kerri could be 5'1.25" but no less for sure,very close to 7" difference imo.
Bobby
said on 7/Jan/18
Is 5'1.75 possible? She's almost touching the 5'2 line.

Editor Rob
her hairstyle is at least half inch thick.
even
said on 19/Jul/17
5'1.5" ( but legitimate )
Adijos
said on 21/Mar/17
My opinion she's 5'1.75" (157 cm) tall.
josh jeffords
said on 21/Oct/16
Yeah looks right on and not a bad height and still looks good.
Cool shirt oh yeah yours too :)
A6'1Guy
said on 15/Nov/14
Listing looks about right, man, I love short women!
Andy
said on 2/Apr/14
Boy she is still gorgeous. Lucky you got to meet her.
Elijah
said on 6/May/13
Aged very well. Good listing.
Song
said on 16/Jan/13
Looks like 160cm in The Goonies,but it doesn't matter.Glad she is still so gorgeous today!
Shaun
said on 26/Sep/12
I'd put money on her being about the same height as Isla Fisher.. From a distance I thought it was her actually!
thomasedwin
said on 7/Sep/12
To me, She's still that cute little heart breaker from the Goonies and allways will be.
the AMAZING Babushka
said on 21/Oct/11
never thought she was that short. she still looks great thoug, aged ver very well
Legend
said on 3/Oct/11
I have to agree with dicksock on this one.
dicksock
said on 26/Sep/11
Correction...She is 5' because upon further review, there is definitely 8" between them. She is 5'0.5" max.
hola
said on 8/Aug/11
um I think she's more like 5'3.5
Legend
said on 14/Jun/11
She looks shorter than 5'1 actually. More like 5 even.
Matt
said on 28/May/11
no 5ft 1.5 is very accurate, as rob has shown she is no less than 6.5" shorter (assuming both have equal postures)
thelostboy
said on 6/Mar/11
5ft 1.5in is right for her
dicksock
said on 3/Feb/11
She's about 5'1".Rob is at about 7" taller than her. Then again, he is pretty slouched. So I'll say 5'1" max and possibly 5'0.5".
Rikashiku
said on 16/Dec/10
Looks closer to 5'0"
CelebHeights Editor
said on 8/Feb/06

Comedy Kings Interview:
"I'm only 5 foot 4 so I have a job keeping my bottom off the floor"
Parker
said on 8/Jan/06
Rob - Do you really think he is that short? I'd put him more 5'5

Editor Rob
the 1/2 was missing...its 5ft 3.5 my guess for this guy. His hairstyle did give him a bit of 'addition' but nowadays from recent pics he looks 5ft 3 range