Jonathan Ke Quan's Height
5ft 4 (162.6 cm)
Vietnam born American Actor best known for his roles as Shortround in Indiana Jones and Temple of Doom and as Data in The Goonies. In this photo I had a little (0.2 inch) bit more sneaker than him.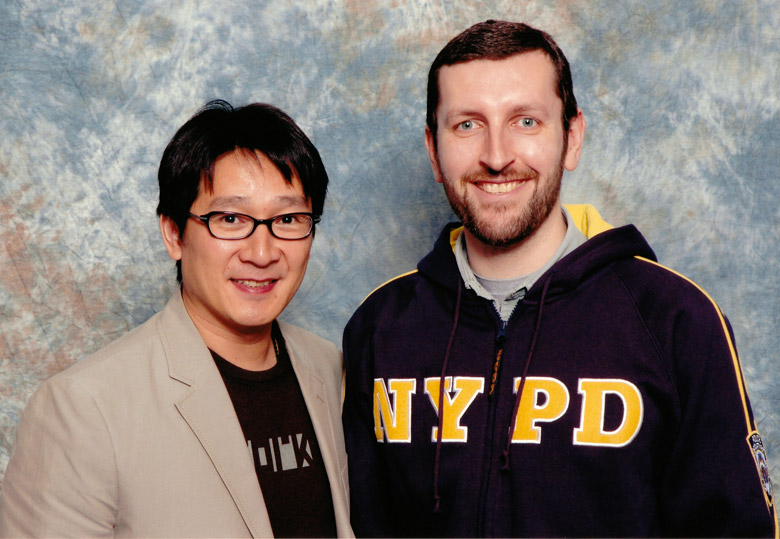 5ft 8 Rob and Jonathan @ 2009 Collectormania Midlands
You May Be Interested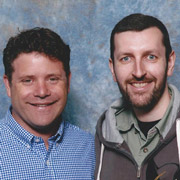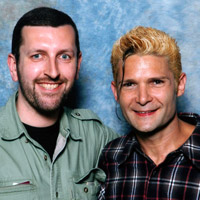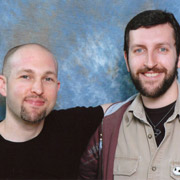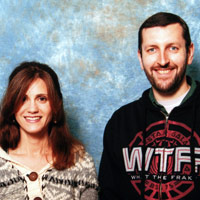 Add a Comment
33 comments
Average Guess (21 Votes)
5ft 4.1in (162.8cm)
Chris Junior Hernandez 1990
said on 8/Sep/20
Ke Quan is of chinese descent from both of his parents not a true blood vietnamese.
Blanc
said on 9/Jul/20
Taller than what Jeff Cohen looks with you despite footwear disadvantage, Jeff might need a downgrade

Editor Rob
In person they are very close in height, you can see them
Here
. It's possible Jonathan might edge him out.
JohnMoore-162cm
said on 30/Apr/20
162-163 cm range
Christian 6'5 3/8
said on 27/Jun/18
@Rob
How exactly were your sneakers thicker, about 1/4" or 1/2"?

Editor Rob
Slight is usually 0.1-0.2 range.
even
said on 19/Jul/17
a real legit 5 foot 4 man ( correction needed )
World Citizen
said on 27/May/17
A legit 5 ft 4 man.
Timur9717
said on 8/May/17
Assuming Rob is 5 feet 8 and the fact that difference is like 4 inches, I can say that he looks 5 feet 4. His hair adds 0.5 inces to his height, so my final guess would be 5 feet 3.5 inches.
Johnson
said on 1/May/17
@Rob good puppet.
You have
Eyes to head: 12.4 cm (1 cm bigger than me)
Eyes to nose: 6 cm (1 cm bigger than me)
Eyes to mouth: 8 cm (same)
Eyes to eyebrows: 1.5 cm (same)
Head lenght: 25.4 cm (2 cm bigger than me)
Johnson
said on 30/Apr/17
Spot on Rob!
Reference Puppet
Click Here
As the saying goes: "la ley del muñeco no miente"
Editor Rob:
you've got a proper puppet:
Me
.
Richardspain
said on 30/Apr/17
He always was short...
"I am big short round!" he said in the temple of doom.
Excellent adventure movie.
CD
said on 17/Feb/15
Rob is there a chance he could measure a fraction over 5ft 4 (like me)? In the pic he doesn't really look any shorter than 5ft 4 and has slightly less footwear.
[Editor Rob: I think he was around 5ft 4, but 4.25 isn't impossible no.]
Emil 182.5
said on 30/Aug/14
@Rob
Maybe he's a fraction below 5'4?
[Editor Rob: I wouldn't say any less than 5ft 4 range.
richkid123
said on 24/Jan/14
Can you see over the top of this mans head, Rob?
[Editor Rob: more looking at his hair]
cd
said on 23/Jan/14
I can't see how anyone would think this was just a three inch difference. Solid four inches there. Looks similar to how I look next to my dad.
James Crowley Maximus Meridius
said on 24/Dec/13
Rob he looks more like 3 inches shorter than you instead of 4 inches shorter than you he looks 5ft 5in range instead of 5ft 4in range he needs an upgrade.
[Editor Rob:
Click Here
. Take away the 1/8 from the stadiometer and the girl is 5ft 5 3/8th and other is just over 5ft 3.5...Jonathan in person looks around 5ft 4.]
Adamz
said on 18/Aug/11
Not true. Men usually have larger heads when size is comparable. It is most likely the woman's hair giving off an impression of a larger head. Men would have larger chest caivities, larger shoulders, larger wrists and of course larger skulls. It would not make sense any other way...
Antron
said on 16/Aug/11
Women tend to have larger heads compared to men their same height actually.
Aaron
said on 4/Apr/11
"remember women can give an 'illusion' of look taller than men at the same height because there heads on average tend to be smaller."
Here are women with Rob-sized heads pulled randomly from the site.
Tawny Cypress, Jodi Lyn O'Keefe, Dichen Lachman, Jen Halley, Monika Schnarre, Julie Benz, Amanda Tapping... etc.
Women's heads on average are smaller because they're also shorter than men. I'm a proportional 6'5" and I've seen 5'5" women with bigger heads than mine.
Andrea [ITA]
said on 7/Mar/11
He's around 12-13 cms shorter than rob... 160 is bang on! 4 inches is impossible CUZ he neither reaches rob's eyebrows...
James
said on 24/Feb/11
rob yes but remember women can give an 'illusion' of look taller than men at the same height because there heads on average tend to be smaller.
Anonymous
said on 15/Jan/11
I always thought Jonathan was a Strong-5'5", Weak-5'6". I guess he is slightly shorter, however. A nice-looking man nonetheless.
James
said on 1/Jul/09
5'4.5 is probably more accurate
Leviathan
said on 21/Jun/09
The top of Jonathan's head is barely above Rob's eyes, so I think 5'4" max is correct.
Rika
said on 15/Jun/09
Its not because they're odd looking mofo, its because Asians age slower.
5'3.5?
Donatello
said on 12/Jun/09
I'd say 5'4"-5'4" 1/4. The top of his head is above robs ear, even when you componsate for his hair.
mofo
said on 7/Jun/09
Orientals are always quite odd looking and short they are very disproprotionate like russel wong whos not short but looks very odd.
I would say 5ft2.5-5ft3 no more.
Rika
said on 7/Jun/09
Yeah looks about 5'3. Hmmm unless Rob is secretly 5'9. Maaaaaan Johnathan still kinda looks like that goofy kid on goonies and Breathing Fire.
Christian
said on 29/May/09
I must say that you Rob look closer to 5'9'' than 5'8''.
Don
said on 28/May/09
was this guy "short round" in temple of doom?
[Editor Rob: yes! ]
James
said on 28/May/09
He's at least 5'4
dicky curtis
said on 28/May/09
Rob,
how do you know such an exact difference between the height in the shoe sizes you're wearing there?
[Editor Rob: Sometimes I don't bother mentioning anything if shoes are pretty close like that.

all I'm saying really is I think mine had a slight edge on his. Somewhere between 0.1-0.2 so I say 1/8th.

in some cases I would know precisely if I've measured the sneaker the person wears!]
miko
said on 28/May/09
He might just be a fraction under 5"4.
Very similar in build to Michael J Fox.
Ace
said on 28/May/09
He looks more 5`3 to me Rob, especially in that photo.