David Lee Roth's Height
5ft 11 ½ (181.6 cm)
American singer, known for Van Halen.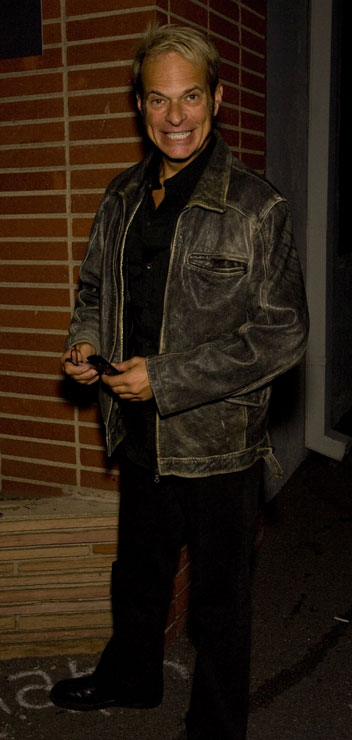 Photos by PR Photos
Add a Comment
79 comments
Average Guess (17 Votes)
5ft 11.19in (180.8cm)
Miss Sandy Cowell
said on 24/May/21
I listened just now (Running With The Devil), and the song is about a guy who lives life in the fast lane, so a more mellow euphemism would have been more agreeable to the likes of me, but that would hardly be the case with your average Heavy Metal fan!
I mean, who am I to talk? I was, and still am, a full blown Black Sabbath fan, Alice Cooper fan etc. etc. and own a track with a voodoo sounding live exorcism included. Music that makes the heart beat faster holds a lot of appeal.
Miss Sandy Cowell
said on 24/May/21
Dave, as he was back in the late 70s, looked so different in his stage outfits, and without doubt in high heels, he DID look tall, and very hunky with his long hair and stage make-up.
I got into Van Halen after I entered the rock night club The Wellington in Waterloo, London, a couple of minutes' walk from both mainline and tube stations in Autumn 1979.
I heard the track 'Running With The Devil', and though I hardly agree with the lyrics, it's still a mega powerful song. In fact, I'm going to listen to it in the adverts. The intro is so, so memorable, making one's skin follicles stand on end, and I rate it as the best part of the track, which is from their first album, entitled 'Van Halen'.
Dave Lee Roth gets 5ft11.5. That's some come-down to height I was accustomed to thinking he was!
Progking184
said on 23/May/21
Looks tallish, a bit above average and could be guessed as 6'0-6'1, but not tall yet. 5'11.25 sounds right
Miss Sandy Cowell
said on 10/Oct/20
🎶🎂🎁🎊 Happy Birthday Dave! 🎊🎁🎂🎶
Wishing Dave Lee Roth a great Birthday; today; he turns both the sixes, 6️⃣6️⃣.
5ft11.5 😄👍
🎶🎂🎁🎊🎶🎂🎁🎊🎶🎂🎁🎊🎶🎂🎁🎊
Danimal 5'9 3/4"
said on 14/Jul/19
In this article from 2010, this guy took a picture with David Lee Roth and in the paragraph below the picture, he says that he's 5'11" and Dave was shorter than him, as you can see from the picture itself. Also, take into account, this is also almost a decade old, so Dave, now in his mid 60's, would be even shorter today:
Click Here
Danimal 5'9 3/4"
said on 2/Jul/19
Rob, how do you still have him at 5'11.5"???? Again, here he is next to 6'2" Armin Van Buuren (this is May 2019):
Click Here
Click Here
Click Here
Also, he looked barely taller than 5'10.5" Rodney Dangerfield back in the 1980's, who you have listed at 5'10" on this site:
Click Here
Sean73
said on 21/May/19
Dave's looking a solid 70" these days, but I'll give him 5'10.75".
Danimal 5'9 3/4"
said on 17/May/19
Rob, he needs a PEAK and current height (he's 64 years old). Here he is in March 2019 with 6'2" Armin Van Buuren:
Click Here
Click Here
Renna Anderson
said on 23/Dec/18
my dad met him and he said that it's bs. He said there is no way that he is six foot. He actually got really mad about this but don't let him know but I think that he just has a bad judge of height. Btw you should know that my dad is around six foot three inches so I think he knows who is six foot or not. All he remembers about meeting him is that they took a shot together and that he's really short. Thanks for coming to my ted talk.
Sandy Cowell
said on 31/May/18
David always cut a fine and powerful figure performing with 'Van Halen' and I wouldn't have dismissed the possibility of his being 6ft!
Half-an-inch shorter is nothing to make a song and dance about, so I will happily give this singer 5ft11.5!
originalrocketman
said on 24/Apr/18
I can actually answer this question. I hung out with Dave for a whole day and evening when he was doing the A Little Aint Enough tour in MO. The question of height actually came up, we stood barefoot back to back and were exactly the same height, and I am 182cm. Scouts honor!!
Carl Jones
said on 12/Feb/18
Greg Stafford was absolutely the first singer for VH. Better than dave as a singer but not nearly as mobile. Size and bad knees were a rpoblem.
Andy
said on 18/Oct/17
This must be a joke? He's always come across to me as being on the short side. You can tell by his build. He's 5'8 at the most in my opinion.
Joey
said on 26/Aug/17
I'd say Roth is about 5'11.25." Eddie Van Halen is probably around 5'7.5." Michael Anthony is probably around 5'5"1/2 to 5'6". Wolfgang is probably maybe Roth's height or a half an inch taller.
Sandy Cowell
said on 4/Aug/17
Though I would eat my hat to find that his 6ft+ height illusion and overwhelming stage presence wasn't down to platform shoes and general rockstar attire, (big hair!), I was still a little surprised to read the (very interesting) letter written by Jerry on the 22nd July about the fact that he and his mate, both six-footers, spent a chilled night out with rockstar David some 10 years ago, and the first thought that Jerry had was 'how short he was'!
I had just managed to take in, when I first used this website, that Dave's height was a lot less than the 6ft or so that I had once imagined! Now I'm going to have to knock off a bit more from my guess, so this time I am putting 5ft10.5 for Dave Lee Roth.
(Dave WAS wearing comfortable slippers that night!)
Travis
said on 2/Aug/17
FYI, Roth is actually currently in Van Halen. He returned recently.
Jerry
said on 22/Jul/17
I hung out with him all night im 6' and so was my other friend. He was several inches shorter then us(about 10 yrs ago). He had on flat slipper like shoes. my first thought when i met him was I was suprised how short he was.
Edge
said on 2/Jun/17
He definately looked close to 6 feet when he was young.
Sandy Cowell
said on 18/May/17
He looked great in the late 70's/early 80's with his long hair and shiny stagesuits! He was an excellent performer and very exciting to watch!
The first time I entered the rock pub 'The Wellington', just outside Waterloo station, they were playing the song 'Running with the Devil', which gave me goose bumps as I found it quite scary, but oh, what a powerful welcome to the world of rock pubs!
I would have believed 6ft for Dave Lee Roth, but hey, at half-an-inch difference, I'm not going to quibble!
Marquis
said on 30/Apr/17
Roth never looked over 5'10", even when younger/at peak.
John Chase
said on 25/Jan/17
Greg Stafford was lead singer for a Raleigh band called The Pressure Boys. He is around 6'9". He also was the lead singer for Sex Police.
Chris Smithson
said on 31/Dec/16
"What are you guys talking about? There were no singer named Greg Stafford, he is nothing more than a rumour. There is one and only original singer for Van Halen, and it's David Lee Roth."
Not true at all. Greg Stafford was the original singer. See Dark Star. Anyhow, DLR looks around 6' in person. I stayed @ the same hotel as he did once and walked by him. He is exactly my height.
tony t.
said on 11/Sep/16
Looks 5'9 - 5'10 with Eddie Van Halen
Click Here
Danimal
said on 15/Aug/16
Was never over 5'11". Looks to be between 5'9" and 5'10" today.
Aza
said on 14/Aug/16
Would say that 182 cms was not his peak height.......realistically 180 cm.....although he would be about 182 cm first thing in the morning.
Lisa Ellis
said on 11/Aug/16
Someday, David, we are going to meet and become great friends. I just wish it had been sooner, but, maybe i wouldnt have understood you back then. And who's to say i would now, but, i'm pretty sure we could have one hell of a conversation! Take care, Lisa
Rampage(-_-_-)Clover
said on 29/Apr/16
Doesn't look this at all today...even back in the 80's, he didn't seem like a guy near 6ft
Chad WIlson
said on 30/Sep/15
Here is Greg Stafford being interviewed and asked about his time in Van Halen. It comes at the very end.
Click Here
5'11" barefoot.
said on 11/Sep/15
In shoes almost 6 foot met him 3 times doing vip security at the LA forum 2008 and Glenn Helen Pavilion 2003 I think. I was in my early 20's and about 25 in 08. Actually spoke with him briefly. Growing up in the 80's and 90's always thought he was cool. almost 5'11' barefoot morning.
Brad
said on 12/Jan/15
5' 10" tops a few days ago at the L.A. Forum.
DLRisVH
said on 28/Oct/14
What are you guys talking about? There were no singer named Greg Stafford, he is nothing more than a rumour. There is one and only original singer for Van Halen, and it's David Lee Roth.
KFE
said on 22/Sep/14
I have met Greg Stafford. He was far better than Diamond Dave. Shame he left before the rise to fame.
Michael Klein
said on 26/Aug/14
The Greg Stafford of which you speak sang for VH in the 70s before moving to NC to go to UNC. The band, from Chapel Hill, was the Pressure Boys.
Dirk
said on 11/Aug/14
The first lead singer for Van Halen was a guy named Greg Stafford. He was very tall, almost 6'9". He later played in a band out of Greensboro, NC.
Rey
said on 21/Jul/13
Roth did wear platforms shoes, until he became an EMT Paramedic in NYC. He is under 5'10" these days.
sis
said on 16/Jul/13
David Lee Roth is not 5'5", he is around 5'11" or 6'.
I have both short & tall people in my family. My dad was 5'6", my oldest son is 5'5". MY maternal grandfather was 6', I know the difference. I saw Dave up close. & personal. & he IS NOT short.
jimbo
said on 11/Jun/13
Alex VH seemed to have a few inches on Diamond Dave. So is 6-1 or something?
Pasadena
said on 27/Mar/13
Grew up w/Dave. He was the same hieght as my brother 5'10". He often wore lifts in his shoes and padded his genltal area. The guy's a showman!
RisingForce
said on 30/Jan/12
Yeah, I don't think Roth is any more than 5'10" these days at most. Not sure if he was ever 5'11.5" either. I think his footwear use to make him look taller, Sammy Hagar mentions in his book that when he met Roth to discuss their tour, he was surprised at how tall Roth was until he noticed he was wearing platform shoes.
Eddie may very well have been 5'8" when he was younger, but I think he's 5'7" today. He's had health problems and a hip replacement surgery so I believe he's lost height. He also has horrendous posture. I think he was usually listed at 5'9", and I remember that I use to see some bizarre 5'11" listings for him years ago.
Danimal
said on 29/Jan/12
Compare this video of Eddie (5'7" or 5'8") with David Lee Roth in their original reunion (1996):
Click Here
to NOW (2012):
Click Here
Tell me Dave hasn't lost a couple of inches. It's blatantly obvious.
Danimal
said on 27/Jan/12
Tony says on 6/Apr/11
Here's a clip of Roth standing between Tony Bennett and Howard Stern at the premiere of Private Parts in 1997.
Click Here
He's lost height since then. No WAY is he 5'11.5" today. Rob, look at the video I posted of him barely taller than Eddie Van Halen today.
Danimal
said on 27/Jan/12
WOW, he has lost serious height (a good 2"). Not that much taller than Eddie Van Halen today. This is a brand new video from 2012. Looks to be 1-2" taller than Eddie now. Back in the day had serious height on Eddie:
Click Here
Brad
said on 14/Jan/12
Weak 5' 10" in '12.
will
said on 3/Jan/12
Stood within 4 feet of him. I'm 5'9", Dave is maybe 5'8"
Roland
said on 12/Dec/11
Met him several times. 5'11"
bryan
said on 13/Oct/11
I met him and 5"10" is accurate..
michaelj
said on 16/Aug/11
Hagar claims 5'8 ( in his book) & Michael Anthony clams 5'6 which puts Roth around the listed height.
Tony
said on 6/Apr/11
Here's a clip of Roth standing between Tony Bennett and Howard Stern at the premiere of Private Parts in 1997.
Click Here
T.J.
said on 3/Feb/09
yeah, he does seem shorter now. In the video for Hot For Teacher, he looked 6ft.
chris h
said on 3/Feb/09
people can only shrink 3/4 of an inch at the most
glenn
said on 3/Feb/09
he seemed 6ft in the early 90s.but i was shocked to see him 18 months ago shrink to 5-10.
T.J.
said on 2/Feb/09
he has bad posture in this picture. alway's looked like a 6 footer to me. Did you think he gave the presence of someone with a 6ft frame glenn?
me
said on 17/Nov/08
it's michael anthony
LT
said on 1/Nov/08
In 1979 Van Halen was making an appearance at KSJO radio station in San Jose CA. All members walked directly in front of me. I was only 5'6" at the time and the only ones taller were Dave and Alex. Alex was no more than 6'0" and Dave was slightly shorter.
mcfan
said on 10/Sep/08
Actually my brother said Dave did look the same height as him at 5'11, so I could be wrong here. He saw the band in concert in 82-83 and was near the stage.
mcfan
said on 5/Sep/08
Dave can't be this tall. He only ever looked 5'10.
Clay
said on 31/Aug/08
Hagar was a better ''singer'', Roth a better fit for Van Halen and a better rocker, period.
Mike
said on 25/Jun/08
I saw Van Halen live about three weeks ago, from the eight row, and he seemed no more than three inches taller than Eddie, but he was also wearing shoes with slight heels. He has definitely shrunk from previous photos.
glenn
said on 20/Dec/07
yeah nate,its crazy how dave shrunk.
nate
said on 19/Dec/07
sorry glenn i feel like an idiot now haha
glenn
said on 19/Dec/07
read my post below nate.thanks.
nate
said on 19/Dec/07
i just went to a van halen show tonight. GREAT STUFF! but eddie's 5'8 right? david lee looks 5'9 next to eddie, or 5'9.5 at the most to me. he is like 50 something years old so he probably shrunk. but hey im no heightologist like glenn
Anonymous
said on 26/Nov/07
Not formerly of Van Halen anymore. Diamond Dave is back & now touring w/ Van Halen. Edit the profile.
ps - Sammy Hagar sucks!
glenn
said on 10/Mar/07
didnt know it was that far back.eddie wanted to go solo then too.
MTed
said on 9/Mar/07
If you read the interview Eddie did with I think Guitar World after they recorded Fair Warning. He was bagging on Michael Anthony pretty hard on how he doesn't pull his own weight. It seems like Eddie has a problem with everybody, except maybe his brother.
aussie bloke
said on 18/Jan/07
If you judge pictures of Lee Roth carefully, next to Eddie Van Halen in particular, he is certainly the 6ft (or about that level) that he claims. A person who is 6ft tall would find it difficult to judge the height of a person who is 1-2 inches shorter than them anyway Freddie
Glenn
said on 5/Nov/06
Eddie has some beef with Anthony.nobody knew except me,apparently.Eddie told me himself.I was afraid to ask for details.
D. Ray Morton
said on 4/Nov/06
Hm no kidding. That's news to me. Was his departure an amicable one?
Glenn
said on 3/Nov/06
Mikes been in and out of the band since 1996.
D. Ray Morton
said on 3/Nov/06
What happened to Mike?
Brad
said on 2/Nov/06
He's on tour with VH in '07 with Eddie's son on bass.
Brad
said on 10/Aug/06
Never has come clean about his hair. Sammy says "3 piece".
Glenn
said on 6/May/06
Very weird.
Freddie
said on 5/May/06
Met him at a hotdog stand in NYC and talked for a bit. I'm 5'11" and he was a bit shorter than I, maybe 5'10". Pretty weird dude but fun to talk to.
Glenn
said on 11/Mar/06
Wheres Photo? In a autobiography he claims 6 even in his stocking feet.his words.

Editor Rob
its on the page
Tone Lok
said on 10/Mar/06
In a music magazine in the early 80s he said he was 5'11 and 155 lbs., which seems consistent.
balita
said on 16/Jan/06
there's a live video of unchained in which Dave looks everything but 6' next to Eddie. And unless the people who surround him in the video are "vertically enhanced", he doesnt look like 6 footer in the movie clip for "just a gigolo".
balita
said on 13/Jan/06
183 is a bit too tall I believe... 5'10, maybe 5'11 tops
Kevin
said on 21/Nov/05
I met him about 5 years ago. I'm 6 feet. He was 5ft 11 at best. He looks much smaller in person!!