David Price's Height
6ft 8 (203.2 cm)
British professional Boxer. He once said "I'm six foot eight and 18-stone" but also claimed "6ft 9"
You May Be Interested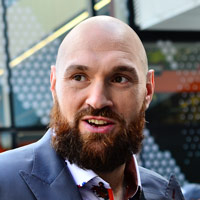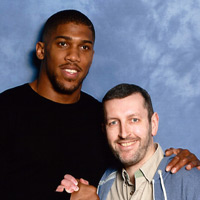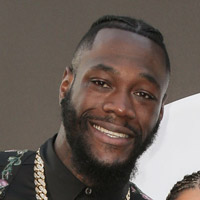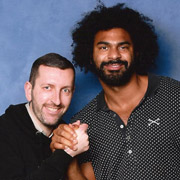 Add a Comment
36 comments
Average Guess (26 Votes)
6ft 8.31in (204cm)
Reece
said on 2/May/20
Price looks 6 foot 9 in the first pic but not the 2nd.
Fury looks so close to Price in the 2014 pic but not the 2017 pic. Maybe the weight Fury added did no help the posture.
Rampage(-_-_-)Clover
said on 13/Apr/20
Rob, I think this guy deserves a slight boost
Click Here
Click Here
Looks 6ft9 if Tyson's height is correct

Editor Rob
Could make a case for 6ft 8.5, between his 2 claims.
Miss Sandy Cowell
said on 14/Jan/20
Despite having a 3ft11-er, the Davids work out at 5ft10.9! Yes, this is definitely a tall man's height, and David Price is the King of the Jungle!
He can have 6ft8. 👑
Rampage(-_-_-)Clover
said on 8/Oct/19
Fury: 202cm
Price: 204cm
Rob, are those arguable estimates?

Editor Rob
It wouldn't be that outrageous if they measured near those under ideal conditions
Rampage(-_-_-)Clover
said on 14/Sep/19
I'd consider giving this guy 204cm. He's claimed 6ft8 and 6ft9 and can look it. Fury on the other hand has stuck with claiming 6ft9 and looks miles from it next to Price
Canson
said on 8/Sep/19
@Junior: yea he's 6'8". Fury prob 6'7.25"
Rampage(-_-_-)Clover
said on 7/Sep/19
Ok, Price looks over an inch taller than Fury in that photo
Junior Hernandez 1990
said on 26/Jun/19
@Rampage @JD1996
Click Here
Fury being 6'8 is impossible. David Price stick on a good 6'8.
Boxing fan 07
said on 18/Jun/19
Price is a solid 6'8". Judging by JD1996 picture he looks around 0.25 - 0.5" inches taller than Fury, who is a weak 6'8" probably 6'7".5
Rampage(-_-_-)Clover
said on 14/Feb/19
6ft8 for Fury and 6ft8½ for Price is arguable at times
JD1996
said on 11/Dec/18
David price looks perhaps 1 cm taller than Tyson fury, 204 cm for price and 203 cm for fury looks pretty good https
Click Here
Theorm
said on 11/Aug/18
This guy is an inch taller than fury at least who is a 202cm, the 6'9 » claim is believable however 204cm is probably the most likely.
Mickie
said on 10/Aug/18
As for boxing skill, Price's power punches are a bit harder than Fury's, but Fury is better at everything else. His movement, his jab, his ability to switch between orthodox and south paw etc.
Mickie
said on 10/Aug/18
Yeah I'd imagine Price would measure at least a nibble taller than Fury. When both stand decently, they're close but it seems like Price has an edge. Then there were those recent pictures where Fury dropped height and Price looked substantially taller.
movieguy12
said on 5/Aug/18
I can believe Price at 6'9'' more than Fury. He did tower over Larry Holmes who is 6'3'' in an interview a while back. At one time Price was the big prospect and Fury not taken seriously. Things can change in life and sport very quickly.
Rampage(-_-_-)Clover
said on 8/Jun/18
Rob, who do you think would measure taller Price or Fury?

Editor Rob
I'd give the edge to Price
Robbe
said on 19/Apr/18
Im not saying Price is 201cm, i was just stating he looks only 6'7 with Povetkin, for some reason. Maybe he is not standing at his best there. The point was he cant be moore than 203cm, just like i said in my previous post. His 6'9 claim is most likely his morning height. He shrinks easily a good inch during the day.
Reece
said on 12/Apr/18
If Price is only 5 inches taller then you are saying 201cm. That's too low. You seem to forget the bigger men often slouch and end up looking down especially in a face off between two boxers. Price has got to be at least 203cm to Povetkin 187-188cm Height. Price is taller than Fury who cannot in my opinion be less than 202cm. Povetkin is the smaller man so he is looking up. This could make the height difference appear less than it really is.
Robbe
said on 5/Apr/18
@Reece, dont look at other pictures, just look at the posted video. Pictures are allways unreable, du to variable camera angles, and footwear. In the video they stand face to face, with good camera angle, both barefoot. Price is only 5in taller than Povetkin. Povetkin's eyelevel hit's bang on Price's chin. That's 5in difference.
Click Here
If you haven't seen, check Rob's video how to guess height
Click Here
So there's no freakin way Price is over 203cm. That's the absolutely highest he can get, in a good day.
Reece
said on 2/Apr/18
No way is Price less than 203cm. If Price is 201-202cm then it makes Fury less. It is just not likely. Other pictures show greater height difference. 204cm could also be possible for Price. Espically if Fury is 203cm rather than 202cm.
Robbe
said on 31/Mar/18
Price is nowhere near 6'9. Actually he struggles to look even 6'8 with 6'2 Povetkin.
Click Here
I can see only 5in difference there. So its quite impossible Price is over 203cm. Looks 201-202cm with Povetkin.
Micky
said on 14/Mar/18
Give him a little over 6'8". He still claims 6'9".
Reece
said on 30/Jan/18
Little taller than Fury. 6-8.5 204cm is very possible.
even
said on 25/Jan/18
a strong 6 foot 8
EM
said on 7/Jan/18
Rob - just over 6'8" possible for this guy? He's recently claimed 6'9" again.
Editor Rob: 6ft 9 seems too much, although I could see why 6ft 8 and change might be possible.
EM
said on 13/Dec/17
He makes a height claim at 3:03 in this recent video:
Click Here
EM
said on 1/Dec/17
Has about 1 cm on Fury in reality:
Click Here
tim181
said on 1/Dec/17
Looks to have 3 inches on Fury?
Click Here
The Exorcist
said on 30/Nov/17
Found a really good clip of (6'2.5" listed) Tony Bellew and David Price.
Start the video @ 27:56
Click Here
Looks pretty close to 6" difference.
Danimal
said on 26/Nov/17
If he's claimed 6'8" and 6'9" don't you usually go halfway between the 2 measurements Rob?
Editor Rob: I looked at Price with folk I know who got photos and think 6ft 8 is likely.
EM
said on 24/Nov/17
Just barely edges out Tyson Fury.
Rampage(-_-_-)Clover
said on 23/Nov/17
Could be 204cm
miko
said on 23/Nov/17
6'8 range, definitely taller than Fury.
Faza
said on 22/Nov/17
Price has to be at least 6ft8 could be a bit more remember anthony joshua once calling him 6ft 10 which seemed too much but be could be 6ft8.5 or 204cm imo
joe###
said on 22/Nov/17
harrison is 196
Reece
said on 22/Nov/17
I think he is 6-8 1/2 204cm. IMO no less than 203cm.