David Wenham's Height
5ft 10 (177.8 cm)
Australian actor, best known for roles in Lord of the Rings, 300, Lion and Van Helsing. His agency listed him as
5ft 10
. In this photo David had about 0.4-0.5in more footwear than me.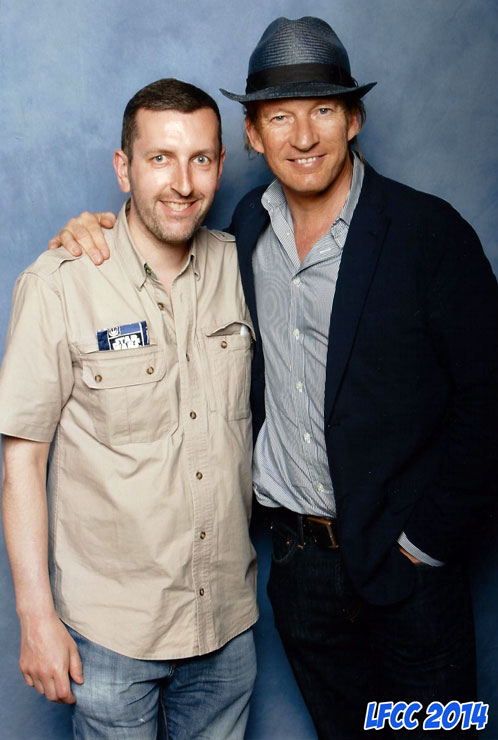 5ft 8 Rob and David @ LFCC 2014
You May Be Interested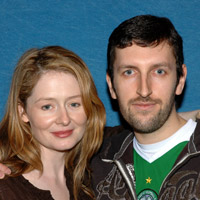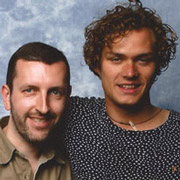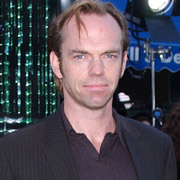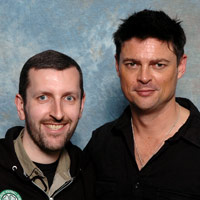 Add a Comment
69 comments
Average Guess (33 Votes)
5ft 10.4in (178.8cm)
slim 6'1
said on 13/Jan/21
Textbook 5'10"
Slim 6'1"
said on 30/Sep/20
178.5cm Jones had him by 2-3cm
Nik
said on 20/Jun/20
He sure can pull off looking 5'10"!
Miss Sandy Cowell
said on 18/Jun/20
Hmmm.... I will have to check him out next time I watch 'The Lord of the Rings'. I very much doubt that, with a height of 5ft10+, he was cast as a hobbit!
David gets 5ft10.25 🧙‍♂️
JohnMoore-162cm
said on 11/Jun/20
179 cm or 178.4 cm
Nik J Ashton
said on 1/Nov/19
He's got a height enhancing hat!
Nik Ashton
said on 1/Sep/19
T-hat hat can make him look taller!
Zampo
said on 15/Sep/18
Truthfully, based on this photo. He looks about 5'10.75. Taking into account footwear advantage puts him at 5'10.25 range to start of with. Now the tricky part is the differences in posture. Whilst clearly both David and Rob are not standing at their tallest. Rob seems to be standing a little worse. 5'10.25 would be pretty reasonable, with good chance he would measure slightly lower.
Bobby
said on 16/Jan/18
Looks 5'11 but he's got a footwear advantage. I'd say this guy is more a weak 5'11 than a flat 5'10. 5'10.5 is my best guess.
Slim
said on 14/Sep/17
average guess is spot on.
Rampage(-_-_-)Clover
said on 8/Sep/17
Strong 5ft10

Editor Rob
he's a good inch shorter than Finn Jones in Iron Fist, who had less sneaker on that show...actually Jones is at least 4, even a bit more less than Mike Coleter in Defenders, albeit with less footwear.
Slim 181 cm
said on 12/Jul/17
Sorry, wrong choice of words, it's just that he did look a strong 10er in iron fist. Won't happen again!

Editor Rob
I understand he can look 179 range at times.
Slim 181 cm
said on 8/Jul/17
Sorry, I skipped the description like a fool, 5'10.5. PS iron fist sucked.
Slim 181 cm
said on 27/Jun/17
A 5'10.75 upgrade is necessary.
Slim 181 cm
said on 23/Jun/17
I'd say he's a strong 5 10 if not 179!
Paleman
said on 22/Jun/17
Looks 6'1" with the hat and the shoes. He can't possibly stand any lower than 5'10", I'd bet on 179-180 cm range.
josh jeffords
said on 10/Mar/17
Whoa I thought he was a brit.. pretty average very funny and a good actor.
Haha he is the first Aussie ive seen over-listed all the way up to 6 ft.
Bobby
said on 1/Mar/17
Looks to be 5'11.5 with the shoes on, his eye line is level with Rob's forehead, more or less, which means he's a max 3-3.5in taller than Rob which accounts for his footwear advantage. If he's 5'10 flat, then his footwear gives him 1.5 inches, making him 5'11.5 in this picture. For comparisons sake, I wake up at 178.47cm or 5'10.26 and shrink down to 5'9.75in or 5'9.76in at the end of the day. So I tell people I am 5'10 because my shoes give me a 1in max, and that takes me to 5'10.75in. The average of my two measurements is 5'10, so I just tell people that, given that I am 0.6 to 0.7cm or 6-7 shorter than the 5'10 mark, which is only a tiny fraction. So I claim the full inch, and Rob says it natural for me to say I am 5'10 anyway. So I give this guy 5'10, maybe 5'10.25.
Roger
said on 8/Nov/16
Hard to tell with the hat and I guess it would have been rude to ask him to take it off for the photo lol. That said if he has half an inch more footwear 5'10 flat seems plausible.

Editor Rob
yeah Roger, I would never ask anybody to take a hat off, although I have seen some fellow attendees ask some actors to take them off.
period
said on 27/Jul/16
5'10 flat
511.5 footwear
6'1 with hat
Johno
said on 1/Mar/16
Looks 5'10.25
Ray
said on 11/Jan/16
Something isnt right. He has a photo with Big Joss (listed at 5'10)..and he looks about 2.5 inches shorter.
Leung
said on 30/Aug/15
Looks taller than 5'10". I would think that he's minimum 5'10.5"
Jim Hopper
said on 4/Aug/15
Id go almost 5-11" for him.
Ian from Auckland
said on 21/Jun/15
Odd. Back in the day when David Wenham was filming the first Lord of the Rings movie [in Wellington] I walked past him several times. I'm 177cm - he actually seemed slightly shorter (but he always looked a little hunched, like he was trying not to be recognised [he'd been in a very popular Australian show around that time which played in NZ]. Similarly I used to see Sean Bean even more regularly and he seemed just a little taller [178 - 179cm] than me. Certainly neither are anywhere near 6' tall.
nick kanellakis
said on 12/Oct/14
im 5'11 1/2 and some footwear i wear i gues makes me a strong 6ft ppl pften tell me im 6'1 im like im not they often argue with me lmao its hard to tell somtimes height of somone because it counts with shoes off lmao
Berek
said on 29/Sep/14
Looks 5'10", most likely is 5'10". People saying he looks anything more are overcompensating for the hat in this picture. There's less flesh and bone under that brim than you might imagine. That he claims 5'10" is testament to his honesty.
hw
said on 17/Sep/14
in this photo with 5'10.5 sean bean, looks a slightly taller
Click Here
Sans
said on 17/Sep/14
Looks taller than 5'10, more 5'11 max but maybe that's just because of the footwear and hat.
5'10 1/2 flat
boa
said on 14/Sep/14
5'10.5 flat
5'11.5 in thick footwear and probably looks taller on screen
truth178cm
said on 6/Sep/14
He looks almost 5ft11 with the advantage he has.
lelman
said on 4/Sep/14
Funny how a 5'10" guy can pull off looking nearly 6'1" with a hat and some nice shoes.
TJE
said on 4/Sep/14
5'10 if fair, considering footwear.
Emil 182.5 cm
said on 2/Sep/14
Looks 179-180 but cameras can always give another idea. Oh well
Sam
said on 2/Sep/14
Often looks 5'11" on screen but here a believable 5'10".
Emmett
said on 1/Sep/14
Tallest looking 5'10 guy I 've ever seen.
EzioAuditore711
said on 1/Sep/14
He looks 5'11''.
Josh b
said on 1/Sep/14
Click Here
I also had a photo with David which demonstrates how much difference posture can play, he was around my height 5'10.
horacle
said on 1/Sep/14
even with shoes advantage, he looks at least 5'11 here
Voiceless Dental Fricative
said on 1/Sep/14
This is the tallest looking 5'10 guy on your site Rob. Before looking at the listing I thought he was a 6 footer. Even with the footwear advantage he looks tall.
Hypado
said on 31/Aug/14
Yes, David is 178/179cm
Kourosh177cm
said on 31/Aug/14
Looks 5'11 easily
The Horse of FUNK
said on 31/Aug/14
Just curious, Rob, but how on Earth do you gauge these footwear advantages? Are you some kind Rain Man with a mental encyclopedia of every footwear known to man?
SaveUsY2J
said on 31/Aug/14
Difficult to call because of the hat.
cole
said on 31/Aug/14
Looks about 5'11 with loose posture and a 0.4-5in footwear advantage - could well be 5'10.5.
Josh b
said on 2/May/14
Rob, have my ticket booked, can only hope he doesn't cancel.

Editor Rob
usually the later a guest gets announced the less likelier they are to cancel...
Brett
said on 24/Jul/13
Rob,
I saw Wenham recently in a shopping centre in Sydney...I was in loafers and he was in heeled shoes...he still was suprisingly short, Id have pegged him at no more than 5'10" max...thats being generous...
Jake: 1.82 m-- 1.83 m-- 1.84 m
said on 2/Sep/12
Looked near 5' 11" in the Proposition, between 1.79- 1.80 m is his likely range.
Jake: 1.82 m-- 1.83 m-- 1.84 m
said on 14/Aug/12
Rob, is 5ft 11in (1.80 m) a possibiity for Wenham? Or did he not look over 5' 10.5"?

Editor Rob
I think 179 is a decent shout, 180 if his posture is worse than I think is a possibility
david
said on 27/Dec/11
He looked a lot shorter than Nicole Kidman in Australia. She is 1,79m so he must be 1,75m. Even in Pope Joan he looked smaller.
Godred
said on 17/Sep/11
nothing over 5`10
Lisa
said on 5/Jun/11
He looked a lot shorter than Nicole Kidman in Australia and they were both wearing boots. He is probably up to 178cm.
Andrei
said on 22/May/11
Hmm... Wenham looked 5'10" max in Australia.
Mingo
said on 6/May/09
David Wenham looked smaller and more "fragile" than Sean Bean in Lord of the Rings. In 300, didn't look much bigger, but still had an air of bravery about him. In Van Helsing, of course, he looked stooped over, and almost sub-servient. However, in Australia, again with Hugh Jackman, he looked downright menacing. His acting skills are phenomenal. I hope he continues in this vein until his abilities are recognized as legendary.
"Break a leg", David!
Anonymous
said on 16/Apr/09
He looked 3-4 inches shorter than 6 foot 1ish Gerard Butler.
Anonymous
said on 17/Mar/09
I would guess 5' 10". He looked a little bit shorter than Sean Bean in the Extended Edition of LOTR: The Two Towers.
strefano
said on 17/Jan/09
In the movie "Australia" wkhen he talk face to face with Nicole Kidman, he's an inch shorter than her, so he's max 5'10"
Toss
said on 10/Jan/09
I met him in a bar in Montreal about 3 or 4 yrs ago - he's 5'11".
Ed(1)
said on 28/Nov/08
In Australia he looked all of 5ft11+ with his 2" cowboy boots that he wore throughout the film. It's tough to say but he really seems like he'd be around 5ft9.5-5ft10 tops barefoot, because honestly there's no way he was 6ft1 in his boots in that film. Kidman(5ft10.5) consistently towered over him, and she stood almost eye to eye with Jackman(6ft2.25) who was also wearing cowboy boots. Even if she was around 6ft2 in her boots, she still looked to be taller then Wenham by 2 or more inches.
Karen
said on 12/Jan/08
A friend of mine has met him in Berlin on the premiere of ROTK. He is really taller than 180 cm.
Erica
said on 7/Dec/07
5'11" seems like a good guess, but it all depends on Sean Bean!
Here they are together, both facing the camera and neither slouching (much)
Click Here
Wenham looks an inch taller or so than Bean, as he did in the film.
Adam Brennon
said on 13/Oct/07
I think 5' 11" is a good estimation. He has that mildly tall figure. A fraction more than average.
Antron
said on 13/Feb/07
I don't think he is any shorter than 5'10", but not over 6", not the greatest pic, but accounting for the difference in distance from camera, I'd say 179-180cm is pretty accurate.
Click Here
and
looks 5'11" with 5'7"ish Josie Maran in heels:
Click Here
Ed
said on 10/Sep/06
Sean Bean's height varies quite a bit in films like in Patriot Games he didn't look a whole lot shorter than Harrison Ford(listed at 6ft1),who I think is more like 5ft11plus, but in The Island Bean looked the same height as Ewan Mcgregor who is thought to be anywhere between 5ft8 and 5ft10. I'm guessing Wenham is 5ft9 plus and so is Bean, with tricky camera angles in LOTR, and difference in footwear to provide any illusions. All the LOTR actors seem to have suspicious heights(Mortensen, Bloom, Mckellan, Wood, Rhys Davies, and Wenham). They all look different throughout the movies. I think all the work that went into making the Hobbits look convincinly small has thrown off the viewer's perception in the films. Jackson was masterful at using old school camera tricks while filming the trilogy.
Lmeister
said on 7/Sep/06
This guys height varies quite a lot in LotR he looks 6' and in Russian Doll 5'10'' interesting...
Ed
said on 1/May/06
I agree that Wenham looked almost an inch shorter than Sean Bean in The Two Towers EE, that would make him 5ft9.5. I don't know about this guy, it's known he deliberately slouched in Van Helsing and Jackman wore lifts in that movie to make himself even more imposing, but I'm starting to think this guy is a lot shorter than 6ft.
Anonymous
said on 1/Dec/05
He seemed smaller than 5'10.5 Sean Bean in Two Towers EE.
Lmeister
said on 7/Apr/05
David surely is around 6'0''. the Van Helsing comments were utter crap. Monty take a look at Davids shoes and then Hughs shoes ;)When he is playing Faramir in LOTR he does look solid 6'0''...
Monty
said on 6/Apr/05
I don't know if others noticed but when Van Helsing and Carl go into the village and are surrounded by people they measure him and said 5'7 in the movie i doubt even if you slouch he could be 5'7 or 5'8 if you are 6'0.