Hugo Weaving's Height
6ft 2 (188 cm)
Australian actor best known for roles in The Matrix Trilogy (as Agent Smith, Lord of the Rings (Elrond), V for Vendetta, Captain America: The First Avenger, Little Fish, The Transformers Series (as Megatron) and The Adventures of Priscilla, Queen of the Desert.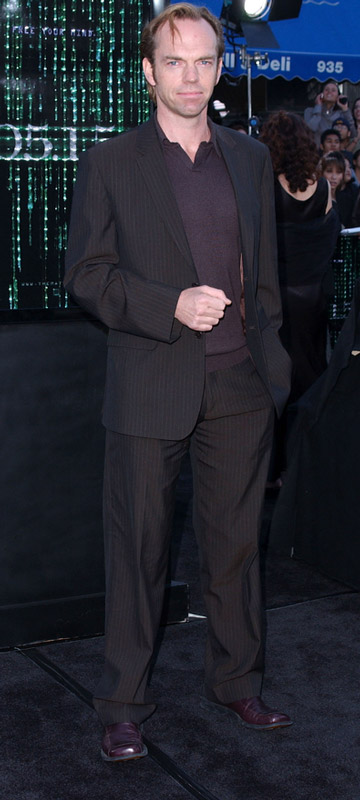 Photos by PR Photos
You May Be Interested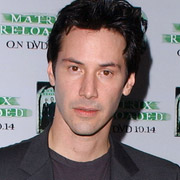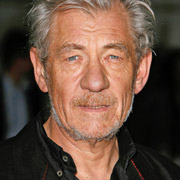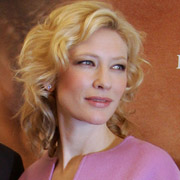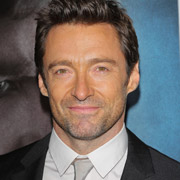 Add a Comment
114 comments
Average Guess (33 Votes)
6ft 1.85in (187.6cm)
Jtm
said on 11/Dec/18
he was significantly taller than crowe in proof. weaving was wearing boots and not sure about crowe but weaving was at least 4 inches taller regardless of what footwear crowe was wearing. some posters on crowe's page are arguing that he's really 5'11 yet many posters here think weaving is 6'1. i would give weaving 6'1.5-6'2 and 5'9.5 for crowe.
Michael, 5'10" 178 cm
said on 27/Nov/18
He is definitely 6'2", Hugo looked like 1 inch taller than 6'1" Keanu Reeves in the Matrix. He also looked tall in the Lord of the Rings movies, but again, he is standing next to hobbits and Ian McKellen who isn't that tall himself at 5'10.5". I'd say he looked 6'2" in movies onscreen, he might be a weak 6'2" though.
Junior Hernandez 1990
said on 10/May/18
6'2 1/8 peak and look alot like 6'1 5/8 now.
CDS
said on 18/Apr/18
6'1", 6'2" in shoes
Rampage(-_-_-)Clover
said on 16/Apr/18
6ft1½-2 is arguable but not 6ft1 flat. Consistently taller than Reeves
berta
said on 10/Apr/18
i think 186,5-188 is all possibilities. with biggest chanse of legit 187. peak today maybe 1/8-1/4 under peak
Brett
said on 24/Mar/18
Rob,
Hope you are well
Well this will no doubt upset the " oh 186cm is an injustice" crowd ... I just saw mr Weaving in Rushcutters Bay, Sydney... he clearly lives around here as this is the 3rd time I've seen him.
This time he was in puma driving shoes/Lacoste white sneakers and I was in loafers. I'm 185-186cm and he was definitely if anything a cm or so shorter.... at best he was my height, but he had a footwear advantage.
My brother is a legit 188cm - ie afternoon height ... so I'm pretty good at gauging what a 6'2" male looks like ... Hugo is at best 185cm.
Rob... FYI it's me Brett who sent the pic with David Arquette and others ... also argued Pierce Brosnan is a legit 6'2" like 12 years ago or more 😂

Editor Rob
It's not exactly impossible for him to be sub 6ft 2, I can see how he has looked 6ft 1 to people. At 57 has he lost some height? A little maybe...Interesting you guessed 6ft 1 flat.

I would't rule anywhere from 6ft 1 to 2 out, but the chance of 1cm height loss I wouldn't discount either.
Psychedelic Earth 187
said on 26/Jan/18
Rock solid 187cm (6'1.75").
He'll be shorter than Andy Murray.
Rampage(-_-_-)Clover
said on 13/Nov/17
186cm is too low.
Slim 185
said on 11/Nov/17
We need a "matrix" page btw
Editor Rob: it's one of many I'd like to add, but these things take time, I will finish off the game of thrones category first!
Sacred
said on 7/Nov/17
188 cm
Slim 184
said on 4/Nov/17
186 Cm is injustice.
Junior
said on 4/Nov/17
Honestly Hugo Weaving doesn't look solid 6'2. Maybe he was always 6'1.5" and claim 6'2 but probably 6'2.25" out of bed.
Rampage(-_-_-)Clover
said on 19/Oct/17
Weaving looks 188cm in all honesty (sometimes 187cm but the other times manages to pull off 189cm)
A regular 6ft2 is fine for him. There's plenty of those guys who should be left alone.
Dejavu
said on 16/Sep/17
If Hugo Weaving is 6'2, Keanu reeves is 184cm and Lawrence Fishburne is 182cm. That was how they looked in the premiere of the Marrix.
Slim
said on 10/Sep/17
I'd even give 6'2.25" for Hugo, but absolutely max.
Rampage(-_-_-)Clover
said on 8/Sep/17
I thought originally Reeves was 186cm and Weaving 189-190cm but then I saw Point Break. Fishburne I think in the early 90's could look more 183-184cm zone.
Slim
said on 4/Sep/17
Rampage(-_-_-)Clover said on 3/Sep/17
Weaving: 187-188cm
Reeves: 184-185cm
Fishburne: 182-183cm
********
The matrix is just a beautiful film isn't it?
I've only seen the first one though.
Your listings are reasonable, thankyou for not adding half an inch to them....
Rampage(-_-_-)Clover
said on 3/Sep/17
Weaving: 187-188cm
Reeves: 184-185cm
Fishburne: 182-183cm
Jacob
said on 19/Jul/17
I remember seeing him in a movie with Andrew Garfield and Garfield is almost 5'11" I don't think he's lost much height at 57 years old probably a still strong six footer six one range now a days
Slim 182 cm
said on 18/Jul/17
Rampage(-_-_-)Clover said on 14/Jul/17
Australia produces the best actors. Russell Crowe, Heath Ledger, Ben Mendohlsen, Guy Pearce, the Hemsworths, Eric Bana, Hugh Jackman, Sam Neill, Mel Gibson.
Rampage(-_-_-)Clover
said on 14/Jul/17
Australia produces the best actors. Russell Crowe, Heath Ledger, Ben Mendohlsen, Guy Pearce, the Hemsworths, Eric Bana, Hugh Jackman, Sam Neill...lost goes on
Slim 181 cm
said on 12/Jul/17
Him and guy pearce need to be added to the list of "underrated actors".
Legit 6'2
joe###
said on 7/Jul/17
6´2
Rampage(-_-_-)Clover
said on 2/Jul/17
Had a solid 1in on Keanu
John
said on 2/Jun/17
6'1.25" looks just a little bit taller than Keanu Reeves in the matrix
Mickey
said on 28/May/17
his height coincides with his acting ability
berta
said on 17/May/17
187,5-188 is what i think he looks
Sandy Cowell
said on 25/Apr/17
Now this photo of Hugo really DOES show his height off to good effect! I've seen so many pictures of late which deceive us about a star's height, but not this one.
I have seen him playing Liv Tyler's Dad in the 'Lord of the Rings' trilogy, as his height is considerably superior to her 5ft10, by a good 4 inches. (It would seem as though Liv has become one of my most reliable measuring sticks, but then I do have in access of 20 of her films!)
Well, based on that, Hugo gets a thoroughly respectable 6ft2 from me! I have a copy of 'V for Vendetta' waiting to be watched, so there's a possibility I get back on that one! You can't believe everything you see in 'The Lord of the Rings', more's the pity!
zoran
said on 24/Apr/17
We walked right by each other in glebe Sydney ,no fancy footwear he's 6ft2 no worries.
Victor Surratt
said on 12/Mar/17
Legit 6ft 2.
S.J.H
said on 10/Nov/16
@Leonardo 1.73m said on 28/Oct/16
LOL dude. I agree he looks it. 6'2 though
Leonardo 1.73m
said on 28/Oct/16
Small version of 6'8 Tyler Mane
josh jeffords
said on 11/Oct/16
Good actor very geeky which is cool in a funny.
Never seen him in a non fantasy role but he always looks well over 6ft.
Cap Am he looked 6 3 or so in boots maybe more, 6 1 or so in LotR Hobbits.
He is a weird lanky loose standing guy build wise and not a young man he could have been 6 2 in his 20s.
Side note he is not very big for real much smaller than a still athletic Fish back in the day.
He likely weighs as little as 220 at 6 2 fish is shorter and 230 i figure maybe more.
Further sidetrack in king of NY fish looked freakishly tall and lanky had no muscle back then was taller in his prim 6 1 easy.
Rampage(-_-_-)Clover
said on 13/May/16
6ft2 flat is spot on if Reeves is a weak 6ft1 and Fishburne is a weak 6ft
Paleman
said on 21/Mar/16
Closer to 6'2" than 6'1", definitely. I wouldn't buy anything less than 187 cm. A big guy...
kurtz
said on 5/Mar/16
He is imposing both in height and build (one of few no steroids huge guy ) and a great actor.
188 cm. is accurate.
Dejavu
said on 9/Jan/16
The film does not serve as an accurate indicator of Keanu and Hugo weaving's height. Check out the premiere photos Keanu reeves can look up to 2 inches shorter
Patrick
said on 17/Jun/15
The man is an easy 6'2". Anyone who thinks he's under this is silly. He looks 100% 6'2" in V for Vendetta and given the random comparisons his random height equates to 6'2".
Rampage(-_-_-)Clover
said on 28/Nov/14
Rob, is a fraction over 6ft2 possible for Weaving?
[Editor Rob: I wouldn't go over 6ft 2]
Judd
said on 9/Oct/14
I don't remember that in the Matrix trilogy Weaving towered on Keanu Reeves...
Keanu is a genuine 6'1" and he looks very close to Hugo weaving, so I think he's 6'1.5-1.75" max
Raw
said on 2/Sep/14
Hugo weaving appears to tower over both Keanu and Laurence in this Matrix promo shot. Similar stance and dress shoes on all chaps gives him approx 2 inches on Keanu and three on Laurence. If we're to believe that Keanu and Larry are 6,0-6,1 then Hugo is a big boy. All men similar age too.
https://au.lifestyle.yahoo.com/marie-claire/news-and-views/celebrity/g/24872624/keanu-reeves-in-pictures/#11
ya mum
said on 11/Jun/14
I know this is off-topic, but how heavy is he?
Balrog
said on 29/Mar/14
I think he's near 6'2" than 6'1"
me
said on 30/Dec/13
how did you mesure 187 and not 188 is one of the things i will never understand
Dejavu
said on 21/Sep/13
This guy can look close to two inches taller than Keanu Reeves at times. He is definitely a strong 6'2 not under.
Michael Elam
said on 22/Jul/13
Rob,
He's really 6'2. Keanu Reeves(Neo) always gave the impression was the taller one in the Matrix films. Was it just the hair?
V for Vendetta
said on 17/Jun/13
He looks tall, at least 6'1"
I found him very sexy
shocked
said on 3/Jun/13
shocked to see he's 6'2. certainly didnt look tall in the matrix.
Agnet Smith
said on 10/Apr/13
At least 6'1.5", he's very sexy
Chameleon
said on 29/Jan/13
185cm for him.
Rampage(-_-_-)Clover
said on 21/Dec/12
Keanu Reeves 6"1(185cm)
Hugo Weaving 6"2.25(189cm)
Laurence Fishburne 6"0(183cm)
balrog
said on 8/Dec/12
Between 6'1'' and 6'2'' because Reeves is under 6'1''
tom
said on 22/Nov/12
I met him in london few years ago,im 6-2.5 and i thought he was around 6-1 maybe.
Silent d
said on 22/Oct/12
6 foot 2.
James
said on 7/Oct/12
Considering keanu reeves is a weak 6'1 I think....
Hugo weaving 6'1.5 (187cm)
Witchdoctor
said on 11/Jun/12
solid 2 inches on set next to chris evans...offset? I don't know but either way I would n't go below 1.87m!
Small dude :(
said on 9/Jan/12
This man is the absolute perfect height - 6ft 2. Lucky so and so.
carnegie
said on 29/Dec/11
im still thinking tthat hugo is a 6ft 2 man may be reeves is 6ft0.5 but have u ever seen the boots that reeves wore in the matrix 1.5 inches may be (i believe that)so reeves should be in the film like 6ft1.5 he did look a little bit shorter than hugo
Chameleon
said on 24/Dec/11
Yes he is 6'1 not 6'2.
LAN Jiao
said on 4/Nov/11
Lol.. weaving is not over 3" top 5'10 guy pearce. Hes 6'1.
Giraffe
said on 2/Nov/11
DejaVu says on 21/Oct/11
Click Here
Click Here
Click Here
From those pics if Weaver definitely is 6'2, Reeves must be under 6ft.
Hugo 6'2
Keanu 5'11.5
Laurence 5'10.5
DejaVu
said on 21/Oct/11
He can look taller than 6'2 next to Keanu Reeves who is maybe less than 6'1. He also looked a little taller than the Australian actor who is listed at 6'2.
Click Here
Click Here
Click Here
Rampage(-_-_-)Clover
said on 4/Sep/11
0.5-1in on 6"1(185cm) Keanu Reeves and at least 2in on 5"11.5(182cm) Laurence Fishburne.
george555
said on 1/Sep/11
he's barely 6'2-i'd say 6'1.6
thebad7
said on 29/Aug/11
Wonderful actor, and I like him best in 2010's THE WOLFMAN. He was spot on as Inspector Abbeline. He's a tall man, but I don't think he's quite 6'2". He's definitely a strong 6'1". Next to Benicio Del Toro he looked about a half an inch to 1" shorter--and both men were wearing similar footwear. I can buy 6'1 1/2" for him.
tb7
carnegie
said on 25/Aug/11
terrific singer in the tender hook 6ft1.5
gary
said on 23/Aug/11
i think this
hugo 6ft1.5
reeves 6ft
laurence 5ft11
and on the ,matrix films actors used to wear big heels like 1.5 may be "2"
so ill say
keanu 6ft1.5
hugo 6ft 2
laurence 6ft
DejaVu
said on 20/Aug/11
I agree 189cm next to keanu reeves.
Rampage(-_-_-)Clover
said on 6/Aug/11
Looked 189cm next to Keanu Reeves.
ken
said on 6/Jul/11
yes i have met him im 5ft11" and hes a fair bit taller than me hes over 6ft1" ..6ft2" would be the best guess
udre
said on 26/Jun/11
always thought that this guy was a solid 6ft2
James
said on 11/Jun/11
Hugo Weaving 6'1.75 (187cm)
Keanu Reeves 6'0.75 (185cm)
Lawrence Fishburne 5'11.5 (182cm)
Chameleon
said on 22/May/11
Yes this guy is most probably 6'1 which makes Reeves 6'0 max, and thats what he is.
Mohammed
said on 21/May/11
I honestly doubt he's 6'2, he is most likely 6'1 or 6'1.25
Chameleon
said on 26/Apr/11
Well you meeting him is as close as it gets so what other evidence, I wouldnt be suprised at all if he is 6'1.
Shadow2
said on 25/Apr/11
We were both wearing similar shoes, as I only started wearing sneakers some years later. It's just clear in my memory that Hugo and I were the same height on flat terrain. I would remember if he was an inch or more taller, just like our helicopter pilot was. Has anyone on this site met or worked with Hugo in more recent times? I certainly don't want to see him downgraded in height just on my "say so". There needs to be other evidence, but not just from movies.
Chameleon
said on 22/Apr/11
@Shadow2: Were you also wearing normal shoes to be certain that hes 6'1 and no more? If so, I'll certainly believe he's 6'1 flat.
Shadow2
said on 21/Apr/11
Guys, for those of you who insist that Hugo is 6'2" plus, but have never met him, is it possible your estimations have not taken into account that he may have been wearing boots in scenes with Keanu Reeves, etc. Maybe the director wanted Hugo to look more imposing alongside some of his co-stars, which is regularly done in movies and TV. When I worked with him years ago he was wearing normal shoes and a suit, in his role as a ruthless business tycoon. Hugo was a real "pro".
ulrich
said on 15/Apr/11
hey candyman he has not a gigantic head hes a littlebit bald lol. and yes this guy is a solid 6ft 2 even he could be 6ft2.5
Shadow2
said on 15/Apr/11
Sorry Candyman, no pics, but you can get the movie on DVD. It was a comedy called "Reckless Kelly", filmed in Australia and Hollywood about twenty years ago. Our helicopter pilot, who doubled for English actor/comedian Alexei Sayle in the flying scenes with Hugo, was just under 6'3", being taller than Hugo and I at 6'1".
Candyman
said on 13/Apr/11
Shadow2 says on 30/Jan/11
Then I must really be 6'2" then (No way sadly!) I worked alongside Hugo for nearly a week and he was no taller than me.
Do you have any pics Shadow2??
Candyman
said on 10/Apr/11
Looks taller than del Toro.
ulrich
said on 8/Apr/11
looks a solid 6ft 2
Candyman
said on 5/Mar/11
Wow!! This guy has a gigantic head!!
REALITY
said on 26/Feb/11
if Reeves is 185cm this guy can't be less than 192cm although I think the truth falls in the middle, Keanu is no more than 181-3cm and Weaving is 187-9cm range
Rampage(-_-_-)Clover
said on 24/Feb/11
188-189cm range or 6"2.25...that's if Keanu Reeves is 6"1
Shadow2
said on 30/Jan/11
Then I must really be 6'2" then (No way sadly!) I worked alongside Hugo for nearly a week and he was no taller than me.
Rampage(-_-_-)Clover
said on 29/Jan/11
I think 6"2.25(189cm) could be on the ball if he's 1.5 inches taller than Keanu Reeves
Shadow2
said on 12/Nov/10
I worked with Hugo on a movie years ago and he's 6'1", the same height I was. He's a nice guy.
Lenad
said on 20/Jun/09
i can buy 186cm at the lowest
Lenad
said on 26/May/09
He is obviously taller than Keanu Reeves but only by an inch. I think that puts Reeves at a weak 6ft1 and Weaving is a weak 6ft2
natalie
said on 23/Mar/09
i saw v for vendetta and hugo seems very tall next to natalie portman!
Lena
said on 20/Mar/09
Keanu Reeves IS a strong 6'1! I saw him backstage with dogstar in 1996 in Berlin. We have lots of 6 to 6'2 guys in Germany so we know that height well, and Keanu looks like a very strong 6'1 , I would say he's like 6.1,5......so that makes Hugo nothing below 6'1 but probably a weak 6'2!
LOL
said on 13/Feb/09
Neo uses a high boots in matrix reloaded, and revolutions,and Weaving is a inch taller than him. I give to him 6'2.5", or 6' 3" max
Amila
said on 5/Dec/08
He's definitely 6'2" compared to keanu who's like 6'1" tho keanu looks like he's 6'1" long and tall and weaving is like a short tall guy
el toppo
said on 26/Oct/08
Just watched Matrix 2. Weaving has an inch on Reeves.
pjack
said on 3/May/08
i saw him in a carpark shopping centre,surprized how tall he was i would estimate 6-2 to 6-3
Constantine
said on 23/Mar/08
I was watching Matrix Revolutions (Great trilogy btw) and I swear that Reeves is easily 2-3 inches taller than Weaving
robbie h
said on 5/Nov/07
is the same height as keanu reeves in the matrix reloaded, i think 6'1
Al
said on 23/Jul/07
He doesn't look 6' 1" in all of V for Vendetta, but hard to know if it isn't the stuntman in costume in that film, plus there are scenes featuring the first cast actor James Purefoy in the film still
WallCafe
said on 22/Apr/07
Saw Hugo in the Wall Cafe Sydney yesterday and was taken back by his height! My cousin (who is 5'11") and I were debating his height and came up with 6'2"-6'3" after some wild guesses of 6'6"!!! You can't take movie screenshots or promo as a guide because the director/producer will make whoever look shorter or taller depending on the shot (to frame the actor with another accordingly) or to create a desired effect.
barbie girl
said on 2/Dec/06
rubbish.. hes no more than 6ft(183cm)..
Anthony
said on 8/Jul/06
Click Here
Click Here
Towers over Portman. 6'1 - 6'2 seems about right, though I'm sure the costume adds to his height.
Jason
said on 16/Jun/06
I don't know about Keanu Reeves being a strong 6'1''. He's 6'0 1/2''-6'1''. At least 6'0 1/2'', but I don't think over the 6'1'' mark. I would guess Weaving is 187cm. He actually didn't tower over Natalie Portman all that much in V for Vendetta I thought.
ForensicNYC
said on 14/Jun/06
6'2" Hugo Weaving in one of his BAD HAIR DAYS that make him 7'4"...
Click Here
J-Dog
said on 16/Apr/06
Check this Hugo Weaving image out, he seems like a very strong 6'2"-er
Click Here
J-Dog
said on 16/Apr/06
beaner Keanu Reeves is a strong 6'1" so that would make Hugo 6'2" or a bit above.
joe schmo
said on 16/Apr/06
Hugo does appear to be an average height looking man, most notably in the Matrix Trilogy. But when I saw "V for Vendetta" my perspective changed and I thought man Hugo looks freaking tall as hell! Especially compared to Natalie Portman- he was just towering her. So I looked up his height and here it is just as I expected...well above 6'. seems like the whole world is a buncha ogres
Paddo Neighbor
said on 2/Apr/06
Hugo is one of those guys that look average in height from a distance, you think..."yeah he's as tall as I am or shorter.." then when you pass him, Wow! he IS tall! He is no less than 6'2"...wears sandals, never drives a car, and never has any wrist watch on...
beaner
said on 26/Mar/06
So that would make him 6'1" at the most right? If you give him .5" - 1" on Keanu.
Bryan
said on 26/Jan/06
a clear 1.5 inch my ass, Keanu's tilting his head slightly, in that photo there's less than an inch difference between him and Hugo.
Anonymous
said on 25/Oct/05
beaner, that looks like a clear 1.5 inch to me.
Anshelm
said on 24/Jul/05
When the Matrix cast (Reeves, Moss, Fishburne, Weaving) visited TRL he was clearly the tallest of the bunch. Made me re-check Larry Fishburne's "6'3" height, and found a 6'1" figure for him.