Finn Jones Height
5ft 11 ¼ (181 cm)
British actor best known for playing Loras Tyrell on TV series Game of Thrones and Danny Rand in Iron Fist. This photo is from a London Film Con event in 2013, he had a slight footwear advantage over me. Other photo is from a Glasgow Collectormania in 2014.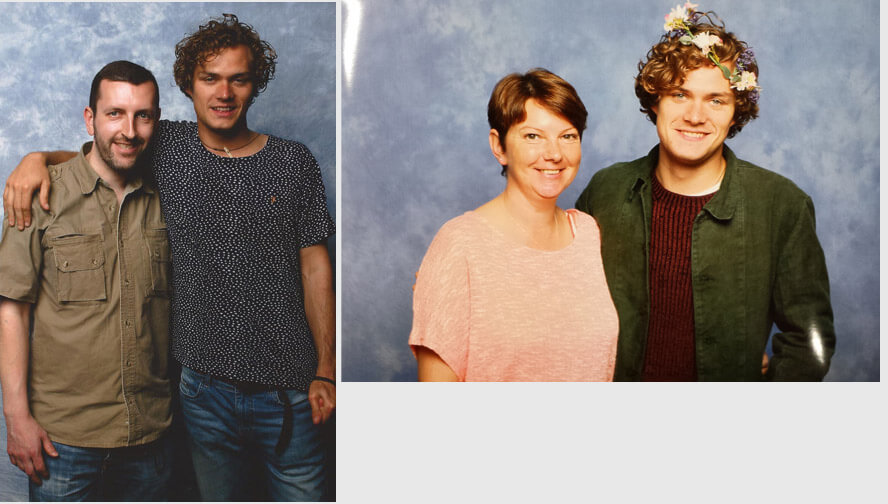 5ft 8 Rob and 5ft 7 Judy with Finn
You May Be Interested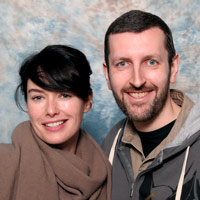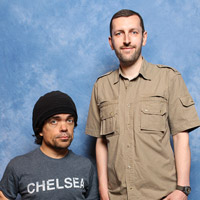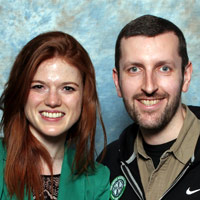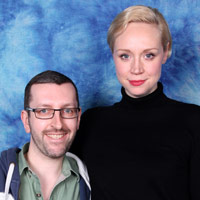 Add a Comment
41 comments
Average Guess (47 Votes)
5ft 11.37in (181.3cm)
slim 6'1
said on 13/Jan/21
Closer to 5'11" than 6' obviously, good listing 👍
slim 6'1
said on 11/Jan/21
In that 181cm zone, Robs listing is close enough to the truth 👍
Slim 6'1"
said on 27/Sep/20
Solid 5'11" guy, it'd be a tough one of who would have the edge between DiCaprio and this guy
Slim 6'1"
said on 5/Aug/20
5'11.25"-5"
Slim 6'1"
said on 5/Aug/20
181-181.5 is spot on
Christian 6'5 3/8"
said on 28/Apr/20
A lot of people here seemed to be fooled by his long hair. He looks only around 179 with both Rob and Judy.
TheBat
said on 25/Dec/19
I agree with this listing. 181 cm was actually what I hoped to reach at one point but I'm about .75 to 1 in shorter than 5'11.25".
SMART BERRY
said on 18/Feb/19
181 cm is spot on, awesome prediction Rob
Zampo
said on 15/Sep/18
@Animus, I agree with your points also. I think he would measure between 5'11-5'11.25. He is what I would describe as a solid 5'11. As solid a 5'11 as Rob is a 5'8, where he generally won't look under 5'11 and like Rob and would look near those 0.5 inch taller but would be edged out more often than not. 5'11.25 (181 cm) is most definitely a reasonable listing.
Animus
said on 10/Sep/18
He looks shorter on the right picture, but there is clear postural variability. By leaning on you he is simultaneously pressing you down and elevating himself. With Judy he seems to stand with rather relaxed posture, where he could lose ½in or more. On balance his 181cm listing is good.
MSJC
said on 26/Aug/18
For a moment there i was thinking, Jenny looks very different in that photo 😂

Editor Rob
You can see
Jenny with Judy
and also Big Lewis that day, that was August 2014, so he was 12 and about 5ft, now over 5ft 10 at 16.
rlvp85
said on 29/Mar/18
Rob, what range do you think his height is probably in? 182.5-180?

Editor Rob
he might be 6ft out of bed and just over it at night, it's arguable whether he's 5ft 11.25 or just over...
World Citizen
said on 13/Jan/18
He certainly looks it.
Psychedelic Earth 187
said on 20/Dec/17
I would say Finns morning height could be similar to Stephen Amells extreme low(around 183cm range)
Slim 185
said on 29/Nov/17
Is the full 5'11.5" arguable?
Editor Rob: at times he can look near it
Slim 6'
said on 29/Oct/17
Rampage(-_-_-)Clover said on 29/Oct/17
Looks like Jude Law...
********
Nah he looks more like Leonardo.
You could argue the full 5'11.50" still.
Rampage(-_-_-)Clover
said on 29/Oct/17
Looks like Jude Law...
Slim 6'
said on 21/Oct/17
181 is likelier than 180.
Slim 6'
said on 17/Oct/17
Definitely could stretch to 5'11.5" at the early evening. @Ben in the picture to the right, Judy has the camera angle advantage.
Ben
said on 7/Oct/17
With you Rob he looks every bit of 5'11.5". But with Judy he looks around my height. My mom (not my biological mom) was 171 peak, she's 61 years old now, I dunno how much she has lost tho. But she's not 171 anymore. I can most of the times see above her head. She prolly closer to 5'6.5" these days.
But I dunno, I don't keep much track of my height anymore. You will have to judge if I meet you in London in 2019 Rob 😎 👍 Perhaps you'll think I'm 6'1" or perhaps you'll think I'm 5'1". Glenn II coming at ya. ;)
Slim
said on 29/Sep/17
My heart and head says he's 181.5.... could use the 5 mm upgrade if you ask me.
Anonymous
said on 21/Sep/17
Wow, so everyone on Iron Fist was relatively tall? If he's about 6' in shoes, the brother is over 6', sister is about 5'11" in heels, father is 5'10", her assistant is over 6' in heels, and Wing is around 5'6" barefoot. And of course, Carrie-Ann Moss.
Animus
said on 8/Sep/17
He's just a good ol' strong 5'11". He can perhaps appear 5'11½" on occasion, but it's clear to me that's he more of a 181cm guy. He's very close to the beginning of the "tall guy-zone" in the Western world. Nice height
Tallish89
said on 21/Aug/17
Looks more a strong 5'11
Hypado
said on 20/Aug/17
Almost a six footer.
Slim 182 cm
said on 8/Aug/17
Big rob=173.5, Finn jones = 8 cm taller than rob, so Finn jones 181.5/5'11.5, it'll explain why he's listed as 6' in imdb/google and why he's the biggest looking 5'11.25 guy on the website...
Slim 182 cm
said on 7/Aug/17
Rob, can u pls tell us how much more shoe he wore?
Animus, he can look around the 183 mark with thick shoes.
I was serious , he's 7.5 - 8.5 taller than rob subtract the footwear advantage.
Editor Rob: no more than 1/4 in
Slim 182 cm
said on 7/Aug/17
Rob, 181.61?
Editor Rob: I don't know if he would be 5ft 11.5, I've seen him a few times and think he falls into strong 5ft 11 range...I suppose you could still argue he can look 11.5 though.
Shredder
said on 5/Aug/17
Rob , would you say just by looking at them face to face that Yeun is a good bit taller than her?
Editor Rob:
yes, Yeun is taller, although I would say he wasn't as solid a 5ft 8 like the height challenger 7 girl...
you can see Judy with
Jenny
that day
Shredder
said on 5/Aug/17
Rob , how tall did you the 5'7 lady Judy was before measuring him? If I remember wasn't she more like 5'7.25?
Editor Rob: she used to be 5ft 7.25 on a good day, but the other couple of times was 5ft 7 1/8th to 1/4 on stadiometer.
Slim 182 cm
said on 31/Jul/17
I agree animus, it's just more proof that strong 5'11 is still a good height for men today.
Animus
said on 28/Jul/17
He doesn't look 6ft1. Look at the top of their heads.
Slim 182 cm
said on 17/Jul/17
"Slight footwear advantage"? He looks 6'1 in the photo.
Slim 181 cm
said on 6/Jun/17
181 cm sounds correct. Wouldn't rule out a 180 or 182 possibility.
Emma
said on 17/May/17
No way he is 181. He is the same height as Krysten Ritter. You can clearly see that in their joint defenders photo shoot for ew. She's in flats and at least two cm taller.
I'm convinced that uplift the ones you like now Rob.
Editor Rob: I watched him with many fellow con attendees...he simply never looks under 5ft 11.
S.J.H
said on 5/Apr/17
5 foot 10 solid. Rob dropping height here.
Editor Rob: sjh, there is quite a tiny chance of Finn being 5ft 10 barefoot 😉😉

and by tiny, I'm referring to the size of a Quark!


Cal77
said on 21/Mar/17
Looks 5'11
Importer
said on 18/Mar/17
Looks 180-181 in Ironfist. Ima keep telling my guesses cuz if new show
delvin chung
said on 5/Mar/17
Is 180 cm possible
Editor Rob: up close I felt Finn was a good 5ft 11 range.
Tiago
said on 12/Oct/16
He looks have 1,83 to me
Sam
said on 12/May/15
Didn't realize he had a page let alone photos. He looks a little "knackered" or maybe stoned in these, and looks closer to listing with Judy than with Rob. Recall he did seem a couple inches over Sophie Turner on GOT.
[Editor Rob: probably half blinking more than knackered.]