American Actor from the tv series Get Smart. In 1995 said "she's 5-foot-9 in her stocking feet. I'm only 5-foot-8-3/4".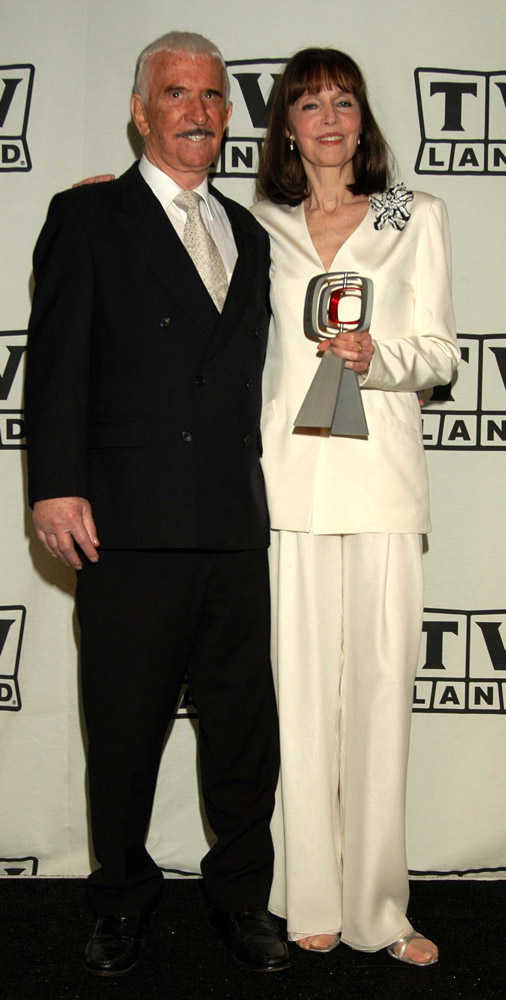 Photo © ImageCollect.com / s_bukley
Gerald S
said on 19/May/23
Rob, what peak height would you give Vito Scotti? 5'5"?
Scotti looked a couple of inches under Tom Bosley and Johnny Haymer (both 5'7" range) in The Secret War of Harry Frigg, and Don Adams had several inches on Scotti around 15:30 in this Get Smart episode:
Click Here

Editor Rob
5ft 5 seems a kind of range he appears.
Gerald S
said on 18/May/23
Rob, what peak height would you give Edward Platt (Chief of Control)?
I thought Platt only just edged out 5'8.5" Barbara Feldon and 5'7.75" Don Adams (when he wasn't wearing lifts) on Get Smart. A weak 5'9" suits Platt well, in my opinion.
Gerald S
said on 10/May/23
Rob, I'd peg Adams at 5'7.75" peak. He admitted on Get Smart that "his lifts were killing him."
Gerald S
said on 1/May/23
Rob, Paul Dooley looks a classic 5'9" with Don Adams at around 04:45. Do you agree?
Click Here
Sinclair
said on 13/Aug/20
Adams' peak height is a difficult one to determine. I understand he wore lifts in Get Smart and that he was two inches shorter than Barbara Feldon, who I think was a full 5'9" at peak. I think Adams was at least a solid 5'7" barefoot, in his Get Smart days, I'd consider 5'7.25" to be a fair shout. Adams actually seemed noticeably taller than many 5'8" Get Smart co-stars (eg. Robert Karvelas, Larry Storch) and at times, Adams seemed even taller than 5'9" listed Edward Platt, but I suspect that all of this was because Adams' footwear inflated him considerably.
Michael Power
said on 23/Mar/20
I saw that interview where he claimed to be 5'8-3/4"--I would say he was more like 5'7".
JJAK
said on 9/Nov/17
Looks about the same as other 8 6 which is 5 8 to 5 8 .25 dont think 5 7 peak.
I think he edged out 99 as they got older funny irony or they did better with lifts who knows.
Hilarious as smart and fantastic voice actor didnt care for his semi serious stuff.
And later 5 7 ish as he hit senior status.
Dan
said on 27/Apr/17
I would guess about 5'7.5"
Gene
said on 14/Apr/16
No way Don was 5'8" and change ! Barbara Feldon was 5'9" and they had to constantly do things to make Don look taller. I wouldn't say that Barbara towered over Don, but she was noticeably taller than he was. Sorry Don - love you man. But, I doubt that he was taller than me. 5'7" If even that at the most.
SonnyboySlim
said on 3/Mar/15
Adams did a lot of Canadian television later in his career and I never got the impression he was ever more than 5'8". I would have thought a hair over 5'7" but by then he was pushing 70.
Wishbone
said on 9/Jul/14
I always have been a fan of Tennessee Tuxedo,Adams voicing,and he was very funny on Get Smart. He stood 5'7",my size,but he only landed the role on Get Smart because CBS would not let Tom Poston leave To Tell The Truth!
Steve
said on 18/Apr/14
Don Adams was only 5'5". Got to remember that the technology of shoe phones in the 1960's resulted in a heel of almost 3 inches.
Only me
said on 7/Dec/12
Gotta say, he always looked `bout my
height, 5ft. 7ins.
Brad
said on 13/Nov/12
Met both,99: 5' 9.75" for her, 5' 8" (if that) for 86.
Brad
said on 26/Jun/09
At Ray Courts' North Hollywood show in the 90's a few times, he isn't 5' 8.75", I'd go 5' 7.5" tops. Barbara Feldon was in stocking feet & he in lifts for the entire run of the show. On a blooper reel he admits his lifts are killing him.