Dua Lipa's Height
5ft 8 (172.7 cm)
English singer-songwriter. On twitter, when asked her height, she claimed to stand
"5 ft. 8 [inches tall]"
. She also said
"i'm not 5ft10!!! Where did this come from?? I'm 5ft8"
.
Aged 14 she was the shortest in her class so her mum took her to basketball every week, thinking it'd help boost her growth. She quit because she got bored of it and had a growth spurt at 16. "I'm now 5ft 8"," she laughs.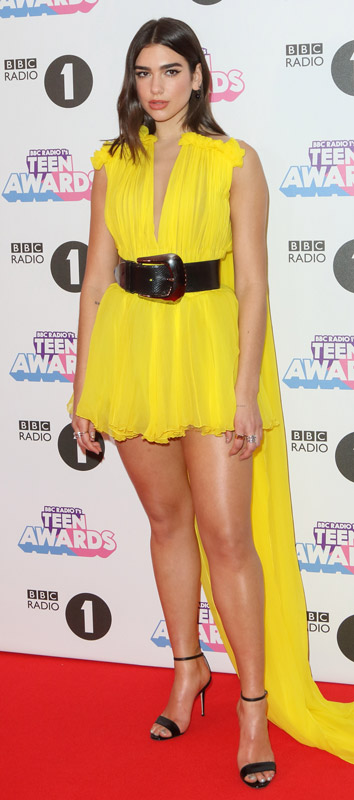 Photos by PR Photos
You May Be Interested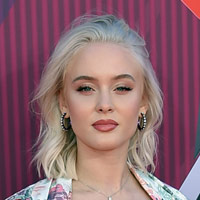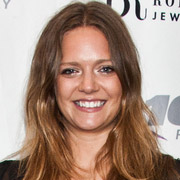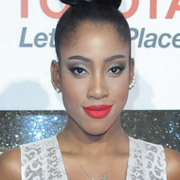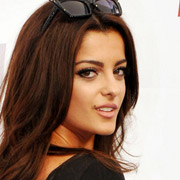 Add a Comment
32 comments
Average Guess (56 Votes)
5ft 8.04in (172.8cm)
LuluB
said on 24/Aug/19
I think many women who are tall are insecure about it and try to downplay it. I agree with others that she looks in the 5'11-10 range. She's much taller standing with Anwar Hadid than either Gigi or Bella Hadid are
Yanet
said on 5/Jul/19
She is definitely at least 5'10, maybe 5'11. I working at the O2 music awards and stood next to her. Definitely taller than Ed Sheeran (he was there too). Maybe she's self conscious about her height, she was wearing killer heels and looked around 6'3, so without them I imagine 5'10 is extremely accurate. No way on Earth she is 5'8, Ed Sheeran is but she definitely isn't. Most of the images countering this have her slightly behind or leaning in some way. As pretty IRL but she's a tall girl.
Dave98
said on 24/Mar/19
I'd say she is 5'7.5"(171.45cm) at max and I really think she is more of a 5'7" range(170.18cm) tbh seeing her with St.Vincent and Calvin Harris.
Lara
said on 6/Mar/19
1.71 m.
Jancys
said on 26/Feb/19
SHE IS NOT 173 CM. She has pictures with Liam Payne (175 cm) and he is taller than her at least for 2.5-3 inches. Obviously she lies about her height. I think she is around 168/169 cm.
5ft 9 Liam and Dua;
Click Here
Lean
said on 11/Feb/19
So happy for Dua being true to herself and honest. This is rare nowadays. She's not competing with anyone at all.. humble gal
Darius
said on 27/Jan/19
I've always reckoned Dua Lipa to be in the 5'7" to 5'8" range, From what I have seen I think she is more 5'7" and has that type of body for a 5'7" not taken into account her heels she dons almost always. But taking Dua's wording of 5'8" as honest, I would say she is likely 5'7.5" in stature . Tbh, never looked a 5'8" to me.
Nik
said on 9/Jan/19
@ bub - I honestly don't agree with you, it's good for both men and women to just be the height they are! In any case many women do want to be tall although there are many women who do not want to be tall too, it is good to be tall if you are a woman, man!
bub
said on 8/Jan/19
@Nik well being that tall for a woman is not a good thing, lol. For a guy maybe but not girls man.
Nik
said on 1/Jan/19
Thumbs up to her for not trying to claim 5'10'! It's ideal for people to be nice 'n honest!
Oliver
said on 31/Dec/18
Click Here
Hello,Rob. I think she doesn't look over 5ft 7 in this pic with Calvin Harris.(About 2inches more footwear and looks 8inches shorter)
Or maybe she is 5'7.5 and Calvin,6'5.5?
What's your opinion?
Thank you.

Editor Rob
She can look anywhere in 5ft 7-8 zone that moment.
Renato:)
said on 14/Dec/18
She looks tall
colleen
said on 19/Nov/18
she is really tall in my opinion
karan kapoor
said on 18/Oct/18
looks 5'10 to me
khaled taban
said on 28/Jun/18
She is more like 5'7" or 5'7.5" though 5'8" isn't impossible
MAD SAM
said on 9/Jun/18
Tall woman, definitely 173 cm
Urkalias
said on 29/May/18
174/175cms
Khaled Taban
said on 9/May/18
173cm
Kree
said on 19/Apr/18
She looks really tall. I have tall friends and they sometimes downplay their height because of dating issues... wouldn't be surprised if she was a couple inches taller than she says
BilboBaggins
said on 13/Apr/18
Holy ****, I always thought she was at least 5' 9". Not that 5' 8" is short for a woman though. Dua looks tall in anything I've seen her in.
Warren
said on 22/Mar/18
Such a beautiful looking and has a powerful singing voice! I think she's a tiny face that makes her appear taller
I guess 171-172cm range
inxs
said on 20/Mar/18
1.74
Volkan
said on 30/Jan/18
Every time I saw her , I think she's 5'10'' because she looks so tall!
MaryAnne
said on 30/Dec/17
Beautiful Dua's page seem weird.It looks as though an old page circa 2004-2009. 5-8 legit
Editor Rob: an extra closing tag in the description caused the menu to vanish.
Peter175
said on 21/Oct/17
I think she may well be just 5'7
ggangsta
said on 24/Mar/17
My guess for Dua Lipa would be a little below 5'8 , somewhere between 5'7.25 - 5'7.5
Rnfhc
said on 5/Feb/17
She wears high heels and looks like 6 ft but she is definitely 5 ft8
DetroitMichigan
said on 30/Jan/17
more 5'7
Mouse22
said on 11/Jan/17
Maybe the 5'10" claim comes from one or two model agency listings, they sometimes exaggerate. And she does look tall, so one easily believes her to be taller than she is. Other women are one inch shorter but look as if five inch shorter unless you could compare them. It's all through body proportions etc.
John
said on 23/Aug/16
Why is she listed as 5'10 everywhere despite her 5'8 claim?
Editor Rob: other sites copy existing listings most of the time.
d
said on 18/Aug/16
Her body looks 5'7
F.N
said on 15/Aug/16
She is more like 5'7 or 5'6.5.Just compare Dua with her boyfriend Isaac.He is 1.88cm and looks 4 inches taller than her with high heels.
Click Here