Dwight Schultz's Height
6ft ½ in (184.2 cm)
Peak height was 6ft 1 (185.4 cm)
American actor best known for playing Howling Mad Murdoch on the classic 1980's TV series The A-Team and as Lt. Barclay in the Star Trek Universe. In 1983 16 Magazine his height and weight were described as:
"6'2", 175 Ib"
. This photo is from a Collectormania event in 2007.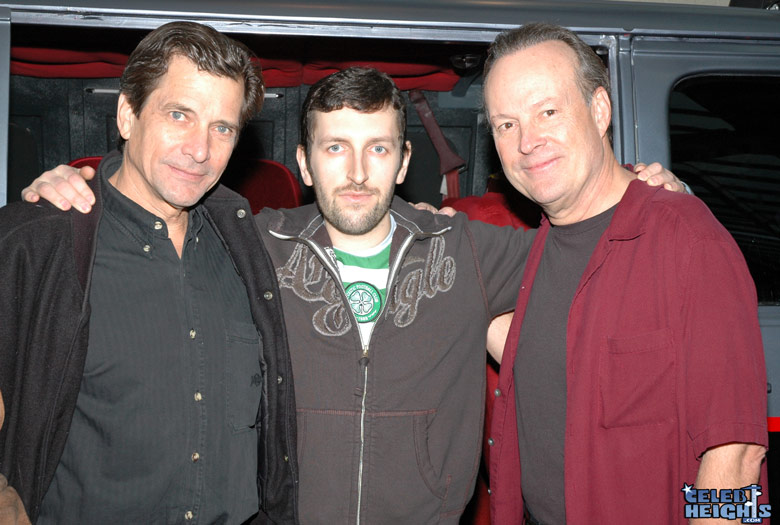 5ft 8 Rob and Dwight
You May Be Interested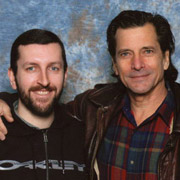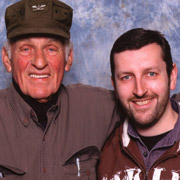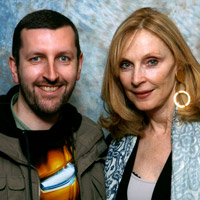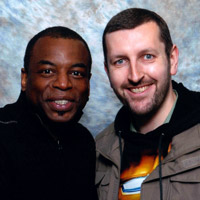 Add a Comment
46 comments
Average Guess (8 Votes)
Peak: 6ft 0.97in (185.3cm)
Current: 6ft 0.09in (183.1cm)
Bob da cob.
said on 15/Feb/20
Actually probably same as arnie. Claim 6-2 but in reality 6.05.
Christian 6'5 3/8"
said on 10/Oct/19
Looks 5'11.5" range in the pic, although the camera positioning isn't that good.
Rampage(-_-_-)Clover
said on 18/Jan/18
I think he may be 6ft flat today at 70. Definitely a good chance he's shipped more than 1in.
Which is why I'm giving him 6ft1½ peak (or alternatively 6ft1⅜)
Pierre
said on 7/Apr/17
He look 5"11' in this picture next to Rob maybe a little more because he seem have a long forehead
Rampage(-_-_-)Clover
said on 13/Mar/17
Peak: 186-187cm
Today: 183-184cm
berta
said on 3/Jun/16
Rob he have had 184 listing for 10 years now. Dont you Think if he lost 1 cm already at that age then he must have lost 2 more cm now when he is in the height loss age. Eitrher that ore he was never taller than 184 and is 183 now
Rampage(-_-_-)Clover
said on 28/May/16
Might be 6ft flat today but at least 6ft1-1½ peak (2-3in on Benedict/Mr. T and near 2in on Peppard who may not have been quite 6ft by then). Could look 6ft2 at times also
Rampage(-_-_-)Clover
said on 15/Mar/16
He looked 2in taller than an older George Peppard.
Anonymous1
said on 11/Mar/16
...Stood near him in Framingham, MA , at a show. Was at least my height (6), if not more.
Rampage(-_-_-)Clover
said on 31/Jan/16
186cm minimum peak.
Nick-Name
said on 18/Sep/15
In the pic with Rob, he looks like nothing more than 5-10, and I am accounting for him slouching.
Rampage(-_-_-)Clover
said on 23/Apr/15
"Peak height was 6ft 1½in (187cm)"
Danimal
said on 15/Oct/14
He looks a bit like Bill O'Reilly.
TJE
said on 5/Sep/14
Time to chip off a couple centimeters here cuz he looks 182.
avi
said on 23/Jul/13
Wow he has a huge advantage here Rob he's so close to camera can see weak 6'0
Matheuscore
said on 12/Jan/13
In this photo he looked be 5'11
Rampage(-_-_-)Clover
said on 7/Oct/12
186-187cm peak. Just watch the A-Team 2in on Peppard who was by the point not quite 6ft
matt789
said on 30/Jul/12
looks 5 foot 11 in this photo
anonim
said on 15/Nov/11
This guy looks a lot like Kelsey Grammar and the face length.
george555
said on 8/Nov/11
he is not close to 6'2-i think he is more like 6'0.5-6'1.5.
Kane
said on 3/Sep/11
Doesn't look much taller when was this picture taken Rob? because if its a few years back he could of lost even more height making him 6'0 now.
[Editor Rob: 5 years ago that photo was taken.]
Godred
said on 22/Jul/11
185 peak, 183 or 184 now.
Rampage(-_-_-)Clover
said on 29/Apr/11
186cm(6"1.25) in the 80s...always looked 1 or 2 inches than Peppard
guyfrommars
said on 5/Feb/11
In one episode of TNG his character was afraid of Frakes' towering 6'4" height. In reality, he was not much shorter.
Hugh 191cm
said on 6/Jul/09
184-185cm now and 186-187cm peak.
Hugh 190cm
said on 2/Jun/09
6ft1.25 peak.
Jason W.
said on 8/Feb/09
i have read somewhere that Mr.T is actually 5'11, but im not sure how accurate that is.
said on 5/Feb/09
how the heck is Mr. T 6'1"? Dwight Schultz (Murdock) actually is 6'1" and he stood taller than BA
Jason W.
said on 23/Jan/09
i never really thought of "howling mad Murdock" being that tall, but i guess he is. lol im really looking forward to "The A Team" the movie coming out soon. :)
Sam
said on 20/Jan/09
He looks bizzarely like Bob Hope in the photo above.
Anonymous
said on 18/Jan/09
Legend, 6ft 2
Mr. T
said on 17/Jan/09
the crazy foo is 6'1" man I know I used to work with him on the A-Team.
Paddington
said on 15/Jan/09
I remember on ST:TNG he really dwarfed the rest of the cast. Maybe Picard, Data, and the others need a downgrade?
EllisM
said on 15/Jan/09
Crazy Murdoch doesn't even stand 6 feet there and that's not taking account he's noticeably nearer the camera compared to Rob!
Anonymous
said on 15/Jan/09
i like this guy, however a guy that was 6'2 in his life would not look this short compared to 5'8. Rob has it right 6'1 peak height
Markus
said on 15/Jan/09
Wow, I almost wouldn't recognize him as Murdock...The weird thing is, I thought he was getting bald in 80's, but seems to have quite some hair nowadays...
Hugh
said on 27/Nov/08
Maybe 6ft2 in his prime. He towered over Mr. T and looked a good 2 inches taller than Peppard who may possibly have lost height be the time of the A-team.
Hugh
said on 4/Sep/08
Dwight is closer to 6ft2.
Daniel
said on 11/Jun/08
He looked taller than that in the A-Team. About 1.87m, almost 10 cm taller than Mr. T
LugNut
said on 4/Jun/08
Dwight was the tallest of the A team, and I was watching a few episodes and he does look tall in most scenes, he looks to be a solid 6'1 for sure. Great actor very funny guy, he should be in more films.
dicky curtis
said on 11/May/08
in one episode on the a team when he is in a phone booth he himself said 6ft tall. but he looks taller then hannibal listed as 6 ft but not much. so 6.1 seems right to me
nicole
said on 24/Mar/08
To me looking more like strong 185cm when i saw him in 2007. Yes he must have lost an inch.
anonymous
said on 24/May/07
seemed 6`1.5 next to jonathan frakes
[Editor Rob: he was looking more 183-4cm range when I saw him in 2006. Might have lost 1/2 inch.]
Viper652
said on 12/Sep/06
Bleemo is right. At times he could look 6-2, other times only 6-0.
stan
said on 11/Sep/06
I've seen him 10 feet from me, looked about 6'2
Bleemo
said on 10/Sep/06
Wahey howlin mad murdock, yeah I agree he is definately not 6'2 he could scrape this height though due to his horrible posture. I noticed on that Star Trek though that he suddenly had normal posture again.
I've been reading a lot about the A-team recently and in summary George Peppard had a lot of sway with the production team. Including getting rid of the first woman that worked with them because he didn't like her. Anyway Since George was the second tallest maybe he insisted that Dwight Stoop a little so George could still look pretty tall? The reason I say this is because he always stoops down when standing with the A-team, but in other shots just with the supporting cast he could look tall.
Another interesting tidbit I uncovered was that Tim Dunigan the first man to play face was considered too young but also too tall to play Face as he towered over Mr T.