Dirk Benedict's Height
5ft 10 (177.8 cm)
Peak height was 5ft 10 ½ (179.1 cm)
American Actor best known for starring as Face in The A-Team tv series, and for his portrayal of Starbuck in the original series of Battlestar Galactica. This photo is from Collectormania glasgow 2008 (he had about 0.3 inch more footwear than me). In a fact file from around the 1970's he was listed
"Height: 5' 10½, Weight: 165 pounds"
.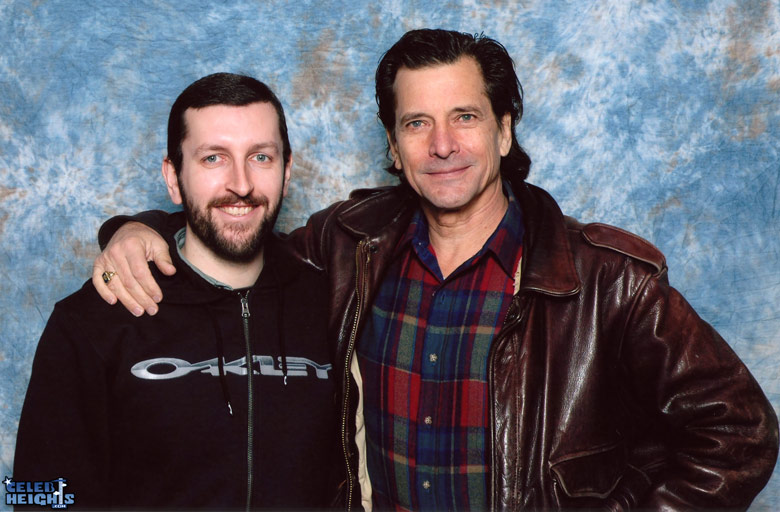 5ft 8 Rob and Dirk
You May Be Interested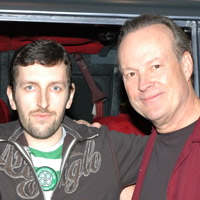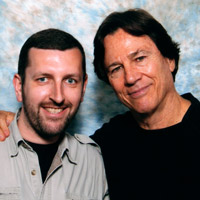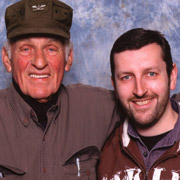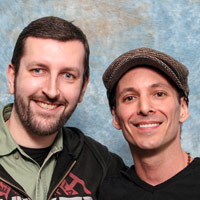 Add a Comment
72 comments
Average Guess (20 Votes)
Peak: 5ft 11.09in (180.6cm)
Current: 5ft 10.13in (178.1cm)
Yang (5 footer 8, 172-173)
said on 2/Oct/19
Peak Height - 5ft 10 quarter
Current 2019-2020 Height - 5ft 9 and half!!!!
Nik
said on 1/May/19
5'10" looks too high!
Pierre
said on 29/Mar/19
5"10' or weak 5"10' is my guess too ,i think he has not really lose height by the years, he looks in good shape and he's only 63 in this pic then i think his peak was around 5"10' too
Canson
said on 20/Jan/19
@Christian: yep weak 5'10"
Tunman
said on 8/Nov/18
Rob,do you agree that he looked really young when you met him in person?It's impossible to believe he's 63 in the above pic.Hell,I thought he was something around 50 tops.Anyways the dude is quite lucky,he managed to keep all his hair at that point.I hope I will age this way.

Editor Rob
I think Dirk made it to early 60's still looking like a guy in late 50's.
Man in Black
said on 8/Sep/18
He occasionally wore cowboy boots on The A-Team, mostly in the fifth season when he was working for stockwell and wearing suits less. He may have occasionally looked on a par with Peppard who had slouchy posture and was older, but Benedict always looked a strong 5'11". Probably about 5'10" now.
Rampage(-_-_-)Clover
said on 11/Jul/18
Peppard was probably 182cm zone by The A-Team years (formerly 183cm strong when Breakfast At Tiffany's was shot) while Dirk was I think 179cm minimum if not 180cm
Kourosh
said on 2/Sep/17
looks weak 5'11 in the picture
Richardspain
said on 19/Jul/17
He seems a bit shorter than George Peppard in The A Team. Anyway to be honest Dirk doesn't look 180cm.
Maybe George Peppard was in his peak around 182 cm and Dirk 179cm when The A team was filmed. It is more credible.
Charlie
said on 18/Mar/17
Is he wearing shoe lifts?He does look 5 ft 10 next to 5 ft 8 Rob. But i am a little confused. The A Team shows both him and George Peppard standing side by side many photos as George about 1 inch taller than him.But when George did Breakfast wit Tiffany's he was close to Audrey's height and Audrey was wearing flat and she was 5 ft 6 as well. I had it in my head George Peppard was about 5 ft 8 and so perhaps Dirk was 5 ft 8 today or less this is why i thought he may be wearing shoe lifts. He does appear 5 ft 10
Pierre
said on 14/Jan/17
around 5"10'imo
Aza
said on 15/Aug/16
Looks a weak 5'10 in the picture with you Rob considering shoe advantage.
Rampage(-_-_-)Clover
said on 28/May/16
Rob, do you think Peppard was still 6ft during The A-Team years?
Dirk could look close to him at times and Scultz could look 2in taller than him...
Editor Rob: he may have dropped under 6ft mark by his mid 50's.
Danimal
said on 15/Oct/14
He shares a slight resemblance to Bill Pullman.
TJE
said on 24/Jul/14
I'd look 0.25 inches taller than him with no footwear advantage. 5'9.5-5'9.75 is a better range.
avi
said on 15/Apr/14
weak 2 inches
Matt 184.7-186.7cm
said on 22/Oct/13
maybe 5ft 9.5 - 5ft 10
Yaspaa
said on 28/Apr/13
I thought he never looked as tall as T, 5'9.5 then and now.
Peyman-6ft
said on 25/Feb/13
@ truth ,
you say it because you want him to be shorter than you !
Solid 178 in the pic is out of question
truth178cm
said on 6/Feb/13
178-179cm peak, now 176-177cm.
Joey
said on 10/Jan/13
considering he had slight shoe advantage Id say 177cm..178cm was porbably his height in his younger years
Aragorn 5'11
said on 28/Dec/12
5'9.5 on a good day in the morning for him! 5'10 is a corny joke!!!
Mark
said on 9/Aug/12
Looks about 5'10 and a half here i would guess, clearly no shorter than 5'10 though.
Rampage(-_-_-)Clover
said on 29/Jul/12
I think 5ft10.5(179cm) was his peak.
Same as Mr. T.
Tom101
said on 6/Jan/12
yeah 2" here looks spot on.
Mamun
said on 27/Nov/11
Yes he was very nice to me and he did shake my hands after ! Sorry for the late response !
Regards
SUPERMUN
Mr. Tempus
said on 16/Nov/11
@johno maybe he didn't notice Mamun's hand at that moment, and maybe he shake it after.
Mamun, was he nice with you=? did he shake your hand after=?
Dirk looks 5'9.75
LAN Jiao
said on 5/Nov/11
Rob, maybe 5'9.5 is nearer?
[Editor Rob: I think with poorer posture he can look under 5ft 10 for sure, but when he stands tall he looks 5ft 10 range rather than 9 range I believe.]
johno
said on 15/Aug/11
- He didn't shake mamuns hand !!! Thats rude. He should smile and realise 100s and thousands of people will dicuss his height, because of that gesture to mamun, i'm going to say he is similar to height to mamun.
His eye isn't even hardly above mamuns! And i know the tip of mamuns head is pretty high and not flat as i initially thought.
The picture with rob looks a bit off, he's trying to look taller...
Mamun: 5'8.25
dirk: Lucky to be even 5'9
adz
said on 4/Aug/11
He looks same height on both pics. Id say 179 peak 178 now.
Rampage(-_-_-)Clover
said on 1/Jun/11
James I think that's bang on...not looking over 5ft10 at all today and most likely a shade below it. I question the 5ft11 peak aswell because he never looked talker than 5ft10.5 Mr. T
Dean
said on 10/May/11
he looks 177cm but with the near cm extra shoe hes defiently under 177..176.5 solid 5'9.5 now surely?
Legend
said on 10/May/11
He didn't lose any height.
Rampage(-_-_-)Clover
said on 9/Apr/11
Looks marginally below 5"10 in both pics...he was close to 5"11 in his prime
thorterr
said on 22/Mar/11
hmm with mamun pic their chins are the same height,but in robs pic dirks chin meets robs nose,robs pic a strong 5ft 10 in mamuns 5ft 9 0.25 and for gods sake dirk shake mamuns hand
James
said on 26/Feb/11
appears 177cm with rob
Anonymous
said on 17/Feb/11
most likely 5'-11" in shoes at peak height, hence about 5'-10" peak barefoot, now around 5'-9" - 9.5" barefoot. this is why he looks around 5'-9" next to Mamun!
Mat
said on 18/Jan/11
5'10 seems spot on to me Rob. I think Peppard always wore lifts because he hated been under 6 feet. Mr T was always 5'10 max. Dwight Schultz was the tallest at 6'1.
arnie
said on 3/Jan/11
almost all of the cast of A-Team were way shorter than I imagined
MAMUN
said on 11/May/09
I am sorry for my late response Daniel , 5' 10" to 5' 9.5" looks about
right !
Kind regards
Mamun
Daniel
said on 4/Apr/09
Mamun, how tall do you think Benedict is?
runt
said on 13/Jan/09
Did you ask faceman about Mr. T's elevator shoes???
runt
said on 12/Jan/09
Mamun must have a footwear advantage.
Mamun
said on 10/Jan/09
Thanks Brad !
Regards
Mamun
Ras
said on 10/Jan/09
5'10 sounds about right, except maybe in Jenny's pic, he easily looks like 5'11.5.
Brad
said on 10/Jan/09
Face wore good size heels on The A-Team. He appears shorter in person. Where's his white hair? Mamun rocks. King of this site.
Anonymous
said on 9/Jan/09
I read his real height was 5'10.5 (179cm) peak, now about 178cm 5'10
Vegas
said on 9/Jan/09
that a-team episode "bodyslam" was on bravo last week, it was filmed in either 1984 or 1985 and dirk is standing beside hulk hogan a few times and looks max 6 inches shorter, very clear in the final scene
Hugh
said on 9/Jan/09
I sincerely he's 6ft. Looks a solid 5ft11 with Jenny. 5ft9 max with Mamun and 5ft10ish with rob. I'm certain he was 5ft11 during the A-team.
[Editor Rob:
At coventry he had 0.4 inch more footwear than Jenny. That was a knackering day, there was a party in the flat below Jenny the Friday so she was up at 2am saturday morning...dirk has some good tales about Hollywood and how the way he was treated by some of the studios.

the glasgow shot he had 1/4 inch more shoes.]
Ian
said on 8/Jan/09
He looks smallest about 5ft9 with Mamum. Looks 5ft10 next to Rob. Looks about 5ft10.5 next to jenny. I heard he was about 5ft11 in the A team.
Bouncer
said on 8/Jan/09
Looks 5'9.5 with Rob, 5'10.5 with Jenny and 5'8.5 with Mamun.
Brad
said on 8/Jan/09
Correct listing. Maybe 1/2" shorter. I didn't recognize him a year or two ago. He had short hair.
dicky curtis
said on 8/Jan/09
in the a team he seemd slightly taller then Mr. T
Taking that in consideration he could have been 5.11
Steve
said on 8/Jan/09
Even on the A-Team, to me he never looked taller then 5'10".
GUK
said on 8/Jan/09
Looks a good 178/ 179 above
Maribel
said on 23/Nov/08
He looks more like five eight. Maybe he was five eleven in footwear.
Antonio
said on 15/Jun/08
I am with the media, and I have met a number of celebs over the years. I met Dirk about 10 yrs. ago. At the time I was 5'8.5". He was no more than 1" taller than I was. were both wearing 1" dress shoes, and it did not look like he was wearing lifts. I would give him 5'9.5". No way is/was he 5'11.
Marcelo C.
said on 27/Feb/08
Rob: as for your asnwer to my commnet, I "dare" to guess and suppose whatever I consider it
Marcelo C.
said on 23/Jan/08
Glenn: I wouldn
sf
said on 19/Nov/07
Rob - love that you still have those wonderful "Superstars" books! The bible to all of us who loved "Mr. Merlin", "Battlestar Galactica" and other shows that couldn't make it past one season. (Not to mention with important facts on Coy and Vance Duke...)
Anonymous
said on 13/Nov/07
If Wopat is 6"1" then I guess John was 6"5" because he towered over him in the Dukes of Hazzard. Tom's real height is 5"11 1/2 , 6"0" MAX. They both wore the same heeled cowboy boots, do the math......lol
Alistair
said on 3/Oct/07
He's the same height as Mr.T who is listed on here as 5ft 10.5in. When you see them on the A-Team or in photos they are exactly the same height altough T always seems taller because he's about twice as wide as Dirk.
Bleemo
said on 5/Jul/07
Hmm during this radio interview at roughly the 4:50 mark he specifically says "I'm not tall". Maybe it's just his perception of tall, but I personally would claim 5'11 to be tall. I have to say though he seems a bit biggoted in some of his views, I've read some bits and peices about him and he seems very angry.
Click Here
Phiily guy
said on 24/Jun/07
Just saw him at a convention. 5'10" no more. Pretty thin too. Very easy going- one of my friends talked to him.
Brad
said on 10/Dec/06
The guy is one of the smartest people I've ever talked to. His autobiography is great. Stephen Cannell won't touch the subject about cooked books at Universal because he brings in the coin and he got his dough. All those A-Team guys got the shaft in profit participation. What Dirk told me made me sick to my stomach. We won't even talk about Garner. He got pounded by Jack "cheapo" Warner in the 50's and Lew Wasserman's cookers at Universal in the 70's. Everything is in the red in TV land if you are part of the profit or if you are Jack Webb/Cannell/Spielberg you got paid. We won't even talk about the MCA record division.
Bleemo
said on 11/Oct/06
Heh I wondered why there was a bit of tension when Stephen J Cannell turned up to that reunion hahaha. It's quite odd that none of these guys went on to do anything acting wise except Dwight who got a regular guest star role on Star Trek and does a lot of video game voice work.
Brad
said on 11/Oct/06
Got creamed by Universal's profit participation in "The A Team". He only had a tiny part of a point but the pencil pushers said the show was still in the red. James Garner sued and only got a small part of his Rockford $ and he was a producer! I think he hates Universal. He's charging for autographs now. 15 years ago he was free.
john
said on 6/Oct/06
I met him at the Chicago comic con and he isn't 5'11". I'm 5'10" and was slightly taller than him plus he's very slight.
Brad
said on 15/Aug/06
Probably the nicest TV star I've ever met. If he ran for president he'd win. Smart guy.
sf
said on 8/May/06
Once again, quoteing my "highly accurate" "TV Superstars '83" book", it lists Wopat as 6'0". And, in case you were wondering: hair - brown, eyes - blue...
[Editor Rob: a certain amount of heights in these books are on the money and I agree with them, (I have these except the 1979 which some kind soul typed the heights out to me!). But of course a proportion I don't agree with...Since these heights 'in print' predate the existance of the web and certain other sites, I will quote them on here to show where a lot of the heights that might be on 'certain sites' might have 'originated' from ;-)
]
goonie
said on 9/Dec/05
Take a look at the heels on Wopat's cowboy boots in the show and photos from the show. Looks like he used Burt Reynold's boot maker from the Bandit movies.
Kat
said on 15/Apr/05
I Once Saw Tom in Tennesse and he looks like he was just 6'0 instead of 6'1 clearly their is a height difference between them.