Richard Hatch's Height
5ft 11 (180.3 cm)
American actor, best remembered for playing Captain Apollo on the original Battlestar Galactica and Tom Zarek on the re-imagined version.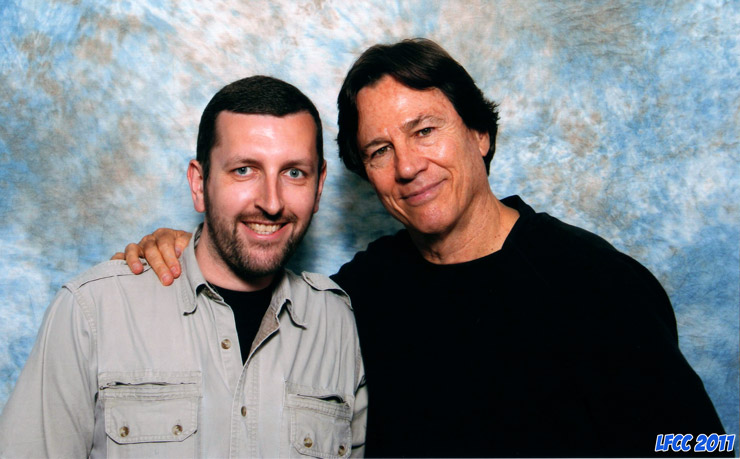 5ft 8 Rob and Richard @ LFCC 2011
(1945 - 2017)
You May Be Interested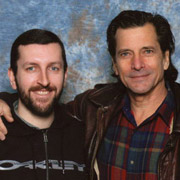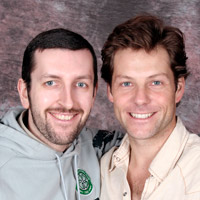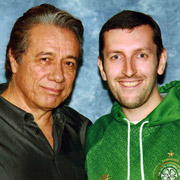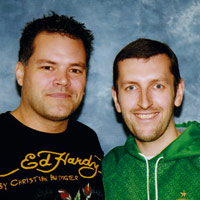 Add a Comment
31 comments
Average Guess (15 Votes)
5ft 10.25in (178.4cm)
avi
said on 8/Aug/19
@Editor Rob
Lorne Greene didn't really look taller than him Battlestar Galactica.
I wonder if Greene was 5'11ish by late 1970s and peak was almost 6'0.

Editor Rob
Greene may well have been closer to 5ft 11 by time of Galactica.
Mark Harrison
said on 11/Jun/19
He was 5'10" but wore special shoes.
Nik
said on 1/May/19
He was losing much height in the picture above!
Christian 6'5 3/8
said on 16/Nov/18
@Nik
I think a lot of people voted based on how tall he looks here with Rob, which is about 5'10" and change.

Editor Rob
At peak he looked taller than Dirk Benedict on Galactica I believe...
Nik
said on 12/Nov/18
R.I.P Richard Hatch.
The average vote is way too low.
Mark Harrison
said on 12/Aug/18
Not convinced he was over 5'11". I guess it depends on what shoes he wore.
Richard
said on 23/Dec/17
5'11" would sound more believable than 5'11.25".
Guest66
said on 15/Nov/17
You can't always trust photos apparently. He must be a solid 5'11 guy in person for sure if you gave him that extra 0.25
Editor Rob: Hatch looked taller than Dirk on Galactica, I think Dirk at just under 5ft 11 and Hatch just over made sense...
MJKoP
said on 7/Feb/17
RIP! Definitely cleared 5'11".
5'11Guy
said on 20/Jan/17
Rob u sure he's like 5'11?😳
He doesn't look that range in the photo 😶
James
said on 13/Jan/17
He's 5'9" without lifts.
StateoftheObvious
said on 11/Mar/15
We get shorter with age...and now you are wiser.
5ft7 in bare feet
said on 22/Jun/14
Wow this really shows that you cant always trust your perceptions. I saw Hatch at a comic oon a few years ago and walked right past him and I would have swore he wasnt more than a couple of inches taller than me. He definately looks like he'd be more than 3 inches taller than 5'8 Rob in this photo as he's bending is head a bit. Is he possibly wearing lifts?
[Editor Rob: his footwear looked normal]
Sherrie
said on 25/Jan/14
5"11, I'm 5 "3 and he can rest his chin against my forehead. Besides he claims 5"11 and if that makes him happy who am I to argue?
lelman
said on 13/May/13
@Aragorn haha, bit over dramatic don't you think? You say 5'10.5 is acceptable, but 5'11 is a JOKE? It's half an inch, it's going to be pretty difficult to edge out half an inch from a photo in which both of the people are slouching.
If he stood up military straight, I could see 5'11".
Andy 185cm
said on 27/Jan/13
@Rob do u think he have any native american blood?
[Editor Rob: don't really know]
Aragorn 5'11
said on 15/Jan/13
I'd say he's 5'9.25 while slouching and 5'10.5 if he stood up straight. 5'11 is a JOKE for him! JOKE!
Stephen
said on 8/Jan/13
tallish guy 181 is ok
Marcus
said on 7/Aug/12
In scenes with Karl Malden on "The Streets of San Francisco", he appeared to be nearly two inches shorter than him. Since Malden was 6'0.5", Hatch would be 5'11" flat.
avi
said on 8/Dec/11
looks like he has close to 4 inches on Manum in the one photo but next to Rob solid 3 inches. did he have thick shoes on with Manum??
LUCOSO
said on 15/Sep/11
looks 178 in the second photo
Lena
said on 1/Sep/11
Wow, he is still cute. I had such a crush on him when Galactica was new...He has the same height as my husband. Best height for me!! :-)
Rampage(-_-_-)Clover
said on 18/Aug/11
With Rob about 5ft10(178cm), perhaps a sliver more with better posture. Beside Mamun looks exactly 3in taller, so the listed height does make sense
Legend
said on 15/Aug/11
5'10.5 in the pics
Dmeyer
said on 17/Jul/11
Rob did hé look 181er in person hé does look ní´ less with mamun with you its harder to tell major slouch hé has to be near 5'11
[Editor Rob: he still look near 5ft 11]
Dre
said on 24/May/09
He didn't look much taller than 5'6.5" Anne lockhart
Antonio
said on 24/Oct/08
There's something fishy going on. If Hatch is 5'11.25" (appears 6'+ in the photo), then I am 5'10" or 5'11" ... and I am not. I am close to the same height as Mamun claims, and in no way was Richard more than 1.5" taller than me, much less nearly 4" or more. Maybe I need a new tape measure!
Antonio
said on 15/Jun/08
I met Richard in an elevator, in the mid 80's. He was very friendly. We were both wearing topsider's at the time. He was a little taller than me and a lot better looking. He was no more than 5'9.5" or 5'10".
dmeyer
said on 1/Oct/07
since the guy is 62 to loose 0.75 in is pretty normal
Bob
said on 24/Jul/06
he's at the comic con this wkd and he's a solid 5'11".
CelebHeights Editor
said on 30/Jun/05
Caught this guy guesting in the latest incarnation of galactica. He is barely taller than Jamie '176' Bamber. Maybe he's shrunk a cm or 2 over the years...