Aaron Douglas Height
5ft 10 ½ (179.1 cm)
Canadian actor best known for playing Chief Galen Tyrol in TV series Battlestar Galactica. He also appeared in Dirk Gently's Holistic Detective Agency, The Bridge, Hemlock Grove and The Killing.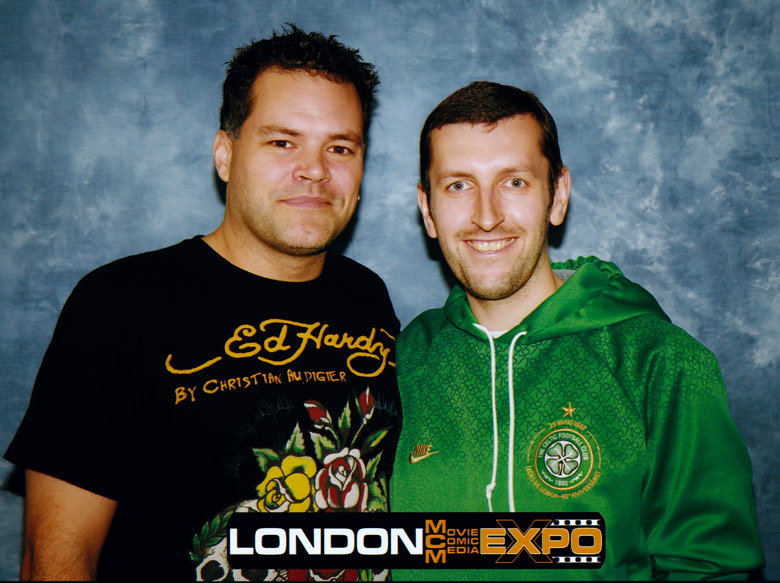 5ft 8 Rob and Aaron @ MCM Expo (24th May 2008)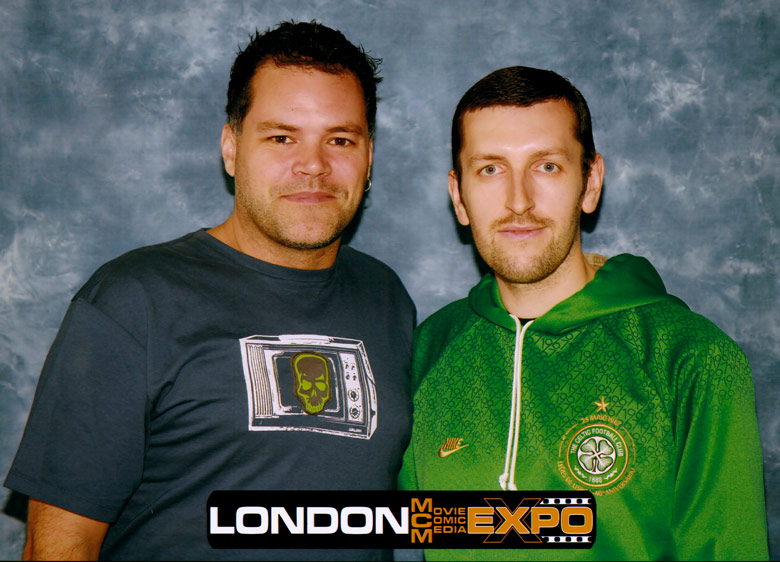 5ft 8 Rob and Aaron @ London Expo (25th May 2008)
You May Be Interested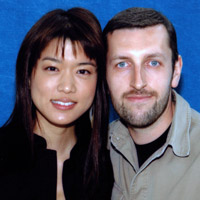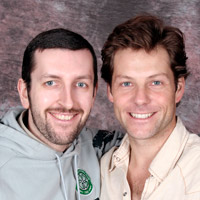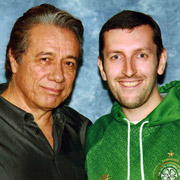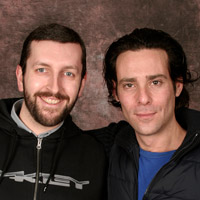 Add a Comment
42 comments
Average Guess (25 Votes)
5ft 10.64in (179.4cm)
Cathy Wu
said on 30/May/20
Hey Rob, why do some 179cm celebrities have a lower eye level than others? Is it because of their posture at the time of the photograph? Charlie Bewley seems to have at least 3/4 of an inch higher eye level than Aaron here in this photo

Editor Rob
Posture and raising eyes up or down effects things.
khaled taban
said on 26/Jun/18
Strong 5'10"
Bobby
said on 16/Nov/17
Is really that tall? His eye level suggests that he is, but his head size is deceiving.

Editor Rob
over 5ft 10
World Citizen
said on 24/May/17
Looks no more than 5 ft 10 flat.
Flyin
said on 13/Oct/16
Tbh my gap between myself and a strong 5'8 is normally a bit more than unless I'm wearing thin shoes vs trainers.
Dmeyer
said on 3/May/15
More solid 5'10.25
5'10man
said on 30/Jul/14
178 exactly, a flat 5'10. I'm 178 myself and he looks exactly how I do in comparison to 5'8 guys, a noticeable difference but not striking.
TJE
said on 19/Jul/14
I'm seeing 5'10.5? How was the footwear, Rob?

Editor Rob
within a few mm of each other
Ally
said on 2/Apr/14
5 cm difference
Bard
said on 19/Feb/14
Looks like
Matt Damon
lol. Think he's closer to 5'10.
cole
said on 29/Jun/13
Looks 179 in the pic to the left, and 178 in the pic to the right.
LG69
said on 6/Jan/13
The difference looks exactly like the difference between myself at 5'9.5" and my nephew at 6'0 even. I'd say 5'10.5" for Aaron. Rob, are you 5'8" even or slightly taller?

Editor Rob
5ft 8 and 2mm, that's what I drop to
fliper
said on 23/Aug/12
178.5-179 cm, not more in the pic
ChiasmataX
said on 22/Nov/11
He's not 5 feet 11 (180cm). He's 178cm guy. How do I know? well I am legit 178cm guy and with my legit 173cm friend my eye-level is about middle of his forehead just like what happened here in these pictures of a 178cm guy and a 173cm guy. Although there is a strong case for Rob being a 174cm guy though.
Triplescrew
said on 27/Aug/11
Looks about the same height as me, I'd say strong 5'10".
Mathew
said on 18/Jul/11
He really doesn't look much more than 178 - 179 cm here.
rob89
said on 23/Jun/11
No way a legit 5'11" next to Rob, 5'10" MAX. Actually he looks more like 177 cm to be honest.

Editor Rob
he ain't that low, but a under 5ft 11 a fraction is quite possible, there's another recent photo (ctrl+f5 to reload the image) with Jenny.
Dmeyer
said on 16/Jun/11
Dosnt look under 179
Alex
said on 4/Jun/11
No more than a 2.5 inch difference here. Looks just shy of 5'11 I'd say considering Rob could be like 5'8 1/4 in this picture.

Editor Rob
I'd probably be 5ft 8 1/8th really.

this is a typical event were I got up at 6.30 and out of my hotel by 7.30 to queue for about an hour. Then walking around with a backpack photos would be from 11.30-3pm usually, both those were around 2pm I think.

I seen the guy 2 months ago and he can look anywhere in the 5ft 10-11 range at times.
Rampage(-_-_-)Clover
said on 31/May/11
5ft10.75 tops
dmeyer
said on 30/May/11
5 ft 10.5 5 ft 10.6 bang on
Rampage(-_-_-)Clover
said on 30/Apr/11
179cm(5"10.5) is nearer
Jonathan Doan
said on 16/Mar/11
Met him several times, stood next to him, and I'd say he hovers between 5'11 (my height) and 6'.
James
said on 23/Feb/11
does not look over 178cm with rob
voicelessdentalfricative
said on 16/Feb/11
I'm seeing about an inch and a half
Dean
said on 1/Feb/11
178-179 rather than 179-180 in my opinion
James
said on 26/Jan/11
yeah 5'10.5.
reportttttttt
said on 31/Dec/10
wow that is not a 3 inch difference not even close, 1.5 inches at most. id say hes like 5'9.75
J.J.
said on 29/Jun/09
more 5'10.25" in this picture
ZAQ
said on 22/Jun/09
ROB what is wrong with you,
i dont see a 3 inch difference here
3 inches would mean your eye level coming up to his lips
he's got more then 1 inch but less then 2.5 inches on you
I would say
5'9 1/4 minimum and max is like 5'10 1/4
i would put him more around the 5'9 1/2 mark
rob89
said on 7/Jun/09
Looks 5'10 tops
Maribel
said on 5/Mar/09
Looks about 5-9.25 and Rob is slouchin a little. Maybe 1m80 in footwear like Lego said. Need to downgrade him.
dural
said on 25/Jul/08
I also think 5'10.5" could be more accurate.
Alex
said on 14/Jul/08
A weak 5'11 seems more accurate. 5'10.5-5'10.75. Doesn't look a full 3 inches taller than Rob.
Jake
said on 12/Jul/08
From the top of his head to Rob's is barely 2 inches gap. I think he's 5'10 sharp and 5'11 with his shoes. Rob, it's funny how many folks love to state their height in shoes as their normal height...kind of gives them a buzzz.
Alex
said on 10/Jul/08
I'd say at least 5'10, and likely 5'10.5.
Lego
said on 7/Jul/08
5'11 to 5'11.5 in shoes, 5'9.5 to 5'10.5 no shoes.
Lynn
said on 7/Jul/08
OK,
in the pic he is 5-6 cm taller than you, Rob.
Jake
said on 6/Jul/08
Looks about 5'10 (in the morning). About 5'9.5" to 5'9.75" on the usual day.
Marcel
said on 6/Jul/08
179cm sounds more correct I think.
TNTinCA
said on 6/Jul/08
Appears 5'10" in the left photo and maybe 5'10.5" in the right photo.
Anonymous
said on 7/Nov/07
He looks way shorter than that height on BSG. Maybe because he doesnt have a strong build, but I would guess 5'10.