British Singer. In 'The Record' in 2004, she mentioned that
"I'm not even 5ft"
and in a Daily Mail (2015) quoted saying
"I hate confined spaces, especially crowded rooms. It's mainly to do with being little. I am 4ft 11½in, so I am always 'down there' when everyone else is way above. It feels horrible and I start to perspire and get breathless and I have to get out of there. I am the same in a packed lift."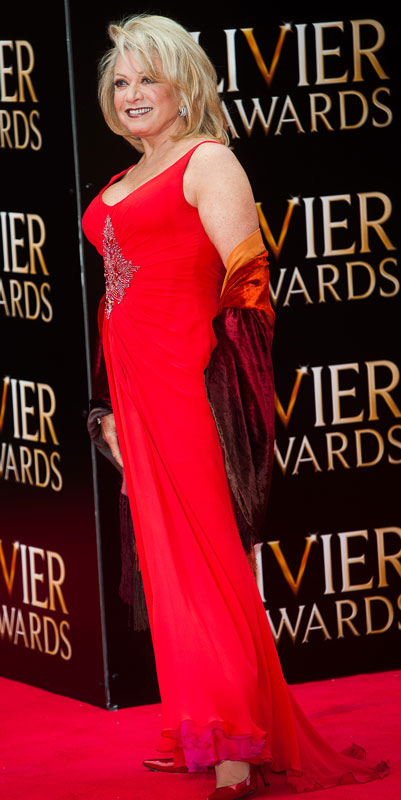 Photos by PR Photos
Sandy Cowell
said on 22/Apr/23
I never thought I'd see Elaine starring in an episode of Tales of the Unexpected, but I just did; she played a naughty, plotting girl as well!
I believe her male co-star was 5ft7, so he looked tall next to Elaine.
@ Leesheff85 - I read 5ft5 for Barbara Dickson in the 70s.
Elaine gets 4ft11.5.
Leesheff85
said on 19/Jan/23
Rob how tall would you say Barbara Dickson was compared to Elaine?

Editor Rob
Could be near 5 inches between them
Comentarista
said on 31/Aug/22
151cm
Sandy Cowell
said on 4/Jan/17
@ littlesue - Hi! I am not brave enough to have ever gone to a football match like you have! I'm far too much of a chicken! One side has to lose, so there is always the possibility of violence!
I have been an avid fan of rock concerts though, and yes, throughout my long history of attending these, I have to admit that being young, pretty and short will bring out the protective side of many a friendly male rock fan! You have to be careful though, that there are no ulterior motives, but the people who tend to go to these concerts tend to be peace-loving and music orientated before (hmm!) anything else!
The last concert I went to was in 1998. I don't know if I'd be so enthusiastic now, and I certainly DON'T think that male fans would be very gentlemanly to someone passed her prime!
But that's life! I have loads of concerts on DVD's and even more CD's, so I never feel deprived on the music front!
Happy New Year to you littlesue!
littlesue
said on 3/Jan/17
Can relate to that too, I'm even shorter than Elaine, crowds awful to be in as everyones back in your face, used to hate staning at football matches or gigs as you need to be on the front row or you see nothing. The good thing being small and gigs was, when I was young and prettier, some bouncer would always pull me out the crowd and take me down the front. Alas those days long gone, lol
Sandy Cowell
said on 2/Jan/17
Yes, I read about Elaine's dislike of being in crowded lifts fairly recently - definitely last year!
I have some 1-and-a-half inches on her and I can still understand what she means.
Queues are also a misery as you can often lose your place or, even worse, someone backs into you, looks round - and sees nobody!
M
said on 5/Dec/16
Second @M please do not use ny nick any longer.
LaurA Hodge
said on 28/Nov/14
What? This isn't real. Who's even 4'11"? What!? Freak. No, just kidding. I'm really nice.
M
said on 18/Oct/12
I don't think she's even 151 these days, although she still says she is 4 ft 11.5 in. But as you know, women shrink with age. I've met her a couple of times and she's so petite, really tiny. Everyone knows she's short but you won't realise how petite she is until you stand next to her. <3 her! Fantastic singer and actress.
Evanna
said on 3/Dec/07
Sorry, I'm a pianist & musicologist, completely useless I'm afraid...
Evanna
said on 3/Dec/07
No problem Rob, always happy to help :)

Editor Rob
happy to help eh? You're not a plumber or tax advisor by trade now ;) I could do with some help at the mo...
Evanna
said on 2/Dec/07
Oooops Rob you did it again! Listed li'l Elaine twice. Gotcha! ;)

Editor Rob
thanks for freeing up another page.