Elvis Costello's Height
5ft 9 ¼ (175.9 cm)
English Singer/Songwriter.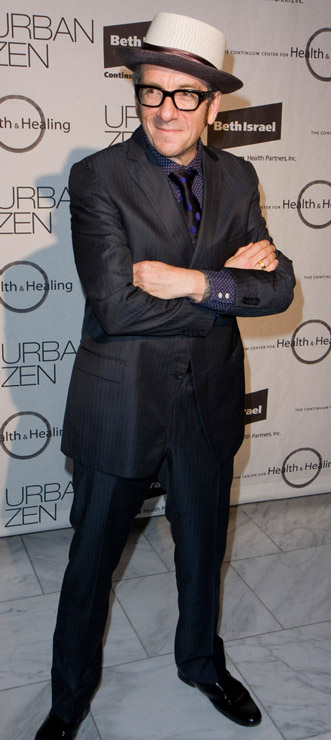 Photo by PR Photos
Add a Comment
17 comments
Average Guess (6 Votes)
5ft 9.17in (175.7cm)
HEIGHTAN
said on 20/Sep/19
Met Elvis in Nashville last week. 5'9" is spot on

Editor Rob
I was about to delete this comment before I looked at the page it was being submitted on ☺️
avi
said on 7/Jul/17
@Rob
Thanks Rob.
When you get a chance could you give me your estimate?
If you type in Elvis Costello and Nick Lowe there's a YouTube video where they are standing face to face for at least 5 mins. Problem is Costello has a hat on so I feel it is harder to judge. There's a lot of Adam Corolla and Nick Lowe but at almost 70 Lowe could be down an inch. Id say 6'1 peak but these musicians may wear boots with thick heels so hard to say. I think Costello at 5'9 is fair maybe was 5'9.5 30 yrs ago.
avi
said on 6/Jul/17
@Rob
Rob, how tall do you think the singer Nick Lowe is? I think around 6'1ish maybe?
Editor Rob: never really looked at Nick sadly.
Francine Smith
said on 5/Mar/17
Rob, I've been following Elvis since 1978 and he's never looked over 5'8" !
Moleman
said on 12/Aug/14
He looks an inch taller than his wife Diana Krall who's 5'8.75".
Sam
said on 7/Aug/14
It is possible, now that he's in his 60s, that Costello is starting to have a fraction of height loss and is more of a flat 5'9" at best.
Sam
said on 9/Apr/14
I thought Elvis looked within a half inch of Paul McCartney, which reinforces to me that McCartney topped out at 5'9.75"-5'10" (as did, by extension, Lennon), not a strong 5'10.5".
avi
said on 8/Apr/14
@Arch Stanton says on 29/Mar/14
Yeah I'd guess Costello at 5'8.5" actually.
agreed. possible weak 5'8 now. james taylor is 6'3 but i doubt he is more look at him next to Elton John he may be 6 inches or 7 bigger tops. but yeah Costello is similar to Elton John now
Sam
said on 3/Apr/14
One of the Attractions was definitely taller than Costello but considering how Costello's not tall, the guy could be like a strong 6'1" or near 6'2".
Arch Stanton
said on 29/Mar/14
Click Here
James Taylor really looks nearer 6'5" there than 6'3". Costello's legs and posture are not full but you can see he'd be barely taller than Elt. If you looked though he is taller than Furnish who I always thought was about 5 ft 8. Maybe Rob's right on 176, but James Taylor, even though slightly nearer the camera with Stallone like posture looks taller than 6'3" to me.
Arch Stanton
said on 29/Mar/14
Yeah I'd guess Costello at 5'8.5" actually.
Sam
said on 28/Mar/14
Yeah, "tall" is ridiculous for Costello, I can't remember where it said it, perhaps that he gave a tall impression because of his lean build. I see that James Taylor has a head over him and he looks barely taller than Elton John. I believe there's a photo where he's similar in height to Paul Rudd and I saw Rudd in person at around 5'8.5".
Brad
said on 27/Mar/14
5' 8" at most at Bleeker Bob's next to me in '82 in NYC, huge neck.
Arch Stanton
said on 26/Mar/14
@Sam. See him next to 6'3" James Taylor!!
Sam
said on 26/Mar/14
I wouldn't guess under 5'9" for Costello. He can look close in height to 5'10" range claiming guys (but a lot of those are probably rounding up). Like David Bowie, I swear I used to read descriptions of Costello as "tall", haha.
Arch Stanton
said on 26/Mar/14
Nice one Rob! He can look a bit shorter at times though.
the shredder
said on 25/Mar/14
I use to see 5'8 listing.