Emily Dees-Boulden's Height
5ft 7 (170.2 cm)
American TV personality, who appeared on TV shows Pretty Wicked Moms and Get Swank'd. She once said of her height,
"I'm 5' 8"ish...really 5' 7""
.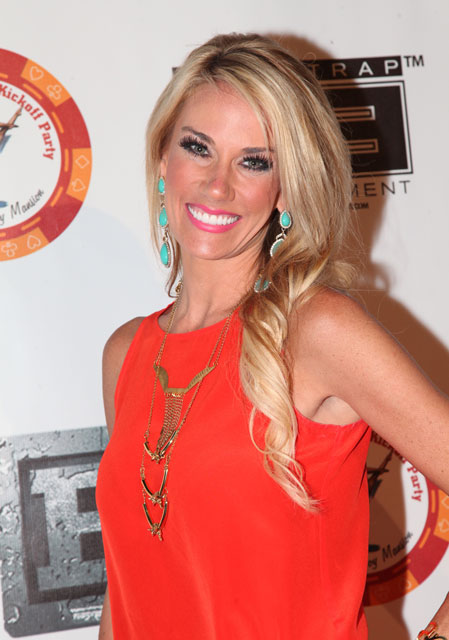 Photos by PR Photos
Add a Comment
10 comments
Average Guess (10 Votes)
5ft 6.78in (169.6cm)
Iman Ahmad
said on 12/Jan/20
I Guess She Is 170,2 cm Barefoot , A Quiet Lovely Woman ,
Milinaka
said on 16/Dec/17
Perfect height for a girl.
Nik
said on 9/Dec/17
@ Sandy Cowell - Hi!
Yes, I agree that the sight of Emily is truly breathtaking. As well as being beautiful, and of course I include her smile as a big part of her beauty, I like her teeth, earrings, and her name too! I don't suppose there are any bad photographs of Emily but the one above is amazing!
Life has been really cruel for Livielia and you do right in making a big fuss of her to help ease the pain a little bit, you are also right in that some new kittens would give her a lift in the future as they would be able to play her favourite game with her and Livielia is young enough to love the vibrancy of such young cats. They would be able to enjoy years of friendship ahead of them with Livielia.
It must be great to see Livielia climb a christmas tree, I bet you will go and give her a stroke or a hug when she is doing this. You will also gladly pick the baubles back up and put them back on the tree!
Well, Rob and Jenny will be back in South Glasgow and probably asleep in bed right now with it approaching 11:00 pm! I hope they enjoyed their holiday too, but Rob (bless him!) still moderated for us even when he was away, I would do the same if I was lucky enough to run a great website as I admire the dedication that Rob puts into celebheights!
Cheers to you both!
Sandy Cowell
said on 7/Dec/17
@ Nik - The sight of Emily is truly breathtaking, I couldn't agree more with you Nik, that she has beauty in abundance! Just look at that delightful golden ringlet which is draped down her shoulder and that magical smile!
The only cat who regularly climbs the Christmas tree now is Livielia, though Porkypine does sometimes join her. Peelio, who as you will remember, was run over this year, was Livielia's best friend and they were a double act when it came to the tree! They were the same size and colours and poor little Livielia misses her so much. Then that poor cat lost her sister, Manelia, so if she chooses to climb the tree a bit, she is welcome! I feel so sorry for her to lose the two cats closest to her. I'm going out of my way to make a special fuss of her now. Fate is so cruel, isn't it? She use to play 'bundles' with Manelia, and though half Manelia's weight, she gave as good as she got! She also played 'bundles' with Peelio. She misses all that! Perhaps if we did get a couple of kittens, she would benefit the most because she would have another cat tiny enough to play her favourite games with - at least for a while - but then I'm sure they'd stay firm friends once the kitten or kittens, are grown up. We'll have to see what develops.
I bet Rob and Jenny will enjoy all that again, after losing Sookie so sadly last year. Rob - I hope you two had a lovely break just now; you came back today, didn't you? Holidays are such an investment in our health and wellbeing, that's for sure!
So I'll bid you bye bye for now - that's you Nik, Rob, Jenny and everyone who chooses to read this! 🙋🙌🙆
Cheers!
Nik
said on 6/Dec/17
@ Sandy Cowell - Hi!
Well, your cats are sneaky then if they climb up the back of your Christmas tree when you are not looking! That's animals for you!
It must be a great sight, if it wasn't for continually having to put the baubles back up on your Christmas tree!
It would make a lot of sense if "bees knees" was derived from the term "the business", yes, "beez kneez", "biz niz", I can see where you are coming from!
Finally, Emily seems unsure about being 5'8" and confirms this by admitting that she is 5'7", but she needn't worry because beauty comes in all sizes, and she has that in abundance!
Cheers!
Sandy Cowell
said on 4/Dec/17
@ Nik - Oh, the cats don't climb the tree when I am looking! Well, not very often, but it does happen! Livielia, who is as crafty as anything, climbs the BACK of the tree if I am in the room, though sometimes there's a scuffling noise, loads of baubles fall down and then she shoots out of the lounge door, with a 😹🎄souvenir bauble in her mouth!
As for the expression 'bees knees', I have a feeling that it could have developed from the term 'the business'! It's just a feeling of mine; a hunch I have!
Finally, I thought what you said about girls of ALL heights being pretty was absolutely great, because it's perfectly true! Being attractive doesn't go hand in hand with being tall and I'm delighted you pointed that out! It's down to something special and unique about the individual, regardless of her height!
Nice one Nik! 👍
Nik
said on 3/Dec/17
@ Sandy Cowell
I think that the really part of what Emily has said makes me think she is 5'7" and not 5'8"! This is still a fantastic height for girls who want to be tall and every bit as good as being 5'8", she is very pretty too but that comes with girls of all heights! I like the expression bees' knees! The girl in your class at school was probably taller than the average boy, this is good to see!
You have a great weekend Sandy! It must be a great sight to see cats climbing up a christmas tree, so Rob and Jenny, this is what you have to look forward to!
Also lets hope Rob and Jenny enjoy their holiday!
Cheers!
Sandy Cowell
said on 2/Dec/17
@ Nik - It's a fantastic height for a taller girl, I couldn't agree more! The last class I was in at school contained a girl of this height, with gingery-blonde hair and a svelte figure! She really was the bees' knees! 🍺🐝😉
Have a lovely weekend Nik - and your Mum, too! I put my (first!) Christmas Tree up this afternoon! 🎄 Livielia has been in it already and knocked a couple of baubles off! Rob and Jenny have all this to look forward to next year! 😹🎍👍
Jaffa 🐝 sends his regards, as does Twitty! 🐦
Nik
said on 1/Dec/17
@ Sandy Cowell - Hi!
I think she is saying she is 5'7", which is a damn good height if you want to be a taller girl!
She gets 5'7" - 5'7.25" from me!
Have a great weekend mate!
Sandy Cowell
said on 29/Nov/17
Ah, well! The "I'm 5ft8ish... really 5ft7!" is another way of saying that she is 5ft7, hopefully a dash over, but wishes she was 5ft8!
That's fine and understandable! It just proves that even 5ft7ers wish to be a bit taller, though the way I see it, 5ft7 is a superb height for a girl! Are we ever satisfied? Of course not!
I will go for 5ft7.25 for the mega-pretty Emily, just in case there's some truth in the '8ish' bit... on a good day!