Emmett Skilton's Height
6ft 3 ¼ (191.1 cm)
New Zealand actor best known for his role as Axl Johnson on TV series The Almighty Johnsons. He is listed 191cm on his agency and on Twitter said
"I'm 6'3" but look about 8ft compared to the shorter gentlemen I work with"
.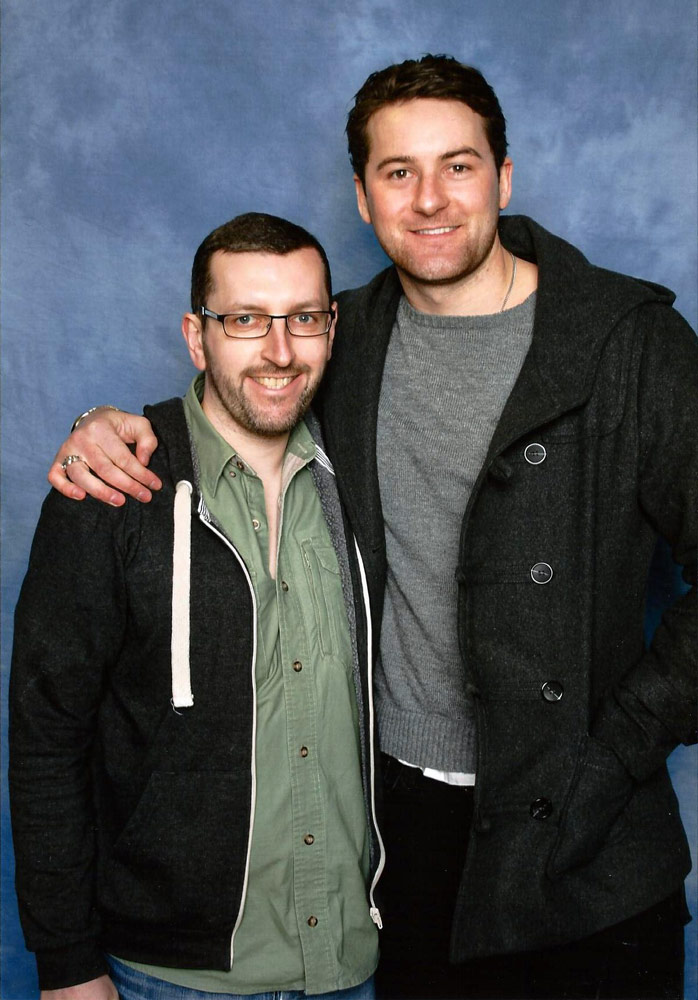 5ft 8 Rob and Emmett @ Collectormania 2013
You May Be Interested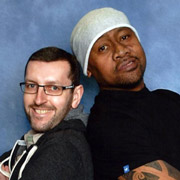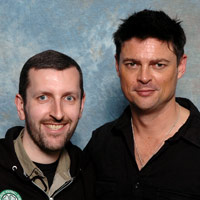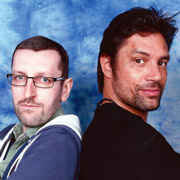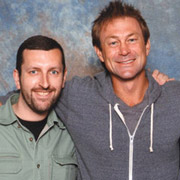 Add a Comment
42 comments
Average Guess (16 Votes)
6ft 3.22in (191.1cm)
Rampage(-_-_-)Clover
said on 3/Apr/21
looks much taller than Jonah Lomu does with Rob
RJT
said on 1/Dec/20
Wasn't standing in perfect straight pose yet Rob's tophead already under his nosetip.
191cm is easily his low, give taller impression than even Levi did.
Andrea
said on 14/Nov/20
Your tweet must have gone to his head! 😆

Editor Rob
What's interesting is that the agency also represented John Rhys Davies and he was put down as
180cm
, maybe an acknowledgment about losing height.
Andrea
said on 13/Nov/20
190-1 is feasible beside Rob, but certainly no more though.

Editor Rob
I don't know when, but his agency did boost him up from 191cm to
193cm
.
When I once mentioned Skilton on twitter years ago being an example of solid 6ft 3 he did like the tweet!
OriginalAnon
said on 10/Nov/20
My first impression from the photo was that he could be a 193cm guy. He is certainly as tall as the listing, if not more.
Hyper
said on 26/Oct/20
Fine listing.
Weirdly enough, Rupert Young gives a taller impression than this guy.
Jordan87
said on 15/Jun/20
6'3" , Honest with his height.
Yang (5 footer 8, 173, Aries)
said on 20/May/20
Agreed with Nik. Legit 6ft 3 tall guy...
Onabill Choudhury
said on 2/Jun/19
He looks like he is 6 ft 3 1/2, he may be listing himself via his Night height instead of his mid-day to afternoon height
Nik
said on 22/Nov/18
He does look a strong 6'3"!
VelikiSrbinn
said on 18/Nov/18
Really? Only 6'3? He looks way taller than people you have listed at 6'3 here. Or maybe it's just an illusion :D

Editor Rob
Emmett says 191cm and looked around that in person.
Jdubbz
said on 17/Nov/18
Strong 6'3. Better listed than the vast majority of "6'3" guys on this site.
Jordan87
said on 17/Sep/18
If he is dropping posture I can see him at Solid 6'3. He said 6'3, so he may be one of the rare ones that doesn't have " Height Insecurity".....which many taller people have as well oddly enough.
Junior Hernandez 1990
said on 5/Sep/18
Emmett look alot like a decent 6'3 in The Making of the Mob.
heelshealheight
said on 7/May/18
This is by far the most honest comment I've come across regarding a celeb. Emmett Skilton pretty much sums up the appearance vs reality situation in the entertainment industry. Most female and male celebs are below or average height. The genuinely tall women/men constitute a severe minority. Therefore, when you see a woman who's over 5ft9 or a man who's over 6ft3, they look as if they're giants. In reality, however, they're just surrounded by petite or average height folk. To reiterate, Skilton's spot on with that comment of his. Needless to say that he's of the very few celebs who's honest about his height and doesn't resort to ludicrously inflated height claims as most celebs do due to their unlimited narcissism and egocentricity.
Dream(5'9.5
said on 1/May/18
He looks an easy 191 cm guy.
Listing is perfect.
Nik
said on 6/Apr/18
He is at least said height!
Redwing
said on 3/Apr/18
Thanks brother!!! Judging from that pic tho hmm that looks very close to 6 cm.
Redwing
said on 29/Mar/18
Hey rob, could you pls do a comparison pic between Mark selby and emmet?

Editor Rob
Junior
said on 5/Dec/17
So Ben Barrington must be 6'4.75"?

Editor Rob
I don't know if he would be that tall and rounding down to 6ft 4.
Canson
said on 20/Nov/17
Agree with Christian this is a good 6'3" similar to Vernon Davis probably
Christian-6'5 3/8
said on 20/Nov/17
Worst case for him is 6'3" flat
Jordan87
said on 17/Nov/17
He does look a good 6'3" there with Rob.
Christian-6'5 3/8
said on 28/Oct/17
This guy's an honest 191cm, he doesn't look less than 6'3.25"
Rampage(-_-_-)Clover
said on 2/Mar/17
Similar look to Adam Baldwin
TheReel
said on 28/Feb/17
Yeah he is a extra tall guy he's tall tall as my mum would say, I was at my my nieces christening in Germany, my mum commented on this 6'3" guy "look he's tall like you" but i'm two inches taller at 6'5!, 6'3-6'5 is the best heights in my opinion
Redwing
said on 23/Jan/17
He starred with Ben Barrington the guy whom I told you about should look them both up there's pictures of them together while in there scenes lol Ben Barrington looks 193.5-5 cm tall with skilton. I've also legit seen Ben Barrington the show Shortland st films up the road from where I live though I stayed in the car.
Andrea
said on 5/Dec/15
Rob, he confirmed to be 6'3 on Twitter:
Click Here

Editor Rob
I'll add that quote as well to the top thanks.
Big T
said on 5/Dec/13
Thanks Rob! Pretty pleased I had Lomu pretty spot on. Apart from watching him on TV I met him in person a couple of times, once when I was a kid and once when I was an adult. I remember even as a kid I was a bit underwhelmed.
Big T
said on 4/Dec/13
By the way, how does this guy Emmett Skilton qualify for this site? Do New Zealand shows like The Almighty Johnsons have a following overseas? I just thought it was a crappy local production.

Editor Rob
I think he's worth because he looks the height he claims, ok the show was small scale, but he could go onto other things.
Big T
said on 4/Dec/13
Rob, I'm really interested in how tall you think Lomu is! I've been arguing for years that he is really around 6'3" or 6'3 1/2", I think I have made this argument on the Matt Dawson page on this site. When he played rugby he was certainly never close to the height of the locks at the time, who were Robin Brooke (6'5") and Ian Jones 6'6".
Lomu was a phenomenon anyway, 260-265lbs of muscle and could run like the wind. I'm not sure what the point of the gratuitous height exaggeration was?
I'd love to hear your estimate of his height.

Editor Rob
Lomu really is in 6ft 3-3.5 range. I never saw him in person appear as a guy who was 6ft 4 let alone 6ft 5!

I'm curious how the 6ft 5 got out there and stayed over the years...maybe they thought they'd add a bit to his height at the start of his career to make him more feared.
Balrog
said on 2/Dec/13
Rob who appear taller, Emmett or Zachary Levi?

Editor Rob
both looked pretty similar range, I don't think without measuring you could tell apart!
Balrog
said on 27/Nov/13
So slight footwear advantage, the listing is perfect to me, solid 6'3" guy.
Josh B
said on 26/Nov/13
Using my investigative powers, my guess is it was Jonah Lomu that Rob met and laughed at his claim :P

Editor Rob
of course it was :) But he's 6ft 5 though...just don't call him under 6ft 4!
Lo sgozzatore
said on 26/Nov/13
xD I doubt they're reading us now and i don't think they could get angry just because you don't believe their claims

Editor Rob
to be fair to one of them, they did have health issues over the years so maybe it's best not to add him to the site and let him slide into history as being 196cm tall...
Josh B
said on 26/Nov/13
Rob, which event was this?

Editor Rob
just under 2 weeks ago at the MK Dons collectomania.
Lo sgozzatore
said on 26/Nov/13
How tall were these guys who claimed 193 and 196 in reality? Under 190? xD

Editor Rob
they are both tough guys you wouldn't want to get on the wrong side of, so maybe I'll spare their blushes just now ;)
Balrog
said on 25/Nov/13
Rob, what about footwear? He for sure is looking a strong 6'3" here... Maybe even pushing 192cm don't you think?

Editor Rob
I have 0.75 sneakers, his shoes looked just a little more, like almost 1 inch.
Lo sgozzatore
said on 25/Nov/13
6'4.5-6'5? This is pure madness, Rampage...
You're probably under 6'3.5 if you look shorter than this! This guy actually does look shorter than the measured 6'3.5 guy! I can buy 190-191 but not over (just looking at this pic since i don't know him actually)

Editor Rob
it is madness, he is what he says 191cm and seems an honest New Zealander when it comes to height - 2 other New Zealand people were at this event and both have claimed 196cm and 193cm respectively, and both made me laugh at their claims!
richkid123
said on 24/Nov/13
tall goodlooking guy
Rampage(-_-_-)Clover
said on 24/Nov/13
I'm 6ft3.5in in the evening and I'm almost certain that I don't look that tall next to a 5ft8in person unless I'm in thick heeled work boots or dress shoes. This dude clearly looks about 6ft4.5-5in.
Rob, what were his shoes like?
Pedro
said on 24/Nov/13
He is listed in his agency at "191 cm". So this estimation seems like exactly right:
Click Here