Jonah Lomu's Height
6ft 3 (190.5 cm)
New Zealand Rugby Player best remembered as one of the most feared and best players in the game. He was regularly described as a 6ft 5 mountain of a man and on his official site was listed as standing 1.96m, with a weight of 125kg (275 pounds) and chest size of 46 inches. This photo (by Duncan) was from a 2013 Showmasters event.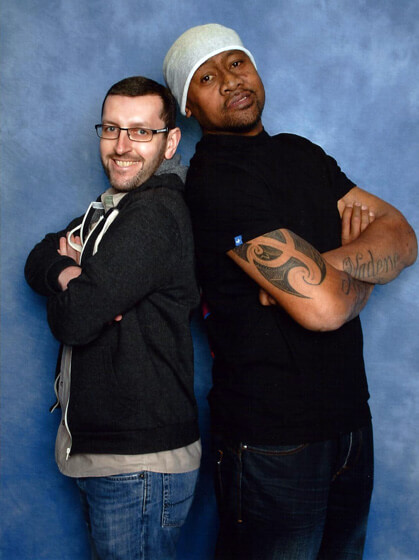 5ft 8 Rob and Jonah Lomu (1975 - 2015)
Add a Comment
89 comments
Average Guess (18 Votes)
6ft 3.19in (191cm)
6'3 Julian
said on 27/Aug/20
Speaking as a fellow rugby player, people tend to think we're bigger than we are because we tend to be big muscular guys. I weigh 216 pounds at 6'3. Some of my mates wouldn't have me at anything less than 6'5 250
6'3 Julian
said on 26/Aug/20
Even at 6'3 (which does seem low for him) he'd have been 6'5 in rugby boots. I know the exact length of studs depends on the brand, but I also know I get 2 inches from my studs and measure 6'5 in them
OriginalAnon
said on 13/Aug/20
He honestly looks like he is 187cm in the photo. I am surprised. I know nothing about rugby but I thought he was some 6'5'' massive guy.
Jordan87
said on 30/Apr/20
Solid 6'2-1/2"
KingOfTheRing
said on 24/Sep/19
@Dai Roberts
Mandela was 6'0".
KingOfTheRing
said on 25/Jul/19
You have to remember that Lomu battled a serious kidney illness since 1995 to 2015, which would have had a great impact on his height, particular after his surgeries. If you look at pictures/videos of him in his prime, he towered over most of the other players on the pitch, guys who were well within in the 6'0"-6-2" range. He was easily a legit 6'4" in his prime, and would have measured 6'5" in his boots, hence his listing. His coaches from his teenage years said that he measured 6'2"-6'3" and weighed over 90kgs during that time and he hadn't stopped growing at this time. Around the time of his death, he would have been around 6'2"-6'3", but in his prime he was nothing less than 6'4".
D Devereaux
said on 21/Mar/19
Jonah was 6,4. I trained with him 2006. At this time he was 191-194cm. Big fella
MAD SAM
said on 30/Jul/18
That's a 6'3" or a 1.9 metre body frame
Yht
said on 28/Apr/18
If he lifted his head more backwards he could look even more shorten than he actually is.
Poor guy struggling to look taller.
Dai Roberts
said on 10/Apr/18
How tall was Nelson Mandela because they shake hands before 95 RWC Final and he had about 5 inches on him. Francois Pienaar, who is around 6ft3, receives the trophy off Mandela at the end of the match and he doesn't have as much height advantage as Lomu
Rampage(-_-_-)Clover
said on 8/Apr/18
He looks like he's struggling with 6ft2 in this photo!
Miiiiiiighty_-
said on 24/Mar/18
ps : He didn't have a 46 in chest he had 50 in chest, 21 in neck and 29in thighs in his prime ( at 260lbs BW in 1995 )
Miiiiiiighty_-
said on 24/Mar/18
He lost a LOT of height in the late stage of his career/life...
You can see it by looking at his height relative to other All Blacks during anthems or with other international players in pictures before/after games.
Also I personally saw a pic of Jonah and a friend who played with him in Marseille about 10 years ago and I was actually shocked at how tall and big he still was.. He was towering my friend who is 6'-6'0.5.. No way he was under 6'4 prime.
Also rugby is one of the rare sports where players seems to be measured properly 99% of the time. I've met countless of them ( I live in Toulouse ) in and not even once did a player look " smaller " than his listing.. I was actually the opposite : several times I met players that were significantly taller than their "official" listings..
I'd say 1.93-1.94 prime and 189ish in the end when his body completely gave up on him..
( You can seen there is a big difference using pics with other players like Mehrtens in his prime and later years ) ..
capta
said on 11/Dec/17
Flat 187cm
hardguy
said on 29/Sep/17
looks so short in the picture, same as the rock imo ivbfim2,2
hardguy
said on 29/Sep/17
6ft 3.08in (190.7cm)
Jessman
said on 11/Sep/17
SBW always looked minimum 6'3 to me, can look weak 6'4. Itoje looks 6'5 and is about one inch below Kruis and two inches below legit 6'7 Courtney Lawes in most pics I've seen. I think 6'4 is too low for Itoje. His build - not gangly - can disguise his true height. Towering is a term applied to most second row forwards as they are usually 6'6 and more at international level. Itoje is one of the shorter second rows out there. Super player mind.
Ziggie
said on 9/Sep/17
lots of over inflated heights out there especially athletes, don't think SBW is over 6'3" just looking at some pics online, and Maro Itoje described as towering second row, looks tall but standing by 6'6" George Kruis doesnt look over 6'4"
Ronnie
said on 26/Aug/17
Hey Rob, can you please get heights for Sonny Bill Williams and Rieko Ioane? They are both All Blacks rugby players and There is a photo of them together on SBW's instagram and they look exactly the same height, but SBW is listed at 6'4 and Reiko is listed as 6'2.5. Cheers
Ps. SBW height has been bothering me for years because ive never met him and people say hes tall but idk how tall
berta
said on 22/Aug/17
well maybe its just me but in this photo i cant really see more than max 189. mybe its just the photo. based on photo i would have said fraction over 188 maybe
kadkid
said on 6/Aug/17
there is no way he could reach over 6'4
peak height is 6'3
Jeany
said on 8/Jan/17
Im probably the most knowledgeable here, i am a huge Lomu and rugby fan. I lvoe doing the comparisons, and if you look at Lomu in the rugby lineups, he towers over 6foot 2 rugby players. Prime Lomu would be around 193cm, 6ft 4. Also, why does the official height on the site have him as 6ft 3?
JEANY
said on 8/Jan/17
Im probably the most knowledgeable here, i am a huge Lomu and rugby fan. I lvoe doing the comparisons, and if you look at Lomu in the rugby lineups, he towers over 6foot 2 rugby players. Prime Lomu would be around 193cm, 6ft 4.
Jordan87
said on 9/Dec/16
6'3" Yes but i'm not sure about the 275?
Rampage(-_-_-)Clover
said on 6/Sep/16
Rob, could McCaw be 6ft2?
Editor Rob: yeah he looks it
Borats Chicken
said on 27/Aug/16
Rob, possible that richie mccaw could be 190? looks even with prince william
Editor Rob: I don't think he is quite that tall, but then it is true he didn't look much different than William.
Peter 179cm
said on 24/Aug/16
Clearly nowhere near 196...189cm max so not even a legit 6'3
Arch Stanton
said on 12/Aug/16
John NZ said on 11/Apr/15
Rob Jonah is considerbly sick and has had a fair share of back troubles, its a shame you don't realize how that has affected him physically. It would be fair had you met him in his prime you would see he was a lot bigger and athletic than what he is now. This is unfair on Jonah a Legend of Rugby.
[Editor Rob: he's aged 37 here. If he's nearer to 6ft 2 today it would be a good case of someone in their 30's losing height...]
It's like with Lundgren, people think of guys like Dolph and Lomu as giants, and it really hurts the fanboys when they realize that their idols are only moderately tall in reality. That said peak Dolph was obivously a strong 6'4, Lomu I'd thought could look that peak but I'll trust Rob's judgement!
Odinson
said on 31/Jul/16
How tall did he look to you celebheights? 192 cm?
Editor Rob: at most 6ft 3 that day, not as tall as 192-3 zone.
jajamen
said on 17/May/16
Rob, was he the best rugby player you ever met?
Editor Rob: yes, but I've not met many really...
Hannah
said on 7/May/16
Hi Rob, how tall does Sonny Bill Williams look at a glance?
Click Here
Around 190cm and 230 pounds possibly?
Editor Rob: it's a lot easier to use one name than 7...

as for that player, he can look 6ft 2-3 range.
Aza
said on 30/Jan/16
Jonah's peak was 6'4 no question....maybe more.
Ian from Auckland
said on 31/Dec/15
Jonah's now unfortunately passed-away, here in New Zealand. I stood next to him in a shop (for some time) back around 2000. At the time his height was advertised as being 6'5 1/2" - I didn't think he was that tall, he appeared around 6'4" (I had a work colleague of very similar height and build to compare him with) but I wouldn't have put him as anything less. He's a great loss.
Mike
said on 19/Nov/15
6'3.5 in his prime. The 6'5 is probably with his rugby boots on. Not sure whether he lost height.
Big T
said on 18/Nov/15
I find this kind of interesting....a recent photo of Jonah with 6'3" listed Joeli Vidiri (who has had similar health problems to Jonah) and 6'1.5" listed Tana Umaga. It's not a perfect photo but it's not bad...and it basically looks like a 6'1 and change guy with a couple of 6'3ish guys
Click Here
Here's a photo of Jonah and Joeli standing back-to-back in their playing days. Again, not a perfect photo but it appears they are posing that way for some sort of news story or something. My sense from this photo is that Jonah is distinctly (if not significantly) taller than Joeli. Certainly that's how I remember it from their playing days.
Click Here
It's not perfect, but I think it's another piece of evidence to suggest Jonah lost height even compared to another guy with serious kidney issues. My recollection is he was always at least a good inch taller than Vidiri in their playing days and yet post-retirement Vidiri was almost edging him out.
Big T
said on 18/Nov/15
Here's Jonah with rapper The Game, listed 6' 3.5" here.
Seems to suggest the listed heights for these two are about right. Game is every bit of 6'3.5", Jonah was around 6'3" or maybe a hair less- at least later in life.
RIP
Click Here
bigman77
said on 17/Nov/15
RIP legend.
Rampage(-_-_-)Clover
said on 21/Oct/15
I don't think 6ft4 peak is that hard to believe actually. Probably around 6ft5 in rugby boots and got listed at that.
Chase Witherspoon
said on 7/Oct/15
I haven't met the man to verify it, but I did think he always had poor posture, rounded shoulders, crook neck which probably cheated him the height he claimed, I always pegged him for a solid 6'4"/193 which would then translate into 6'5" in spikes..
Chase Witherspoon
said on 2/Sep/15
Not as inflated as pro-wrestling particularly at its zenith in the 80's, but I've met a number of Aust pro rugby players and they do appear to be listed more at boot height than bare foot imo.
Ian
said on 26/Aug/15
I think people are underestimating just how sick he was/is and how much height he has lost due to illness. Attached is a link is a picture from 2001 where he is certainly 2 inches taller than 6'2 Richie McCaw and not a helleva lot shorter than 6'7 Chris Jack. Now, IMO he's probably about 6ft to 6'1ft.
Click Here
jessman
said on 6/Jul/15
They're not as bad as pro-wrestling IMO. I've passed lots of pro rugby players in Ireland and the majority are fairly much at the heights listed. A few are a couple of inches out.
Rampage(-_-_-)Clover
said on 3/Jul/15
I always thought they were accurate with their listings in rugby. Turns out they're just as bad as pro-wrestling.
I'm unimpressed
Rampage(-_-_-)Clover
said on 3/Jul/15
I always thought they were accurate with their listings in rugby. Turns out they're just as bad as pro-wrestling.
I'm unimpressed
I'm disappointed.
jeremy
said on 25/Jun/15
jonah lomu 6 ft 4 peak 6ft 2.5 today
sbw 6ft3.5 no more
julian savea 6 ft 2
israel folau strong 6 ft 4 weak 6 ft 5
ma'a nonu 5 ft 11
ben smith 6 ft1
kieran read 6 ft4
JJ
said on 24/Jun/15
How do you post pics? There is a team photo taken in 2000, where he stands next to Ron Cribb. Cribb is listed at 194cm. Lomu eye line is lower, but top of head is same height. When he stands next to Isitola Maka, at190cm, lomu is indeed 3-4cm taller. Ian Jones at 198cm towers over Lomu. Lomu prime was at193cm/194cm and nothing more, but still the most muscular player ever, and im not talking built up, but god given size. Never big shoulders and arms, just carried all his weight on his legs. Sonny Bill is a strong 6ft 3, maybe even 192cm, Sonny Bill is not an explosive runner, more of an off loader. 191cm at 108kg, but easily taller than Savea who is listed at 193cm at 108kg, the Lomu equivalent today in the NZ backline. Wonder how accurate there measurements are??
[Editor Rob: you could use tinyurl to get a link to an image]
jeremy
said on 22/Jun/15
hey rob what is you opinion on sonny bill williams i'm big fan of this guys ?
jessman
said on 22/Jun/15
@JJ
Can you post any pics of Jonah with legit 6'5 guys, or even with legit 6'6 team mate Ian Jones?
JJ
said on 19/Jun/15
Jonah expert reporting in and ending this debate once and for all. Im a huge fan and have noticed the height issue and drastic change in physical appearance as well. So let me point out the changes year to year. when he came on the scene as a 19 year old he was already 112kg at 194cm and made his debut against France. His listed weight and height as a 19yr old. In the 95 rugby WC he was listed as 195cm at 118kg.he struggled to get is weight down to 118kg and 2 weeks out of the tournament he was 123kg. Ibeleive his peak height was 194cm. In 96 he got the kidney diagnosis and nevery played international rugby. he never did quite have the look he had back in 95 through to 98. his calves and thighs were gigantic in the mid 90s. his upperbody was always very lean and carried his waist in his legs. this is the athlete combination, he enver did weight trainin like bodybuilders, his upperbody was very lean, not bulky at all, and this is why forwards look big in comparison to him in pics. but lomu outweighed all of them all.Lomu also had a massive head. Please dont downplay the effects of the illness which has plagued him since he was 21. this has affected his appearance drastically!!! In 03-
through to 05 he tried a comeback, and looked a shadow of his former self. His calves had diminished rapidly from sitting in a wheelchair for months on end. The animal look had gone. Nowadays he looks frail, he still has the big head. i think hes around 190cm definately. One thing ab lomu, he always had bad posture, and always sloped shoulders, and head down. I see pics of him standing next to joeli vidiri and and vidiri is smae height or taller. Lomu prime back in 95-99 was easily taller than 190cm Vidiri. from all the pics i have and i hve lots, its safe to assume that Lomu was 194cm prime.
BIg T
said on 30/May/15
By the way, in the Lomu/Vatuvei shot, I actually know the 3rd guy (Peter Brown) well and have known him my whole life. He is around 6'3". He's one of those guys who seems to have held his height pretty well despite weighing well over 300lbs and being in his 50s.
jessman
said on 15/Apr/15
Good pic Ian. Wood is genuine 6ft but is standing looser. I think the pic is from 2001 which was surely when lomu was at his peak (in his mid-twenties). Rob has this right. Max 6'3 peak lomu.
Ian
said on 15/Apr/15
Scroll down to see Lomu with Keith Wood (listed 6') Only looks 2-3 inches taller
Click Here
jessman
said on 14/Apr/15
There's an image of Jonah Lomu standing with Ronan O'Gara, Dan Cater, Denis Leamy, and David Wallace. Jonah is about two inches taller than O'Gara and at best, level with David Wallace. I've been stood next to Wallace a few times and he is max 6'1....and that's on a good day. I was surprised at how 'small' he is in person. I felt much taller than Wallace and a friend verified he only reached my eyebrow level (I'm just below 6'4). I have also passed O'Gara and he is max 5'11. The pic was taken in 2008. Sorry I'm useless at uploading pics but you can view it on google images 'Jonah Lomu David Wallace'. You cannot see feet and footwear but it looks like a genuine group photo. Cannot imagine Jonah ever hit 6'5. I think Rob is right, 6'3 range player at absolute best. Jonah mightn't have even hit 6'4 in his boots at his prime. I have yet to see him look tall among a group of rugby players.
Rampage(-_-_-)Clover
said on 13/Apr/15
Rob, maybe he was 6ft4 and was measured early at 6ft5?
[Editor Rob: I doubt it, I'm sticking with a 6ft 3 range player, today a bit under it.]
BIg T
said on 11/Apr/15
Interesting...last night Jonah did a presentation for Manu Vatuvei after Vatuvei's 200th game for the New Zealand Warriors. 189cm listed Vatuvei was CLEARLY taller than Lomu. He can't be above 6'2" now (I've always felt Vatuvei's listed height was his bare minimum, to be fair). Really makes me wonder (a) what Lomu's peak actually was, and (b) how much height he has lost and why his illness would make him lose height like that?
[Editor Rob: this photo
Here
? So it was after a match, Manu would be at his very lowest height there aswell.]
John NZ
said on 11/Apr/15
Rob Jonah is considerbly sick and has had a fair share of back troubles, its a shame you don't realize how that has affected him physically. It would be fair had you met him in his prime you would see he was a lot bigger and athletic than what he is now. This is unfair on Jonah a Legend of Rugby.
[Editor Rob: he's aged 37 here. If he's nearer to 6ft 2 today it would be a good case of someone in their 30's losing height...]
jessman
said on 7/Mar/15
@jeremy
I agree with you on Sam burgess. Strong 6'3/weak 6'4.
jeremy
said on 5/Mar/15
Sam burgess need a dowgrade he's listed 6 ft 5 but for me he looks similar to sonny bill williams
jessman
said on 27/Feb/15
Would think sonny bill Williams is less than 6'4. Maybe a strong 6'3?
jeremy
said on 25/Feb/15
what do you think about sonny bill williams ? 6'3 or 6'4
jessman
said on 23/Feb/15
Ian, I didn't see a close up with good enough resolution so didn't realise he was on his toes but it makes sense. Puts him a couple of inches below 6'6 if he was only slightly taller than Parling, who is minimum 6'5. I live in Limerick so see quite a few munster/ireland players. Actually stood about 10 yards from Heaslip when I passed an Ireland training session in a local park ahead of a 2012 Autumn international match. The ground sloped, which didn't help, but I pegged Heaslip at about 6'2, maybe a fraction over at most. He was a few inches shorter than some of the taller guys who were 6'6ish.
Ian
said on 22/Feb/15
Jessman, I agree on heaslip, never looks 6'4"
I searched for 2013 lions squad and found the image of cuthbert beside parling. If you look at their feet cuthbert appears to be standing on his tip toes
jessman
said on 20/Feb/15
@Ian
I thought Alex Cuthbert looked closer to 6'4 than 6'6 especially when lined up for anthems but when I looked at the 2013 lions squad photo he looks 6'6. He seemed to be taller than Geoff Parling who gets listed at 6'5 & 6'6. Alun Wyn Jones seems be closer to 6'6 but gets listed mostly at 6'5. Would be good to have a rugby players page as size/height is a big feature. In my experience, rugby heights are generally quite accurate. Lomu and some others were probably listed a couple of inches too high. Jamie Haskell and Jamie Heaslip don't look 6'4. They look closer to 6'2-6'2.5
184.3cm
said on 19/Feb/15
I would have guessed 6'2 max...Just goes to show pro wrestling isnt alone with height inflation.
Ian
said on 16/Feb/15
Most rugby players seem to be fairly accurate, Lomu does look smaller than you would expect here. Maybe his health problems have effected him. I would have though 6' 4" when playing, although listed as 6'5"
One player I think is consistently listed wrong is welsh player alex cuthbert. He gets listed as 6'6" but never looks taller than George North (6'4") And looks considerably smaller than Alun Wyb Jones (6'5" listed)
Rampage(-_-_-)Clover
said on 6/Dec/14
He looks barely over 6ft2! Actors heights being inflated by 2-3in is nothing new to me but with athletes, especially rugby players it's nonsensical. They get measured as part of their conditioning. Any of those match programs would have their heights listed in feet and in brackets centimetres. It might however differ. One guy might be listed 6ft2(187cm) and another guy 6ft2(189cm).
Dave
said on 18/Nov/14
Jonah could squat 375kgs for 8 reps he was super strong and could put a number of the roided to **** ifbb pros strength levels to shame. Jonah has had numerous health issues, he was a clear 6-5 when he was playing in his prime but ive no doubt he could easily have lost 5-6 cms. Before anyone says anything look on a ruler at just how little that is its entirely possible. Kidney issues really mes up your health he has atrophied somewhat and is carrying more fat
tiny
said on 9/Sep/14
Lomu (6'5", 275 lbs) & his fellow New Zealander Valerie Adams (6'5", 267 lbs)would make a nice couple. Infact I think Lomu is the only man in New Zealand who can match Valerie Adams in height, size and strength.
Big T
said on 2/May/14
Dan Carter is listed 178cm yet generally looks clearly taller than that compared to other listed heights...
Bryan
said on 21/Apr/14
Rob how tall would you say Dan Carter is? 176cm perhaps...
[Editor Rob: he might be 5ft 10. Carter himself claims to be 180cm tall,
Here's the tweet
]
joe joe
said on 19/Apr/14
1. being a former rugby player we are never measured in our boots. its always bare foot. 2 jonah has lost a lot of height over the years due to numorous Back operations and a sever Kidney problem where he couldn't walk for months. He was a clear 6'5 but nowadays he can look 6'2. He was already 1'90m whilst at school trust me. He has just lost height due to his life trials
176,2Tunman
said on 26/Mar/14
possibly more 189-90 than 190-91.Honestly Rob,how tall did you think he was before you met him?When I first saw some vids of his famous games I had no doubts about 196cm mountain,I really thought everybody will look like a shrimp next to him but even at 5'8 you don't look small.Seems like the legend made the man's height,as often.
[Editor Rob: I never would have thought he was a big 6ft 5, 6ft 4 maybe, but seeing him in person, while still a big guy, just nowhere near 6ft 5.]
Bigman77
said on 9/Mar/14
I'm surprised how short he looks here. Maybe rugby players are measured in their boots. If he hasn't lost any height, there are a hell of a lot of players that need a downgrade.
Dom
said on 24/Feb/14
For people questioning his weight, he started body building and really trimmed down. I think his playing weight could have been 120 kgs. I always thought 6´5 sounded rather fantastic though.
Balrog
said on 13/Feb/14
He looks 6'2.5'' here and also doesn't look over 235 pounds, at least on this pic.
Arch Stanton
said on 13/Feb/14
He doesn't look all that well here either does he, in his face. Back in the 90s he was a monster. I never questioned 6'5" and 275 lbs back then.I thought 6'4" was more likely with Martin Johnson but he really looks as if he'd be 6'3" max stood straight here.
Big T
said on 11/Feb/14
Rob, is even 6'3" maybe generous? It looks it here. I've seen Lomu in person on a number of occasions though and thought he was around 6'3", but he just doesn't look impressively big here at all.
[Editor Rob: well he looked nearly 2 inches shorter than a 6ft 4 guy, although he had sneakers about 0.6ish, me 0.7 and the 6ft 4 guy had shoes...but if he dipped below 6ft 3 for a measurement it wouldn't be a shock.]
Anon183
said on 8/Feb/14
He looks more 188/9 in the photo accounting for the lean
Dave
said on 8/Feb/14
I think Jonah has really atrophied and his body has shrunk from his playing days due to the issues he has had with his kidneys. Tbh in this picture he doesnt look too good either. He may well have been a legit 6-5 in his playing days but he has likely lost a bit. Bear in mind how rough rugby is as well its very possible he has lost some height with years of compressive forces from weight training and the field
kyuss
said on 8/Feb/14
yeah hype talk,never was 6-5. 6-2 to 6-3 imo.
Josh b
said on 8/Feb/14
Perhaps injuries and illness has taken its toll but I don't think he looks over 6'2 in the pic, definitely nowhere near his claimed height.
[Editor Rob: he's a year older than me...I'd be surprised if he lost any height, but Jonah did look 2 inches shorter in person than how 6ft 5 men appear.]
Balrog
said on 7/Feb/14
Rob you think he might lost some height? Don't think he was ever 6'5'', but maybe near 6'4'' is chance?
Blaze
said on 6/Feb/14
yeah 6'3.
176,2Tunman
said on 6/Feb/14
One thing is sure, he never looked a legit 6'5.Comparing him to some players, he may have looked a good 6'4 though.Well, if Rob says he's 6'3 in person that's the more reliable answer.
Never got really interested in rugby, but watching parts of his old games, probably one of the greatest players of this sport.
MD
said on 6/Feb/14
Doesn't even look what's listed even with the lean. Oh, well.
2meterteenmanchildthing
said on 6/Feb/14
yeah 6'3ish sounds about rigth, always saw him listed at 6'5 and thought it was wierd because he seemed no where near as tall as guys who are legit 6'6-6'7 in the all blacks
Mathew
said on 5/Feb/14
Well he's clearly nowhere near 6'5"...
Arch Stanton
said on 5/Feb/14
Here's the photo with Martin Johnson
Click Here
I had always thought Johnson looked a proper 6'7" guy but I can't see 4 inches difference can you?
Arch Stanton
said on 5/Feb/14
Rob I seem to recall a few years back seeing him in a photo with 6'7" Martin Johnson and I thought he looked 6'4.5" in comparison, 6'3" is a shock for him!
I saw him fairly close once in the Cardiff Arms Park in an international back in the 90s once and he looked massive and would send a lot of the Welsh players flying when he made runs. 46 chest? Really?? I'm a 46 chest, I'd have expected him to be more like a 52-4 inch chest. Looking in the above photo though he seems to have lost a bit of bulk from his playing days. I wouldn't have recognized him with that hat on. Great addition anyway and might be one to attract controversy!