Irish actor best known for playing Sir Gwaine on BBC fantasy series Merlin. As a model he was listed 180cm. In this convention photo he had about 1/3rd inch more thicker sneakers than me. On his imdbResume he listed his Weight as
"172 lbs"
.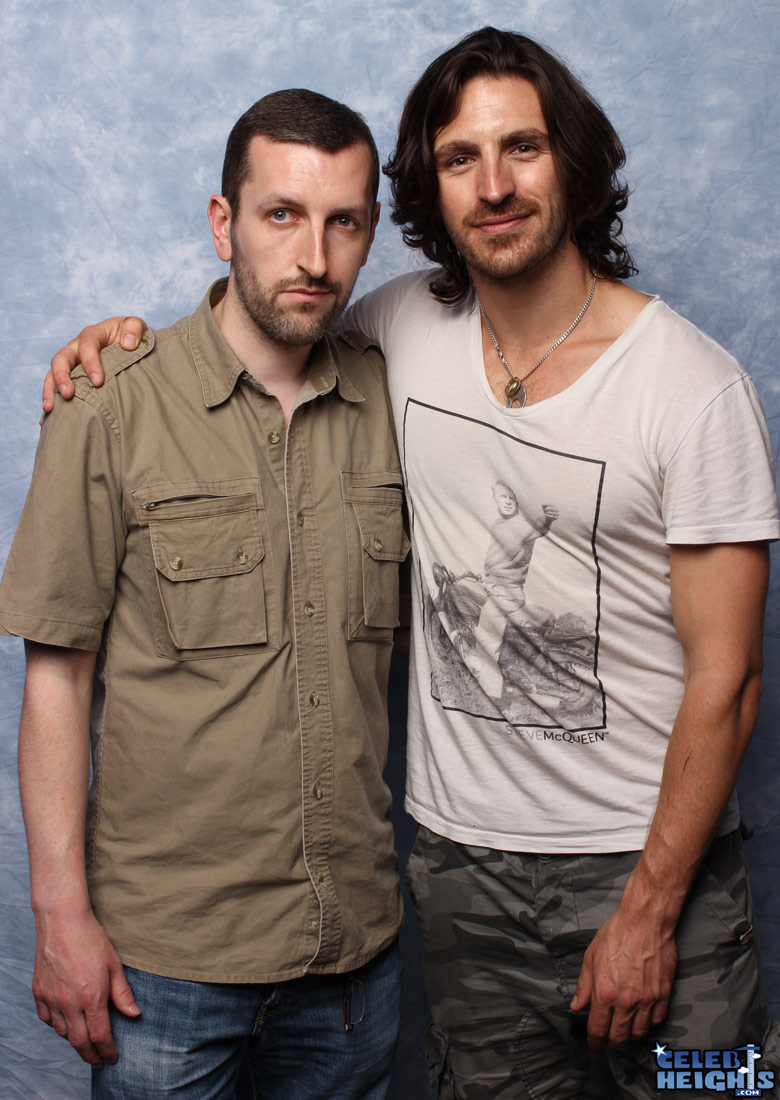 5ft 8 Rob and Eoin @ LFCC 2013
I'm normal height for a normal person of 5'11...Tom is about 7'7...like Klitschko....only Toms better looking
-- Twitter, 2012
Abdulrahman
said on 2/Jan/23
180.4 cm.
Joshua1241241
said on 23/Sep/22
Looks 5'11 for sure, taking into consideration that he's leaning
Abdulrahman176
said on 28/May/22
5'10 3/4 max
Jkiller
said on 28/Sep/20
Can look very close to 5'11, so 5'10.75 is a good guess.
Nik Ashton
said on 30/May/20
Legit, despite Rob having less sneak! 🐍
Miss Sandy Cowell
said on 27/May/20
Handsome guy - like a rock star!
5ft10.75 😁👍🎧🎶🎸
Jere
said on 30/Nov/19
Lol closer to 180
Peter 180cm
said on 29/Jan/19
He looks to be somewhere between 178-179cm,5'10.5 is the most i would argue with a chance of 5'10.25.
MAD SAM
said on 7/Jul/18
Handsome guy nice facial hair ; seems pretty honest about his height, I would say 179 cm at 5'10.5"
Dave5ft9
said on 20/Mar/18
Rob I met him! Good listing but I say he is at best 5'10.25. We were eye to eye. I'm also 5'10.25 but he had more thicker shoe Very nice guy!

Editor Rob
5ft 10.25 is quite arguable.
Pierre
said on 18/Dec/17
Rob slouch more imo,i see him like 5"10'/5"10.25'
Heightlover
said on 3/Dec/17
Ey Rob what's yuor thought on this pic I just found of Eoin Macken with Adetomiwa Edun listed 176 cm next to you:
To be honest Eoin Macken looks 177-177'5 cm 5'9.75-5'10 with Adetomiwa (175 cm)
Click Here
:

Editor Rob
generally Eoin looks at least 1 inch taller than Ade
Mr6footer
said on 25/Nov/17
Rob any chance he is 176 cm? plus knowing he had more advantage.. what do you think he maybe had more advantage than 1/3 on you

Editor Rob
looked too tall to be only 176cm.
Mr6footer
said on 25/Nov/17
Yep. I think he is the kind of guy trying to look tall always. Looks 176-177 cm range Rob. Agree? A foot advantage can make miracles. Do you think there's a chance he is 176 cm? That mark is just 2'5 cm taller than you plus maybe 1'5 cm foot advantage. Possible Rob?
Mr6footer
said on 23/Nov/17
Ey Rob do you remember he had just about 1/3rd inch more than you? He looks shorter on the 5'9 range.. His torso looks short look at hiS arms and legs lenght more from a 5'9 guy.. Looks he had more foot advantagde.

Editor Rob
he's maximum 5ft 10.5, possibly not much over 5ft 10 in fact...
even
said on 20/Jul/17
5'10.75" is the morning height , 5'10.25" is the evening height , his weight is 170 to 180 pounds .
Slim 181 cm
said on 12/Jul/17
5ft10.75 easy.
Arthur
said on 1/Nov/16
Looks near 5'10.5 in the photo, minus 1/3 shoe advantage and he is barely over 5'10
TJE
said on 6/Nov/14
Idk what's with all the people saying he's 5'11. He's struggling to make the current listing, and he's at least an inch shorter than Santiago Cabrera as well.
Logan Hedlund
said on 28/Jan/14
Eoin could be more like 5ft 11. Excellent photo Rob.
Mr. R
said on 28/Jan/14
So, uh, Rob, are you trying to go for sexy or psychopath with that face?
Themotorbikeman
said on 25/Jan/14
Listing looks spot on here.
lelman
said on 21/Jan/14
That smoulder, Rob! Looks more 5'10" to me, You're both sort of leaning and he has a bit of a shoe advantage. Plus his hair adds a fair bit of height here.
little sue
said on 19/Jan/14
More like 5ft 11+ to me
DMEYER
said on 19/Jan/14
does look 5'11 so minus 1cm 179 fits him
Arch Stanton
said on 19/Jan/14
I had guessed 5'11", I was close! I think he'd make a good Aragorn in Lord of the Rings.
ajcf1995
said on 19/Jan/14
Fast cameraman again I suppose?