Canadian Actress best known for playing Deputy Jo Lupo on TV series Eureka and Becca Franco on The 100. In a 2007
SciFi
Channel Digital Press Tour she mentioned her height, saying
"being 5-foot-6"
. In the top convention photo I had a 1/4 inch more thicker footwear and in the bottom she had about 2 inch more footwear than me.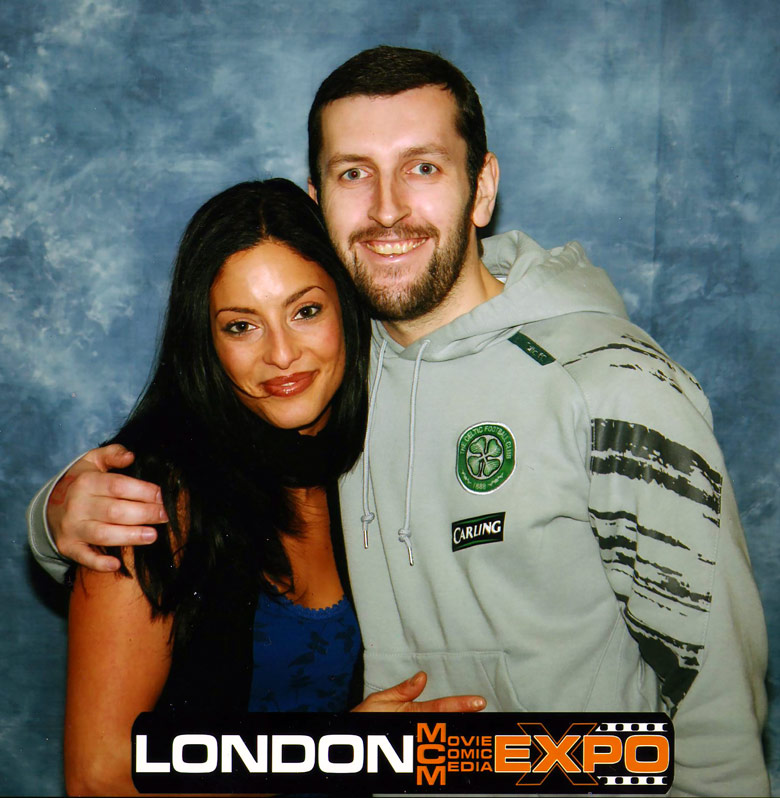 5ft 8 Rob and Erica @ MCM Expo (May 26th 2007)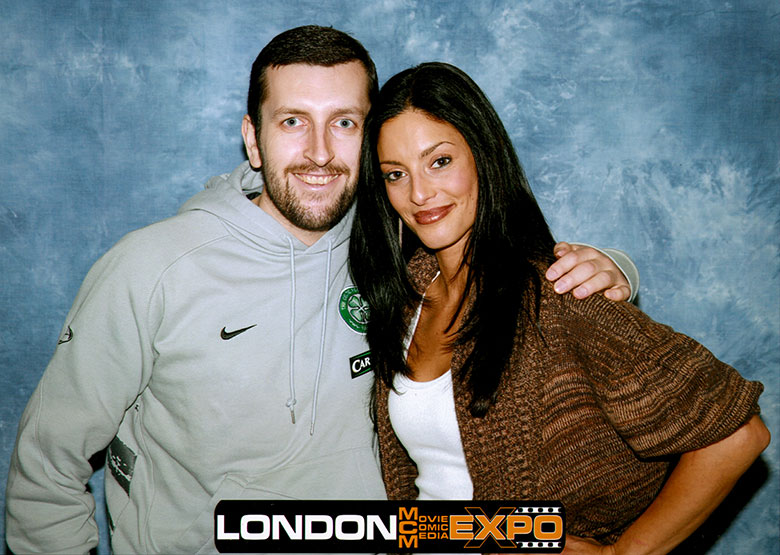 5ft 8 Rob and Erica @ MCM Expo
ChristianPerkins
said on 18/Mar/22
5'3.5" max
Alanna
said on 17/Sep/21
Weak 5'4"
Miss Sandy Cowell
said on 14/Mar/20
Five foot six is quite an exaggeration! I'm agreeing with Rob's five four, but ideally, I'd need to see her acting.
📺🧐🚬🍷🍸🍺🥃🍺...😔💤
khaled taban
said on 2/Jul/19
5'4" at most.
Nik
said on 12/Jul/18
I am not convinced that she is her listed height!
World Citizen
said on 11/Jul/18
She looks at most 5 ft 3 here.
even
said on 24/Jul/17
5 foot 4 after waking up
Indy
said on 26/Mar/17
Gorgeous indeed.
mightyman
said on 14/Dec/14
Gorgeous!!!
5-7 Man
said on 30/Aug/14
She looks more 5'3.5-ish than listed height.
Alex 6'0
said on 26/Jun/14
It's over 4 inches between her and Rob. The 5'3.5 estimates look about right. 5'3.75 possible too but def. below 5'4
Alex 6'0
said on 26/Jun/14
Rob, you had about 1/4 inch footwear so I'm assuming she was in sneakers or another type of non heel?

Editor Rob
it was a kind of black ugg style boot from what I remember
176,2Tunman
said on 13/Apr/14
Sam,you are about 6'5 right?strangely many guys of your height and taller prefer short/average height girls,I even know a 6'8 guy who has a 5'5 girlfriend.Nice you don't care she's a foot shorter than you,many 6'5 would fight for getting a date with her,LOL.
LG69
said on 25/Oct/13
5'6" with heels, but 5'3.5" barefoot for this pretty girl.
Sam
said on 22/Oct/13
She's quite lovely, although more than a foot shorter than me.
Bard
said on 11/Apr/13
More like 5'3.5. Very average. Don't see why see would try to guile people into thinking she's taller.
Miiiiiiighty_l-
said on 14/Feb/13
She is gorgeous despite her "lie" though
Martin
said on 25/Aug/11
It is pretty annoying how almost all celebs add 1 or 2 inches to their height. She looks like she could be 5'4 flat rather than 5'6.
Alex
said on 12/Aug/11
Rob, you look 5 inches taller than her when leaning. Even with the bit of footwear advantage I would say she looks more 5'3.

Editor Rob
if she was, she'd be in the band of elite who add 3 inches to their height!

Samwise
said on 7/Nov/10
5ft3 Your eye level is the indicator and she is just shy of that.
Hugh
said on 26/Jun/09
She seems to be almost 15 cm shorter than you Rob.
Doug
said on 14/Jun/09
One of the fittest women I've ever seen. Perfect height.
jill
said on 25/Apr/09
How do we know Rob isnt 5'10? And they both look like there not standing up straight.
Brad
said on 25/Aug/08
Why do actors lie about their heights?
Alex
said on 22/Aug/08
Rob, I wish I were you in that picture!
So she didn't look more than 4 inches shorter than you? I would think 4.5-5 inches maybe.

Editor Rob
she is about 5 inches smaller in that photo but I know she is not stallone stance, but there is an outside chance she is barely 5ft 4. My first thought was she looked around 5ft 4, no wait, my first thought actually was - this girl is very bubbly and gorgeous!
Alex
said on 22/Aug/08
So both your footwear were very similar then. I'd say 5'4 tops since Rob looks to have possible 4.5 inches on here. Maybe shes not standing up straight or something?
BCC
said on 22/Aug/08
I like the way you hug women,Rob

Editor Rob
so do the women!
Timothy Cole
said on 26/Oct/07
I really like your show