Finn Den Hertog's Height
5ft 10 (177.8 cm)
Scottish actor, best known for playing Willie on TV series Outlander and Hamish on M.I. High. I had about 0.3 inch more sneaker than Finn this day. On his agency, he was listed
"Height: 5ft 10in"
.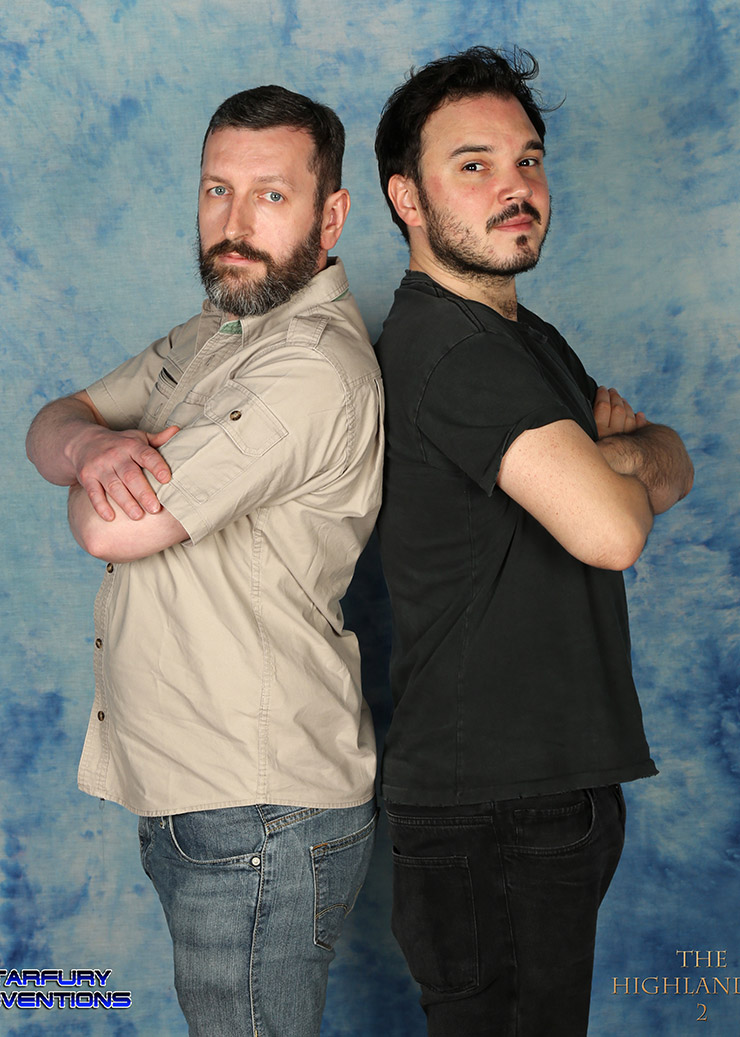 5ft 8 Rob and Finn @ Starfury Outlanders, 2017
Add a Comment
33 comments
Average Guess (41 Votes)
5ft 9.75in (177.2cm)
Mikester
said on 9/Apr/21
5ft9.75
slim 6'1
said on 22/Jan/21
Weak 5'10"
Powerhouse
said on 6/Nov/20
His hair is giving him height and his head is tilted up, he's not a full 5'10 in my opinion.
JohnMoore-162cm
said on 8/May/20
He looks 176.5 or 177cm
c-mo
said on 8/May/19
my brother is 1cm taller than rob and with the shoe advantage rob has here he would be roughly the height my brother is ...even a bit below . and the way finn looks next to rob is almost the same as what I look next to my brother and I am 176cm in the evening . so I dont think this guy can be 5'10 in the evening
177cm in the evening is possible but nothing more . I dont have anything against the listing but knowing that this site focuses more on low heights and many people try to round down their own height and especially the height of others here ....I think listing this guy as 5'9.75 would be more accurate . I mean if james toney is listed as 5'9.5 then this guy should never be listed as 5'10 . give me a break ...
Peter 179cm
said on 27/Dec/18
Looks 176-177 range with less footwear,so about 178cm seems fair.At worst a solid 177cm
Zineddine
said on 27/Jun/18
rob you look so handsome with beard

Editor Rob
To such an extent that Jenny shaved it off while I was asleep 😡

Never touch a man's beard!
Christian 6'5 3/8"
said on 27/Jun/18
@Dude 173
No he isn't. He has thick hair but that doesn't count as his height.
Dude 173cm
said on 25/Jun/18
I see a weak 5'11
Bwk
said on 25/Jun/18
This seems like a fair listing for him, I guess. Although, I think he's probably more near 5'9.75'', 5'10'' flat tops and nothing more.
Nik
said on 5/Apr/18
Weak 5'10"!
Zampo
said on 2/Apr/18
5'9 3/4 (Weak 5'10)
World Citizen
said on 15/Feb/18
Looks 176 177 cm
Ben
said on 12/Nov/17
Considering that this guy barely looks an inch above your eyebrow and my eyelevel is usually around the hairline of 172/5ft 8 guys and you are probaby around the 173 and some change here Rob I wouldn't put this guy over 5'9.75" considering I'm not much above 5'10" myself at my low. But you are closer to 174, so maybe my eyelevel would be somewhere around the middle of your forehead.

Editor Rob
I had a fraction more footwear, so I'd say he was a decent 5ft 10.
DruceLee
said on 7/Sep/17
Hmm comparing 5'10 Tyson and 5'10 for him based on picture with Rob doesnt seem fair. Tyson 179cm Finn 177cm
brad
said on 6/Sep/17
rob , is he a typical guy that hold 5'10 flat in the evening or could dip a little under it ?

Editor Rob
a chance, but I think in person he seemed close to 177cm, and with less sneaker I'd estimate around 5ft 10..
MM
said on 6/Sep/17
I think he has tilted his eyelevel a bit, and so he appears 5'10 when he is not quite there. Probably 5'9.5ish, just from this pic... considering the 0.3 inch disadvantage might be really close to 5'10 though.
Slim
said on 6/Sep/17
Guys, he's only off a quarter inch, close enough.
Adamz
said on 5/Sep/17
an exactly average height man next to rob who is exactly my height. not a huge difference.
Angle
said on 5/Sep/17
Off Topic but the beard is looking great rob.
anon176
said on 5/Sep/17
Bang on 5-10, in this pic it looks 5ft 9.75 but Rob has footwear advantage.
Andrea
said on 5/Sep/17
He looks over 5'9 but not quite 5'10, of course considering his footwear disadvantage...
Pierre
said on 5/Sep/17
Finn is looking upward,and i think the camera is very high and so give him an advantage.By considering the shoes i would say 5"9.75'
berta
said on 5/Sep/17
i think he looks 176 in the photo but it seems like the photo is taken from below anfd that makes the difference seems less

Editor Rob
the photographer is 5ft 9-10 himself and camera held about 5ft 3-4.
Rampage(-_-_-)Clover
said on 4/Sep/17
I see a strong 5ft9 but since Rob has a shoe advantage 5ft10 is acceptable
G 5'11
said on 4/Sep/17
Doesn't look 5'10, looks more 5'9 range in the picture, but if you had 0.3 more in footwear. Then I could see a potential weak 5'10 for him.
G 5'11
said on 4/Sep/17
Doesn't look 5'10, looks more 5'9 range in the picture, but if you had
Christian-6'5 3/8
said on 4/Sep/17
I would've thought 177cm or perhaps even a bit under.
Anonymous
said on 4/Sep/17
Looks 176-177
PPPeter
said on 4/Sep/17
He look 5ft 9.25in next to Rob..
I think he is not 5ft 10in
He is max 5ft 9.5in !!
Stevie Meldrew
said on 4/Sep/17
Hey Rob tall do you think a 5ft8 14 year old could potentially reach?
Mark(5'9.5
said on 4/Sep/17
Nice listing Rob; 5'10" it is!
Slim
said on 4/Sep/17
A weak 5'10".