American singer, known for being the lead singer of The Four Seasons, known for songs such as "Who Loves You", "Working My Way Back to You", "My Eyes Adored You" and "December, 1963".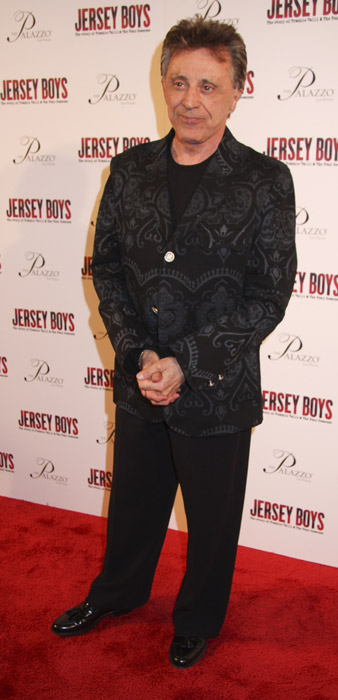 Photo PR Photos
Sandy Cowell
said on 6/Apr/23
I bet he was, Ian! 😁👌🏼
Sandy Cowell
said on 5/Apr/23
The Four Seasons were one of the first groups I liked. I'm watching The Deer Hunter right now with a tiny cat on my lap, and I couldn't help but turn it back time a fair few times.
"Late December Back in '63" was one of the first singles my Dad bought me when it was rereleased in 1975.
Sorry! It's called "Oh What A Night ."
Ian Vector
said on 3/Jul/22
I saw him in concert a few months ago. Great singer!
5' 3.25".
Miss Sandy Cowell
said on 28/May/22
All of 25 days late, I'd like to wish Frankie Valli a belated Happy 88th Birthday. 🎂
I, too, loved his music, Black Noir, and bought 'December 1963' when it was rereleased in 1975.
I found Frankie on the Sopranos page. How exciting to find out that he acted in this series!
Peak - 5ft4, which is the only height I ever read for the singer in my teen magazines.
Today - 5ft3. 😀👍🏼🎶🎤
Black Noir
said on 28/Jul/21
How tall do you think the tallest member of the four seasons was rob? Also, probly one of the greatest bands of all time.

Editor Rob
6ft 3 for Gaudio maybe was possible
Miss Sandy Cowell
said on 3/May/20
🎶🎁🎂 Happy Birthday Frankie! 🎂🎁🎶
Frankie is celebrating his 86th Birthday today - congratulations to him!
5ft4 peak and 5ft3 today. 😀🎉
🎶🎁🎂🎉🎶🎁🎂🎉🎶🎁🎂🎉🎶🎁🎂🎉
Nik
said on 5/Sep/19
He's a cool guy!
Phil Leotardo
said on 3/Jul/19
The Mayor of Munchkinland

Editor Rob
Frankie may be short, but he had a supremely successful career with a remarkable great singng voice.
Miss Sandy Cowell
said on 3/May/19
🎈🎂🎼 Happy Birthday Frankie! 🎼🎂🎈
Your music brings back such happy memories. I can even remember developing a taste for 'The Four Seasons' at an age so young that I wasn't allowed out to buy any records with my pocket money. At THAT time, of course, your 5ft4 would have seemed HUGE!
Peak: 5ft4.25; Now: 5ft3.25
🎁😊🎁😊🎁😊🎁😊🎁😊🎁😊🎁😊🎁😊
Sandy Cowell
said on 6/Jun/18
Frankie Valli is famously small, though I had no idea when I was listening to his high-pitched voice in the 70's, or I might have likened it to his smallness! I loved his hit 'My Eyes Adored You' and 'December 1963', which I bought when it was re-released in 1975!
Frankie can have 5ft3 for his height today, and an inch more for his peak!
Jack Wirtz
said on 4/Jun/18
Upon looking at a random album of "And That Reminds me" standing all together (my good guess looking).
Frankie Valli - 5'5
Tommy Devito - 5'6
Bob Gaudio - 6'2
Joe Long - 6'1
Anyways these are my guesses SO FAR.
shipman
said on 11/Mar/18
What would you give for the heights of the other members of The Four Seasons? (Tommy DeVito, Nick Massi, Bob Gaudio, Joe Long)

Editor Rob
Gaudio did look a good 6ft 3, as mentioned previously DeVito claimed 5ft 6 (arguably anywhere in 5ft 5-6 zone). Joe I'm not sure.
Harbinger
said on 9/Jan/18
Okay I see it! Thank you Rob! I love the website, keep up the good work!
Harbinger9
said on 8/Jan/18
Where did you find that Tommy DeVito claimed to be 5ft 6? I've been interested and trying to figure out his height for quite a while.

Editor Rob
Banterbury
said on 31/Dec/17
Any idea on height of the other four seasons gauido Massi and devito?

Editor Rob
Tommy Devito claimed to be 5ft 6.

i've seen Bob Gaudio described as tall as 6 foot 3.5 before.
Powerhouse
said on 17/Oct/17
Nothin over 5'2.
Zu
said on 25/Sep/17
Is that with or without heels?
jessman
said on 1/Oct/16
Never realised he was this short.
Rampage(-_-_-)Clover
said on 30/Sep/16
Wow...that short?
Aza
said on 30/Sep/16
Great addition. Good listing