Gabriella Wilde's Height
5ft 9 ½ (176.5 cm)
British Actress/Model best known for roles in films The Three Musketeers, Carrie, St Trinian's 2 and Endless Love. In a 2006 Evening Standard she claimed:
"I'm 5ft 10in and hate towering over my friends, so I stick to ballet pumps"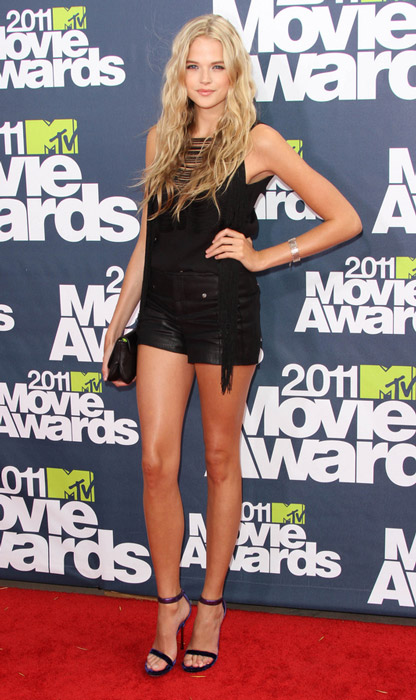 Photo by PR Photos
Add a Comment
35 comments
Average Guess (18 Votes)
5ft 9.42in (176.3cm)
Miss Sandy Cowell
said on 22/Aug/20
What a beauty!
👱‍♀️🌹 5ft9.75
Mimi
said on 8/Jul/20
Rob you think 176cm more plausible for her? Pictures with Orlando Bloom shows it.

Editor Rob
5ft 9-9.5 is the kind of range I thought she seemed, more-so than 5ft 9.5 up to 10.
So 176 is possible!
Junior Hernandez 1990
said on 22/Jan/19
She had a baby face going on. Almost 30 now but look like 22.
Dude 173 cm
said on 16/Dec/17
Looks 2 inches taller than 170 cm Logan Lerman
Lynn27
said on 14/Nov/17
Gab is taller than Taylor Swift and her limbs are longer.
anyonmious
said on 4/Sep/17
1.73m and no more
Christian-196.5cm (6ft5 3/8)
said on 28/Jun/17
She says she sticks to ballet pumps, yet she's wearing heels right here, lol.
MC
said on 12/Jan/17
If Gabriella wore these
Click Here
would she be 6ft3?
Editor Rob: MC, she might be very close to 6ft 2-2.25 rage, but not as tall as 6ft 3.
Just
said on 2/Jan/17
Looks almost 2 inches taller than Joely Richardson in Endless Love. Very long legs.
littlesue
said on 10/Nov/16
She been in this season's Poldark, very tall lady, taller than the other girls in in. THink she the spitting image of a very young Marily Monroe
Leonardo 1.73m
said on 29/Sep/16
Ryan said on 17/Aug/14
177cm
OneNamePlease said on 19/May/15
176-177
Sorry I was them because i am a big fan of her. My guess is 5'9 really.
Marianito10
said on 25/Sep/16
She has everything I could ask... I would never be sad if I spend all my life with a lady like her.
Draxler
said on 24/Apr/16
Gabriella Wilde 5'9.25 and Taylor 5'9
vfpswiftie
said on 1/Jul/15
Rob, Gabriella/Taylor Swift staredown, who would win?
[Editor Rob: you probably couldn't really spot much difference if barefeet and nose to nose, or back to back.]
Skye
said on 6/May/15
Weird that sites list her as 5'9. She must be one of those tall women who downgrade themselves..
Hypado
said on 28/Mar/15
Gabriella Wilde's height is 5ft 9.75in (177 cm)
More 5ft 9.75 than 5ft 9.5in
MasterX
said on 25/Mar/15
@Hope are you drunk LOL :P
if shes 6' 3'' then i m 7' LOL
Hope
said on 16/Mar/15
She has to be 6'3 given she same height as co- star who stands 6'6 in Endless Love.
BGee
said on 24/Nov/14
Solid 5'9 with mile long legs that make her look even taller.
Chris
said on 12/Nov/14
Just under 9 inches? I think her head is 8,5 inches AT MOST. Very small head for her height, i think. But probably not, since i see many tall women with small heads.
Gabi
said on 29/Oct/14
I wish I had her legs!!! I have very short legs and I hate it:((
Jon
said on 4/Oct/14
What would you say her head size is Rob? Also, what is considered the ideal male and female head size and what is the average head size for a male and female model?
[Editor Rob: hers looks just under 9 inches, not long for her height anway, very average.

I couldn't say average head size for models, I think although their overall height is taller than your normal average that doesn't mean head sizes being bigger.]
James B
said on 27/Jul/14
Perfection or what?
Jack
said on 18/May/14
Damn she is visually and aesthetically stunning
Alex 6'0
said on 17/May/14
She gets listed at 5'9 too. She's minimum 5'9-5'9.25 range. Closer to 5'10 wouldn't surprise me though.
Hypado
said on 7/May/14
Looks 178/179cm in Carrie
tiny
said on 3/May/14
Whoa...those legs are like a tall dring of water...so very refreshing. Looks about 5'10" & 120 lbs
Sam
said on 30/Apr/14
Her looks make sense...she literally comes from a long line of models.
Arch Stanton
said on 29/Apr/14
She looks ridiculously good. Very feminine, reminds me of a young Kim Basinger.
Pedro
said on 28/Apr/14
Here is Gabriella next to Orlando Bloom:
Click Here
Of course we can not see the exact size of her heels. But she seems to tower very clearly over him in that picture. So I think it could be right that she is close to 5'10".
Connor 184.5-185cm
said on 28/Apr/14
Fit and tall what a hottie Gabriella is awwww nice legs every guys dream!
Sam
said on 28/Apr/14
Those are enough to make one a leg man...what a stunner.
Connor 184.5-185cm
said on 28/Apr/14
Shes fit! Rob if shes 177cm barefeet which is possible, and her heels are 3 inches she would be 182cm in them? btw guys wouldnt really care about her height !
[Editor Rob: they look quite a high angle so I'd say a little bit over 3 inches, so 184-5]
SAK
said on 28/Apr/14
Didn't realise she was this tall. But looking at it now, the listing is spot on.
Chris
said on 27/Apr/14
Those legs though