Gary Barlow's Height
5ft 7 ½ (171.5 cm)
British Singer from Take That and TV judge on X Factor.
What do you most dislike about your appearance?
I'm 5ft 8in. I'd love to be taller.
The Guardian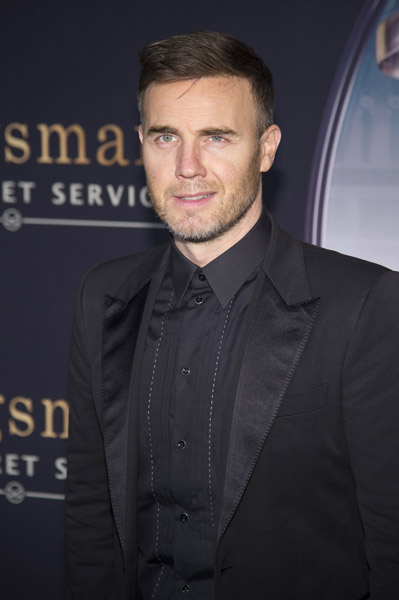 Photos by PR Photos
Add a Comment
60 comments
Average Guess (16 Votes)
5ft 7.16in (170.6cm)
Boo Charlie!
said on 10/Jun/20
I like Gary Barlow he got better looking with age.Although he's listed on here at five foot seven and a half. I'd give him half an inch less.Gary's former band mate Robbie Williams with normal height always seemed four inches taller.
Nik
said on 20/Jan/20
He may well be a height twin for me!
Miss Sandy Cowell
said on 20/Jan/20
🎉🎁🎂🎈 Happy Birthday Gary! 🎈🎂🎁🎉
Many Happy Returns to Gary Barlow, who turns 49 years old today. Let's hope he has a lovely day.😄🍻
5ft7.5. 😁👍
🎉🎁🎂🎈🎉🎁🎂🎈🎉🎁🎂🎈🎉🎁🎂🎈
c-mo
said on 19/Mar/19
Rob any special reason why you put him at 5'7.5 instead of the 5'8 he claims ? I mean why dont you give him the 5'8 ?

Editor Rob
From the last time I looked, I felt weak 5ft 8 range for Gary.
Christian
said on 11/Oct/17
I would guess maybe 5'7" because he looked about 3" shorter than Agnetha Faltskog from ABBA (who had heels on [she's in the 5'7"-5'8" range barefoot]) when they performed together on TV in 2013
James B
said on 17/Aug/17
Rob are the posters below playing a prank on me or something? Lol
Editor Rob: I don't know, but he may well be a height twin for you!
Sandy Cowell
said on 31/Mar/17
@ Nik - Yeah, man, you telled him good and proper! (...and quite a few others into the bargain!) 👆
Nik
said on 31/Mar/17
@Sandy Cowell @James B
Hopefully I've got you telled then James B! 👍
Sandy Cowell
said on 29/Mar/17
Nik - Yeah! You tell 'im! 👍
Nik
said on 28/Mar/17
@James B
About the same height as you and I then James B!
👍
Sandy Cowell
said on 26/Mar/17
I did think Gary was about 5ft9, but I don't reckon that someone with a height of 5ft7 and a half constitutes a miniature version of a person just 3 and a half inches taller, James B!
James B
said on 24/Jul/16
He looks like a mini David Beckham
Johnson
said on 18/Jul/16
Lineker listed 176.5 (5'9.5) here with Gary Barlow
Click Here
Johno
said on 19/Feb/16
Peter Andre had an inch on him and Peter is around 5'7.5-5'7.75 measured.
5'6-range.
plus
said on 10/Dec/15
171,5 (172) cm for Gary Barlow and 167 cm for Mark Owen
Rojina
said on 20/Nov/15
I remember at their 2006 reunion tour when they walked through the audience. He was about five feet away from me as he was ushered past my row and I noticed he was just a smidgen above my height (Im between 5"6-5"6 and had on 2.75 inch wedges)
MD
said on 23/Feb/15
Personally, I'd take this half-inch off. I don't think he's under 5'7", but I don't think he's much over 5'7", either.
good!
said on 21/Feb/15
not a cm under 5'7. 171 cm makes sense
184.3cm
said on 9/Jan/15
I guessed more 5'7 flat but then i think Robbie Williams is under 6'0. This guy always reminds me that talent gets you nowhere without determination and ambition. When that band seperated everyone expected this guy to be the one who would make it big, lets face it he was the only one with real talent but no Williams became a huge star and this guy faded into obscurity. His best years were behind him and now he does tv shows and Take That comeback tours..could have been one of the greats.
Solid!
said on 7/Jan/15
Accurate. Always though of him as a solid 5'7 (170-171cm). nightime barefeet 170cm, during day 171 cm, maybe 172-172.5 out of bed.
Adey P
said on 23/Aug/14
Arch Stanton - I think you're a bit bitter and jealous. Gary Barlow is very down to earth & humble. But given his success and talents he'd have every right to be arrogant. What is Arch Stanton compensating for?
James B
said on 5/May/14
Arch Stanton says on 3/Nov/12
Overly arrogant to compensate.
No
Gaz
said on 5/Mar/14
Looks the same as 5'6.5 Elton John
Click Here
and 5'7.75 Michael Owen look over an inch taller https://twitter.com/themichaelowen/status/441214346979729408/photo/1 and with 5'7.75 peter Andre
Click Here
he looks closer to 5'6.5 than 5'7.5 in these pictures anyway.
Allan
said on 5/Mar/14
Michael Owen has met Gary Barlow anyway
bit.ly/1gacCcE
Chris
said on 28/Feb/14
@hammerjay Why do you call yourself "some"?
hammerjay
said on 24/Nov/13
Top guy, ridiculously jealous and pointless envy from some.
MD
said on 20/Nov/13
You sure about that, Rhonda?
Click Here
I'd say they are about identical in height. Now, it's completely possible that they are both 5'7".
Johno
said on 14/Jun/13
An inch shorter then 5'7.75 peter andre
IHZ
said on 27/Dec/12
Seems about right for him.
Arch Stanton
said on 3/Nov/12
Overly arrogant to compensate.
Ayzzz
said on 23/Oct/12
He looks a good 5'7
SAK
said on 22/Oct/12
Surprising doesn't look too short next Nicole.S (5f5) & Tulisa (5ft6) when both are in quite high heels. I agree with the listing. But his build is still very stumpy.
Dino
said on 17/Nov/11
His Waxwork at Madame Tussauds is tiny. 5'7" maybe even shorter
Shaun
said on 11/Nov/11
If he's 5'7.5" then Robbie Williams is 5'11" absolute max.
Shaun
said on 11/Nov/11
Good grief, that short? I'd have guessed 5'9".
GUK
said on 5/Oct/11
He is quoted as 5ft 9 in the express but I don't believe a word
hy
said on 26/Aug/11
LOOKS A STROng 5ft7
ryan
said on 27/Jun/11
look about 5'7 look at this photo him with david cameron 6.05 feet and he's wearing 3 inch heels so 5'7 is about right
Click Here
leonari
said on 14/Mar/09
Mark Owen is not a full 5'6" during the day
Lottie
said on 14/Mar/09
Well, when i met them, i cant say i noticed footwear choice but there we go.... Im 5'10 and the only two taller than me were Jason and Howard, Gary ws about 2 inches shorter..it was weird cos i expected gary to be taller, and there wasnt that much between him and mark, who must be about 5'6. And Jason was the tallest, with Howard not far behind him... id say around the 6'1-2 mark for Jason, and a tad over 6 foot for Howard.
spooky
said on 13/Mar/09
Ok, since people were discussing if Jason is taller than Howard or the other way round, here comes a really stupid observation. Whenever the lads sang "Pray" in the past, at one point two of them used one microphon together. Usually it would be Robbie&Jason and Howard&Mark. When Robbie left, it was Gary&Mark. So I assume it had something to do with their height which means that Jason and Robbie were probably the tallest. As I said, it
Anonymous
said on 1/Mar/09
Bubbles - Just seen Howard, and he is shorter than I thought - not quite 6ft!
leonari
said on 13/Sep/07
I agree. Gary and Mark are on the short side. Orange and Howard are tallish.
jon
said on 12/Sep/07
I saw mark owen in cambirdge and he was shorter than my mate at 5'5"!!!
Funny thing is when i saw the band on tv in 06 they all looked roughly the same height, i think mark wesrs heels, and the band are gneraly a lot shorter than people think.
Bigfatmeerkat
said on 13/May/07
I was very let down meeting take that about 12 years ago. I'm 5'8 and the only ones taller were Jason Orange (6'2 at most, prob closer to 6' - I was next to his twin at their concert and he was at most a few inches taller than my sister at 5'10") Howard was about 6ft, maybe a half inch either way. Gary Barlow was under my eyeline so at most he is 5'8" taking into account his big forehead and the spiky hair...so 5'7" is closer to his real height) Gary was a chunky short guy with a lazy eye. Robbie Williams is about 5'10"-5'11" and far balder and less attractive in real life, even 12 years ago, god knows what he is like in real life now. Mark Owen was TINY, like a little boy, 5'5" if he was lucky but I'd guess at 5'4" - very petite, quite cute in an awww little lad kind of way. But very small.
leonari
said on 19/Feb/07
mark is never 5'7''...he is way shorter than Barlow. blind?
He's 5ft 8"
said on 18/Feb/07
I read his book, he's 5 ft 8" and Mark's 5ft 7"
Lois
said on 4/Feb/07
Actually I have met Gary, and I'm 5,9, he was about an inch shorter but I slouched so we looked the same height! :0) so he's 5,8 So now you know!! :0)
Maya
said on 22/Dec/06
In his autobiography "My Take" Gary claims to be 5'8". He also mentions that at one particularly low point of his life he used to weight 16 stone 8 pounds!
leonari
said on 14/Dec/06
Izzy: you have no clue: yes mark gets often advertised as 5'7" but it's soooo obvious he is shorter !!!! Gary barlow is 5'7".
Evanna
said on 13/Dec/06
Sorry to dissapoint you Izzy but Mark is truly 5'5"-ish. As for other band members apart from Gary, Howard Donald is about 6', maybe a tad under that, Jason Orange a bit taller than Howard, probably 6ft-and-a-change.
[Editor Rob: I was thinking it's the other way Howard slightly taller than Jason, I think howard wore converse a bit in the past...hmm, maybe, he looks actually taller than Robbie]
Izzy
said on 13/Dec/06
Erm i think that Mark Owen is about 5ft 7? maybe? Hes gorgeous! But it would be good if he could be abit taller.
leonari
said on 8/Dec/06
Rob: I agree with every word. So? Will you put Mark Owen and the other guys from take that on the site? Please I think it's time. Yeah Mark Owen tries to pull off to look 5'6" with bigger shoes but since the other guys: Jason Orange and the other guy are really tall, like over 6 foot...
[Editor Rob: have a little patience man...soon, at least for Owen since he did have a solo career...ish]
leonari
said on 7/Dec/06
Rob: where and how did you got the figure for Barlow??? All over the internet he is listed as 5'9"...which of course is crap ....I agree with you though
[Editor Rob: I bet in a few years there won't be many 5ft 9 listings...barlow is after all a few inches shorter than Prince Charles.

Owen, I think he's very aware of his lack of stature and is wearing bigger heels to look 5ft6, I think Mark '4 minute warning' is under 5ft 6...]
Evanna
said on 6/Dec/06
Agree with tubbs & leonari. Actually, Mark Owen was the first celebrity that I ever asked for an autograph. I was 13 at the time, probably around 5'6" tall, and I was already taller than him! What stunned me most was that he looked like a teenager, although he was well into his twenties back then. I guess I looked older than him! He was very nice and friendly, though. Anyway, 5'5" tops. I saw him again two years ago, while he was promoting his solo album. He still looks like a teenager.
I also saw Howard Donald couple of years ago, I attended one of his DJ sets. He looked like a legit 6' guy to me.
tubbs
said on 6/Dec/06
Your right Leonari, Owen is 5'5" at the most. I unwittingly saw him performing at HMV in my local shopping centre some 18 months ago, didn't realise who it was at first, and when he walked past me he seemed to be 5'5". I bet he's glad of the Take That reunion, if it wasn't for that he might have been busking by now.
6'2'' JK
said on 6/Dec/06
Im really surprised at this one, i always used to think he was 5'9''
[Editor Rob: even 5ft 7.5 could be a 1/4 too high...I'm sure smash hits had him up to 5ft 10 at one point.]
leonari
said on 6/Dec/06
please ROB, ad Mark Owen and the other creatures from Take That...
leonari
said on 6/Dec/06
This seems very accurate...Around 5'7" certainly not below.On the other hand: Mark Owen must be shorter than 5'6"...I always thought this guy is around 5'5" cause Gary Barlow is obviously taller, more than 1.5 inches...
Evanna
said on 5/Dec/06
5'7.5" - that's exactly what I thought of him. And I've seen him enough to be able to tell.