George Hertzberg's Height
6ft 4 ½ (194.3 cm)
American actor best known for playing Adam on season 4 of TV series Buffy the Vampire Slayer. On his site said,
"I was 6'2" when I was 16 and 6'4" when I got to college"
.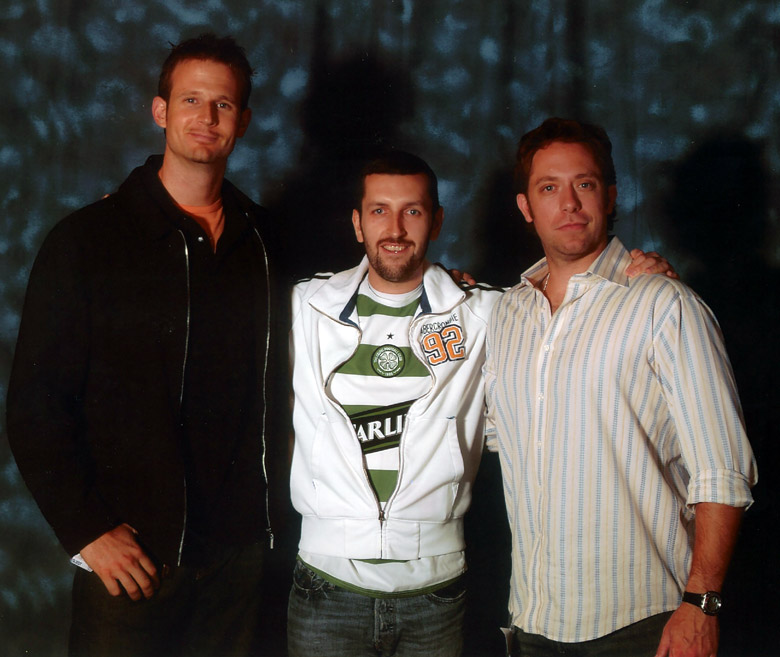 5ft 8 Rob, 5ft 8 Jenny and George
You May Be Interested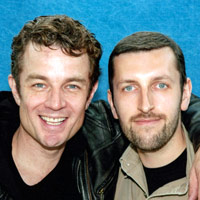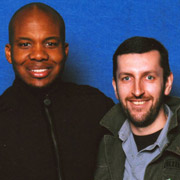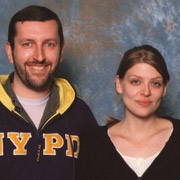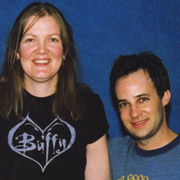 Add a Comment
116 comments
Average Guess (15 Votes)
6ft 4.75in (194.9cm)
184guy2
said on 10/Jul/19
@Rob
How tall is the chap ?
Click Here
You said that he isn't taller than you , but could he also be 5'8er ?

Editor Rob
Very similar range
Rampage(-_-_-)Clover
said on 25/Feb/19
A solid 6ft4½ guy with his proportions could easily be mistaken for 6ft6.
Nik
said on 4/Nov/18
@ 184guy2 - Point taken!
184guy2
said on 1/Nov/18
@Nik
He is certainly not OVERlisted ! *
Nik
said on 9/Sep/18
He is certainly not underlisted!
Mickie
said on 30/Aug/18
6'4.5" is his height, which is properly very tall and can easily be mistaken for 6'5" to 6'6".
Junior Hernandez 1990
said on 27/Jun/18
I feel he can be measure 6'4 5/8 more chance than Ryan McPartlin.
Dream(5'9.5")
said on 4/Jun/18
The more I look at it, the more this listing is suitable.
His high chin can give a taller impression, but Rob's head reaches his chin when one looks closely.
Canson
said on 10/Mar/18
I think 194-195 is perfect
Bobby
said on 7/Mar/18
He looks an easy 6'5 in my opinion.
Junior Hernandez
said on 7/Feb/18
Hertzberg was still listed at 6'5 in imdb. But 6'4.5" sounds legit.
Tunman
said on 24/Jan/18
There is no way Rob would list George smaller than Rory by 1" if he was taller.Now Rory could very well be 6'5 flat but no less

Editor Rob
Rory's head in person is an inch longer than George, I think proportionally Rory might not seem such a big 6ft 5+ guy to people because of this.
Don Julio
said on 18/Jan/18
195 cm even
Canson
said on 28/Dec/17
6'4.5 looks good
Canson
said on 28/Dec/17
@James: Rory could be a legit 6'5" but doubt over that by much (196 max imho)
James
said on 27/Dec/17
Looks taller than Rory McCann. Maybe 6'5" for this guy and 6'4.5" for Rory would be a better guess!!!
Editor Rob: in person, Rory does seem taller than George.
Napi
said on 5/Aug/17
Hey rob, if a persons looking at the nose of a strong 6'4 guy then how tall would he be?
Editor Rob: they could be in the 6ft 2 range
Rampage(-_-_-)Clover
said on 1/Aug/17
He doesn't look over 6ft4 w/h Jenny but about 6ft5 w/h Rob. This is a fair mark
Christian-196.5cm (6ft5 3/8)
said on 6/Jul/17
He's 6'4.5" as listed. But he's not 6'5". Don't let his short head fool you.
6'5
said on 6/Jul/17
Looks around 6'5 to me.
Canson
said on 3/Jul/17
He's no taller than this listing.
184guy
said on 10/Apr/17
Rob Who you would bet your money on a staredown
Joe or George ?
Editor Rob: George has a better standing/walking about height than Joe, who can seem 6ft 4 walking about...there's a chance both are identical though!
Rampage(-_-_-)Clover
said on 21/Mar/17
I think Neeson in his 20's-30's with good posture would have looked similar to George
TheReel
said on 2/Mar/17
@ Rampage if Rob lists him at 6'4 1/2" that means he's under 6'4 3/4" and likely 6'4 2/3 rds MAX and I qoite "Editor Rob: because he is likely 6ft 4.5 range "
Six four and a half.
Editor Rob:
funny thing is, Colin Salmon is very close in height to George and see how that photo turned out!
Rampage(-_-_-)Clover
said on 6/Feb/17
I still get a taller impression from this guy than McPartlin especially in the older photo. I'm sure they're very close but I'm giving this guy the 195cm.
184guy
said on 20/Aug/16
He looks over the listing but he has a impecable posture and Rob has said that he gotta a better angle.So he might be next to the listing.Certain nothing under
Canson
said on 4/Jul/16
He's def looking where Rob has him. 6'4.5ish
Rampage(-_-_-)Clover
said on 3/Jul/16
A solid 194cm is the absolute lowest I'd go for this guy. Frame-wise, he looks near 6ft5. So does McPartlin.
Rampage(-_-_-)Clover
said on 24/Apr/16
I'd have kept him at 195cm...
Andrea
said on 29/Feb/16
You decided to give him just 6'4.5, Rob?
Reading the old comments, you seemed quite sure he wasn't any less than 195 in person and actually near enough 6'5!
Do you think he'd be similar to a Ryan Mcpartlin and shorter than people like Joe Manganiello/Tom Hopper?
Editor Rob: I think he is similar to McPartlin. Hopper I think is within that range too, but he did have fraction less sneaker.
Alex
said on 27/Jan/16
He's really tall, could be 195 cm indeed.
John
said on 16/Jan/16
@Emil 183 cm
Agreed. If George weren't leaning in those photos, he would be a full head higher than 5'8 Rob and Jenny. And usually an adult's head is around 9-9.5 inches long. Either he's a strong solid 6'5, or he has a short head and a long neck.
Editor Rob:
You can see another guy side by side:
Here
. That guy isn't taller than me in person.
Emil 183 cm
said on 15/Jan/16
@Rob
He looks 6'5 range to me
bobby3342
said on 9/Jan/16
ok lets agree to disagree I don't see gwen being that tall even out of bed
pablo77bar(184cm)
said on 15/Dec/15
Rob,why you say 6ft 4.5er ?
This guy looks taller than any 6ft 5 and even some 6ft 6 of the site.The footwear was the same? If not, he looks a whole full head taller than you and Jenny.At worst a tad under.Legit 6ft 5 and possible 6ft 5.5
Editor Rob: that's the kind of range he looked to me
Andrea
said on 26/Nov/15
So she has short legs? If she shrinks 1.5 inches and you say she has "an extra long spine"... What about Michael Phelps? He probably has got a longer spine than her! Does he shrink 2 inches? Lol
Editor Rob: Gwendoline has went on record saying her shrinkage. It is 1.5 inches, more than average.

Based on the average for tall men, it would be less.

joe @@
said on 25/Nov/15
bobby3342
he had already explained that women can lose more time throughout the day
Andrea
said on 24/Nov/15
If he's 6'4.5 range, then he should wake at least at 6'6 :)
It seems the only person you believe to lose 1.5 inches is Gwendoline, Rob!
Editor Rob: she has an extra long spine!
bobby3342
said on 23/Nov/15
you buy gwen christes 6'4.5 waking claim but don't think this guy can wake at 6'6? lol
Editor Rob: because he is likely 6ft 4.5 range
Amaze
said on 8/May/15
His description matches the guy I know exactly
Yeah legit strong very tall man 195cm he's 17-20 cm above average
Rampage(-_-_-)Clover
said on 15/Feb/15
197-198cm out of bed, Rob?
[Editor Rob: don't know, 6ft 5.5 =0.75 range is possible from waking.]
MrTBlack
said on 18/Apr/14
Hey Rob, he probably is 6'5" he just wasn't measured recently?
[Editor Rob: I think nearly 6ft 5 is ok for him. I've seen 6ft 5 people look taller in person]
Lorne
said on 10/Oct/13
Strangely he's listed 6'4 everywhere, I saw that and know he looks huge, so I checked here. 195cm a good fit.
Rampage(-_-_-)Clover
said on 31/Jul/13
Looks 6ft4.5/194cm max on the left but the full 6ft5/196cm for sure on the right.
Was taller than Neeson in Taken.
jimmy
said on 13/Apr/13
Rob are u dropping height here? Cause this guy looks a head taller than you(He is a bit closer to the camera though).Btw how tall is the guy with the red hair next to you?
[Editor Rob: in 179-180 range I think. Standing the same I thought.]
george
said on 22/Mar/13
Rob he looks taller than Manganiello in the pics.Upgrade this guy or downgrade Joe.
[Editor Rob: you've seen in the challenge how a 6ft 5.2 guy can look...both joe/george are not as tall as that challenger in person]
Balrog
said on 8/Feb/13
He looks really near 6'5'' on this pics, 6'3.5'' it's just trolling.
steven
said on 19/Jan/12
so he had advantage footwear beside 5'8 jenny. he only look 6'4.5 , roughly took away advantage by 0.5 to 1" he is max 6'4 and min 6'3.5
James
said on 30/Sep/11
I think 194cm is closer and i think he would be a hair shorter than tim robbins.
the only reason why he looked so tall with liam neeson is becuase off his good posture.
lan jiao
said on 6/Sep/11
what i know herzberg head is short for a 6ft4 person. he is not 6ft5 but can giving illusion of being 6ft5 with spiky hair and small head.
Terryman
said on 4/Sep/11
Rob if your head length is around 24,5cm then his entire head length is 22cm am I off?
[Editor Rob: if you tilt your eyes up a little it can make head little bit smaller in a photo.]
Hansen
said on 11/Aug/11
with jenny he looks 194 or a fraction more. judge by his shoe advantage on jenny. i did say he is a solid 6ft4 than 6ft5. he hold well himself and can look 6ft5 in buffy. 193.0 to 193.5cm. he cant be 194 at lowest.
Rampage(-_-_-)Clover
said on 15/Jul/11
Identical to Tim Robbins...
James
said on 30/Jun/11
He looked 6'5 tops in Buffy.
Rampage(-_-_-)Clover
said on 27/Jun/11
Looked a really solid 6ft5 on Buffy, like 197cm. Made Sarah Michelle Gellar look like an infant. This guy would be identical to a young Tim Robbins.
James
said on 3/Jun/11
seemed more 6'4 than 6'5 in Taken and Buffy.
James
said on 31/May/11
he looks borderline giant with rob
Rampage(-_-_-)Clover
said on 24/May/11
Looks 197-198cm with Rob and 194cm with Jenny
6"4.75-6"5 is fine
James
said on 13/Apr/11
Yeah he looked more 6'4 range as well in Taken in comparison to 6'3.5-6'4 Liam Neeson.
James
said on 27/Mar/11
Yeah he looks no bigger than 6'4.5 with jenny. Hugh I kinda agree with you with rob he does look virtually 6'6 but i think its just the way the photo is taken and that george is closer to the camera. the other guy to the right of rob looks 5'10.5.
I don't think George is a full 6ft5 either. A strong 6ft5 guy like Ralf Moller would have 1 inch on george.
Rampage(-_-_-)Clover
said on 25/Mar/11
Looks 197-198cm on the right and 194cm on the left.
6ft5(196cm) might be plausible
James
said on 23/Feb/11
Rob is 194cm not improbable for hertzberg? I personally think he's 194cm.
[Editor Rob: I think between 194-5cm is fair.

6ft 6 in Asic trainers maybe, but not barefoot.
]
SAK
said on 23/Feb/11
He looks 6ft5/196cm to me.
Chameleon
said on 11/Feb/11
looks 6'4..
James
said on 26/Jan/11
in pics on google images he strikes me as being more 6'4 as well.
Rampage(-_-_-)Clover
said on 25/Jan/11
195-196cm is on the ball
James
said on 24/Jan/11
i think he might be more of a solid/strong 6'4 guy than a 6'5 man?
I think 6'4.5 (194cm) is more on target. With Jenny looks no more than 6'4 (193cm) or 6'4.25 (194cm).
Rampage(-_-_-)Clover
said on 5/Jan/11
Judging by that quote he definitely rounds down
James
said on 2/Jan/11
rampage he does not look 6'6 esspecially with jenny he looks 6'4 1/2.
i think 194cm at lowest. so he is identical height to vince 6'5 tops. i am sorry though rampage but only 6'6 in shoes or close to it out of bed.
Rampage(-_-_-)Clover
said on 23/Dec/10
195cm at the lowest...
Really he looks just about 6"6 in those pics
Mr. R
said on 17/Dec/10
Rob, I just looked at the other comments on this page, and there was a misunderstanding about my comment regarding Jenny. On the page that is showing for GH, the second pic has you, George, and another man. Sorry if I was misunderstood. PLEASE convey my apologies to Jenny!
No sprint84, I am not a jerk. Just confused!
James
said on 1/Dec/10
Mandilo also goldblum, neeson and seagal might have been in the 6'4-6'5 at thier peaks also. today there in the 6'3-6'4 range.
Guys like Conan O'brien, Modine and D'Onfrio who claims to be in the range of herztberg but in reality are 6'3 range.
Alex5
said on 20/May/09
Isn't his chin above the top of Rob's head?
rony192cm
said on 1/May/09
He looks 195-6cm with you Rob
rob89
said on 23/Feb/09
Looks an easy 6'5 to me. The other guy looks about 5'10.
Hugh
said on 7/Nov/08
6ft5-6ft5.5 range fits him.
Jasper
said on 29/Jul/08
Looks like a solid 6ft5.5, but more like 197cm or 198cm...
Kevinno
said on 25/Feb/08
def 6'6
sam
said on 23/Oct/07
Why don't you upgrade him, Rob?
Matt Thomas
said on 22/Oct/07
looks 6'5 not 6'4.5
Alex
said on 13/Oct/07
Danius, I wouldn't go as high as 6'5.75. 6'5 flat or 6'5 1/4.
Danius
said on 11/Oct/07
needs upgrade to atleast 6'5..he looks 6'5'5 to 6'5.75 tho..
Alex
said on 8/Oct/07
Did George say his height in any recent interviews?
I think he needs to be upgraded to at least 6'4.75.
Franco
said on 8/Oct/07
your right ROB, now its clearer.
ye i had a tilted, so indeed from your own reply i have to conclude that he is 194-195 then.
yeah i was 193cm at the time and about 195-196cm in that pic because of shoes,
lol i have this ****ty thing where i always bend my head forward like in the pic, some say people above 190cm tend to do that, when walking im straight and all (good posture) but when standing i always bend head and sometimes hunch slightly lol
anyway 194-195cm for George then.
well done.
[Editor Rob: tall men might not look direct ahead with shorter guys, usually they will tilt heads down a bit towards the photographer like you say. I've mentioned a year ago to the 5ft 7 kid who used to post here about how head tilt up/down a bit can make it vary.

Although everybody on this thread except maybe 2 wouldn't argue he looked less than 195cm anyway. So use this pic as reference for basically 6ft 5 guy then.]
Franco
said on 7/Oct/07
for comparison.
me 193cm (195.5-196cmcm in shoes) (at the time, today i'm 194cm), Giorgio my friend is 174cm (176.5-177cm in shoes), both had the same exact shoes.
Click Here
as such look at Rob who is like 176+cm in that picture and George on his side,
the difference is clear and you can see he is no less than 196cm (about 199cm - 2 meters in that pic).
[Editor Rob: I can show you the difference is the same as with your friend...
remember, let's just give him the 6ft 5 'he says', but *he has a slight positive head tilt, and you have a negative head tilt*, that can make the difference look less or more. It can make a 9.5 inch head visually look barely 9, or if tilted down a solid 10 inch.
In your pic, if you raise your head up and it is slight positive then your eyeline goes up 1 inch, and the white line of the giorgio head would go from your bottom lip to 1 inch further down your chin...basically near enough the same as with hertz, so your photo argument actually makes 6ft 4 flat for hertzberg more realistic if you claim you're 193 then and giorgio is 174, which is 1cm taller than me!
So when you see the 2 pics together, the difference between 2 white lines is identical and also the difference between you/giorgio and me/hertzberg is pretty much very similar aswell -
Here
.
]
Franco
said on 7/Oct/07
left to rob = 180-181cm (remember he is slightly leaning)
right to rob no less than 196cm, he needs an upgrade.
venus
said on 7/Oct/07
He is what he says he is. He's tall.
Alex
said on 7/Oct/07
That guy looks 5'10 1/2 at the least with Rob.
danius
said on 7/Oct/07
taller than 6'5? glenn is taller than rob next to 6'4.5 tim robbins, wth? tihs guy must be 6'6-6'6.5
danius
said on 7/Oct/07
5'11? more 5'10
danius
said on 7/Oct/07
6'5.5?
Alex
said on 6/Oct/07
How tall does the guy to Rob's left look you think? I'd guess 5'11.
Derek
said on 6/Oct/07
Unless this guy has an advantage in footwear, he's not under 6'5".
Alex
said on 6/Oct/07
Jason, his head looks 9.5 inches to me. Looks average length.
Thats why I figured he was 6'5 insted of just 6'4 1/2 since he has Rob by just about a full head.
Alex
said on 6/Oct/07
It could be a problem with certain jobs, but most tall guys I know don't have trouble finding work.
Jason
said on 6/Oct/07
He's got a shorter head than us.
Franco
said on 5/Oct/07
i'm 194cm and next to a 173-174cm person i look shorter than this guy, he is no less than 196cm.
George
said on 5/Oct/07
Ok, legitimately i'm 6'5" but in Hollywood that doesn't fly so I say 6'4".
derek
said on 5/Oct/07
he does look an easy 6'5
Alex
said on 5/Oct/07
Rob, what height did he say he was?
Well even 9 inches it's still 6'5 flat.
[Editor Rob: I seen him three times - birmingham milton keyens and another event at a hotel when he said six four...of course he rounds down and nobody would argue less than six five. To be fair it would be hard to say if tony todd was taller in person so maybe he should be given the five...

Folk have always said he's really tall when they seen him. Problem is being that tall can be disadvantage for getting work...]
Korben
said on 5/Oct/07
looks WAY more then 194... look at the pic of tim robbins and glenn, also 194 but robbins mouth hits the top of glenns head, he is a head taller then you, then look at cromwell, bascailly a head taller then glenn, how is this dude only 194
OutBenchThis
said on 4/Oct/07
looks an easy 6'5"
Alex
said on 4/Oct/07
George's head has gotta be 9.5 inches long and he has Rob by that. 6'5 at the least he is.
[Editor Rob: yes, it would be in natural position. He's got slight positive tilt which reduces his head size...you can move my head up
Here
and see that his head isn't really 9.5 inches...
but sure, it's very easy to give him 6ft 5.]
6'3.5''
said on 4/Oct/07
He looks about 6'6''
AAAA
said on 4/Oct/07
He shows how important it really is to conseider head size. The reverse would be guys like Big Show, John Mayer, Bill Clinton, Warren Beatty. They all have very large heads, so photos with them are deceiving. I bet he could look even taller from a distance because of how his head is proportioned to his body.
sam
said on 4/Oct/07
Yeah, I would guess 6'5" minimum. Tough to be certain, but I think 6'4.5" is too low.
Chris
said on 4/Oct/07
Who's the guy on the right?
[Editor Rob: guy called James Leary.]
Jason
said on 4/Oct/07
Looks the 6'4 1/2''.
Kevin Durant
said on 4/Oct/07
He looks like a solid 6'5 in that picture with 5'8" Editor Rob.
Alex
said on 4/Oct/07
He has Rob by a full head and a head is 9.5 inches mostly for most guys. I see 6'5-6'5.5 there.
lillo thomas
said on 4/Oct/07
he sure look 6-4.5 atleast can pass to be 6-5 easily
Antin
said on 4/Oct/07
looks 194 cm
Cairo86
said on 4/Oct/07
Tall and wide man. Using the photo we can deduce the existing difference is also equal to a difference that would be 1 inch above the bottom of Rob's chin.
In the further comment posted below a photo of basketball players can show us 8.25 inches is not very different than what we are presented in this photo.
So we can reasonably conclude that George is 6ft 4.25-4.5.
Viper
said on 4/Oct/07
He does look 6-5 minimum here.
Vegas
said on 4/Oct/07
he nearly has a full head on you there Rob. I would estimate an easy 9 inches making him 6'5 minimum
[Editor Rob: yes, hardly anybody would argue he was below 6ft 5.
Its rare to get a very tall men standing pretty decently in a pic, but I would say:
2 measured nba players.
White guy at 6ft 9.25 has got a bigger eye to chin than hertzberg (who himself has no bigger a head than me, surprisingly he's actually got smaller lip to chin size).
Anyway, see how much 8.25 inches is. Those barefoot heights are from the draft camp...
also from my old height measurement photos, this is one where I'm nearly 1/4 inch shy of 6ft 5.
6ft 4.8 vs 5ft 8
.]
RobertJ
said on 4/Oct/07
Looks 6'5''.