Leonard Roberts Height
6ft 1 (185.4 cm)
American Actor best known for playing D. L. Hawkins on tv series HEROES and Forrest Gates on Buffy the Vampire Slayer. In film he has appeared in Drumline and Red Sands. This photo is from a Showmasters event in 2008. He once mentioned his height on Larry King:
"I went to the audition and I was still the smallest guy in the room. I'm 6'2" and I was the smallest guy in the room"
. I might have had a little more sneaker (0.2 inch).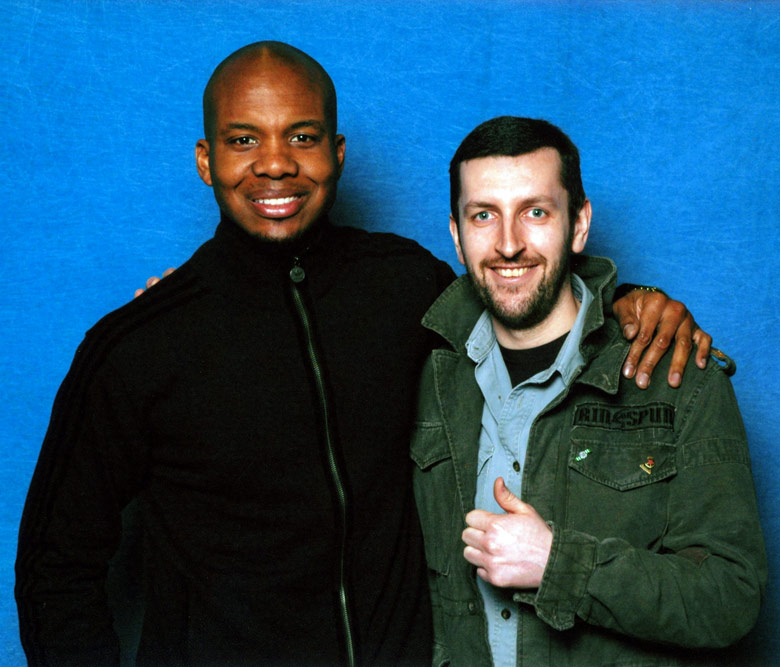 5ft 8 Rob and Leonard
You May Be Interested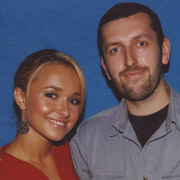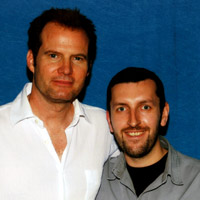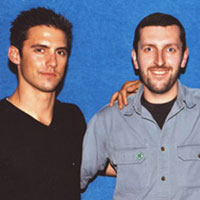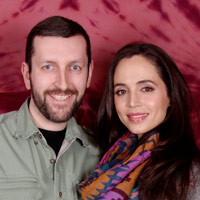 Add a Comment
63 comments
Average Guess (9 Votes)
6ft 0.75in (184.8cm)
Nik Ashton
said on 1/Mar/20
🗣 "6 1"!
Bwk
said on 16/Nov/18
6'0.75'' max.
Zampo
said on 1/Nov/18
The max I can buy is possibly 6'0.75. Looks more of a bang on 6'0.5 to me, here.
Paul NS (6ft0.5)
said on 14/Jan/18
He claimed 6ft2:
Click Here
"I went to the audition and I was still the smallest guy in the room. I'm 6'2" and I was the smallest guy in the room."

Editor Rob
I'll add that quote to his description, thanks for pointing it out.
abcd
said on 9/Nov/16
185 or weak 186
184-182
said on 10/Apr/16
seems like a genuine 6-1
Aza
said on 15/Jan/16
Good listing.
Andrea
said on 31/Jul/15
Rob, could he be more 184? You're around his eyebrows, so he's maybe 4-4.25 inches taller than you in the picture... Considering you're more 5'8.25 than 5'8 flat, i could buy somewhere around 184. But do you really think he'd be taller than the 184 challenger guy?
OneNamePlease
said on 23/Jun/15
eyelevel 14, big head, but he is more 6'0.5
Rampage(-_-_-)Clover
said on 13/Oct/14
Could be nearer 184cm at night
cole
said on 16/Jan/14
Is his head perhaps a tiny bit longer than yours Rob? If you had a fraction bigger footwear as well, 6'1 makes sense.
Lorne
said on 7/Oct/13
I wouldn't go less than 185cm for this guy...
Matt 184.7-186.7cm
said on 6/Oct/13
looks around a 6ft 0.5 range, 6ft 1 his eyes would be basically on robs scalp
Emil
said on 30/Jun/13
Tim says on 15/Jun/13
1.836 m, 6 ft 1/4 this guy roughly is. One of my teachers was 5 ft 8, and I look roughly about this much taller than him, and my guess of my height is 6 ft 1/4, so yeah.
Maybe your teacher wasnt 5'8?
Tim
said on 15/Jun/13
1.836 m, 6 ft 1/4 this guy roughly is. One of my teachers was 5 ft 8, and I look roughly about this much taller than him, and my guess of my height is 6 ft 1/4, so yeah.
richkid123
said on 19/Feb/13
looks a little bigger than that to me but not 6'2"
Stephen
said on 8/Jan/13
183.7-184.2 no more.
johnnyfive
said on 7/Sep/12
Dude is roughly the same height as me. I'm 184 on the dot, perhaps 184.4 at lunchtime, a few millimeters taller than the height challenger who measures at 183.8, so Leonard is about 183.6 I believe.
USYD
said on 13/Feb/12
He looks 186cm to me.
[Editor Rob:
Click Here
- take off 2mm stadi error and that's a 186.1/183.8 guys, so he can in my opinion look shorter than a 186 guy and about same as near 184 guy.]
ChiasmataX
said on 23/Dec/11
He's 184cm max, if not a few mm shorter, probably 183.5cm. Just compare him with the guy from height challenge # 10.
beur
said on 11/Dec/11
Click Here
does that look like a full 3in difference? keeping in mind many people doubt Schweiger is 5'10
goal height 183cm 6'0
said on 25/Oct/11
185 spooooooooooootttttttttttttt on, my brother is 184cm and my dad is a weak 5"8
and this is exactly the difference between them
Balthier
said on 11/Sep/11
He looks 183-184..
ali
said on 30/Aug/11
maybe 6 ft..
Lenad
said on 8/Aug/11
solid 184cm looks right
Ali
said on 18/Jul/11
Nope, looks 6'0. Has 3.5-4 inches on you.
The top of your head is half an inch below his
eyebrows.
[Editor Rob: I think in Buffy when he was doing scenes with Marc Blucas he didn't look more than an inch shorter, he looked pretty near marc's height.]
James
said on 12/Jun/11
184cm is more likely than 185cm in my opinion
mrknowitall
said on 11/Jun/11
6'1.25 at most
Lenad
said on 11/Jun/11
solid 184cm it is. I can see 4.5-5 inches taller than Rob
Lenad
said on 9/Jun/11
Looks max 5 inches taller than Rob. I'd go with a solid 184cm
James
said on 8/Jun/11
close to 6'1.
Chuck
said on 26/May/11
Yup 6'1" looks just right for this guy. One of my relatives is the same height and he is also 6'1".
James
said on 11/Apr/11
hmmmm actually looking at the pic more closely he does not appear over 6'0.25 (184cm) given that rob is not standing as striaght.
Appears like a legit 6ft to me
James
said on 22/Feb/11
He does look very close to 6'1 but i think either 6ft.75 (185cm) would be perfect for this guy.
Dean
said on 2/Dec/10
@Zltn - Santiago cabrera looks more like 3 inch difference for me..and thats without the fact he has tall hair compared to no hair...
Me and my mate have a 10cm difference and here looks near same maybe slightly more of a difference...11cm for me so makes him 184cm. Definetly no more than a weak 185(6'.75).
if roberts is 184-185 cabrera is max 177-178.
Matt
said on 22/Nov/10
looks to be a hair under 6ft 1, in reality barefoot = 6ft0.5 ish
Mathew
said on 5/Jul/09
I'd actually say he looks between 6' - 6'1" here. I guess 6'1" is fair enough.
aram x
said on 1/Jul/09
Not to point out the obvious, but it looks like he has very sloping shoulders (or maybe that has to do with his posture). For example, in this pic his right shoulder (From his perspective) is hardily any higher than Rob's shoulder. Anyways, using a ruler and a calculator it's easy to determine that he's about 12 cm taller than Rob and the claimed 6,1".
Marty
said on 26/May/09
A 5" difference in height wich makes him 6'1" like Rob's claim...
T.J.
said on 5/May/09
looks more 6'0" to me
Anonymous
said on 4/May/09
Looks a solid 6ft1.
Ian
said on 5/Mar/09
Looks 6ft1 to me as Rob is a little over 5ft8.
rob89
said on 5/Mar/09
He looks closer to 6' even here imo. The top of the editor's head seems to just reach Leo's eyebrows, if you look carefully. Their postures look similar as well.
Now if Leo had an average sized forehead, that would mean the distance from his eyebrows to the top of his head was even less than 4 inches, putting him at under 6'. However, since he does seem to have a pretty long forehead, it's probably more like 4-4.5 inches. Still looks max 6'.05 to me though.
Antron
said on 7/Nov/08
No they aren't. It's fairly mixed actually.
Ventimiglia 5'8"ish, Pasdar and Ramamurthy are about 5'10", Oka isaround 5'6."
Grunberg is over 6, so are Coleman and Quinto.
bam
said on 5/Nov/08
is it just me or is the male cast of heroes pretty damn tall. Most seem to be over 5'11, its weird.
Alex
said on 5/Nov/08
Leo's eye level looks 5 inche or so from the top of his head. Rob's head is 1/2-3/4 inch above his eyes. Thats a good 4.5 inch difference. Leo is 6'0.5-6'1.
Big King
said on 26/Sep/08
Rob, are you shure that he's 6'1"? He looks only four inches taller than you. Leo is 6'0 1/4" in my opinion.
Lenad
said on 25/Sep/08
Looks 6'0-6'1 range.
dmeyer
said on 3/May/08
6 ft 0.5 to 6 ft 1 range 1 cm is hard to tell
Ras
said on 13/Apr/08
Though he's got quite a biggish forehead.
Ras
said on 13/Apr/08
I'd give him 6'0 and 3/4. On a more profound glance the guy seems to be in good proportion for his height.
Sid
said on 9/Apr/08
Looks right, maybe 6-1.5, but now that you've met him rob, you can perfect the height of david marciano and paul gross, even though they seem correct on the site, because leonard's debut was in the due south episode white men can't jump to conclusions and there are plenty of scenes of them standing next to each other.
Josh
said on 8/Apr/08
Yeah he looks 6'1.
BigKid
said on 6/Apr/08
I'm 6' 7" and 16yo. I once met this guy at a cafe. He's real nice. I know lots of people at 6'1" and thats about where he was
Charliemoto
said on 6/Apr/08
it's amazing how tall a 6'1 can look next to a 5'8 guy he kinda towers over Rob, when i look at images such as this one it makes me wonder, in shoes i'm 6'0 and when i'm standing next to a 5'7-5'8 i don't really feel that difference however when i look i my own pictures it's a different story.....power of the picture i guess.
Hawkins is 6'1 indeed or slightly above.
Derek
said on 6/Apr/08
6'1" sounds about right.
Quipsilon
said on 5/Apr/08
Well Im 6'8 myself at 14 and for example my step dad is 6'2 and when I look up at him Im a bit above his shoulders so this guys probably like 6'1.5
C.
said on 5/Apr/08
I always pegged him as 6'1", and he does look it in this photo.
derek d
said on 5/Apr/08
Possibly a tad over 6'1, maybe 6'1.5?
Jim
said on 4/Apr/08
maybe 6-1.5 or 6-2
BERTA
said on 4/Apr/08
looks like 188
Anthony
said on 4/Apr/08
This looks right.
On buffy
said on 4/Apr/08
I recall he didn't look that much shorter than Riley.