Gianluigi Buffon's Height
6ft 3 (190.5 cm)
Italian professional goalkeeper, who has played for Parma and Juventus. On one occasion he
claimed
to be 191cm tall.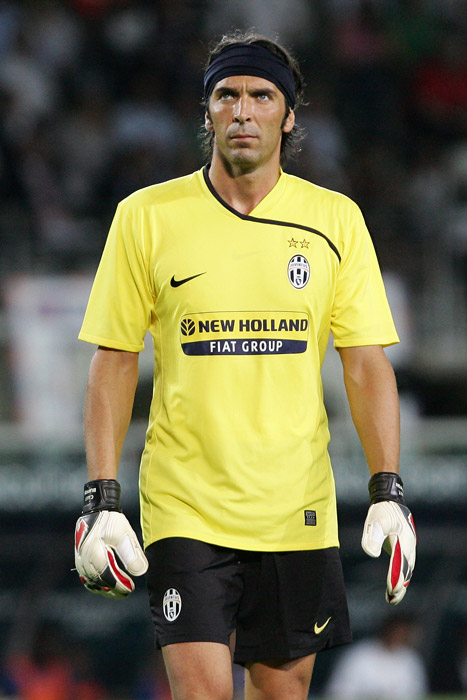 Photos by PR Photos
You May Be Interested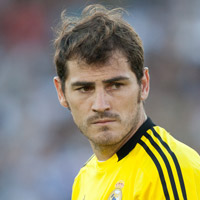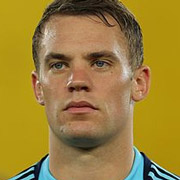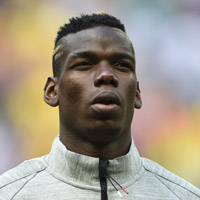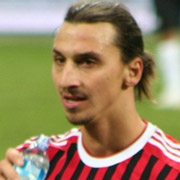 Add a Comment
50 comments
Average Guess (61 Votes)
6ft 3.16in (190.9cm)
Giuliano
said on 6/Nov/20
Rob, who is taller Hummels or buffon in this picture
Click Here

Editor Rob
in the coin toss photo it might be Hummels who has the edge
Hulk.23
said on 29/Jul/20
I think he's an honest 191cm man...maybe 6'3 1/8 or 6'3 1/4 would be fairer for him. Great captain and person!
Gelpi Stefano
said on 18/Jul/20
I SAW HIM FACE TO FACE, FEW YEARS AGO, HE HAD 1 INCH SHOES ON... HE'S A REAL 6ft 3 MAN...
Geazy
said on 14/May/20
Rob, why the hell Buffon in this picture is smaller than Juan Sebastian Veron who is 6ft1 , that is very confusing?!
Click Here

Editor Rob
For the Pepsi adverts? I believe the players are pasted into the lineup, the one with Veron, Buffon and then Messi on the end is definitely not reality.
OriginalAnon
said on 4/May/20
Buffon 189cm
Toni 193cm
Dida 196cm
alex n
said on 1/Feb/20
toni 1,95-1,96
materazzi 1,93
buffon 1,90
Caldonio
said on 28/Dec/19
Definitely 6-3
kostas dim
said on 13/Dec/19
toni 1,96
materazzi 1,93-1,94
grosso 1,90
buffon 1,90-1,91
MICHAEL CONSTANTINO
said on 26/Nov/19
I would say probably either 6'3'' or maybe like 6'3 1/8''
Nik Ashton
said on 27/Sep/19
It looks like the voters agree with his claims of being 191 cm!
kost dim
said on 26/Sep/19
tony 196 cm
materazzi 194 cm
gigi bufon 192 cm
grosso 190-191 cm
Importer
said on 6/Aug/19
I don't understand "6'3" on the nose." What does that mean?

Editor Rob
Just think of it as "exactly" or "bang on".
Lkkss
said on 9/Jul/19
Legit 6'3, more than the fighter Overeem.
1999
said on 3/Jul/19
Haha sorry Rob I forgot to add the link😂
Here it is:
Click Here
Buffon is slouching so it's harder to guess

Editor Rob
Given the photo, there could in reality be near 5 inches between them if both in socks and buffon standing better.
1999
said on 2/Jul/19
Hey Rob how tall is this guy? (notice Buffon is barefoot)

Editor Rob
Hey, I know I'm ok with guessing height, but Invisible Men are beyond me 😉
khaled taban
said on 5/Jun/19
Looks an inch shorter than Neuer. If Neuer is 193cm, Buffon is no more than 190.5cm.
6ft 3 seems perfect!
Lava
said on 10/May/19
Buffon - 191 cm
Materazzi - 193 cm
Luca Toni - 195 cm
Luca
said on 4/Nov/18
Rob, what's your guess on his out of bed/absolute lowest height? He's recently claimed to be 192 cm tall

Editor Rob
192 seems optimistic for a mid-day height...though maybe he once got measured near it at 9-10am? Out of bed possibly 193
Sitan
said on 19/Jul/18
Rob, how likely it is for him to drop under 190cm?

Editor Rob
I'd be surprised if he did.
Pio
said on 14/Jul/18
When he was a Parma player,his official height was 188. Than it became 191.
Myself
said on 26/Jun/18
I think he is 190 cm.
Rampage(-_-_-)Clover
said on 14/Jun/18
Rob, maybe 6ft3 flat is closer?

Editor Rob
6ft 3 on the nose might be right.
Gigi
said on 22/Feb/18
Thanks Rob.
5ft5-5.5 and Google listed her 175 cm? They should add "with heels". In the picture with Cambiasso she reaches 175 cm right?

Editor Rob
In heels she might measure 175cm, but it is extremely unlikely she's even 169cm barefoot!
Gigi1
said on 21/Feb/18
Sorry for offtopic Rob can you estimate how tall she is?
With Del Piero (173 cm)
Click Here
Her heels
Click Here
Cambiasso (177 cm)
Click Here
Inzaghi (180-181 cm)
Click Here
She often uses high heels (10-12 cm) like that
Click Here
She is in 5'5" range? More or less?

Editor Rob
From a brief look at her instagram, she gave a 5ft 5-6 impression, though I was not that familiar with her. I could see 5ft 5-5.5 as possible...
Luca
said on 3/Feb/18
Dear Rob,what is your guess about this italian goalkeeper next to buffon? He's usually listed at 190 cm,what height would you give him?
Click Here
Click Here

Editor Rob
It's tough to tell exactly how much smaller he might be.
Canson
said on 5/Jan/18
Agree with edimar 1.84. 190cm 6'2.75
Jane
said on 14/Nov/17
That bandana gives Rambo vibes.
CNROM89
said on 21/Oct/17
@Lucio rome
Donnaruma a bit shorter than 199 cm. He is same or a bit taller than Dida, who is 196 cm. Donnaruma more like 197-198 range.
lucio rome
said on 2/Sep/17
Every goalkeepers is tall 1,90-2,00. In Italy I remember for example strong goalkeepers and they are tall:
Francesco Toldo (1,96); Gianluigi Donnarumma (1,99); Sebastiano Rossi (1,98); Zeiko Kalac (2,02), ecc.
In the past I remember Fabio Cudicini (1,91) and Bob Lovati (1,88).
even
said on 28/Jul/17
exactly as listed
PaulC
said on 10/Mar/17
I'm 6'3" and met him in a restaurant in Prague (his partner is Czech). He was eye level to me, certainly no shorter than 6'3".
181cm
said on 6/Feb/17
He is 188cm MAX. Same height if only a tiny bit taller than chiellini. And bonucci. Pogba looks 6'4 in this pic but he claims 6'2. Llorente looks 6'4.5" - 6'5 if he was standing straight.
Click Here
Nik
said on 8/Dec/16
What about a page for Courtois ? He looks towering and like a giant. He is may be the best young goalkeeper about.
James
said on 6/Dec/16
Do one of Petr Cech, one of the best goalkeeper of all time!!!
MDV
said on 13/Nov/16
@booker
No he is not that low, you height liar. He is 193-191
Booker
said on 12/Nov/16
189-191 cm range
Aza
said on 10/Nov/16
Consistent high performer. Good listing!
Judd
said on 9/Nov/16
Joe i do not think that the picture you posted is quited believable...i think it was made by photoshop...it's hard to believe that the difference among Beckham and Buffon is just 3" instead 4"...
MDV
said on 9/Nov/16
Pirlo could be 176 cm. Sometimes you can argue 175 and 177 so generally I guess 176 as a fair listing.
Christian-196.2cm (6ft5.25)
said on 9/Nov/16
Virtually the same height as Paul Pogba. Maybe a 1/8th inch difference between the two if looked closely, but it's a negligible difference.
Arch Stanton
said on 8/Nov/16
Real quality keeper, world class.
Johnson
said on 8/Nov/16
@Rob Pirlo is clearly taller than David Villa. I think Pirlo is 177 cm as tall as Seedorf and Cafu.
Johnson
said on 8/Nov/16
Nowadays in medical test he must be measured around 191.5 cm because he is listed 192 and Juventus updates real height in its official website
Andrea
said on 8/Nov/16
How tall would you guess ex footballer Del Piero is?
Click Here
Generally listed at 173 (and sometimes at 174), i think, if you met him, you'd be very similar... Solid 5'8!
The guy on the left claimed to be 185 for many years but he clearly looks noway near that mark with Gigi!
Editor Rob: no less than 5ft 8 for Del Piero, he may well be a height twin for me. Pirlo I used to think was a 5ft 8 guy too, but I think he was taller than a guy like Del Piero.
Dalfi
said on 8/Nov/16
His peak height was mostly like 189 cms
Andrea
said on 8/Nov/16
Thank you, Rob! I think his claim comes from an actual measurement... Of course, at his low or on a bad day, he may well measure more 6'3 on the dot (I remember you said he looked near 6'3 to you) but I wouldn't guess him under 6'3!
6'3.25 is a pretty good listing for Gigi!
Editor Rob: it is believable he could stand tall for a 191 measurement.
Joe
said on 8/Nov/16
There is a perfect pic(Pepsi Dream Team 2001) to guess his height.
Click Here
Buffon is 6'3 with shoes and Beckham is 6 with shoes in this pic.
So I'd say he is about 6'2.
Judd
said on 8/Nov/16
I think he's more 190,5-191 cms than 190-190,5 cms so 6'3-6'3.25" is more accurate than 6'2.75-6'3", however in my opinion he night be 6'3" on the nose.
spainmen191cm
said on 7/Nov/16
10 cm taller than Iker, and 1-2 cm less than Neuer spot on
MDV
said on 7/Nov/16
Very good listing Rob! He officially claimed 191 and 192...Probably he was measured both during the day...He was never shorter than Pogba. Same height as Pogba seems fair.