Gillian Anderson's Height
5ft 2 ¼ (158.1 cm)
American actress, best known for playing Agent Dana Scully on TV series The X-Files. When asked her height she says
"Five foot three."
Her X-Files co-star David Duchovny said of her stature:
"Gillian is 5-foot 2, I'm 6-foot"
. In the LFCC photo she had around 3 inches more footwear than me and in the Collectormania photo around 2 inches more footwear than me.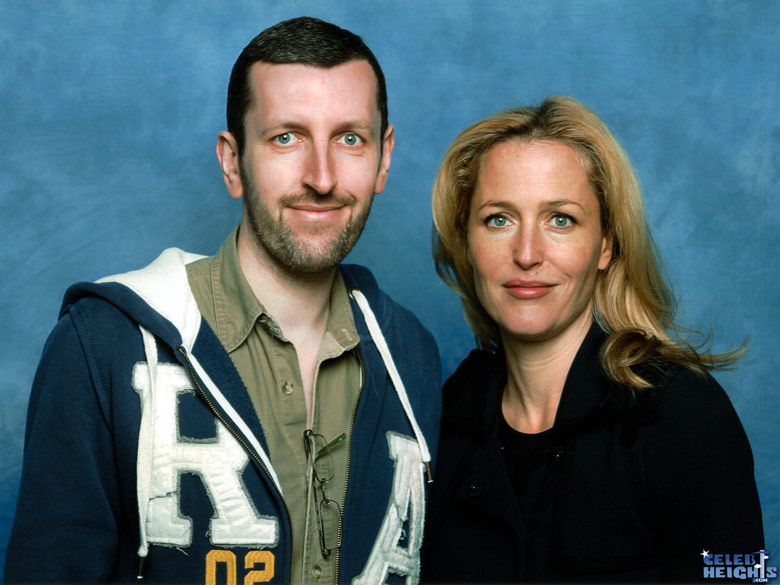 5ft 8 Rob and Gillian @ LFCC 2012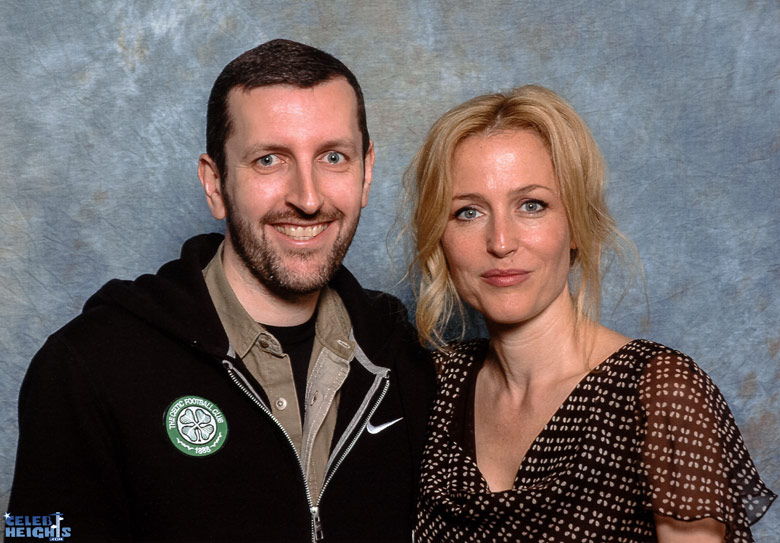 You May Be Interested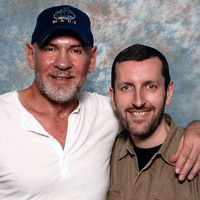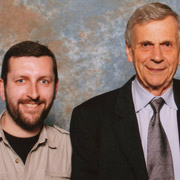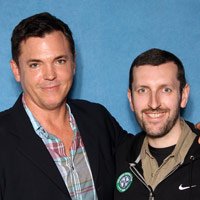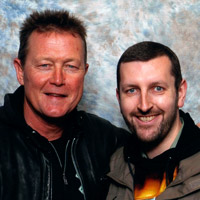 Add a Comment
85 comments
Average Guess (31 Votes)
5ft 2.36in (158.4cm)
Mikester
said on 13/Jan/21
she could be your gorgeous sister rob.

Editor Rob
here is my actual
sister
...like myself, she was a big fan of X-Files back in the day.
Philip Gaskell
said on 3/Nov/20
Last post reported by Rob, Is made by the green eyes monster.
Editor Rob
said on 3/Nov/20

Click Here
Interesting someone interviewing her thought this:
"I've never interviewed a celebrity who, even though she is wearing heels (little pointy white boots) is still shorter than me (I'm barely 5ft 2in), but Anderson is tiny."
6'3 Julian
said on 19/Sep/20
@Blanc I can see a resemblance
Blanc
said on 21/Aug/20
Kinda looks like you in the second picture
Miss Sandy Cowell
said on 9/Aug/20
💐🎂💝 Happy Birthday Gillian! 💝🎂💐
Many Happy Returns to Gillian Anderson on her 52nd Birthday. XXX
5ft2.5 😁🍀🎉
💐🎂💝🍀💐🎂💝🎉💐🎂💝🍀💐🎂💝🎉
Nik
said on 16/Jul/20
@ Tim Noel - Well said!
@ Velvet - 5'2" is barely short!
The hamburger
said on 22/Feb/20
She looks little bit average. 5'3 for her.
Miss Sandy Cowell
said on 22/Jan/20
I noticed yesterday that above, there was a picture of Rob with Gillian and below, there was the picture of Rob with David Duchovny!
How 'X' Files is that?
5ft2.25. 👻
Littlelee5ft6
said on 7/Dec/19
How about the actress sheila larken who played her mum Margaret Scully in the x files? Shes listed 5ft 5 but maybe 5ft 4 might have been nearer? And the actor Jeff gulka who played Gibson praise in the show too. He is listed as 1.4m on google and this is the most I'd guess him at possibly somewhere in that 4ft 6 to 7 range?
Miss Sandy Cowell
said on 9/Aug/19
🎂🎉🕯️ Happy Birthday Gillian! 🕯️🎉🎂
Here's wishing the brilliant Gillian Anderson a very happy 51st Birthday. She has definitely got better over the years, not that she wasn't always cute, because she was! Everything she's ever been in has been instantly addictive!
5ft2.25. 😇
🎁💐🎈💝🎁💐🎈💝🎁💐🎈💝🎁💐🎈💝
Miss Sandy Cowell
said on 25/Jul/19
Nice tribute, Tim! I concur with everything you've said. 😁👍
Tim Noel
said on 23/Jul/19
Gillian Anderson may be five feet two or two & half in height but as an actress she stands tall. She has many accomplishments to her credit weather they be stage screen or tv. You don't achieve the awards she has with out being a very talented actress, and if that's not enough she has a great smile and a pair of the most beautiful eyes in Hollywood. So don't ever sell her short or her ability as an actress.
Tim Noel
said on 22/Jul/19
Gillian-Anderson might be five foot two or three in real life, but she has always been six feet tall as a tremendously talented actress. Having watched her grace us with her undeniable talent and amazing looks for years. Sharing her stunning smile and amazing green eyes that have a way of seeing right through to the heart of the matter. I personally have always been captivated by her talent and good looks wishing just once I could have the chance to look into those beautiful eyes just once and say thank you for your sharing your talent with us all these years.
Nik
said on 14/Jul/19
I think that she looks 5'2.25" in the photographs above, good call Rob!
Miss Sandy Cowell
said on 13/Jul/19
What on Earth is going on in this weird 'American Gods' series? Gillian has just made her first appearance - on a TV screen and talking to Ricky Whittle's character of Shadow Moon, IN A SHOP! Very weird, and very 'X' Files!
She wears her hair like Lucille Ball's, but I knew it was her because I know that voice anywhere! How I love the American accent, and Gillian's has to be a 10 out of 10! 🏅
Miss Sandy Cowell
said on 12/Jul/19
While I was fumbling around for 'Stranger Things', I came across a new offering called 'American Gods'. It came with Amazon's own recommendation, so I am going to try the first series. If I like it, I will buy the second Season. I have loads of stars to 'eye up', many of them VERY tall on the male front, and I know that Gillian doesn't star in anything that isn't top notch! 😃
5ft2.25.
Nik
said on 24/Mar/19
Rob and 14 other voters could well be right!
Sage Ford
said on 28/Jan/19
Rob would your height change from morning to night ?

Editor Rob
Everybody's height changes from morning to night. Some less than others. Gillian might shrink anywhere from 1/2 inch up to 3/4.
Paul Wood
said on 23/Jan/19
Was listed as 5ft 3in for years when she was in The X Files but maybe she's lost a fraction in height since then.
MAD SAM
said on 12/Aug/18
5'2.5" at 159 cm, she's very pretty btw
Kate
said on 13/Nov/17
You guys could be siblings...
Sam
said on 2/Nov/17
Strong 5'2 with a good pair of shoes.
Sarah
said on 26/Oct/16
Weak 5'2" possible? Image:
Click Here
Gillian's footwear is not visible in this scene, but she looks about 11-12 inches shorter than 6'0 range David Duchovny. I guess if you account for footwear, it would make her around 5'2" because she is not wearing her usual formal clothing or heels.
Editor Rob: wouldn't guess her a weak 5ft 2.
Sandy Cowell
said on 17/Oct/16
How on Earth can one woman star in so many mind blowing parts? I was watching the 'X' Files last night and my, doesn't she look tiny next to all those menfolk?
I read back in 1996/7 that she was 5ft3. Yes, it could well be that she's lost a bit of height but that is by no means to her detriment. She looks better than ever now! She can look a bit little-girl-like I think it would be fair to say in the 'X' Files, but seeing her in 'Hannibal', she has matured into a real siren, and that is coming from a fellow woman!
Editor Rob: I did a rewatch of the X-Files last year and even Jenny noticed a few occasions when Gillian's height would jump up and down a few inches, obviously when they were doing certain shots she was on a small platform.
Edward Chan
said on 8/Apr/16
GA is a really beautiful girl. I love to see her on screen. Don't mind her height.
Lea
said on 25/Mar/16
I'm a 5' tall woman myself and know where I'd measure standing up against people, and I'm pretty sure if GA wasn't wearing high heels or standing on an apple box, she is probably 5'1 or 5'2 at most. She is shorter even against other women in scenes, and she's always in heels while onscreen.
Clare
said on 15/Mar/16
She not super short um 4ft9
littlesue
said on 5/Mar/16
Would hardly call it 'super short', its short but only couple of inches below average height. Would say a woman 5ft and under was super short.
Velvet
said on 4/Mar/16
5ft2 is super short!
Gillian is lovely though!
jtm
said on 30/Sep/15
she was 3 inches shorter than felicity huffman.
SJH
said on 26/Sep/15
She's 5'2 at best. I watch almost the whole season of X-files. She look 157-158cm never look over
Arch Stanton
said on 5/Sep/15
Agreed Sam, I find her hotter in last ten years than she ever was in X Files. She looks nicer as a blonde.
Khalid
said on 19/Mar/15
Was she wearing high heels???
[Editor Rob: yes, in the description I mentioned how much more thick they looked.]
Arch Stanton
said on 30/Oct/14
So hot in Last King of Scotland...
matt
said on 15/Aug/14
Looks at least 3 Inches under Rob with the 3 Inch advantage yh so 5'3- 5'2.5 is right
Sam
said on 21/Jul/14
Gillian has aged very well, in fact may be more attractive recently than back in her early 20s at the beginning of X-Files. She's the same exact height as Jodie Foster, whose Clarice I believe was the major inspiration for Scully.
176,2Tunman
said on 24/Feb/14
Haha!she looks almost exactly in the same position with Rob and Jenny.5'2.5 seems okay,about 10in shorter than Duchovny.Really very nice girl in her forties.
Emily
said on 21/Dec/13
She has a pretty wide face. Which makes her head look kind of big.
diavolo
said on 14/Nov/13
Once I interviewed a director who worked with her, and she said Anderson is 154cm tall (appr. 5'1").
1.85 m, 83 kg
said on 12/Jul/13
Larc 74in
She's not short; she's within British average height range.
Larc 74in
said on 11/Jul/13
She's still beautiful, and exactly as short as my girlfriend...XD
Arch Stanton
said on 18/Jun/13
Rob you've lost quite a lot of weight. She doesn't look as happy in the above photo. Did she recognize you?
[Editor Rob: she wouldn't recognise me again. Sometimes it can be hit and miss if a celeb smiles or not and where you are in the queue...if you are at the end they will be a bit more tired because with some of the popular actors they will do an hour session with like 400-450 shots, it can get very tiresome standing there trying to smile everytime.

if you have a big personality or can talk freely and impress upon meeting them in the short amount of time you have, you are more likely to have them smile!

I am actually the same weight (within 1-2 pounds) for any photo in 2012-13 as I have held the same 150-2 range for over a year.]
satchy
said on 17/Jun/13
she's gorgeous, you should've hugged her
[Editor Rob: with Jenny breathing down my neck?

that wouldn't be wise ;)]
Brad
said on 15/Jun/13
More box work than you'd expect with 9.5 inches to gain with DD.
1.85 m, 83 kg
said on 31/May/13
Yeh, to echo everyone's thoughts; never really noticed her looks on The X-Files, maybe I was too young. There was the odd episode where they'd remind us she was a beautiful woman. She was also a bit heavier, that possibly contributed; rounder, younger face. Women's looks get this 'second wind' 35-44, if they know how to look after and style themselves well. Yeh, she's still very attractive in a Cuddy from House sort of way.
Arch Stanton
said on 11/Apr/13
Rob was there something distinct about her in person? I get the sense that she'd be very alluring in the flesh, more attractive than in photos.
[Editor Rob: yeah, she still looks good at 43 there.]
Arch Stanton
said on 19/Mar/13
Funny, but I never fancied her in the X Files, probably because of the ginger hair and bob style both of which generally don't float my boat, but I saw an interview of hers the other day and she is sexy as hell I tell you!!
Jenny
said on 6/Mar/13
She still looking good. Piercing eyes
Josh B
said on 29/Nov/12
Rob, just a note saying the link to this page doesn't work from the home page :)
[Editor Rob: thanks i fixed the wrong number for her]
Arch Stanton
said on 29/Nov/12
Yeah, she looked a weak 5'3" in the X-Files.
Hanna
said on 3/Oct/12
I'm an X-Files huge fan and I think she's between 5'1 - 5'2 but I don't see her over that....I love her, she's fantastic and also seems to me really tiny since the beginning of the show
maria j.m
said on 30/Oct/11
met her, 5'2'' yes, but no more
Truth Jones
said on 9/Aug/11
The consensus is it's time for a downgrade Rob. She's not over 5'2".
Kevin
said on 27/Mar/11
I was on set for the episode that she wrote and directed. She wore stylish shoes with huge platforms. I swear she was around 5' maybe 5' 1" in those shoes. Duchovny BTW, around 6'1". Taller than me anyway, 6' flat.
Rose
said on 10/Feb/11
I've met her, I'm 5'4 and she is 5'3
Anonymous
said on 1/Feb/11
Doesn't look 5'2! More like 5'1...at the tallest!
AnonymousIntx
said on 17/Jan/11
Why is it that a celebrity whom I thought was tall is so short and vice versa? I'd thought she'd be at least 5-6.
rob89
said on 14/Dec/10
Whenever Anderson and Duchovny stood next to each other on even ground, and you could see their whole bodies from head to toe, she did look roughly a head shorter than him, or around 9-10 inches. She was even wearing 2-3 inch heels in these scenes compared to Duchovny's dress shoes, so if they were barefoot he'd probably be closer to 11" taller.
There were times when she was up to his nose or even eyes though, but she was probably standing on something for those scenes, as you couldn't see their feet or the ground then. So you obviously can't use scenes like this to compare their height.
The real difference between them is most likely between 10-11 inches, so assuming Duchovny is exactly 6', she's 5'1 - 5'2 tops. Closer to 5'2 if you ask me.
ninie
said on 18/Nov/10
I watched the x files a lot and I think she's like 5'1 !
Maggie
said on 10/Jun/09
She was queried about her height during a radio interview once (with Jonathan Ross, I believe) and she confirmed she's 5'3".
WoD
said on 9/Jun/09
I've seen her some days ago and she's defenetly taller than 4'6'' *lol*
I think she is about 5'2''. She's very petite and I think that makes her appear shorter than she is. (and she's already short so...)
Anonymous
said on 7/Jun/09
I've worked on the X-files set for several years in Vancouver and seen her barefoot upclose. She wasn't even taller than my 13 year old daughter at the time, and my daughter stood 4'6".
Jeremy
said on 14/Mar/09
I am starting to think that 5'2 is correct.
Olivia
said on 11/Mar/09
She's got a bit the same figure as Patricia Arquette and she's ranked at 5 ft 1.5, so I'd say between 5 ft 1 and 5 ft 2, I don't think she's over that, it seems that almost everybody is taller than her...Oh and Gillian is absolutely amazing and beautiful ! :-))
Laurra
said on 11/Jan/09
On an X-Files commentary Rob Bowman (one of the directors) called her boxes "Gilly Boxes." Cute :)
Eric
said on 24/Oct/08
I'm 5'11 male who weighs 13 stone and a woman that size has carried me over her shoulder. Height doesn't matter if she's strong.
Jeremy
said on 16/Oct/08
Gillian could pass for 5'3.I saw her recently on Jay Leno and she did not look that short.She is at least 5'2.5 and she is very beautiful.
starfan
said on 29/Sep/08
i heard she carried a woman over her shoulder in one of the episodes of x files how can a small woman like her do that. I guess she is taller
Brad
said on 25/Sep/08
Break out the apple box for Gillian on the close-up's with David.
Rena
said on 25/Jul/08
Yeah 'just me' like there is much difference between 5'2 and 5'1, how can 5'1 be toooo short, its hardly that much smaller! Gillian is 157cm tall, so almost 5'2, but slightly under. And for christ sakes so what if she looks smaller than David, he's a man, women are not meant to be anywhere near as tall as 6'. In the X-Files when Gillian stands next to David with flat shoes on she's up to his chin, she doesn't look like the size of a child as someone else put it.
ras
said on 7/Aug/07
She does seem to have quite a small frame.
Click Here
5 ft 2.25 5 ft2.5 sounds about right.
just me
said on 10/Jul/07
Everywhere it says that she's 5'3" or at the least 5'2", I don't think she is 5'1" or shorter. That's just toooo short. When standing next to David, who is at least 6', of course she'll be dwarfed by his size. It doesn't mean that she's 5', though.
Franco
said on 27/Jun/07
she looks 5'2 flat.
Brad
said on 15/May/07
Another closed set "on the box" actress. 5' 2".
kkentuckywoman
said on 6/May/07
I was watching "Bleak House" and in some of the long shots I noticed that the proportions of her dresses--bodice to skirt length--looked like me & I'm 5' on a good day. That's why I even bothered to google her height.
Mr Mayfair
said on 11/Apr/07
Claims to be 5.2, but nearer five foot!
Looks 6 feet tall when standing on tea chest...
Mr Mayfair
said on 10/Jan/07
She looks a foot shorter than six foot Duchovy, at least when she isn't standing on a box next to him...
Richie
said on 30/Oct/06
I've met her, i'd say 5'2'' 5'1' shes a little doll of a woman.
Lilly
said on 28/Aug/06
I'v e never read that she said 5 foot three. Reportedly she is fove foot two.
marion
said on 28/Aug/06
I'm 5'6 and stood next to her and to me she looked like a child *lol* I'm not good at guessing heights but she's no way 5'3, maybe 5'2 but I'd say 5'1
kristian
said on 27/Aug/06
i think also that she is shorter than the 5´3 she ist listef at!!!!!!!!!maybe 5´1
sf
said on 26/Aug/06
Yea, I think Gillian's got us fooled. I've never seen her listed over 5'2" and have my doubts about that.
Anonymous
said on 25/Aug/06
This is absolute manure!!! This is the biggest con of all time! Personally, I have met Anderson on three occassions and she is nowhere close to 5'3". My girlfriend at one party, wearing flat shoes, stood at about 5'1.5" and Anderson, who spoke to us for around five minutes, was half an inch shorter than her wearing the same style heals as she can be seen in on 'Fight the Future', when attending the FBI meetings. This woman is 4'11.5" at most.
absent
said on 14/May/05
The difference between Duchovny and Anderson looks more than 24 cm. (He`s 183 cm)
http://64.211.46.141/rp/18DuchovnyD550240374.jpg